Well friends we made it! It is officially BBQ season again in Canada. As we celebrate the unofficial start of summer this Victoria Day how fitting I am also kicking off BBQ week with this recipe for grilled fruit and cake Kabobs. Grilled desserts are the perfect end to a summer meal!
Myself along with 22 other bloggers are sharing our favorite recipes for the grill all week long. Lot of recipes and inspiration for the BBQ season including grilled mains, sides and of course grilled desserts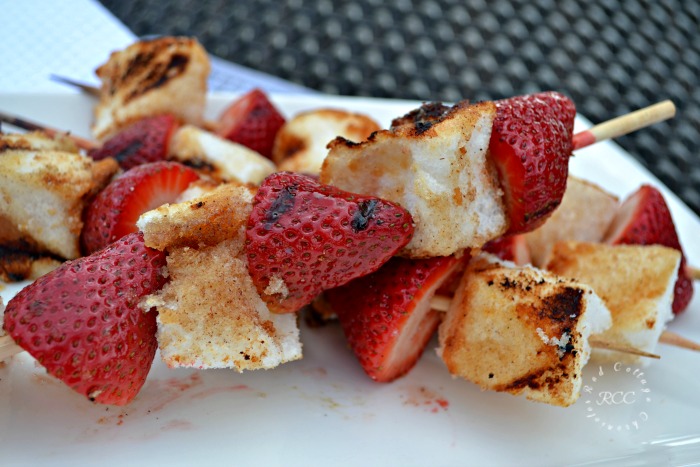 These easy to make fruit and cake Kabobs take just a few minutes to put together and make the perfect summer dessert. They are delicious served with a creamy dip such as yogurt or whipped cream, but we prefer them straight off the grill.
Lightly sweetened with a honey cinnamon glaze, the cake toasts up to a golden sweet crunch. The glaze enhances the flavor and juiciness of the berries.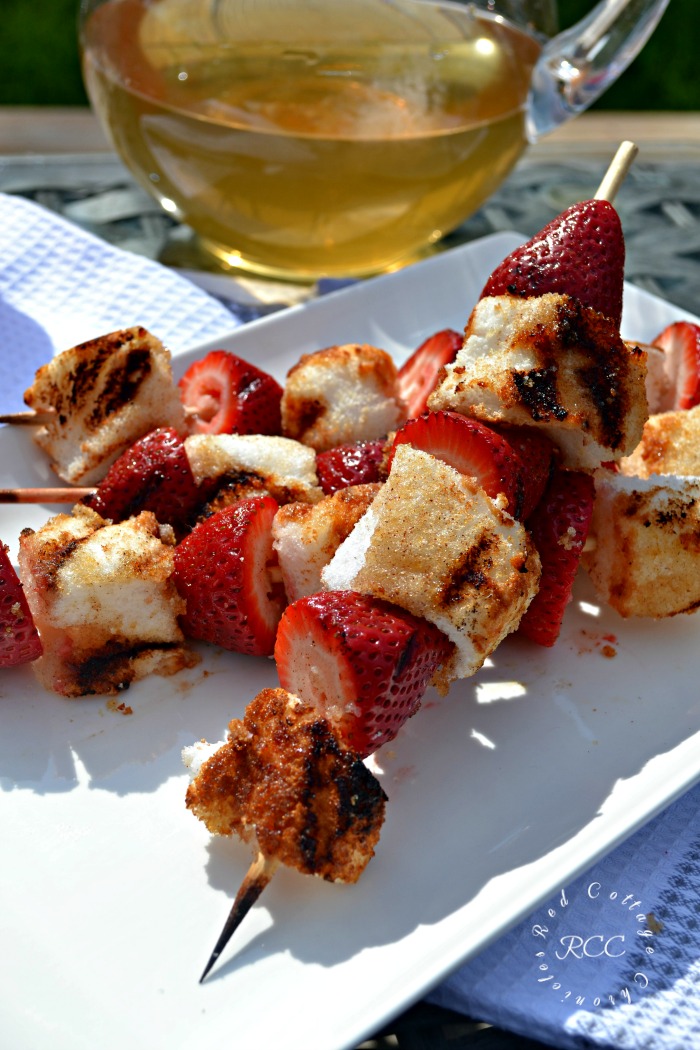 Of course, as luck would have it, our grill kicked the bucket and we will be on the hunt for a new one. I think it nearly broke my husbands heart as he has had his giant gas BBQ for a long time. It really didn't owe us anything and probably should have been replaced last summer.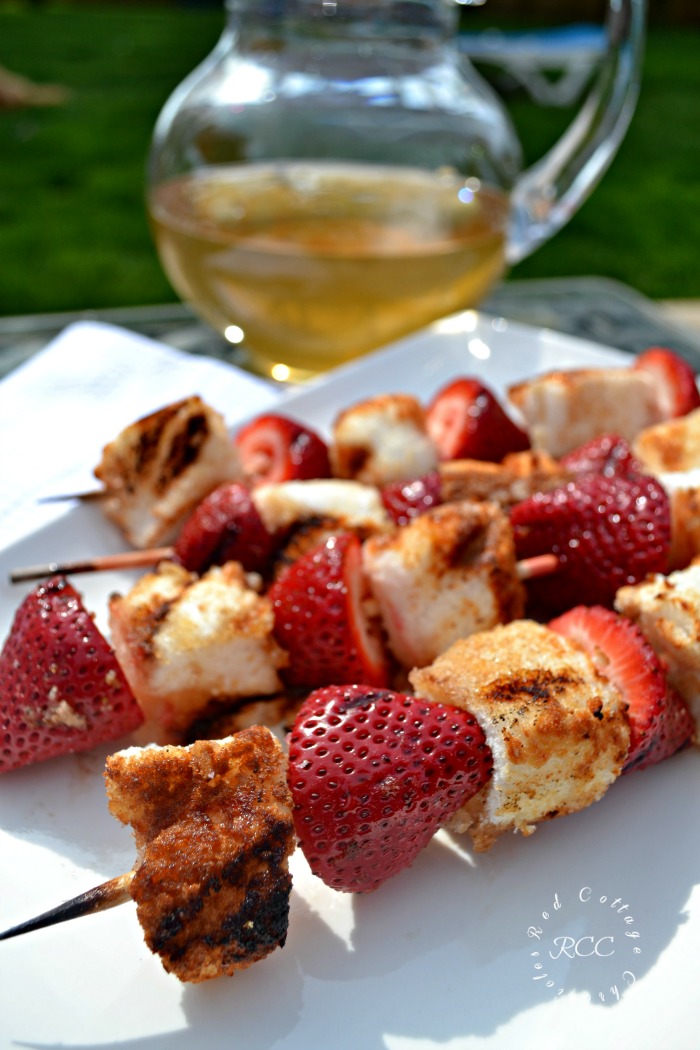 My brother-in-law came to the rescue. He has really neat BBQ that has two completely separate grills. The main one he uses to cook for the meat eaters and the smaller side he uses to cook for the vegans and vegetarians. Brilliant idea! Although he might have to switch it up as more of us are now meatless than meat eaters!
I grilled these on the meatless side of course. We were there celebrating both my sister and my brothers birthdays so it worked out perfectly.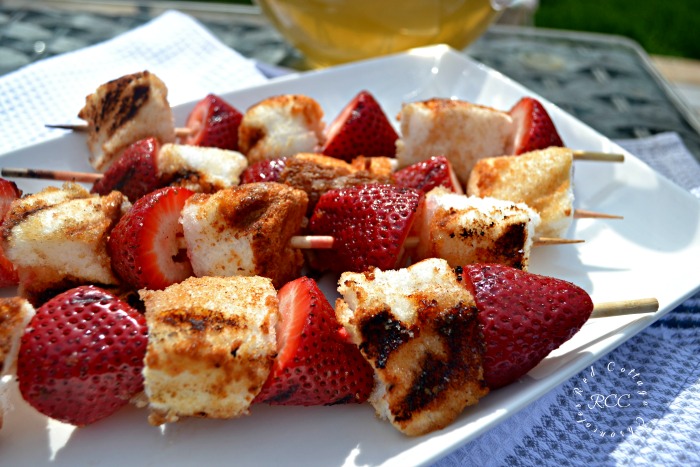 Since these are brushed with a sticky honey glaze, be sure to start with a clean grill and spray it with a cooking spray before placing them on the grill. They only take 2 or 3 minutes on each side on medium heat. Just watch carefully as you don't want burnt cake and soggy berries!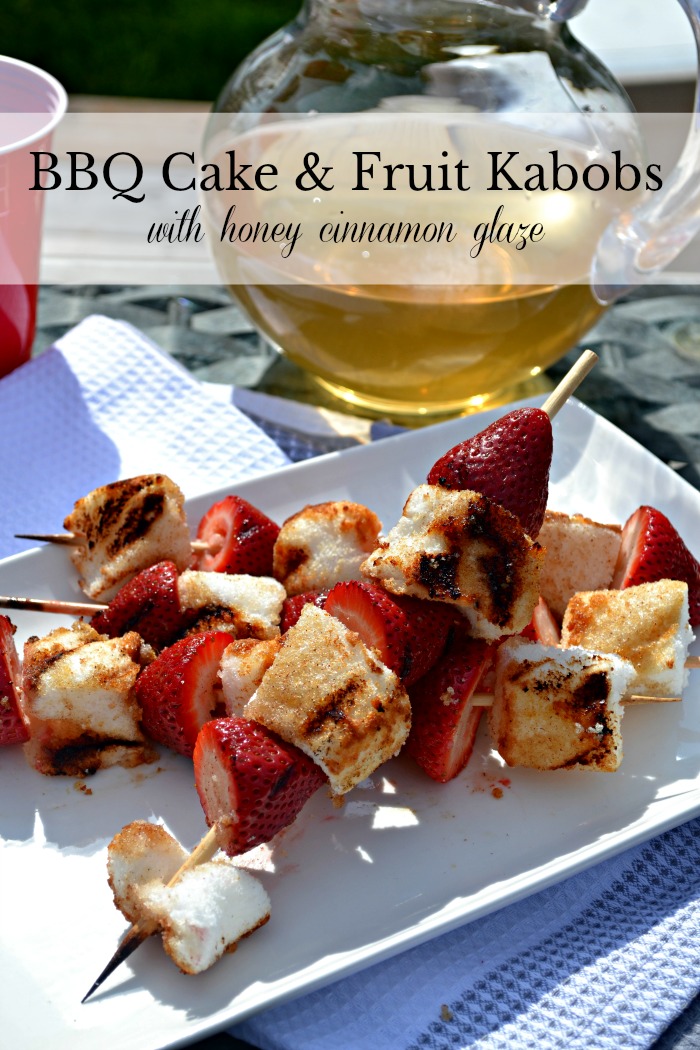 Before you scroll down to the Grilled Fruit & Cake Kabobs recipe below, be sure to visit today's bloggers for more grilled desserts and other delicious barbecue ideas!
I will be back on Friday to share my recipe for grilled vegetarian pizza.
Until next time…..

See what the bloggers served up Monday for #BBQWeek
Asian Grilled Asparagus by Books n' Cooks
Blackened Chicken, Asparagus & Avocado Salad by Tip Garden
Cherry Chipotle Chicken & Pepper Kabobs by The Chef Next Door
Chicken Souvlaki Kabobs by A Kitchen Hoor's Adventures
Double Blueberry Bison Burgers by Culinary Adventures with Camilla
Grilled Asparagus Summer Caprese Salad by Faith, Hope, Love, & Luck Survive Despite a Whiskered Accomplice
Grilled Blueberry and White Pepper Pork Chops by Corn, Beans, Pigs & Kids
Grilled Buffalo Hummus Chicken by Jonesin' For Taste
Grilled Caesar Asparagus by 4 Sons 'R' Us
Grilled Chicken with Pineapple Salsa and Asparagus by Simple and Savory
Grilled Eggplant Caprese Salad by Everyday Eileen
Grilled Fruit & Cake Kabobs by Red Cottage Chronicles
Grilled London Broil by Hezzi-D's Books and Cooks
Grilled London Broil with Chimichurri Sauce by Cookaholic Wife
Grilled Pizza with Chicken and Asparagus by Jolene's Recipe Journal
Grilled Pork Burgers with Hawaiian-Style Buns by Karen's Kitchen Stories
Grilled Sweet and Spicy Mustard Pork Chops by Soulfully Made
Meat Lovers Kebabs by Cindy's Recipes and Writings
Peppercorn Blue Cheese Burgers with Cherry Ketchup by Strawberry Blondie Kitchen
Southwestern Layered Dip by The Freshman Cook
Tangerine Hatch Chile Grilled Chicken Fajitas by Family Around the Table
Tangerine Hatch Chile Honey Chicken Kebabs by Palatable Pastime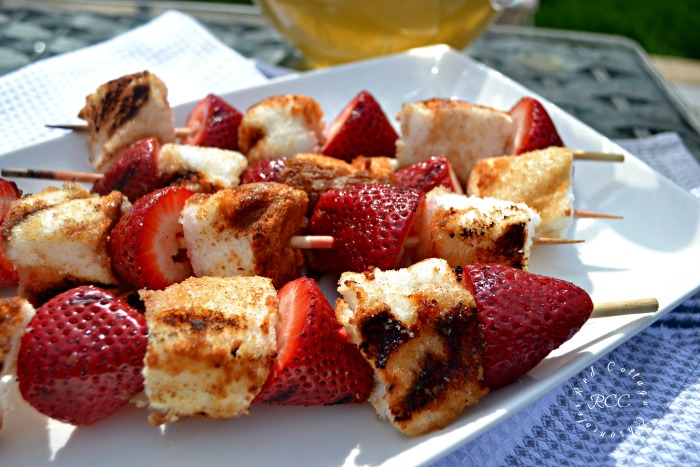 Grilled Fruit & Cake Kabobs
2018-05-20 17:57:13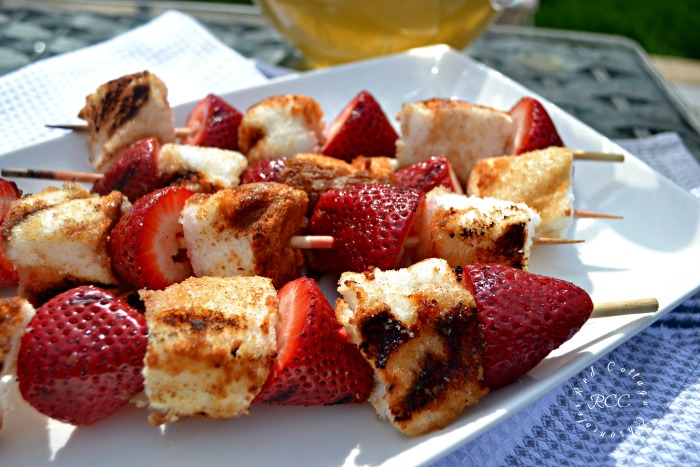 Serves 4
A honey cinnamon glazed grilled dessert
Ingredients
1 prepared angel food cake
24 medium to large sized fresh strawberries, hulled
4 tablespoons honey
1/2 teaspoon cinnamon
2 tablespoons water
Instructions
Preheat grill to medium
Cut angel food cake into medium to large cubes.
Alternately thread strawberries and cake cubes onto skewer (2 strawberries/2 cake cubes per skewer)
In a glass bowl whisk together the honey, cinnamon and water. Microwave on high for 30 seconds, remove from microwave and stir before brushing onto the Kabobs
Spray grill with non-stick spray and place Kabobs onto the preheated BBQ, grilling 1 to 2 minutes per side until cake is golden brown and strawberries are slightly soft. Watch carefully!!
Remove from grill and enjoy with whipped cream or yogurt for dipping.
Red Cottage Chronicles https://www.redcottagechronicles.com/