Filled with English toffee bits, these brickle drop cookies have just a few ingredients that result in a chewy, buttery cookie perfect for tucking into lunches or after school snacks!
When I think of the flavours that remind me of autumn, apples and pumpkin definitely top the list. But, toffee and caramel also evoke all those cozy autumn feels.
What is Brickle?
Brickle, is essentially tiny pieces of broken up English toffee. Sometimes covered in chocolate, this cookie recipe is just pure buttery brickle bits. In the US you can by Heath toffee bits and in Canada, Skor toffee bits. I buy mine in bulk at the local bulk food store.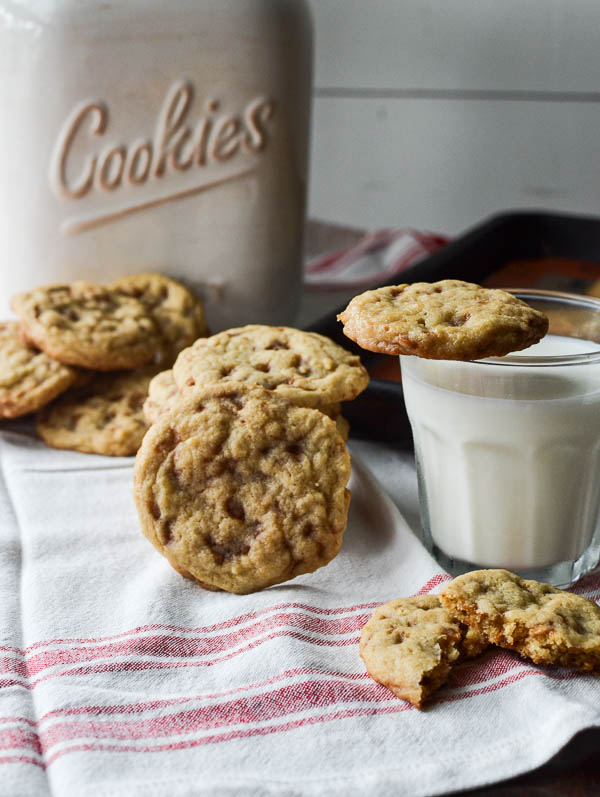 As soon as I feel the slightest bit of autumn in the air, I get back into the kitchen and start baking. The summers are just too hot to have the oven on more than necessary. So, when the breeze turns a bit cooler I make up for lost time!
Sometimes it's fancier, more decadent desserts like this pumpkin marshmallow cheesecake, but more often than not you'll find me whipping up a quick batch of cookies.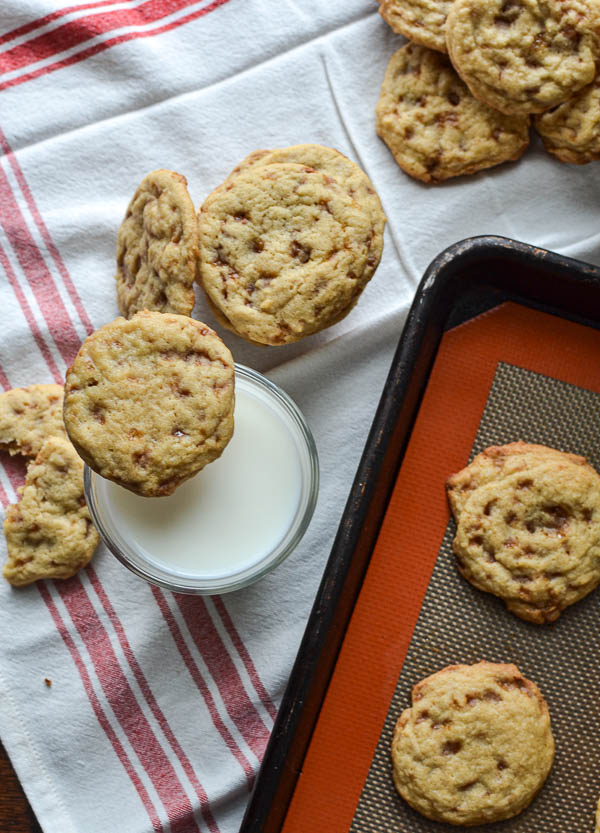 These buttery, soft and chewy cookies are loaded with English toffee bits, and don't need anything else to make them delicious. No need for nuts or chocolate or spices.
This brickle drop cookie recipe makes up to six dozen good sized cookies.
They freeze well too. Not that any of them will make it to the freezer in my house!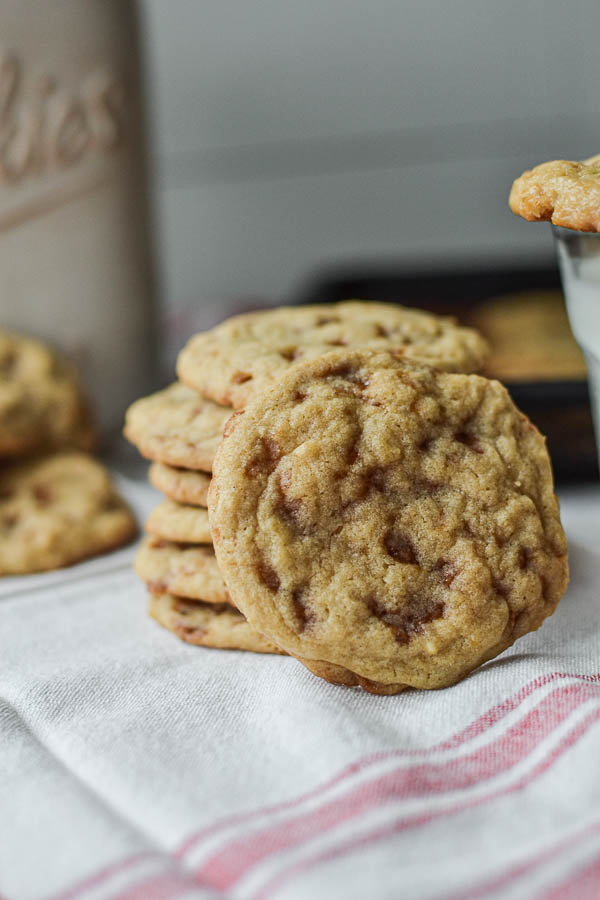 The beauty of drop cookies is how fuss free they are. Whip up the butter and sugars, blend in the dry ingredients. Add the English toffee bits and drop them by tablespoon fulls onto a baking sheet.
I find with this particular recipe, 10 minutes in the oven produces just the right texture. A tiny bit crunchy around the edges, a nice firm cookie, with a soft and chewy texture.
If you are a cookie dunker like I am, you definitely want a cookie that is going to hold together when dunked into a cold glass of milk!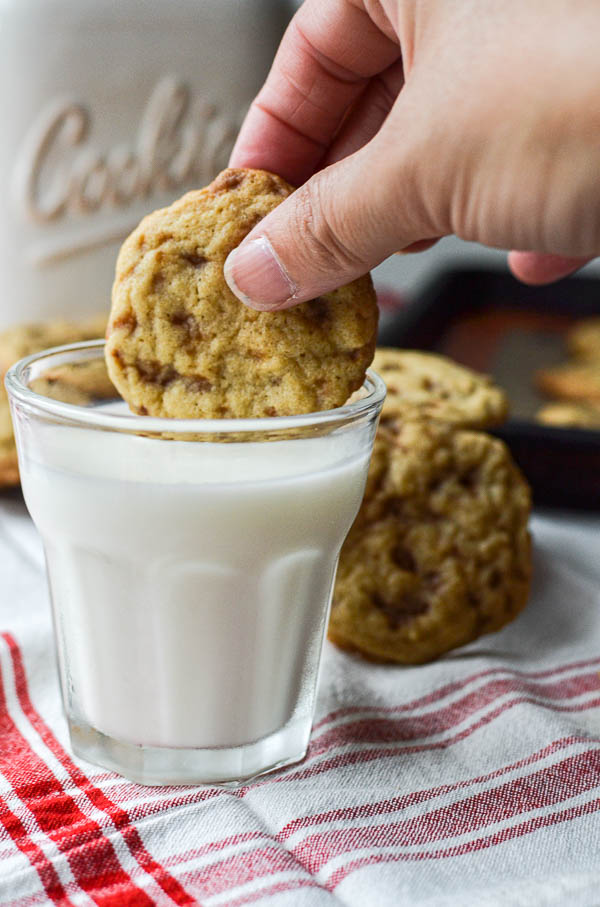 A few quick tips to the perfect drop cookie:
Use butter that is room temperature, but not too soft
Silpat non-stick baking mats help ensure an evenly baked cookie
Using a 1 tablespoon size cookie scoop makes getting the perfect sized cookie a breeze
I recommend have an oven thermometer like this one to ensure the correct baking temperature.
When it comes to that last point, I can attest to an oven that while set at 350 heated to closer to 400 resulting in not so nice batch of cookies! I think my husband likened them to hockey pucks if I am not mistaken!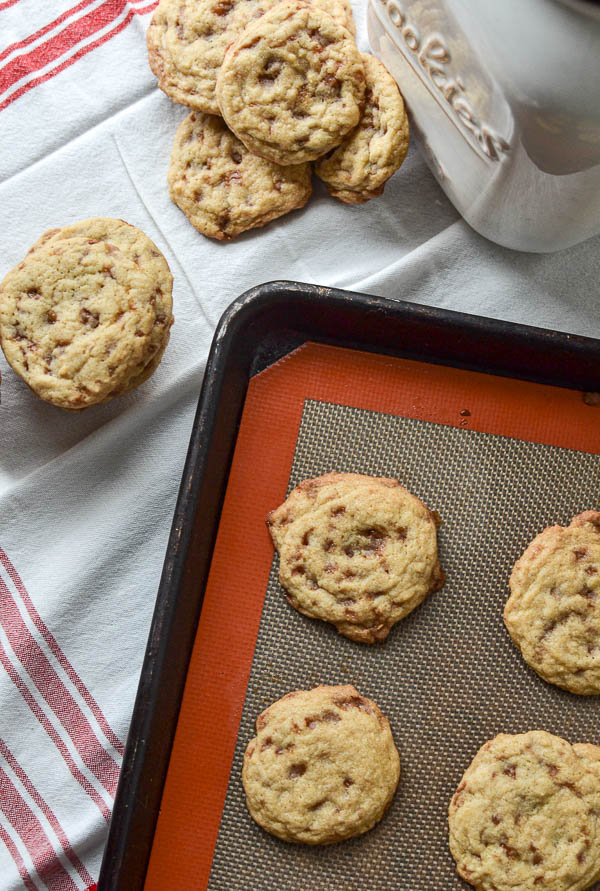 Anywho, I always give my oven thermometer a quick check before putting in the first tray to bake.
Whether you are looking for a yummy cookie to pack into lunches in the autumn, or you just love cookies, and English toffee as much as I do, this Brickle drop cookies will be a recipe you want to save!
And if you are looking for more yummy cookie recipes, check out these Toblerone shortbread cookies or these oatmeal chocolate chip cookies.
Be in the know! It may be a delicious recipe, a stunning tablescape, or decor tips to make your house a home! Simply click here to subscribe. I never sell or share your information, and you can unsubscribe at any time!
Until next time…..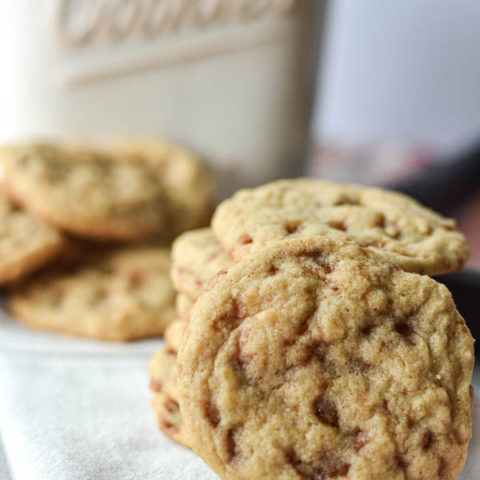 Brickle Drop Cookies
These easy brickle drop cookies are buttery, chewy, and perfect for dunking in a cold glass of milk.
Ingredients
1 cup butter, room temperature
1 cup granulated sugar
1 cup packed brown sugar
1 teaspoon vanilla
3 eggs
3 1/2 cups all purpose flour
2 teaspoons cream of tarter
2 teaspoons baking soda
1/2 teaspoon salt
8 ounce bag of brickle bits
Instructions
Preheat oven to 350 degrees. Line cookie sheets with nonstick baking mat or parchment paper
In the bowl of an electric mixer, beat together butter and sugars until well combined
Add eggs and vanilla and beat well
Sift together flour, cream of tarter, baking soda and salt, slowly add to the butter mixture, beating on low speed between each addition
Add brickle bits and stir to combine
Drop by tablespoon fulls onto prepared baking sheets, leaving room for cookies to spread
Bake for 10 minutes, remove from oven and allow to cool on cookie sheet for 3-5 minutes before transferring to a cooling rack
Full disclosure – This post was originally published in 2012. It has been updated with new photos and text.