The official start of summer is just a week away. With it comes relaxing evenings on the deck, feet up, and a cocktail in hand. Summer cocktails is the theme of today's post, and I have made a cocktail that reminds me of a perfect summer evening at the beach. The sun casting a golden hue on the sand while the sky is aflame in red giving hope of delightful weather to come.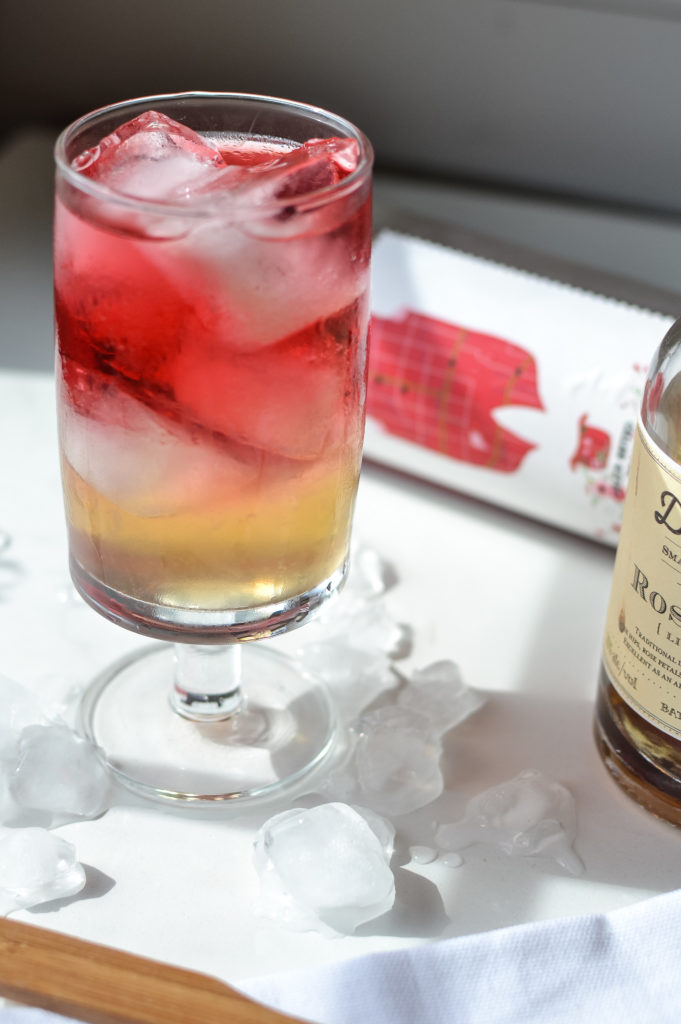 I have always wanted to try a layered cocktail, but was always a bit unsure of how. Turns out, it isn't difficult at all.
Summer Cocktails – Tips to layering
fill a glass with ice
use a "heavier" liquid for the bottom layer – I have read that generally the lower the percentage of alchol, the more sugar hence the heavier – for this recipe a simple sugar syrup is added to Rose Gin (35% alcohol) making it much heavier than the Rosè wine used for the top layer
hold a spoon upside down over the bottom layer without touching it and slowly pour the top layer over the back of the spoon, raising the spoon as the glass fills up – it will gently spill over the first layer without sinking in
This recipe will make two cocktails using a low ball glass (also known as an "old fashioned").
It is a slightly sweet cocktail with a fruity flavor. If you prefer a sweeter drink, simply add a bit more simple syrup.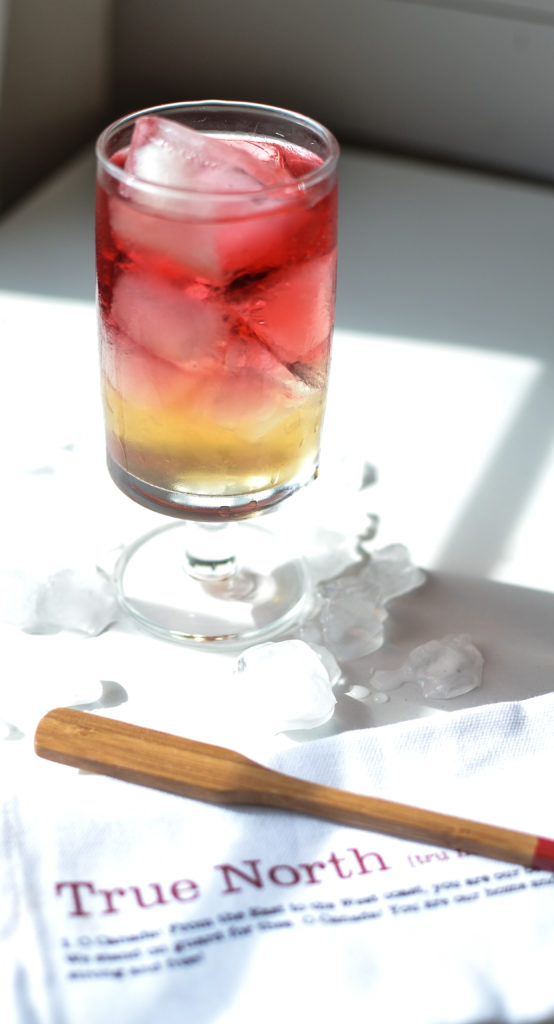 Just like shopping for produce, I also shopped local for this recipe! I used Dillon's Rose Gin and 2018 Homegrown Rosé from Megalomaniac. It is a medium dry wine, but you could also use a dry wine if you like. Simply adjust the amount of simple syrup to get the sweetness that you prefer.
In a cocktail shaker filled with ice combine 2 ounces rose gin, 3/4 ounce simple syrup, and 3/4 ounce fresh squeezed lemon juice. Shake well, strain into 2 ice filled low back glasses. Turn a spoon upside down over each glass and slowly pour 1 ounce medium dry Rosè over the back of the spoon allowing it to "float" on top of the gin layer.
(To make simple syrup bring one cup of water to a boil in a saucepan. Add one cup of granulated sugar and stir until dissolved. Remove for heat and allow to cool. May be kept in a covered glass jar for up to two weeks in the refrigerator)
I am all about the sweet and fruity cocktails, so I used a full ounce of syrup. If you prefer it less sweet, try 3/4's of an ounce. Like it sweeter, add a bit more!
And, of most importance, always drink responsibly and NEVER DRINK AND DRIVE!
I do have plans to try and make a mocktail version of this cocktail using green tea and cranberry juice. Stay tuned!
There is a lot of summer to come, find 4 more links to summer cocktails below!
Until next time……


Pina Colada Rum Punch from Happy Go Lucky Blog • Blueberry Pomegranate Martini from Weekend Craft • Canadian Sunset from Red Cottage Chronicles • Red White and Blue Layered Jello Shots from Creative Ramblings • Irish Whiskey Summer Iced Tea from Our Crafty Mom