How adorable will this hedgehog cheese ball look in the centre of your holiday cheese board?!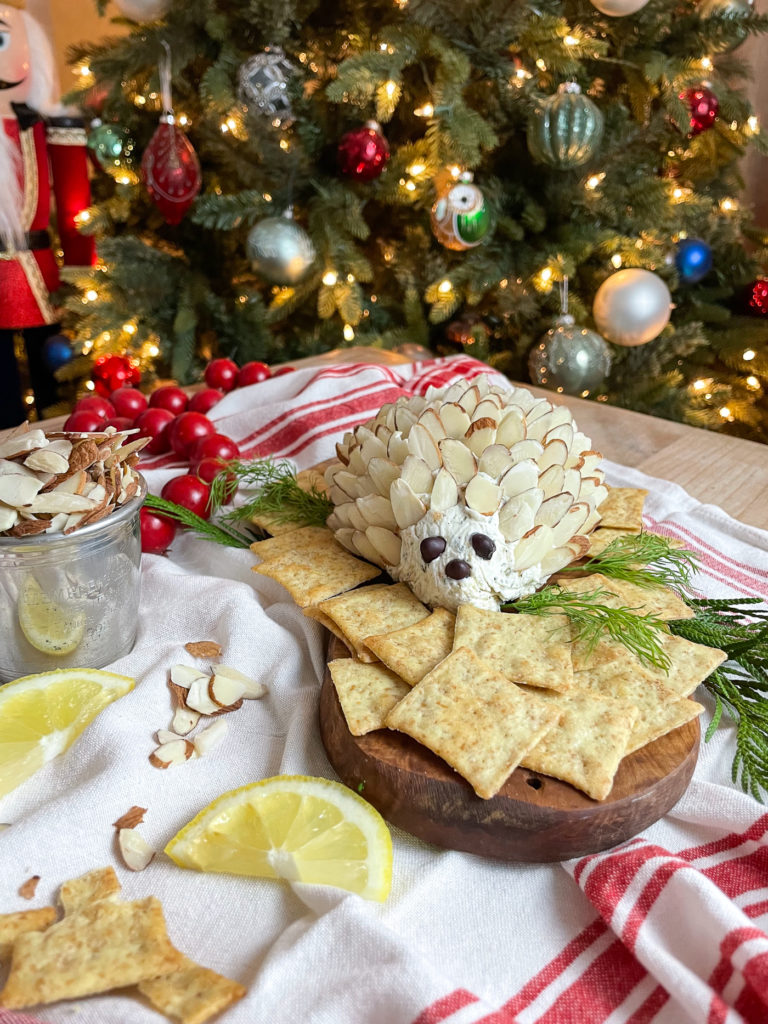 Every year we host our family and friends for a Christmas Eve brunch, and I can't wait to serve this cutie along with our usual brunch fair.
The best part, it's flavour is best if left to rest in the refrigerator overnight!
When hosting a brunch (or any event for that matter) where you are serving several people, the ability to make things ahead is a real blessing. This Sour Cream Dip served in Pumpernickel bread is another great make ahead appetizer!
This post contains affiliate links to help you find things I use in my own kitchen. If you make a purchase through an affiliate link I may earn a small commission with no increased cost to you.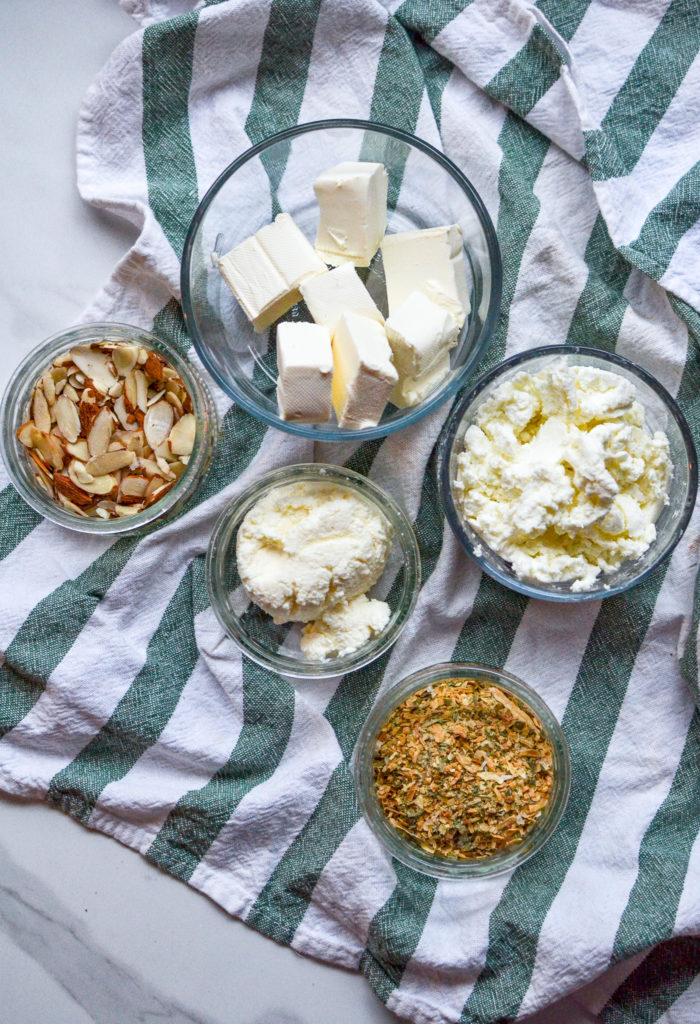 Made with a blend of 3 cheeses, onion and chive dip mix, fresh dill, and lemon zest, this cheese ball is bursting with yummy flavour.
I was lucky enough to have my oldest daughter Marlie stop by, and I put her to work making delicious (and cute) appetizer!
How to make a hedgehog cheese ball
It only takes about 10 minutes to have this cheese ball made and resting in the refrigerator.
Ingredients you will need:
cream cheese, soft goats cheese, ricotta cheese
onion and chive dip mix (or any savoury flavour you enjoy)
zest of one lemon
chopped fresh dill
sliced almonds
pinch of salt
black beans, capers, black olives, or any dried fruit for eyes and nose
crackers for serving
Kitchen equipment you will need:
hand mixer – a hand mixer works best as the amount of ingredients is small.
large mixing bowl – a good set of glass mixing bowls are workhorses in the kitchen!
rubber spatula
plastic wrap
wood board or glass plate for serving
Place the cheese in the mixing bowl and beat until well combined. Add the dip mix, lemon zest, dill and a pinch of salt. Blend until well incorporated. Scrape down the sides of bowl with a rubber spatula and bring the mixture into a ball in the centre of the bowl.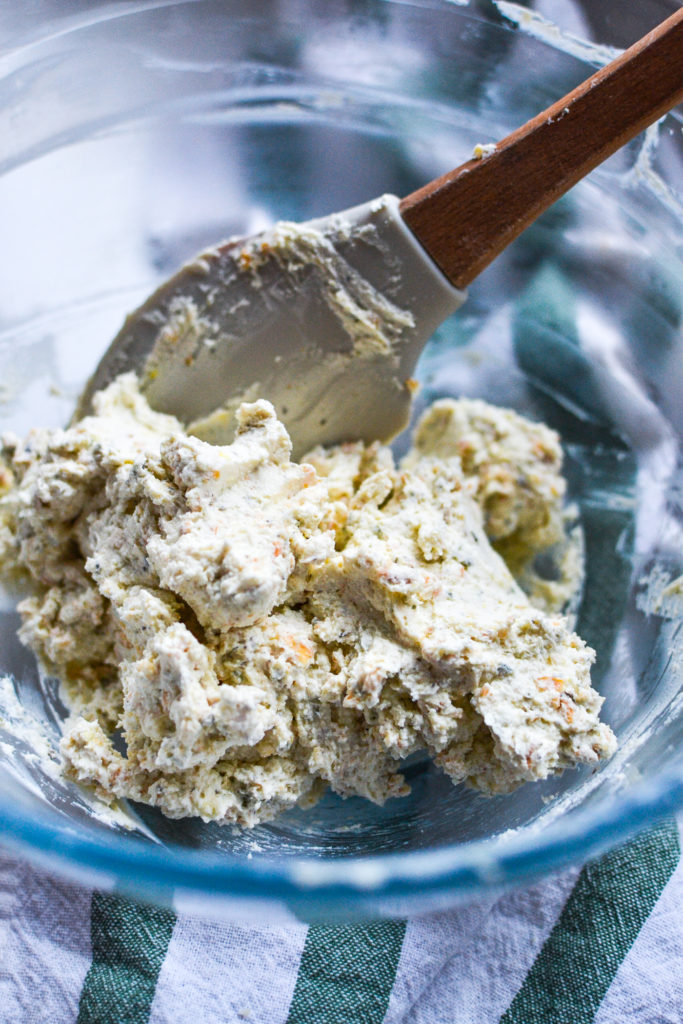 Transfer to a piece of plastic wrap. Wrap and shape into the shape of a teardrop. Refrigerate for 1 to 2 hours, until slightly firm.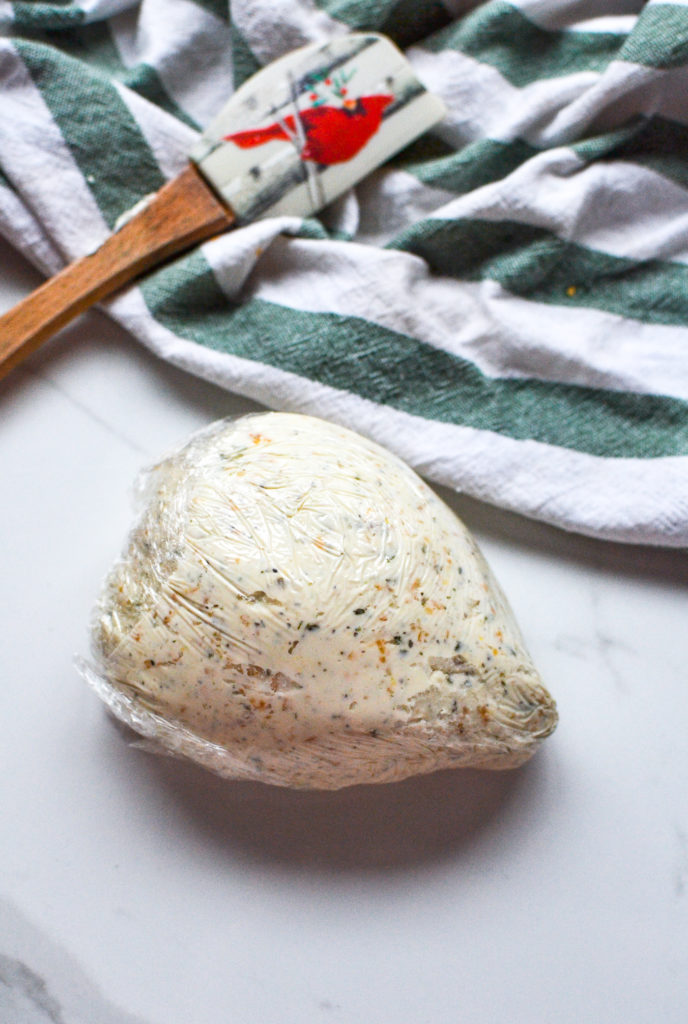 Remove from the refrigerator, place on a serving board or plate and decorate with sliced almonds. Leave about an inch or so at the tip for the eyes and nose, add offset rows of almonds until completely covered.
Use halved cooked black beans, dried fruit, or black olive pieces for the eyes and nose.
For best flavour, wrap in plastic wrap and return to the refrigerator to allow the flavours to develop overnight!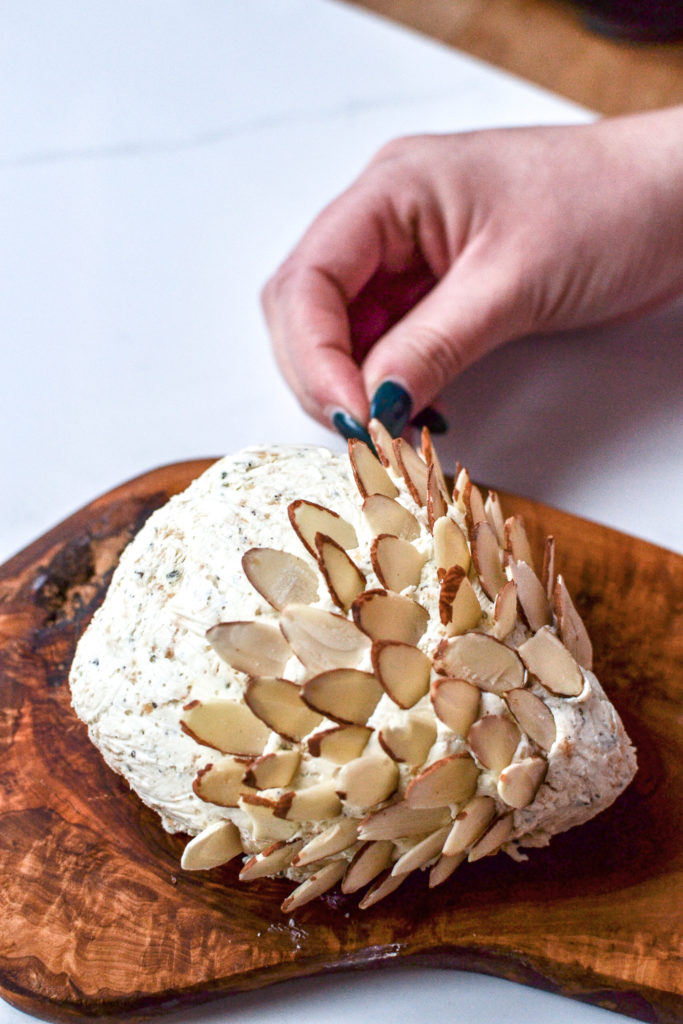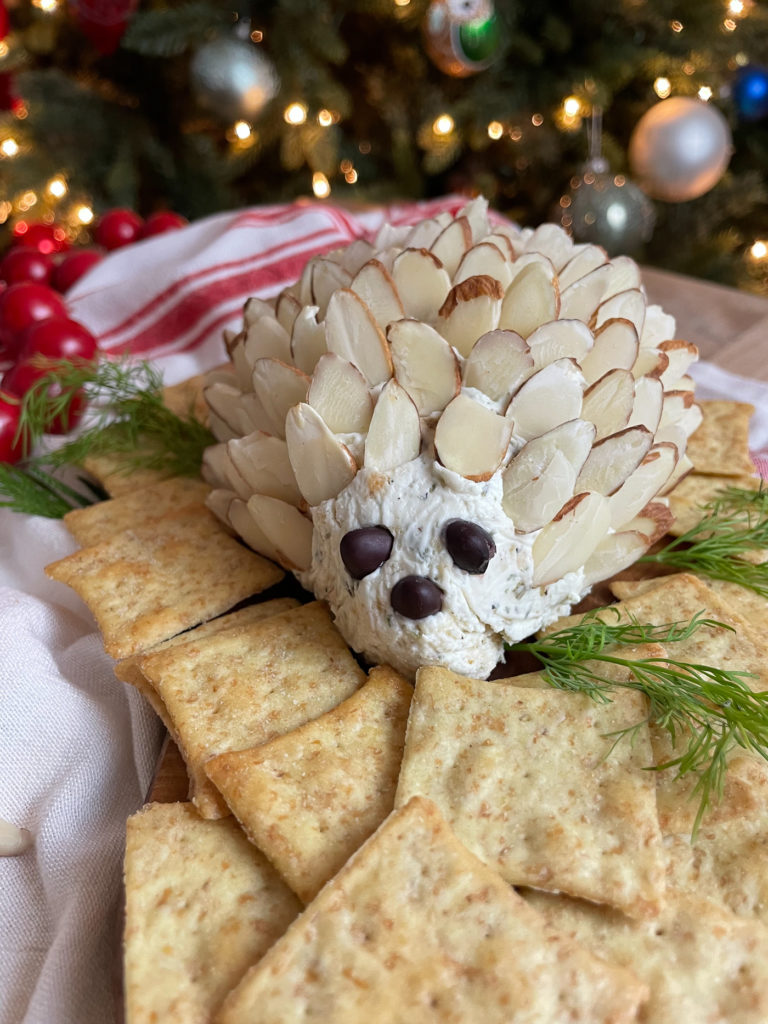 I mean really. How adorable is this! And, tasty too!
Don't save this recipe only for the holidays though. This hedgehog cheese ball would be a hit at any occasion. Baby showers, summer barbecues or pot lucks at the office!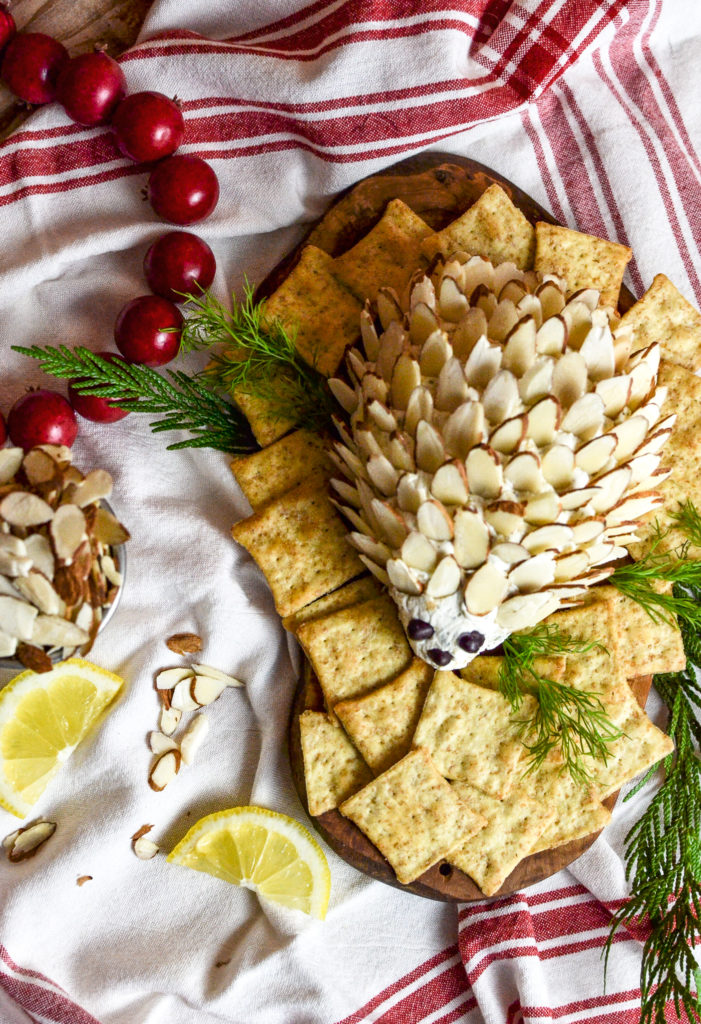 A hostess gift idea
Put the ingredients together in a basket with a pretty wood board and a set of cheese spreader knives as a hostess gift. Add the recipe and photo on the tag!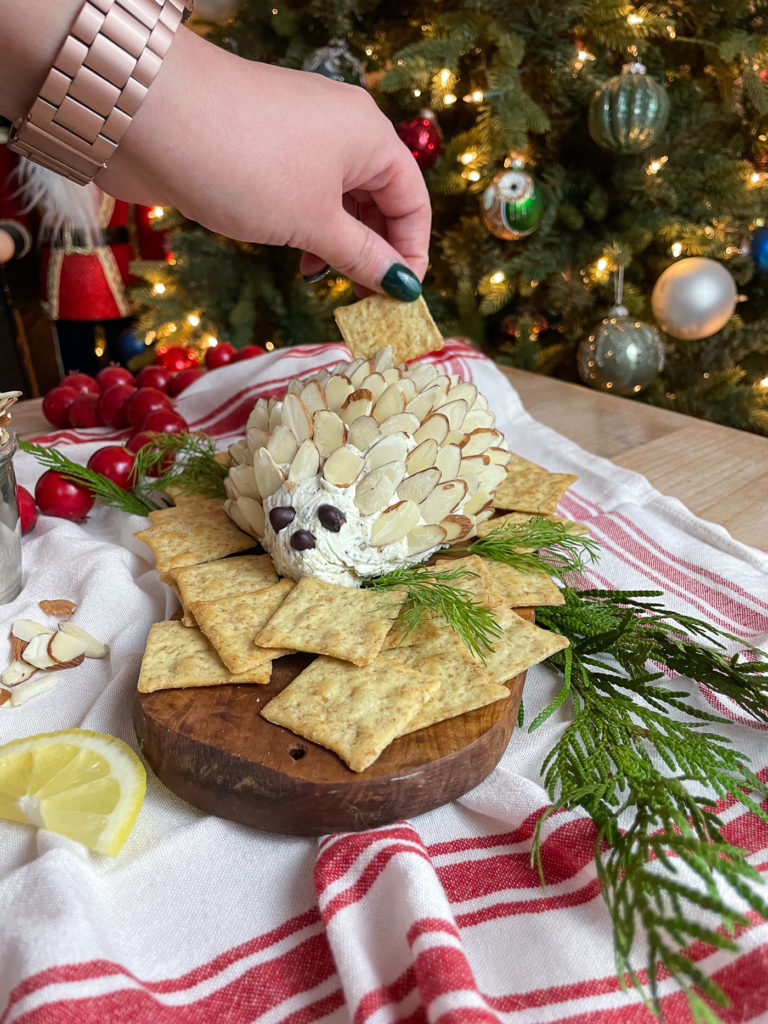 How to serve a cheese ball
I love to serve this cheeseball on a wood board with a bit of dill tucked underneath. Place crackers around it, and a cheese spreader knife. Decorate with springs of fresh seasonal greens.
It would be the star of the show if nestled into the centre of a cheese board!
Add a little tag to identify the flavours of the cheese ball.
How to store a cheeseball
Refrigerate wrapped in plastic wrap for up to 5 days.
This can also be frozen before adding the almonds, for up to one month. Defrost at room temperature and then decorate with sliced almonds before serving.
Any leftovers should be stored wrapped in the refrigerator for up to 5 days.
(Recipe adapted from Woman's Day magazine)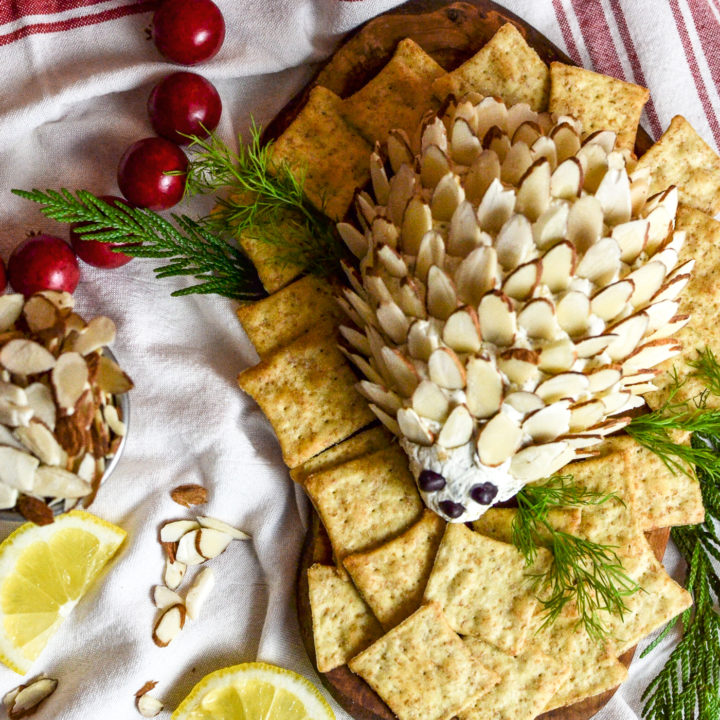 Onion & Chive Hedgehog Cheese Ball
Total Time:
2 hours
10 minutes
Ingredients
4 ounces cream cheese, at room temperature
4 ounces creamy goat cheese, at room temperature
1/4 cup ricotta cheese
3 tablespoons onion and chive dip mix
zest of one lemon
1 teaspoon chopped fresh dill (if using)
pinch of salt
sliced almonds (with skin on)
1 or 2 cooked black beans, black olives, or dried fruit
Instructions
In a large bowl, blend cheese until well combined and fluffy. Add dip mix and blend well, add lemon zest, salt and dill (if using) and blend until all ingredients are well incorporated.
Transfer to a piece of plastic wrap. Cover and shape into a tear drop shape.
Refrigerate for 1-2 hours, until slightly firm.
Remove from refrigerator and place on a wood board or plate. Decorate with almond slices. Add beans, cut in half, or pieces of black olives or dried fruit for eyes and nose
Carefully wrap in plastic wrap and return to the refrigator overnight to let flavours develop.
Notes
Feel free to use any dip mix flavour that you enjoy.
Other Holiday Recipes You Might Enjoy