These yummy Oatmeal Chocolate Chip cookies are reminiscent of old fashioned bakery style cookies.
Not too many years ago pastry chef and Food Network Canada star Anna Olson owned a bakery nearby and I would love to pop in and pick up some goodies now and again.  One of my favorite things were her Oatmeal Raisin cookies that I would bring home and dunk in a cold glass of milk or a warm cup of tea. 
Yes.  I am a dunker!  These cookies were crispy on the outside and chewy on the inside.  Just a hint of spice made them extra delicious.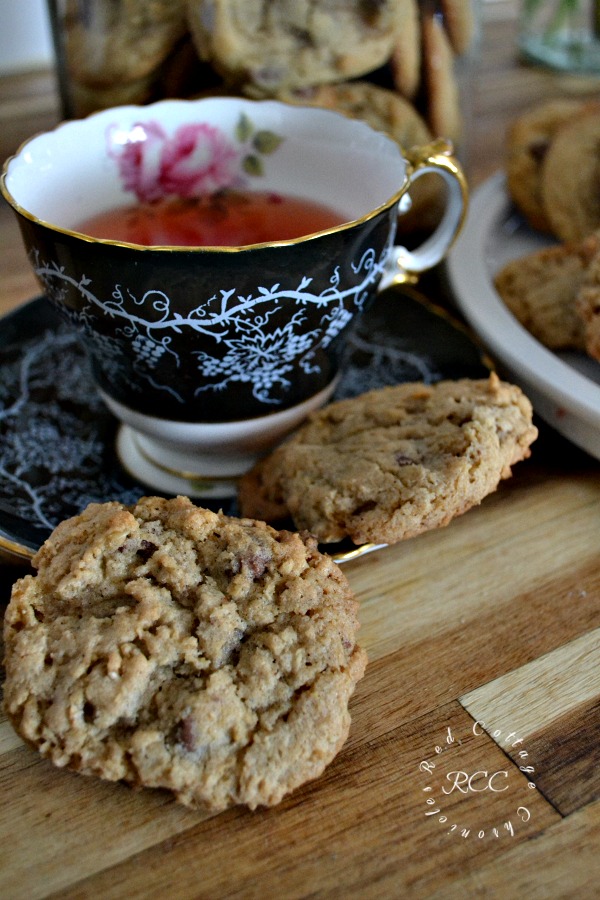 This post contains affiliate links to help you find the products I use in my own kitchen. If you click on the link and decide to make a purchase, I may receive a small commission with no increase in cost to you!
I have her cookbook and have made the cookies several times myself, but recently when I had a Sunday to myself I decided I would substitute milk chocolate chips for the raisins. I was making chocolate chip cookies anyway, so I thought why not make an oatmeal chocolate chip cookie too.
When everyone arrived home later in the day the were more than happy to see dozens of cookies cooling in the kitchen!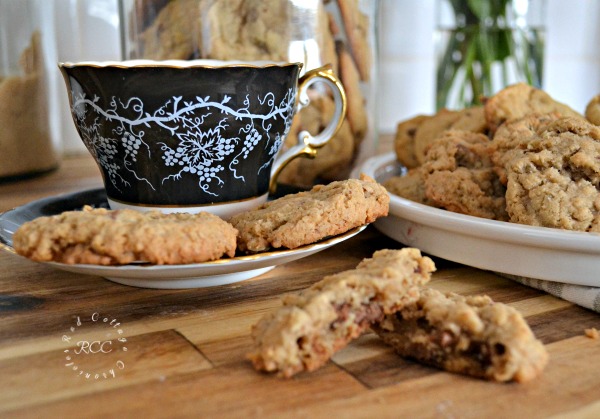 I however had enjoyed a couple right from the oven. Warm, chewy and melted chocolate. I made my favorite cup of Tazo Orange Blossom tea, put my feet up and thoroughly enjoyed my cookies in peace and quiet!
This recipe makes about 3 to 4 dozen cookies, depending on big you like them. I used a heaping cookie scoop of dough per cookie, and the cookies were just the right size.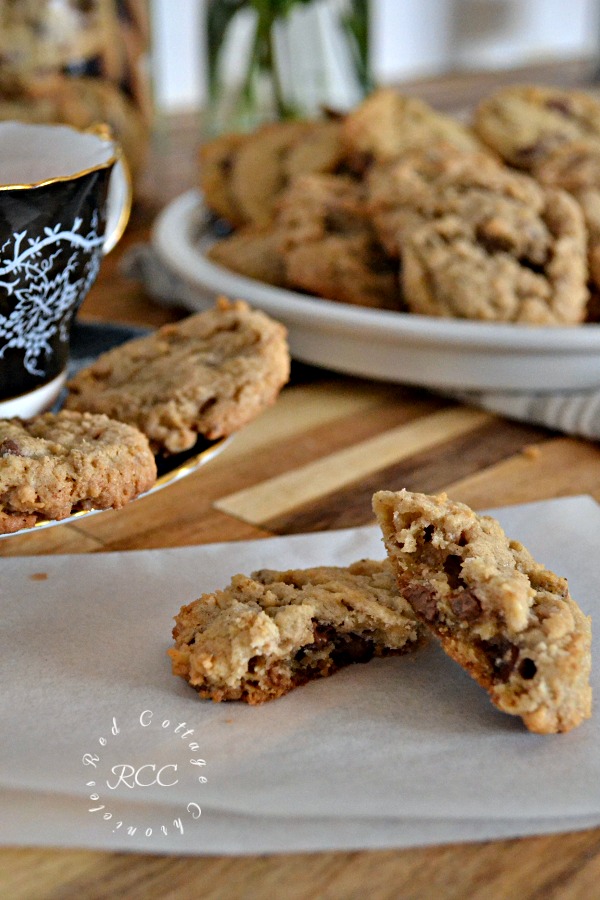 A long time ago I invested in a few good quality half sheet baking pans at a local restaurant supply store, and I so glad I did. The are big enough to fit at least 15 larger cookies and even more smaller ones. These ones are similar and are commercial grade made of a heavier grade aluminum than your typical department store baking sheets, and will last a good long time. I always line my baking sheets with parchment paper, which makes for easy clean-up!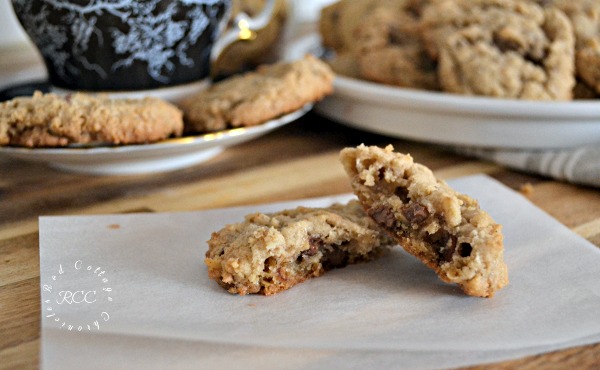 You can find the original Oatmeal Raisin Cookie recipe in Anna Olson's cookbook Back to Baking, and my adaption of the recipe for Oatmeal Chocolate Chips down below!
For more delicious sweet treats, be sure visit my recipe page!
Until next time…..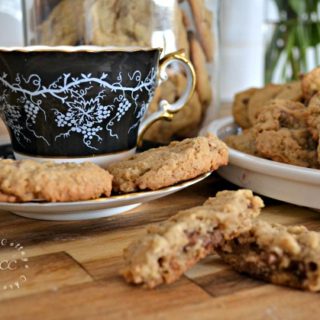 Oatmeal Chocolate Chip Cookies
These Oatmeal Chocolate Chip Cookies are reminiscent of bake shop cookies! Crispy on the outside, and chewy on the inside, full of milk chocolate chips! Perfect for dunking in a cup of tea or a tall glass of milk.
Ingredients
1/2 cup butter, at room temperature
1 cup packed brown sugar
1/4 cup granulated sugar
1 large egg
1 teaspoon pure vanilla extract
1 1/4 cup all purpose flour
2 tablespoons cornstarch
1/2 teaspoon baking soda
1/2 teaspoon salt
1 teaspoon cinnamon
1 cup rolled oats (not quick or instant)
1 cup milk chocolate chips
Instructions
Preheat oven to 350 degrees. Line cookie sheets with parchment paper or non-stick baking mats
In the bowl of electric mixer cream the butter, brown sugar and white sugar on med-high until light and fluffy (about 2 minutes). Beat in the egg and the vanilla
In a separate bowl whisk together flour, cornstarch, baking soda and salt
Add the dry ingredients to the butter/sugar mixture, mixing on low just until combined
Stir in the chocolate chips
Drop dough by heaping tablespoons full onto the prepared baking sheets, leaving about 2 inches between each for spread. Do not press down.
Bake, on sheet at a time, for 10-12 minutes just until edges are beginning to turn golden. Do not over-bake. Cookies will appear soft when first out of the oven.
Cool on baking sheet about 3 minutes before transferring to a wire cooling rack to cool completely
Notes
Store in an airtight container for about 3 days, or freeze for up to a month.