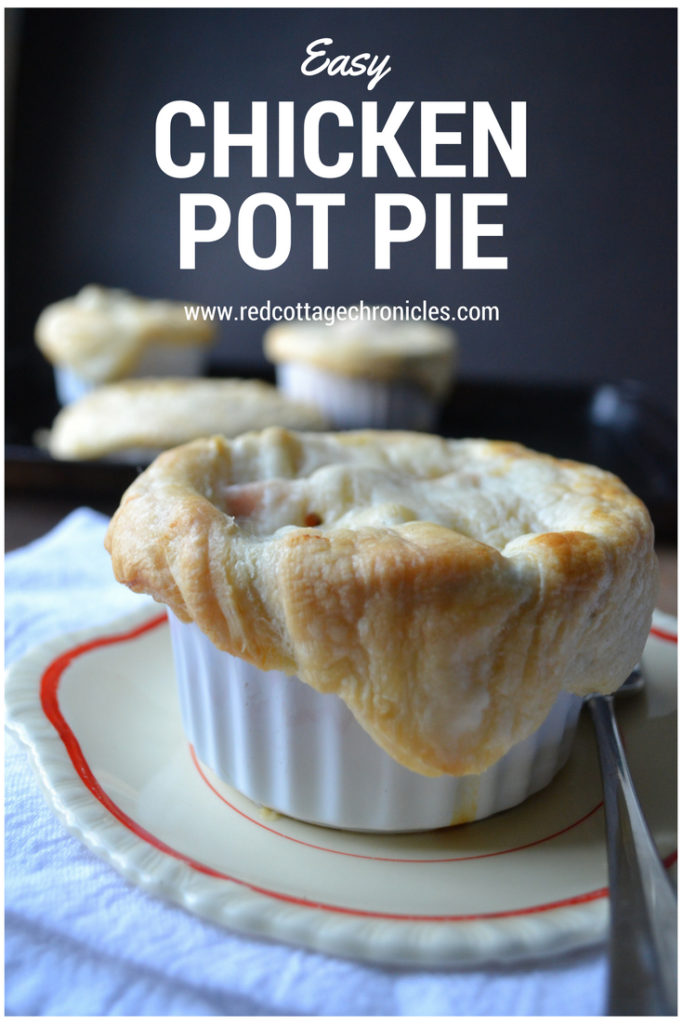 People look at me like I have two heads when I tell them I like winter. I love the crisp cold air, the snowy landscape that makes everything seem so much brighter, and truth be told, I don't mind hunkering down in a good old fashioned snowstorm (as long as all my peoples are safe!)
There are so many other things about the winter season I love, and the return of comfort foods are high on the list! Foods like this delicious chicken pot pie recipe that I am sharing today.
Today I am getting together with a few of my Canadian blogging friends to share our favourite cold weather, comfort food recipes. You can find links a little further down to each and every delicious recipe as well as a printable recipe for my Chicken Pot Pie.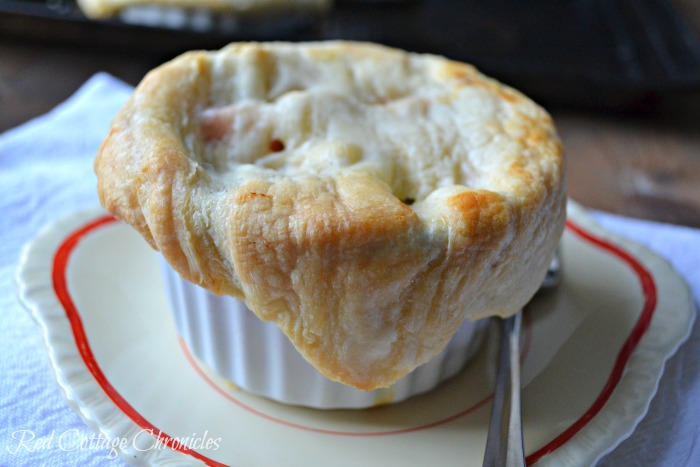 I first came across this easy chicken pot pie recipe in a copy of a seasonal publication from Kraft here in Canada. However, since I forgot to make a list when I went to the grocery store I didn't exactly get the ingredients the recipe called for, so I made it all my own!
The original recipe called for a homemade cream cheese pastry. Since I was adding this to my weeknight meal plan, I decided to use prepared frozen puff pastry instead. Huge time saver, but still a lot of buttery pastry flavor.
It also called for Philadelphia Cooking Cream in Italian Three Cheese Flavour. What did I buy? Philadelphia Cream Cheese in Herb and Garlic, not the cooking cream just plain old tub of cream cheese. I did manage to buy the right frozen veggies!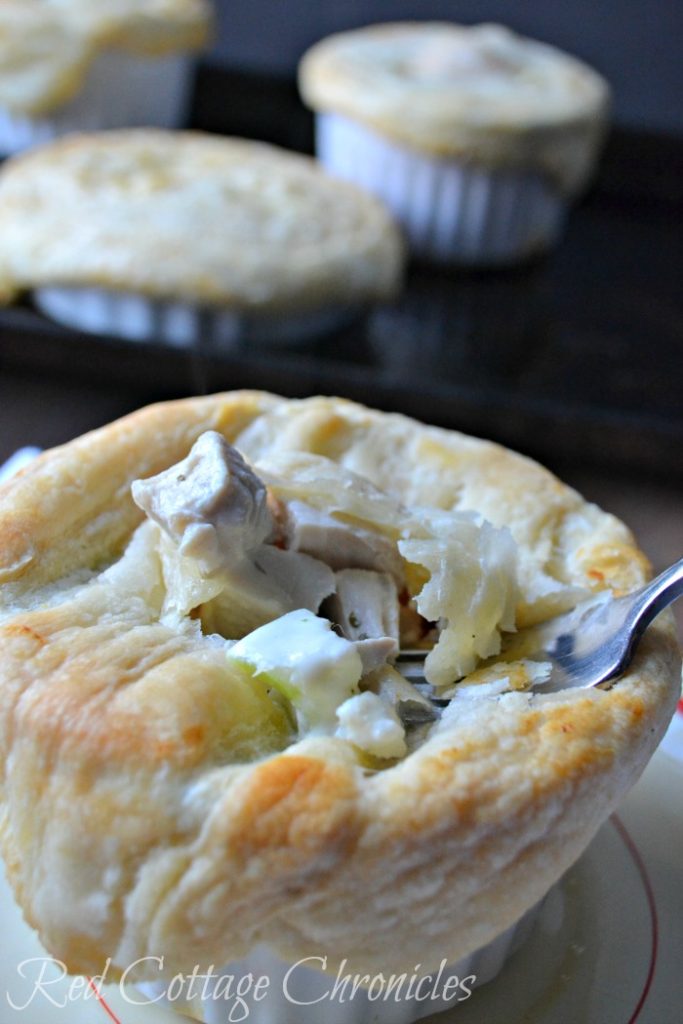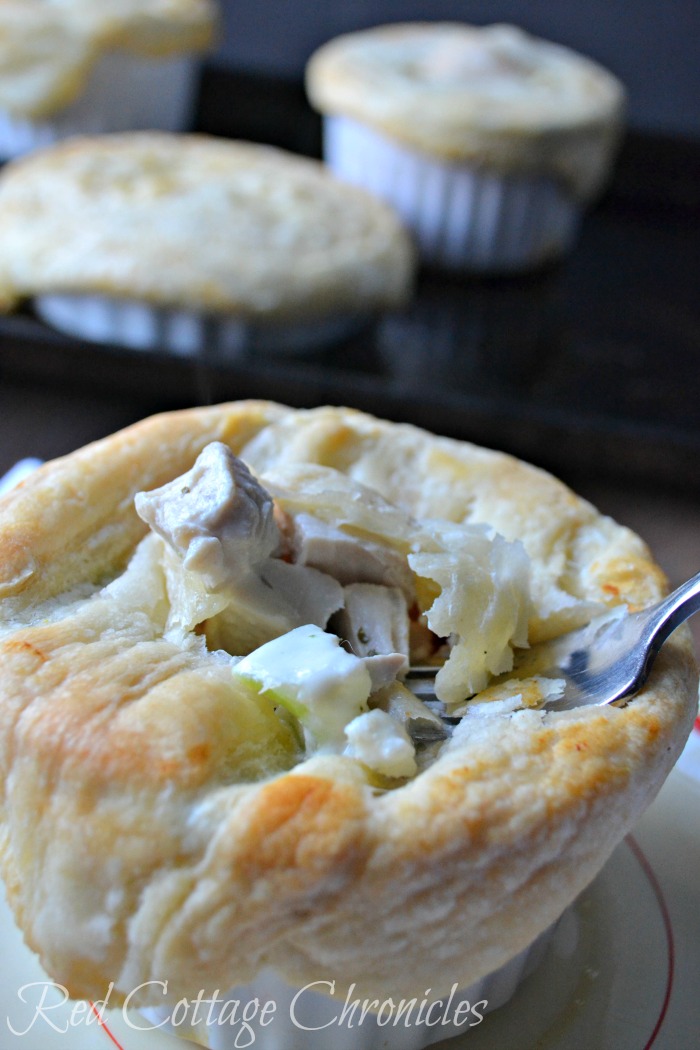 I love using little ramekins for these individual pies. I have a couple of different sets in different sizes. I have had mine for years, but (affiliate link) these ramekins are similar.
As it turned out, this chicken pot pie was delicious. Loaded with chunks of chicken and vegetables in a creamy garlic and herb sauce covered in a crispy flaky crust, it was a huge hit. I even made a vegetarian one for Sam (Just left out the chicken) and baked it in a different size ramekin so she didn't bite into the wrong one!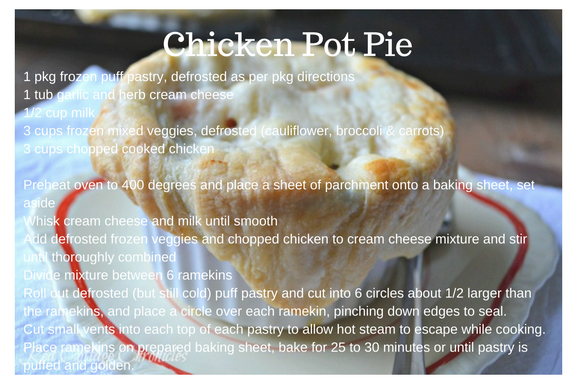 Simply click the photo above for a printable recipe card
Check out some of my other favorite comfort foods that are being added into our menu plan like this Maple Roasted Butternut Squash Soup and this Slow Cooker Sweet and Sour Steak.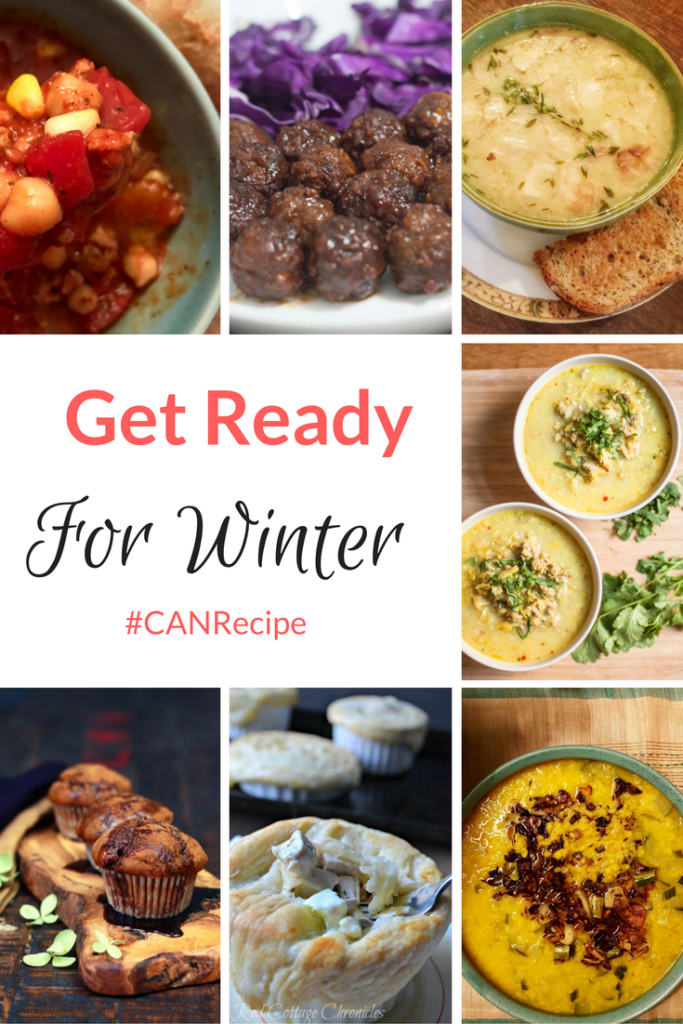 Today I'm glad to be sharing recipes from fellow Canadian bloggers under the hashtag #CANRecipe. November is the unofficial start of winter across the country and what better way to get ready for the season than with delicious food straight from our kitchens.
From the top the dishes are:
Easy Weeknight Turkey Chili @ Mommydo
Grape Jelly Meatballs @ The Inspired Home
Puffball Mushroom Soup @ OffThePorch.ca
Creamy Curry Meat Soup @ Allergy Girl Eats
Moong Dal (Indian Lentil Soup) @ Maple and Marigold
Chicken Pot Pie @ Red Cottage Chronicles
Pumpkin Molasses Muffins @ Everyday Allergen Free
Until next time….

Want more recipes, DIY projects and home decor tips? Simply click the image below and subscribe to Red Cottage Chronicles and be the first to know when a new post goes live!
(Visited 1 times, 1 visits today)