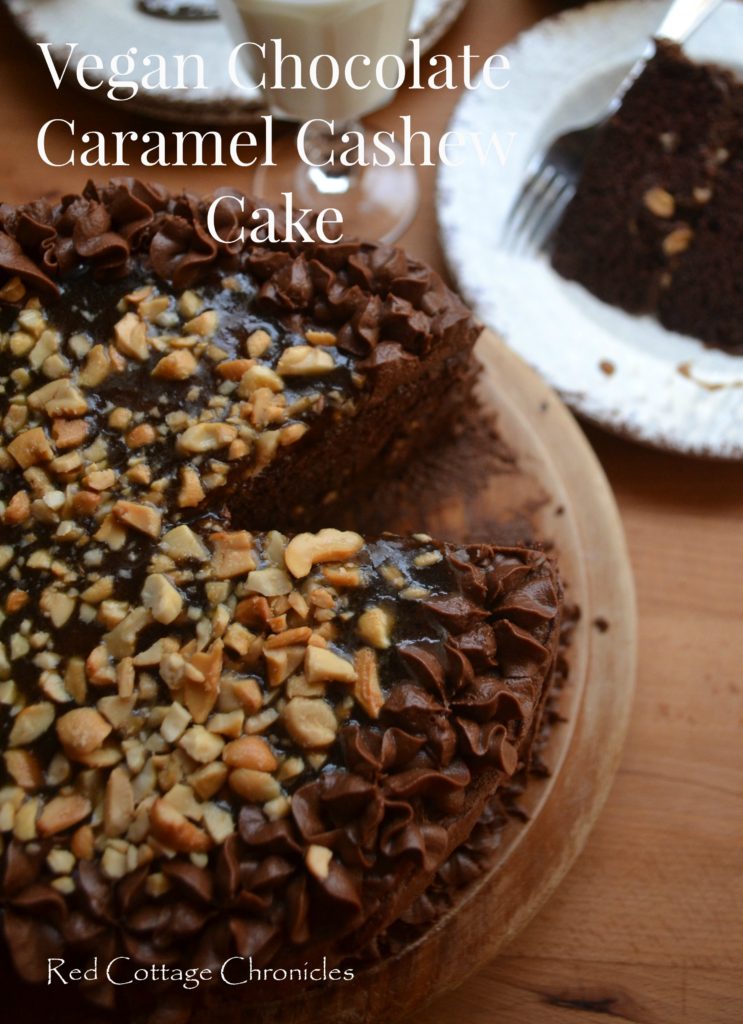 Our family is always getting together for one thing or another and our gatherings almost always include food! With a daughter who is vegetarian and a nephew and his girlfriend who are vegan I like to try and include desserts that appeal to them as well. It is also dairy free which appeals to me nephew as well!
I came across a recipe for a vegan chocolate cake and decided to put my own spin on it! Kind of glam it up a bit.
I have to admit, I didn't think it was going to be anywhere as delicious as it turned out! It is rich in chocolate flavor, and is as moist as a really good fudgy brownie. The caramel sauce which is from Eff Yeah It's Vegan, made simply by boiling coconut cream and dark brown sugar, is caramely and coconuty all at the same time.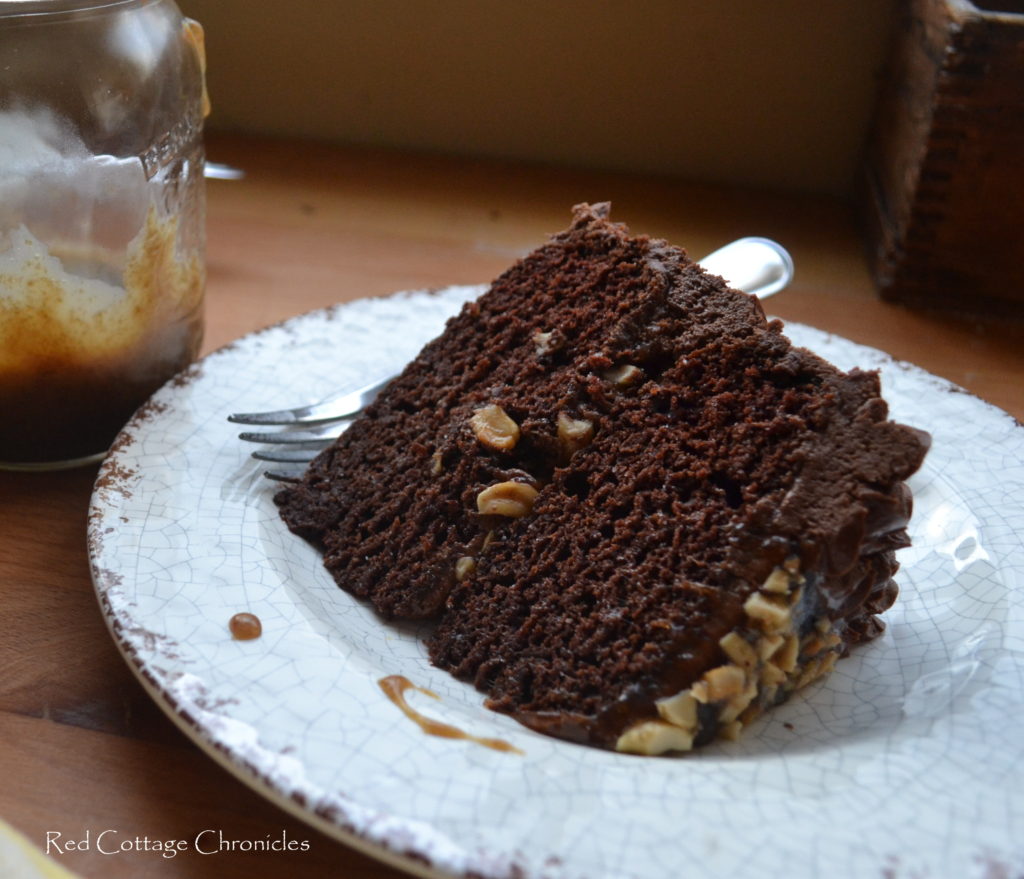 The chocolate buttercream frosting I could have eaten with a spoon! (Tip: I doubled the recipe so there was actually a bit left over that I did eat with a spoon!)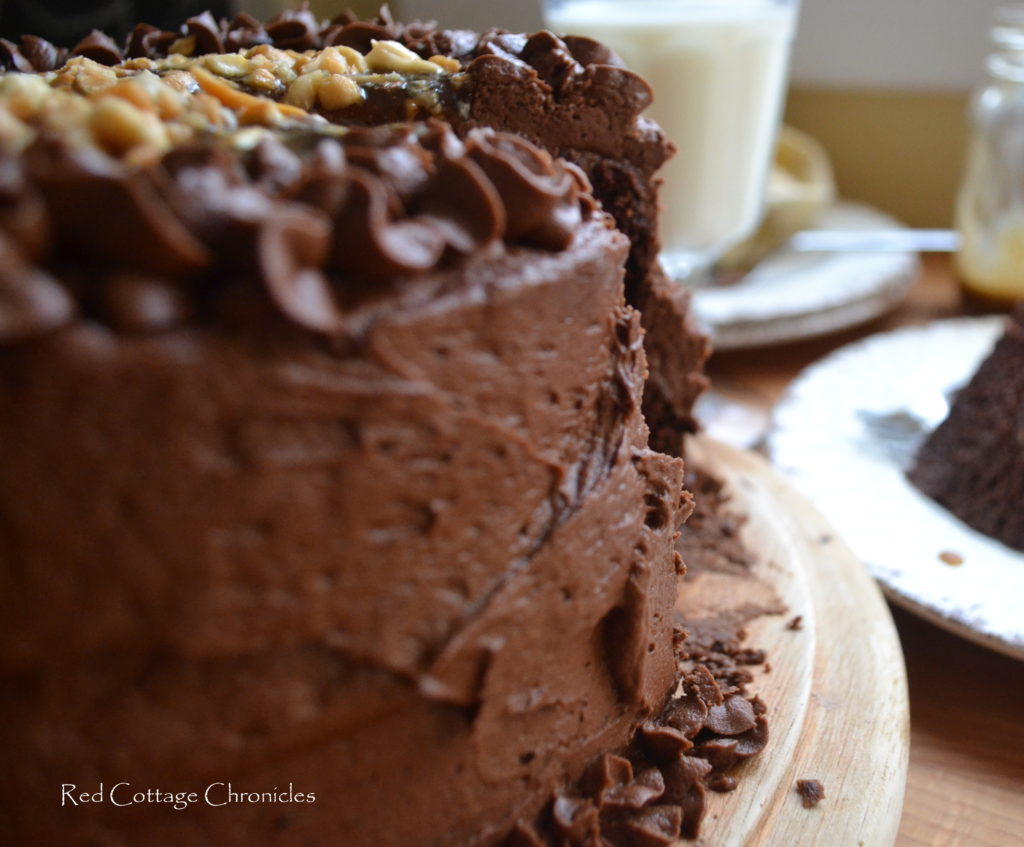 I was super pleased with how pretty it looked, I didn't want to cut it! Am I the only one who does that? My mouth is watering and I can't wait to taste it, but darn….I just didn't want to cut it and ruin that prettiness!
But am oh so glad I did! I am not even vegan but I don't think I have had a better chocolate cake!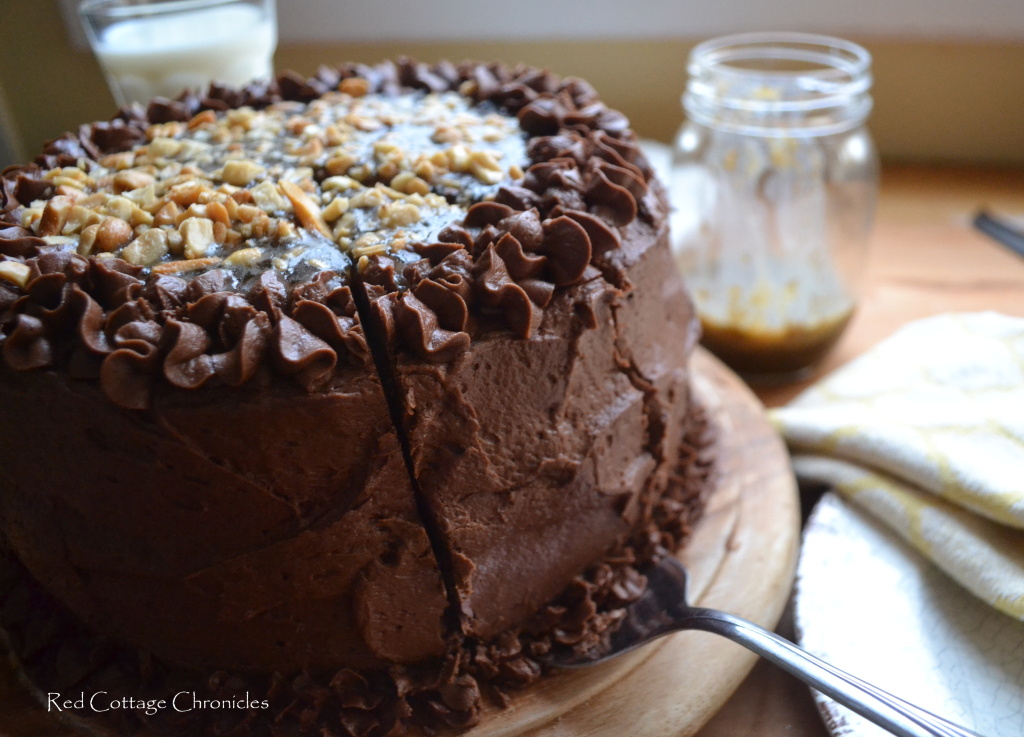 It is a bit of a stretch, but I think this is a healthy cake! It has heart healthy cashew nuts after all! Oh, and whole wheat flour. That counts, don't you think?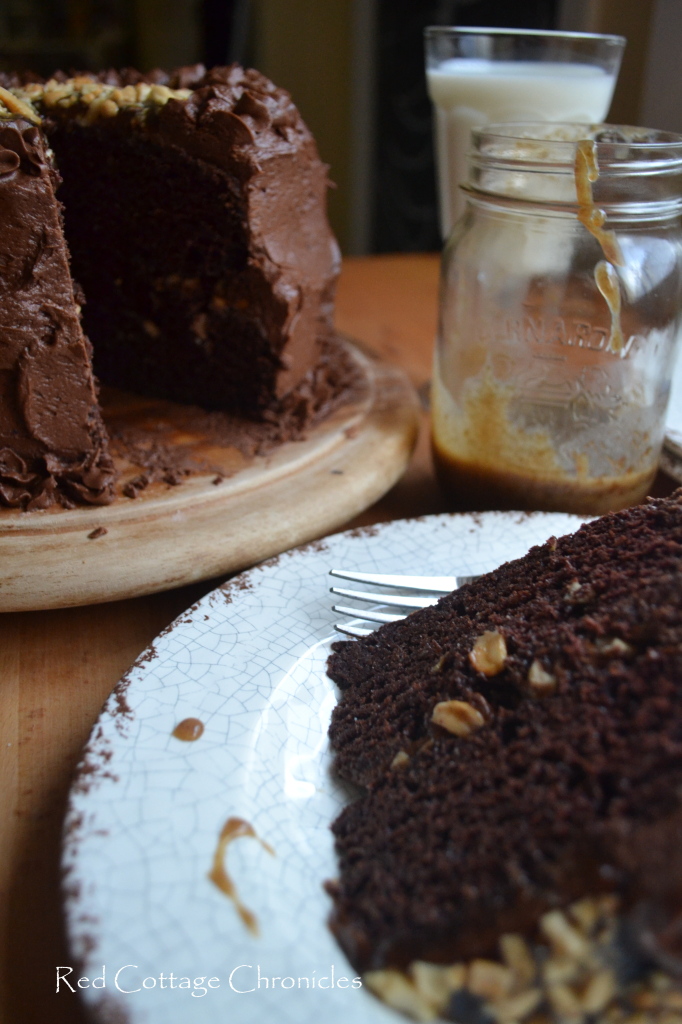 There is so much more I could say about my new favorite cake, but there is a big piece ready and waiting with my cold glass of milk! (Because nothing goes better with rich chocolate cake then a glass of milk!)
ENJOY!
Vegan Chocolate Caramel Cashew Cake
2018-09-17 09:59:25
For the cake
2 cups cashew milk (or almond milk)
2 tbsp. white vinegar
1 1/2 cups natural cane sugar
2/3 cup melted organic coconut oil
2 tablespoons pure vanilla extract
1 cup whole wheat pastry flour
2 cups all purpose flour
2/3 cup cocoa powder, sifted
2 teaspoons baking soda
1 1/4 teaspoon salt
For Frosting
1/2 cup vegan butter (I use Earth Balance soy free)
2 cups confectioners sugar, sifted
1 teaspoon vanilla extract
3 1/2 tablespoon cashew milk (or almond milk)
For Caramel Sauce (from Eff Yeah It's Vegan)
1 can coconut cream (liquid drained off)
1 cup packed dark brown sugar
1 teaspoon pure vanilla extract
pinch of salt
Chopped cashews
Instructions
Preheat oven to 350 degrees and spray two 8 inch round baking pans with coconut spray. Line bottoms with parchment.
Combine cashew milk and vinegar and let rest for 2 minutes.
To the milk mixture add cane sugar, melted coconut oil and vanilla. Whisk until well combined.
In the bowl of electric mixer combine flours, cocoa powder, baking soda and salt. Whisk until combined.
Give the milk mixture another quick whisk to be sure it is thoroughly combined and then add it to the dry mixture.
Beat on low speed for 30 seconds. Increase speed to medium and beat until batter is smooth.
Pour into prepared pans and bake for 30 to 35 minutes. Cakes are done when a tooth inserted in the centre comes out clean.
Allow to cool in the pans for about 15 minutes and then carefully run a knife around the edges before turning cakes out to completely cool.
Prepare frosting - add vegan butter to clean bowl of electric mixer and beat until light and fluffy. Sift in the confections sugar, add vanilla and beat on low until it just comes together.
Add milk and beat on medium high speed for 3 to 4 minutes until really light and fluffly
For caramel sauce - In a heavy bottom saucepan combine coconut cream and brown sugar using a wire whisk.
Continue to whisk the mixture constantly as the mixture heats and comes to a rolling boil, lifting the pot off the burner occasionally if required to prevent overflow. Continue to whisk and heat for 20 minutes.
Remove from heat and whisk in vanilla.
To assemble the cake put a dab of frosting on a cake plate and place one layer on top. Frost this layer. Top with a thin layer of caramel sauce and a handful of chopped cashews.
Place second layer on top of the first and frost, blending frosting into the bottom layer.
Place some frosting into an icing bag with a star tip. Pipe a row of stars on the top of the cake creating a circle around the outside edge.
Fill the centre with caramel sauce and top with chopped cashews
Red Cottage Chronicles https://www.redcottagechronicles.com/