The Table Is Set! Come on in Spring!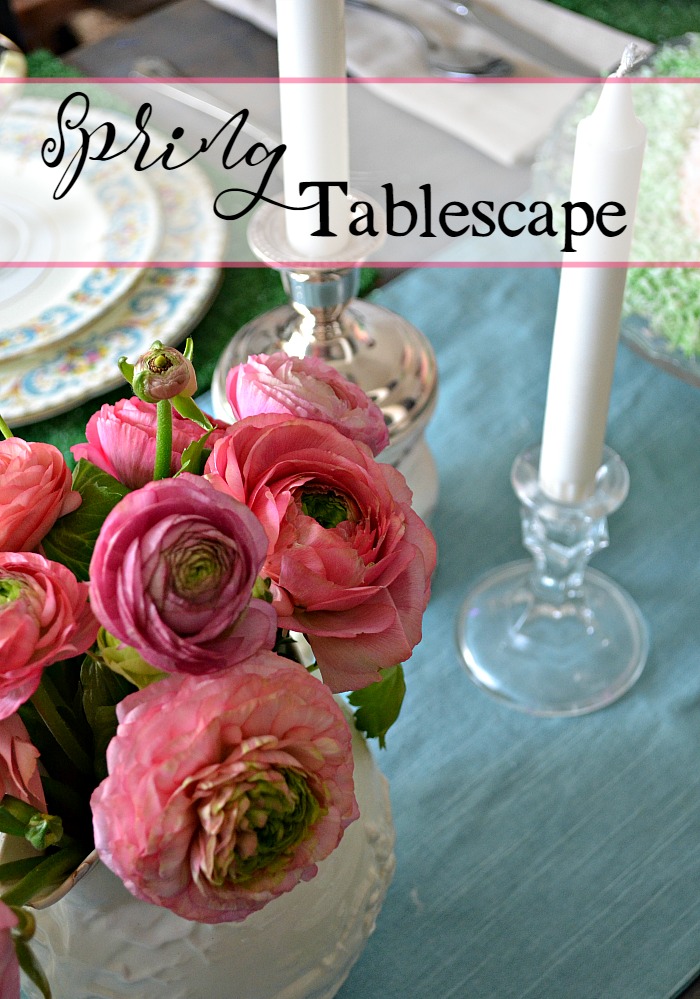 We were really lucky to have a fairly mild winter and record warm temperatures the end of February. Now that March is here, the month that spring finally arrives, we have below normal temperatures and snow in the forecast for the next week. Go figure!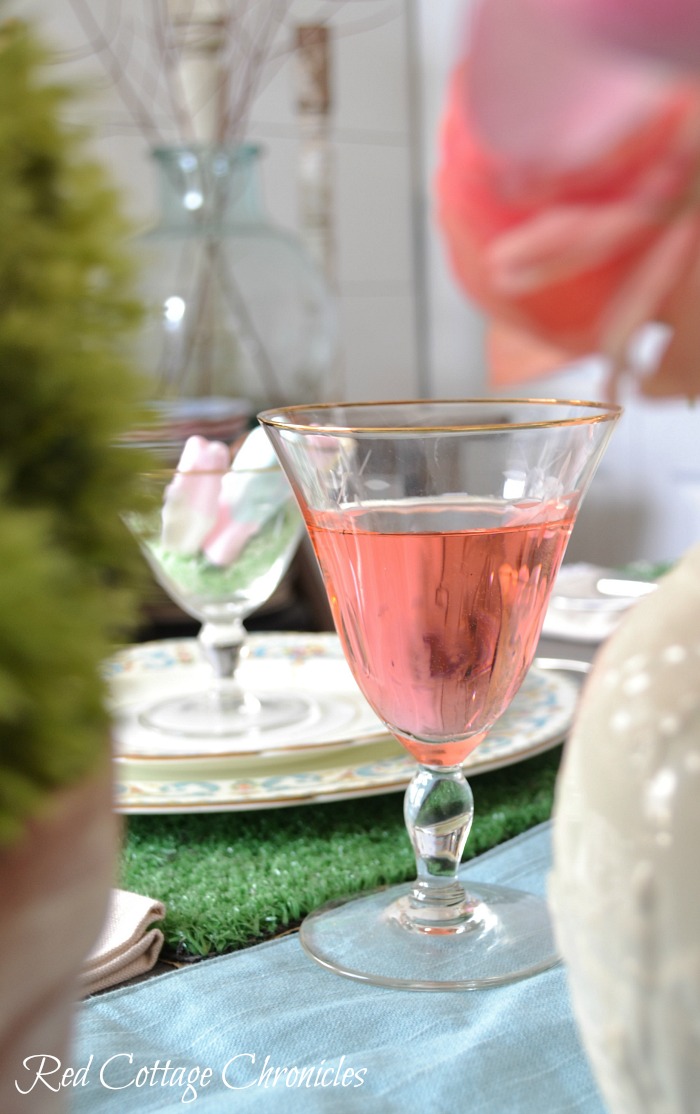 As much as I love autumn, which is my favourite season, I do love the fresh air and the return of vibrant colour come springtime.
I got to thinking about spring table setting ideas and wanted to really borrow from the colours that spring brings. The many pastel shades of tulips, vibrant greens of the leaves uncurling on the trees, and lemony yellows from the daffodils that will soon pop up in my garden.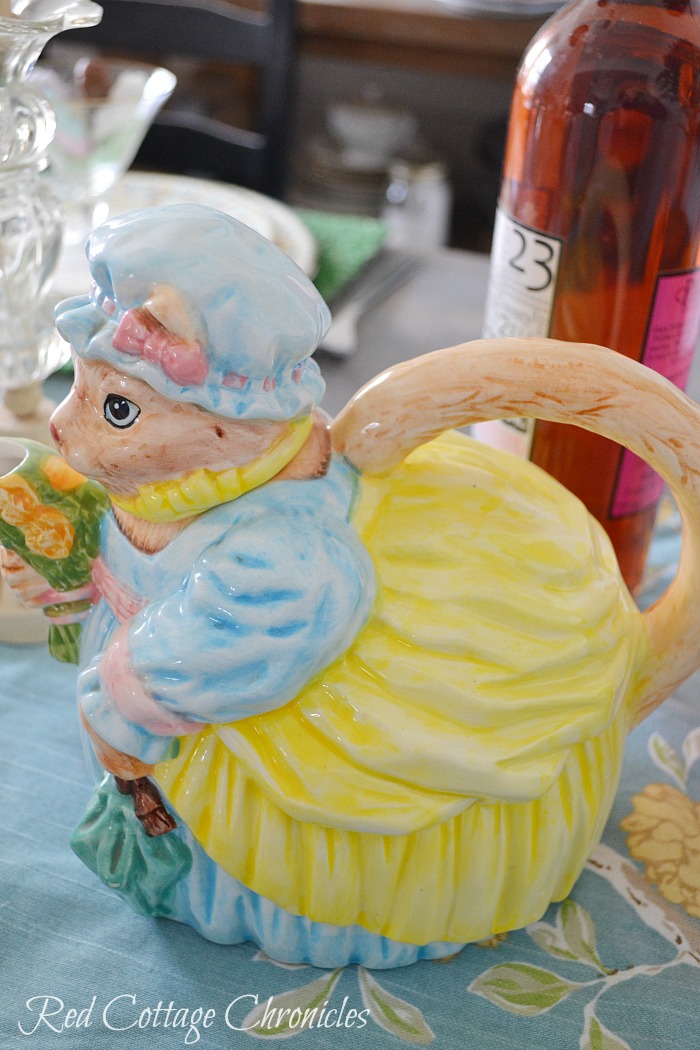 What I didn't want to do was spend a fortune. Everything on my table, with the exception of the gorgeous ranunculus I picked up for $8.00 at the market, I already owned or borrowed!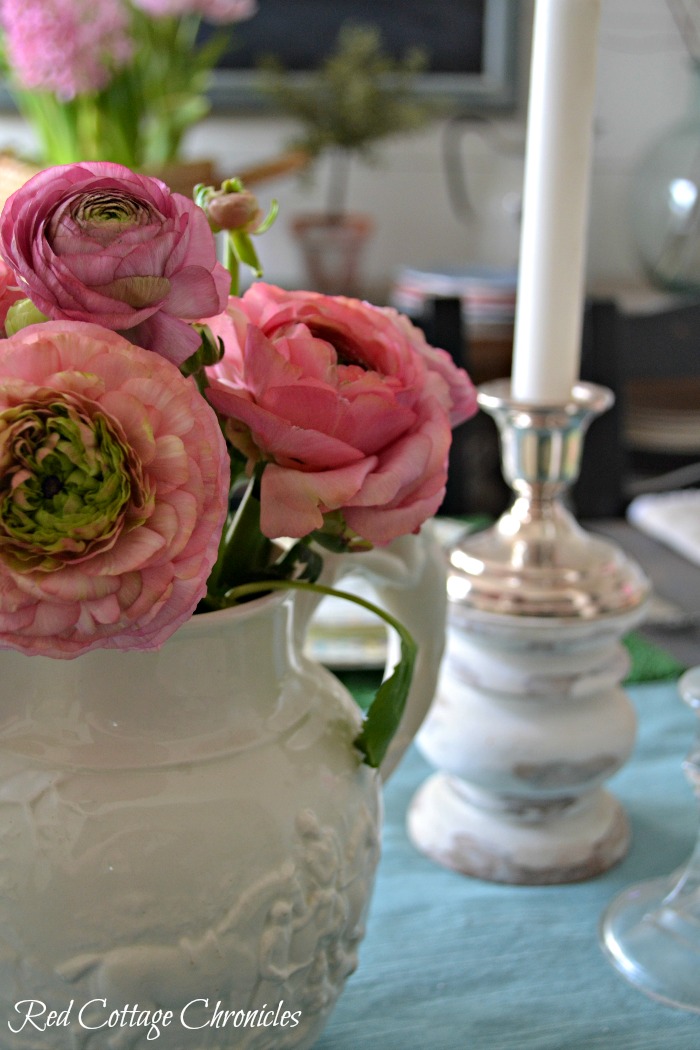 For instance, I borrowed an ironstone looking jug from my friend Leslie. (You may remember Leslie from her bathroom reno). I know I can always count on finding something fun at her house when I am styling a table, or even a room! I just love how all the different shades of pink pop against the creamy white jug.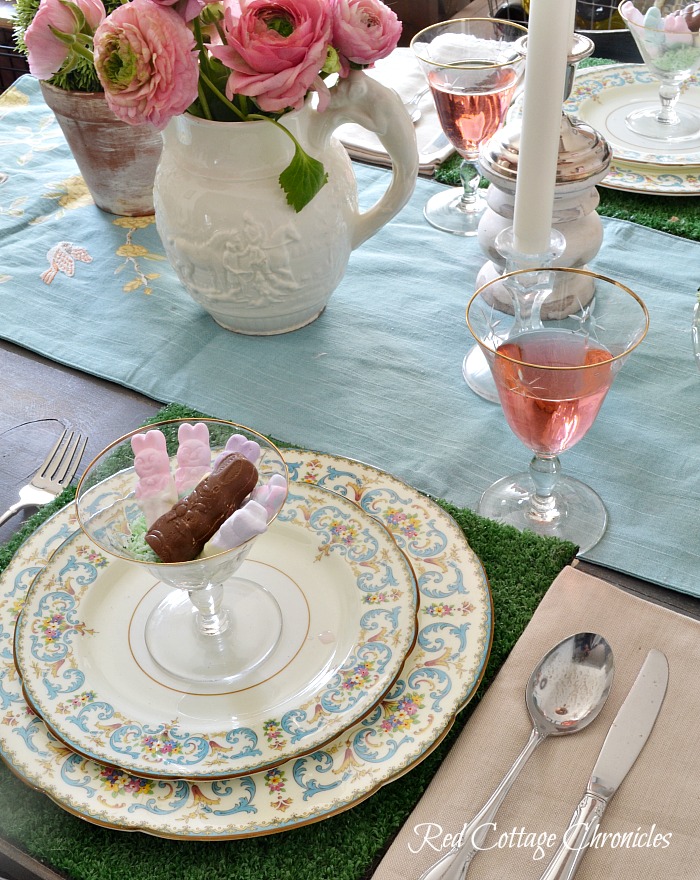 Look at the unique handle on the jug I borrowed. With all the detail it has, I think it would look perfect just on its' own.
Since I love an edible centrepiece, a little nod to the Easter bunny is the perfect compliment to a fun spring table setting. I baked up an Easter bunny cake for dessert. I will share the tutorial for it soon!
A few Easter themed treats nestled in dessert goblets resting on a bed of green coconut make a sweet treat for dinner guests.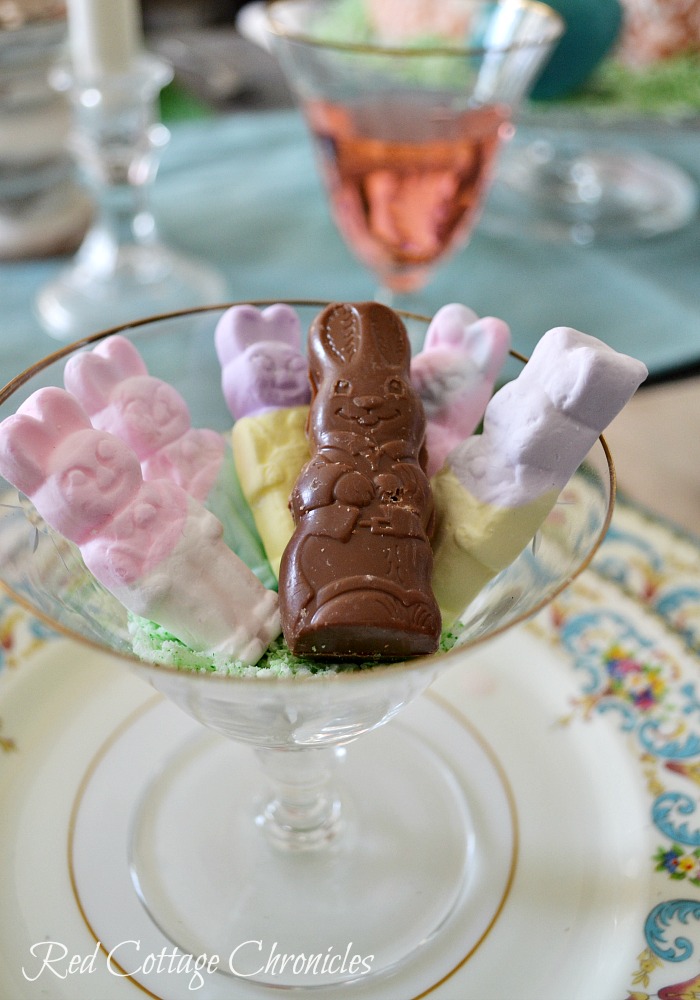 One thing I have never invested in, is a set of good china. I really didn't see the point way back when we got married. I remember absolutely everyone picked a china and crystal pattern and put it on their gift registry. I looked at china as something I would rarely use but had to find storage space for.
Fast forward 30 years and I am kicking myself. My mother has inherited my nana's china, and I remember how much I loved seeing it come out at Christmas time and special occasions. It is exactly the pattern I would have chosen for myself. The pattern is called Queen Anne, and is from Paragon.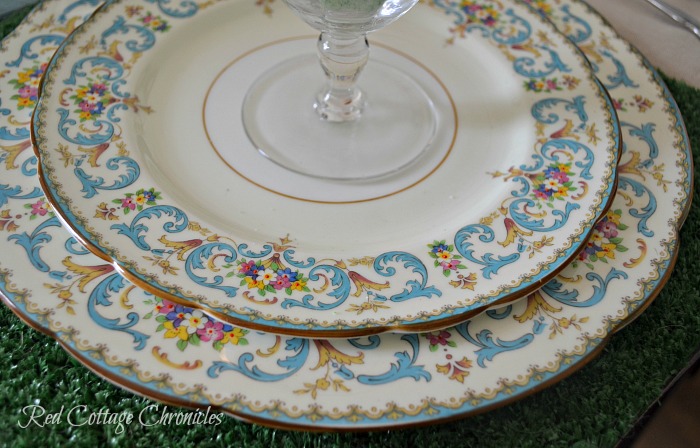 Mom had no problem loaning me a few pieces for my spring table setting. And, since we were talking about it, I also took the opportunity to remind her that since my sister already has full set of beautiful Royal Dalton, she really has no choice but to leave this china to me! Since we want to keep her around for awhile I am happy just to borrow it for now!!
The crystal wine glasses and dessert goblets I did inherit from my nana.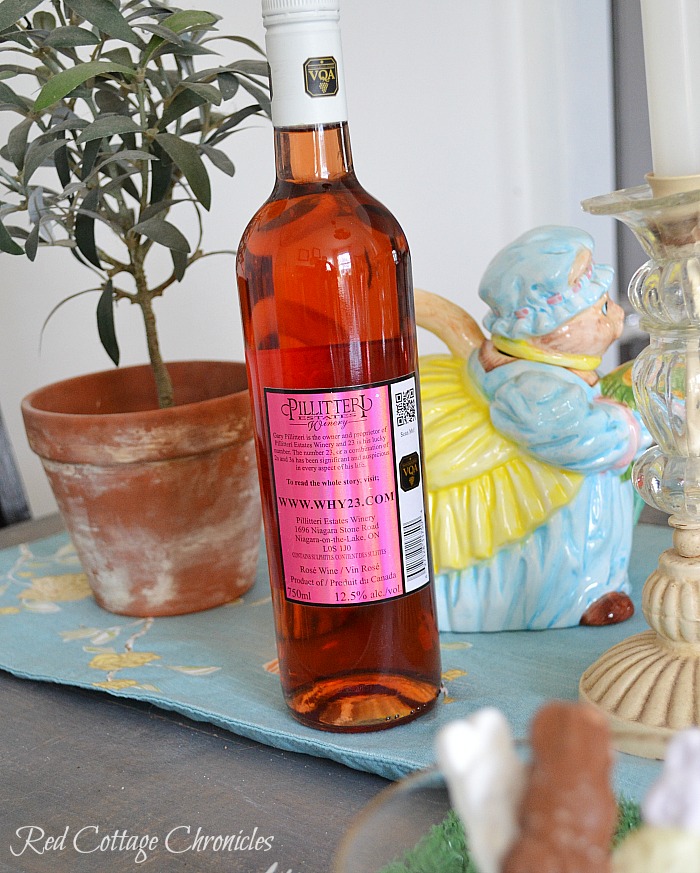 I even matched the wine to the overall colour scheme by choosing a blush pink Rose from Pilliterri Estates winery here in Niagara. Green topiaries popped into recently "aged" clay pots bring a bit of an earthy feel.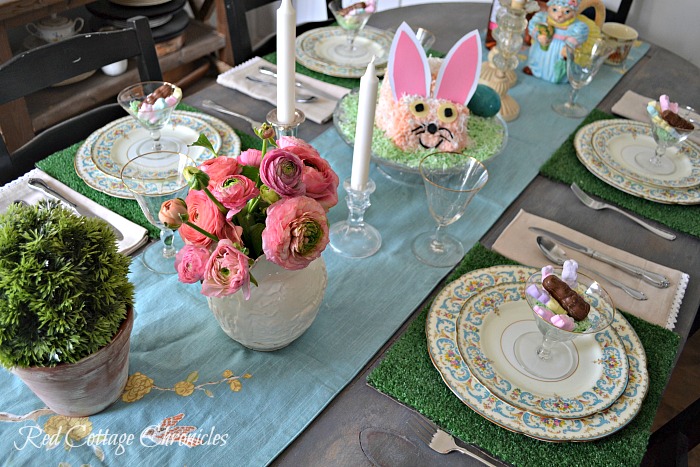 Squares of grass purchased a few years ago for this tablescape make the perfect place mats. Neutral linen napkins with a dainty lace border are perfect for spring. There was a time when I fussed about matching silverware, but those days are long gone! I am lucky to have two utensils the same!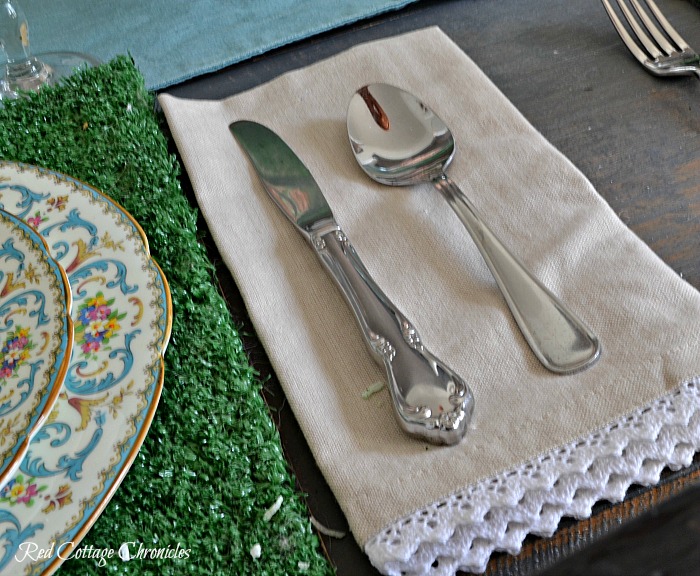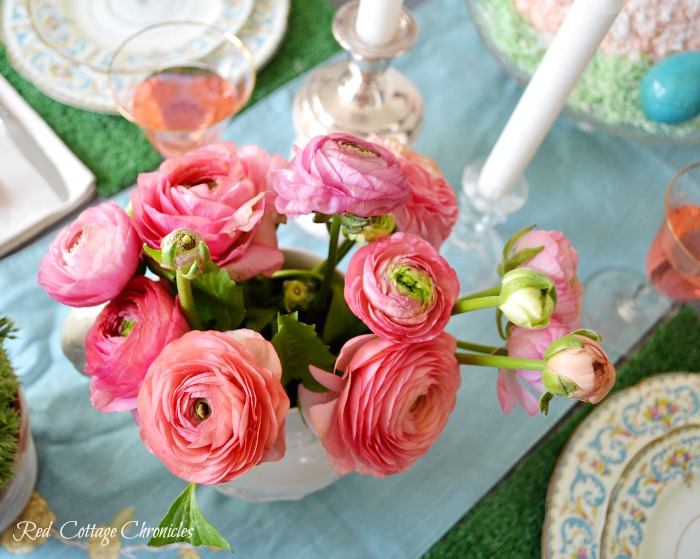 Even if it is snowing outside, I know the trees will soon be filled with buds and the early spring flowers will start to poke their heads up out of the garden and fill the landscape with colour again! Until then I can enjoy a hint of spring when I sit down to dinner!
Until next time…..

I invite you to join the Red Cottage community and stay up to date with what is happening at our little cottage home!