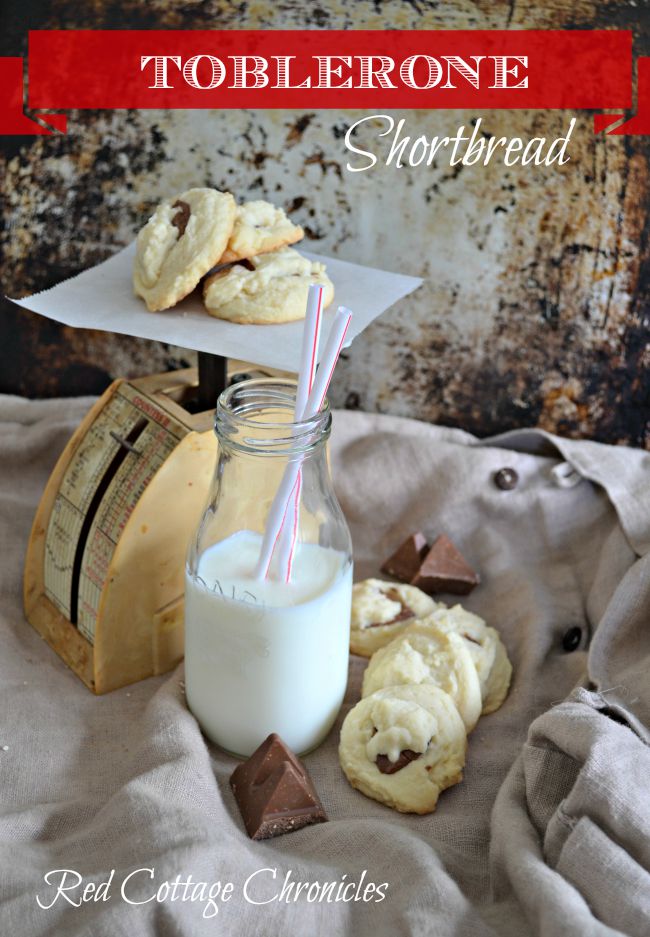 If you have ever watched the Food Network in Canada I am sure you are familiar with pastry chef Anna Olson. Some time ago she owned and operated a bakery in our area and whenever I had a chance I would pop in and pick up some Toblerone shortbread.
The crumbly soft shortbread surrounding a generous chunk of Toblerone Chocolate is heavenly. If the soft buttery shortbread wasn't enough, the chocolate and nougat takes it over the top.
I have made it for bake sales, for Christmas parties and just for family, and always get rave reviews (and a request for the recipe!).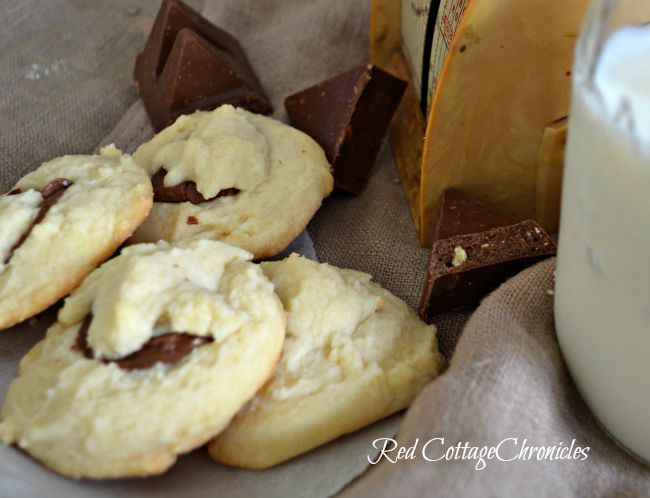 I always tend to double the recipe because the cookies disappear before they are even cooled.
It really is an easy and foolproof cookie recipe that is perfect for the beginner or seasoned baker. Just a few simple steps:
beat 1 cup soft butter until light and fluffy
add 1/2 cup + 2 tbsp sifted confectioners sugar and beat again till fluffy
beat in 1/2 cup corn starch
add 1 & 1/2 cups sifted flour and 1/2 tsp salt and mix until dough comes together
stir in 1 tsp pure vanilla extract until combined
scoop out by the tablespoon to a parchment lined baking sheet, lightly press in a chunk of Toblerone and top with a bit more dough
bake at 350 for 14 to 15 minutes and then remove from oven to cool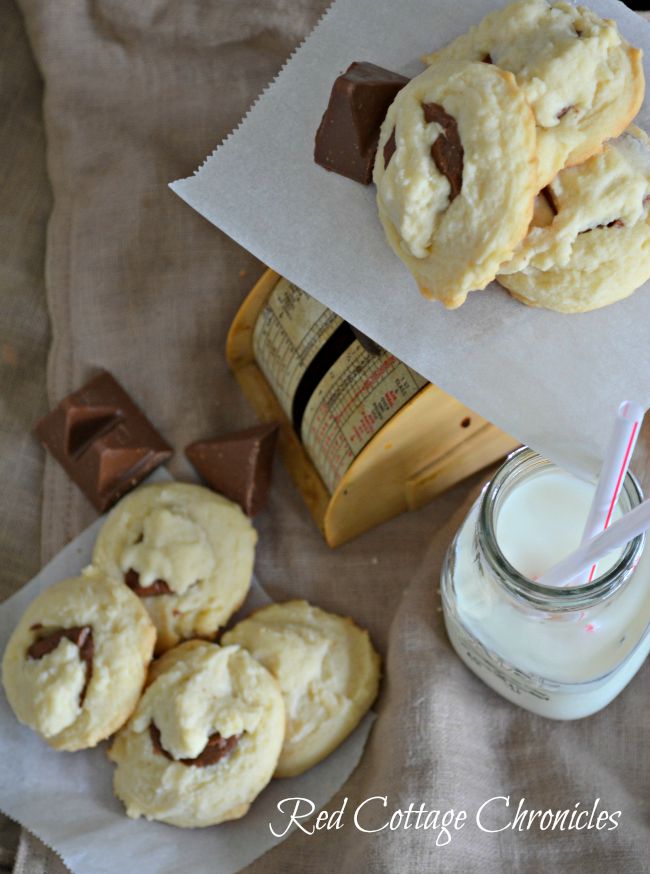 You want the edges to be just starting to brown, so watch them closely around minute 14. But, even if they brown up a little more than you would like they are still delicious.
Is it okay to call a cookie "comfort food". Because there is something about dunking a freshly baked cookie into a cold glass of milk. I am definitely a dunker.
But, I am equally okay with grabbing a cookie on the go and enjoying it straight up!
I always buy extra Toblerone too. A little left over chocolate never hurt anyone!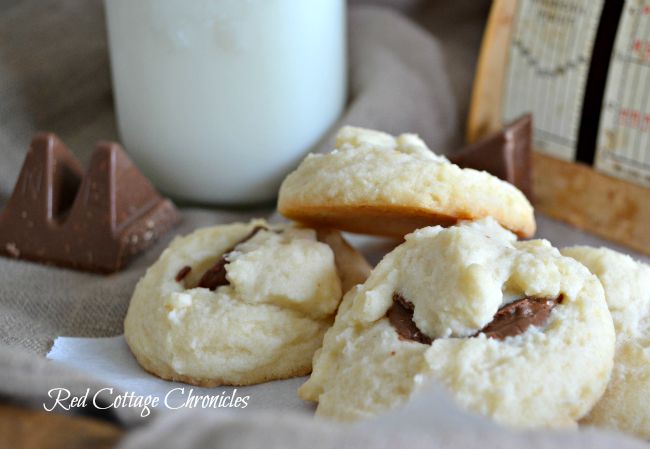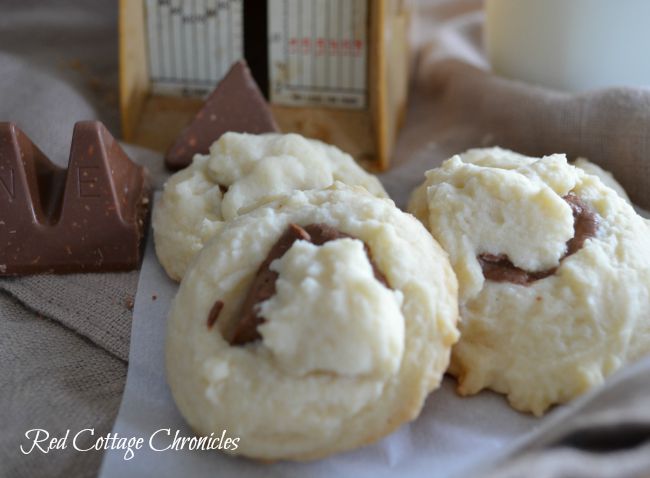 These cookies freeze really well. That is if you are able to get them from oven to freezer before they are all gone.
If you have a cookie exchange to attend, this Toblerone Shortbread would be a winner!
My 31 days of baking continues tomorrow with glazed lemon loaf.
Until next time…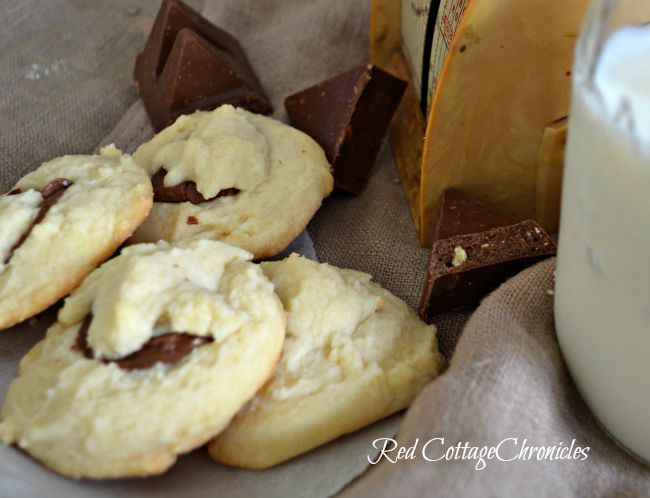 Toblerone Shortbread
2016-11-02 05:28:51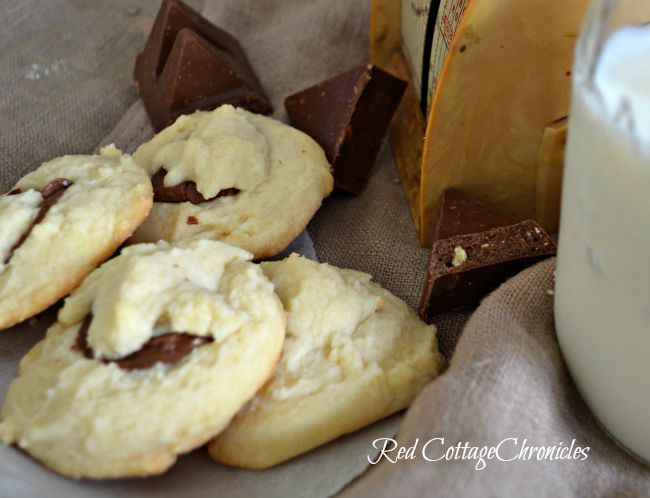 Serves 24
A rich, buttery shortbread with a generous chunk of Toberlone chocolate baked right in the centre
Ingredients
1 cup unsalted butter, softened
1/2 cup + 2 tbsp confectioners sugar
1/4 cup cornstarch
1 1/2 cups all-purpose flour
1/2 tsp salt
1 tsp pure vanilla extract
chocolate nougat (such as Toblerone) chopped into large chunks
Instructions
Preheat oven to 350F degrees.
Cream butter until light and fluffy.
Sift icing sugar and add to butter, beating again until fluffy, scraping down the sides of mixing bowl as needed.
Sift in cornstarch and mix to blend in. Sift in all-purpose flour and salt and mix until dough comes together
Stir in vanilla.
Scoop onto parchment lined baking sheet using a small ice cream scoop or 2 heaping teaspoons per cookie.
Press a small chunk of Toblerone into centre of each shortbread. Top with a small piece of dough pressing down lightly.
Bake at 350 degrees for 14 to 15 minutes or until bottoms are lightly browned. Remove from cookie sheet and cool on wire rack.
Adapted from Anna Olson
Adapted from Anna Olson
Red Cottage Chronicles https://www.redcottagechronicles.com/