Just yesterday my husband popped his head into the living room and announced "only 187 days until Christmas". I resisted the urge to throw something at him, but suddenly my thoughts went to brunch recipes!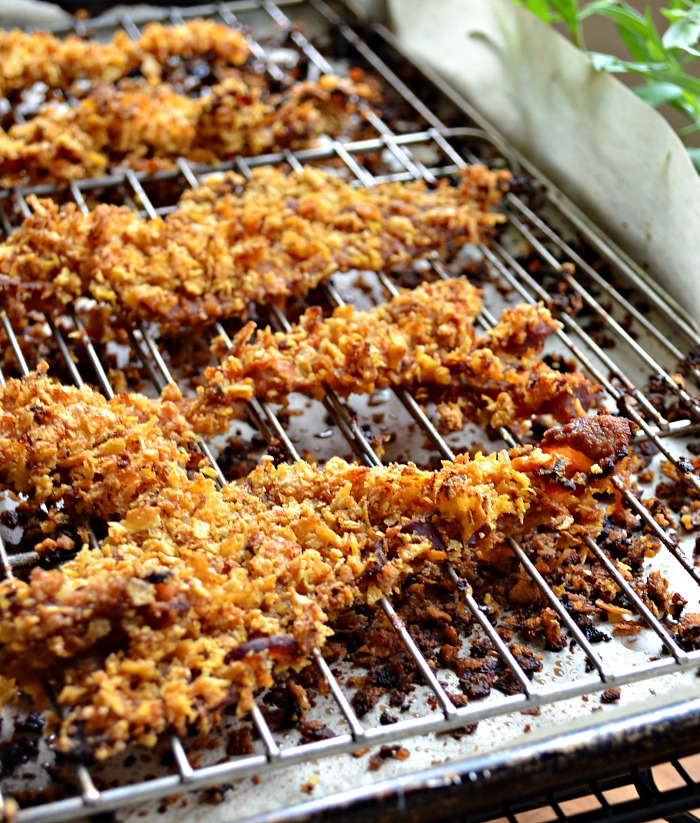 Every Christmas Eve we host a brunch for several friends and family. Our tiny house is literally stuffed with people and food. Every year I tell Tim we are not going to do it again, yet here we 6 months until Christmas and I am already thinking about what we will serve this year.
We have a few tried and true favorites (like these cheddar cheese biscuits) that would make more than a few people very unhappy if we didn't serve, but I love to add in new finds that everyone will love.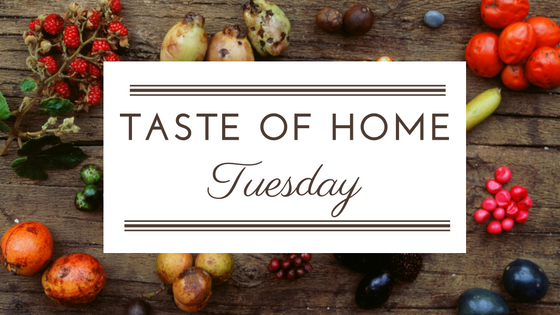 Every once in a while I join a few of my fellow Taste of Home Volunteer Food Editors to share a recipe that TOH recipe that we have recently reviewed. Be sure to check out Jolene's Patriotic Cupcake Recipe and Ellen's recipe reviews below!
Taste of Home is one of my go-to sources for delicious brunch recipes, and that is exactly where I found this recipe for Corn Flake Crusted Bacon. Since we had a leisurely Sunday this past weekend I gave it a try.
When Tim walked into the kitchen and saw what I was doing to "his" bacon he looked at me with more than a bit of skepticism.
It was really quite easy to make, but would have been much easier if I had bought thick cut bacon. After sitting in the "marinade" of evaporated milk, ketchup, and Worcestershire sauce the thin bacon I did have ended up pulling apart and make it a bit tricky to coat it without making a mess.
I love cooking my bacon in the oven and I was glad to see this recipe is cooked that way. Once it is in, just set the timer and that is it. No standing by the stove being splattered by popping grease!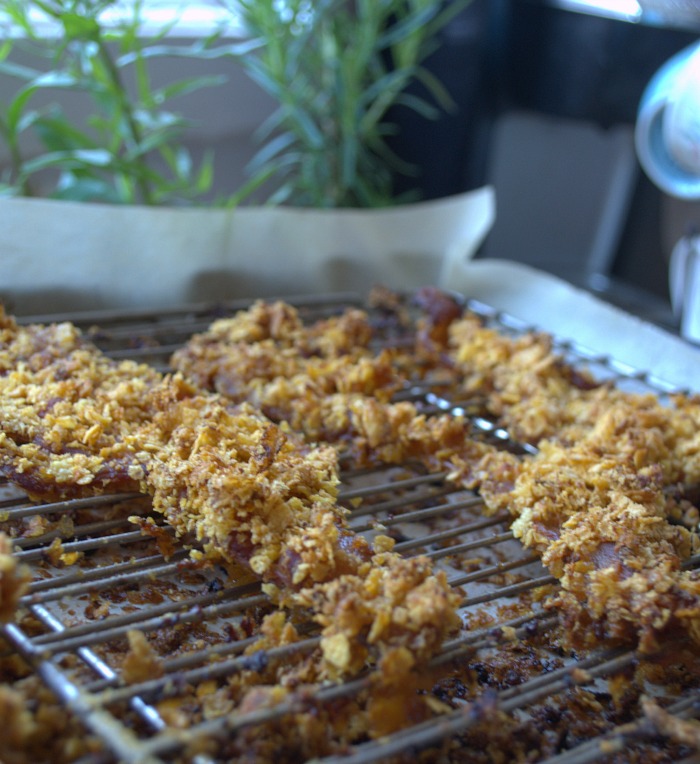 Lining a rimmed baking sheet with parchment and placing a raised baking rack (like this one) sprayed with non-stick spray keeps the bacon from sticking and all the crispy coating intact. Since the baking rack is raised, the grease will just drip down into the pan!

"Absolutely delicious" were the first words out of Tim's mouth after his first bite!
The combination of the ketchup and the Worcestershire sauce gave a bit of a sweet smokey flavor while the corn flake crumbs gave it a nice crunch.
This Corn Flake Crusted Crispy Bacon is officially the first of the many brunch recipes that will be served at our annual Christmas Eve brunch! You can find the full recipe here!
Have you started your shopping yet!!
Looking for more brunch recipes? Try Jolene's recipe for Danish Pancakes.
Ellen's recipe is perfect timing for your 4th of July celebration! Patriotic Cupcakes
Until next time…