This hearty stove top chili recipe is so good, it won my mom an award at a local chili cook-off many moons ago. It is so easy to make and the blend of spices might surprise you, but the flavour is just outstanding!
Throughout the fall and winter I often whip up a batch on a Sunday afternoon, letting it simmer for 2 or three hours. It fills the kitchen with a wonderful aroma that adds an extra layer of coziness on a cold day!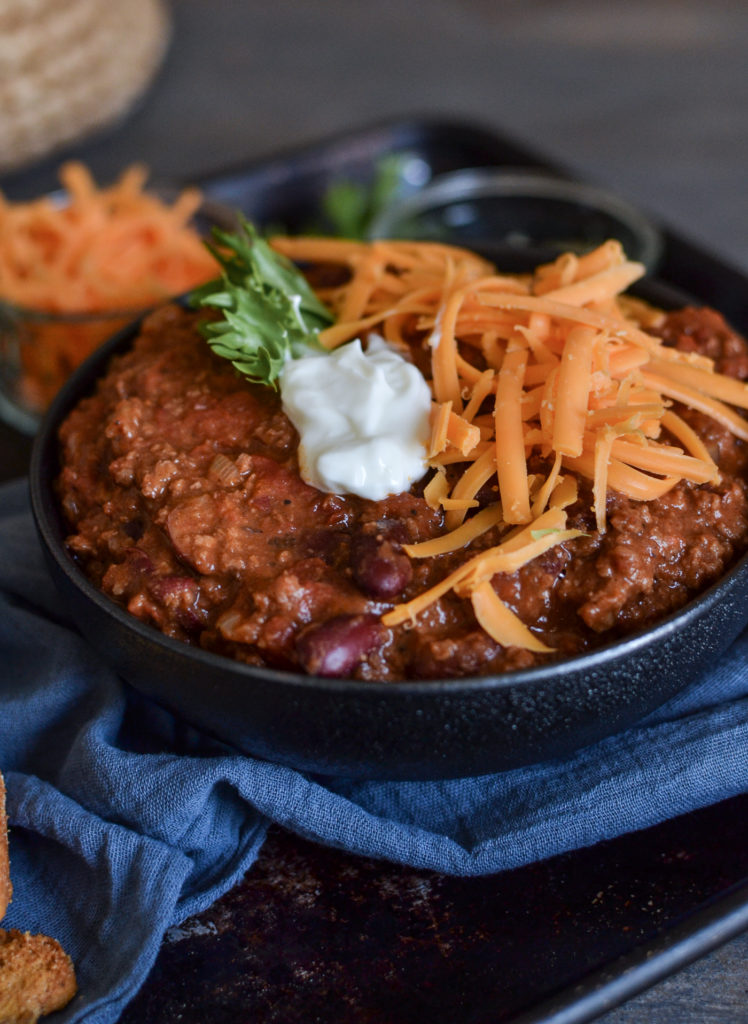 Why you will love this recipe
very easy to make and uses just one pot
a flavourful blend of spices
perfect to make a day ahead and refrigerate over night
high in protein and fibre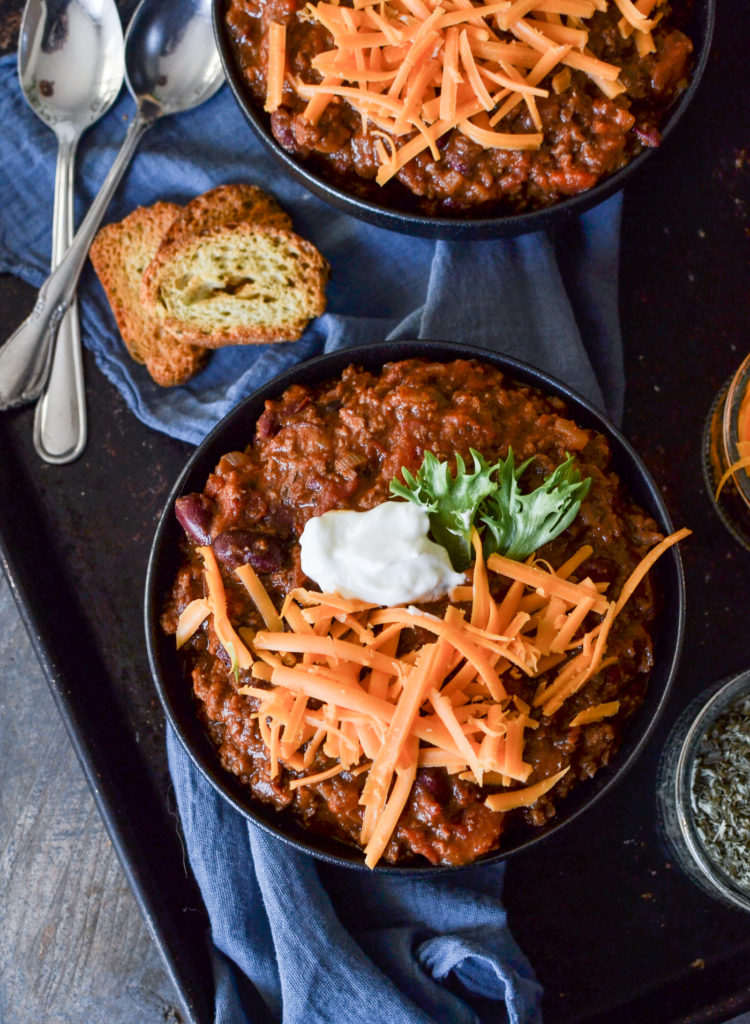 Ingredients list for this stove top chili recipe
ground beef
canned diced tomatos
canned kidney beans
onions, fresh or frozen
celery
2 small cans tomato paste
1/2 tsp cinnamon
1/2 tsp pepper
1/2 tsp cloves
1 tsp dry mustard
2 tbsp chili powder
salt to taste
Can this chili be made in the slow cooker?
Yes, this stove top chili can easily be made in the slow cooker. Simply brown the ground beef in a frying pan. Add it to a slow cooker sprayed with cookie spray. Add all the other ingredients and stir well. Cook on low for 6-7 hours or on high for 4 hours.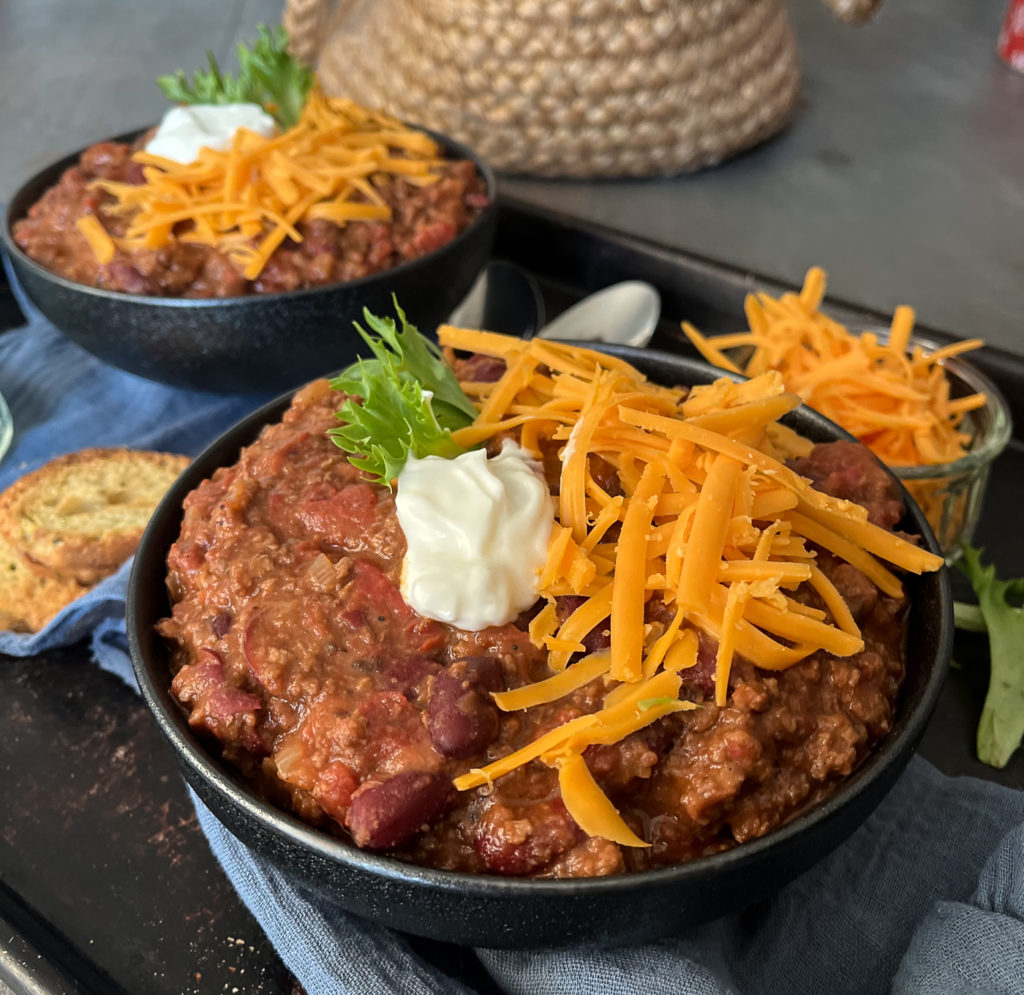 How to make this chili vegan friendly
Simply switch out the regular ground beef for a plant based alternative such as Impossible ground or Beyond Beef ground. If you can't find a ground beef alternative, or prefer not to use it, I have used this recipe to make Lentil Vegan Chili and it is equally delicious.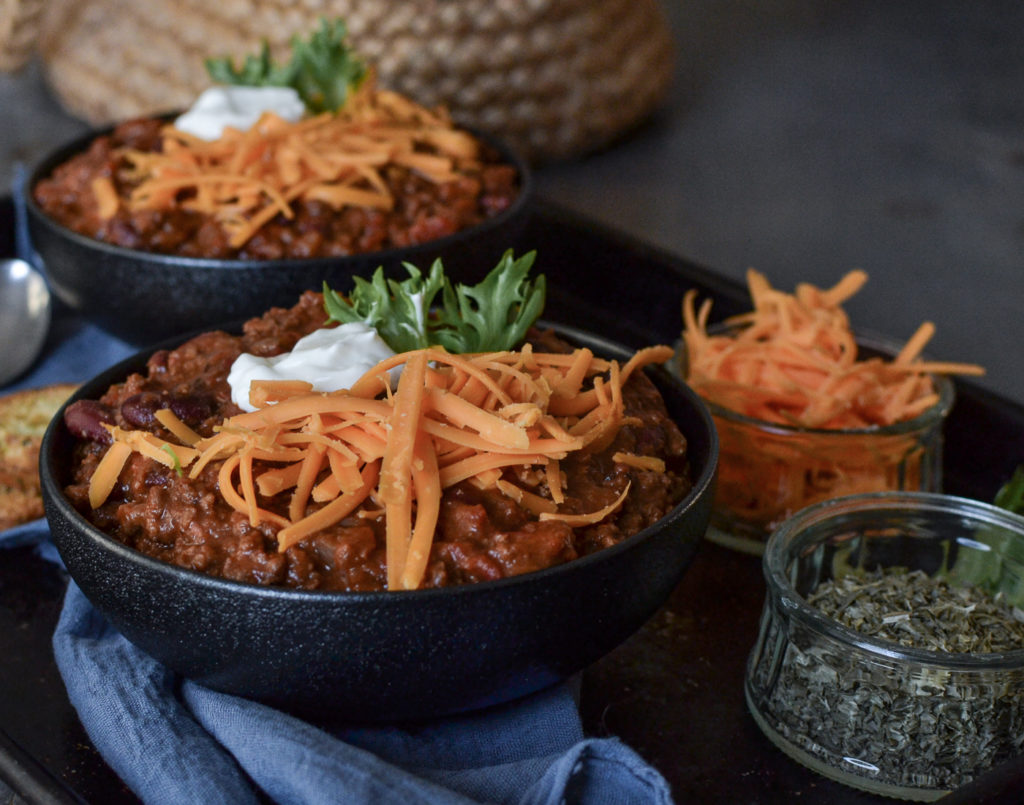 This recipe really is foolproof. I have made it dozens of times over the years, both stove top and slow cooker, regular and vegan, and it each time is just as delicious as the next!
You might be surprised to see cinnamon as one of the spices, but personally I find it gives such a lovely flavour combined with the other savoury spices. I think that might have been what won over the judges when my mom entered the contest!
While the chili is simmering on the stove, you might just want to whip up a couple of loaves of this easy English Muffin Bread. It is so good when toasted, buttered and served with a hot bowl of chili!
Time saving tips
use frozen onions instead of fresh
fry up the beef, onions and celery and freeze for up to 6 weeks, then thaw over night in the refrigerator before completing the recipe on the stove top.
make an double batch, and then portion out 2 servings into reusable freezer bags for up to 8 weeks.
Serve with chili peppers to add heat as you like it.  We prefer no heat and simply enjoy the flavour as it is!
It makes a heartly meal served with fresh bread, sour cream and cheddar cheese!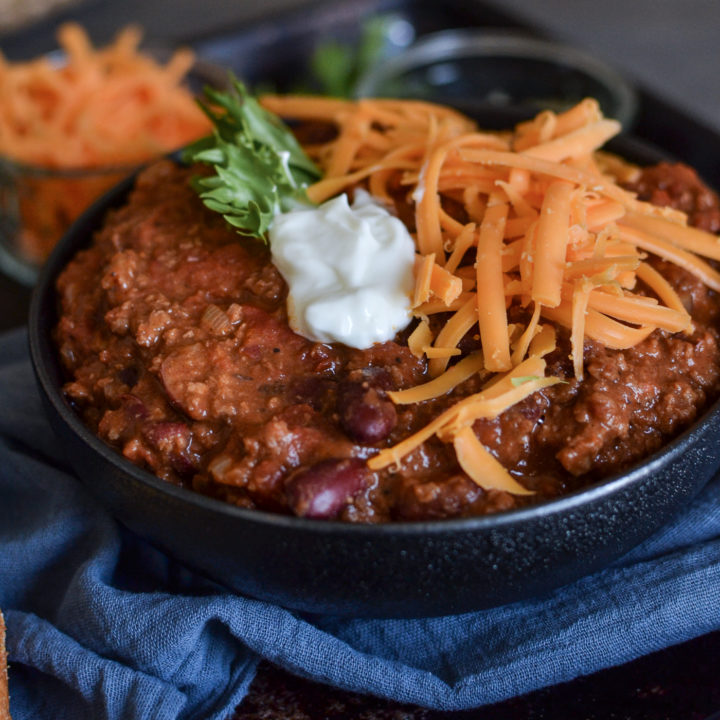 Easy Stove Top Chili
Total Time:
2 hours
15 minutes
Easy stove top chili is an award winning recipe that is perfect for those cold fall and winter days.
Ingredients
2 pounds ground beef
6 or 7 small onions chopped, or 2 1/2 to 3 cups frozen chopped onions
2 stalks celery, chopped
2 large cans diced tomatoes
2 cans kidney beans (not drained)
2 small cans tomato paste
1/2 tsp cinnamon
1/2 tsp pepper
1/2 tsp cloves
1 tsp dry mustard
2 tbsp chili powder
salt to taste
chili peppers to taste (I don't add them, but serve with chili to allow each person to add heat to their liking)
Instructions
Spray a large stock pot or enameled dutch oven with non-stick cooking spray. Add ground beef and cook over medium heat until browned. Add celery and onion and continue to cook for 5 minutes.
Add the remainder of the ingredients, stir to combine and simmer uncovered on low for 1 1/2 to 2 hours, stirring often to prevent sticking.
Notes
Substitute plant based ground "meat" to make it a vegan friendly recipe.
To make this in the slow cooker, brown beef in a frying pan and then add to a slow cooker with the rest of the ingredients and cook on low for 6-7 hours or high for 3 to 4 hours.
Serve with sour cream, shredded cheese and freshly baked bread.
Other cold weather recipes you might enjoy