Starting the day with this fresh fruit smoothie is not only delicious, but packed with protein to keep you satisfied until lunch time!
Welcome Farmer's Market Weeks! This week I have joined several of my food blogging friends to share recipes that feature ingredients found at your local Farmer's Market. At the end of this post you will find links to 14 delicious recipes!
Earlier this week I featured this yummy upside down peach cake. You definitely want to click over to get the recipe!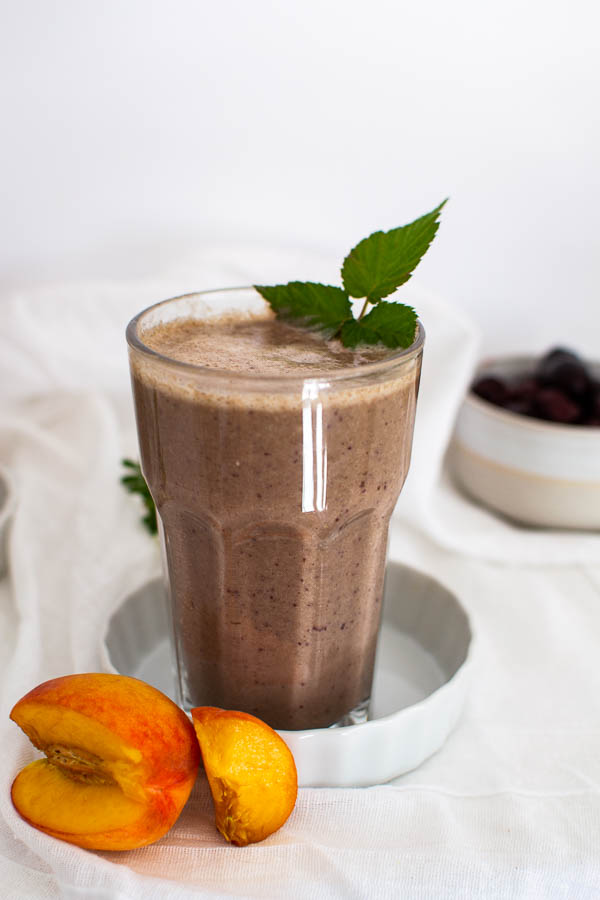 I have probably mentioned once or ten time before how lucky I am to live in an area with an abundance of fruit and vegetable farms. Oh, and did I mention wineries too!!
I look forward to the visiting the on farm markets weekly to check out the freshly picked produce. Currently peaches are in season, and this year I am stocking up.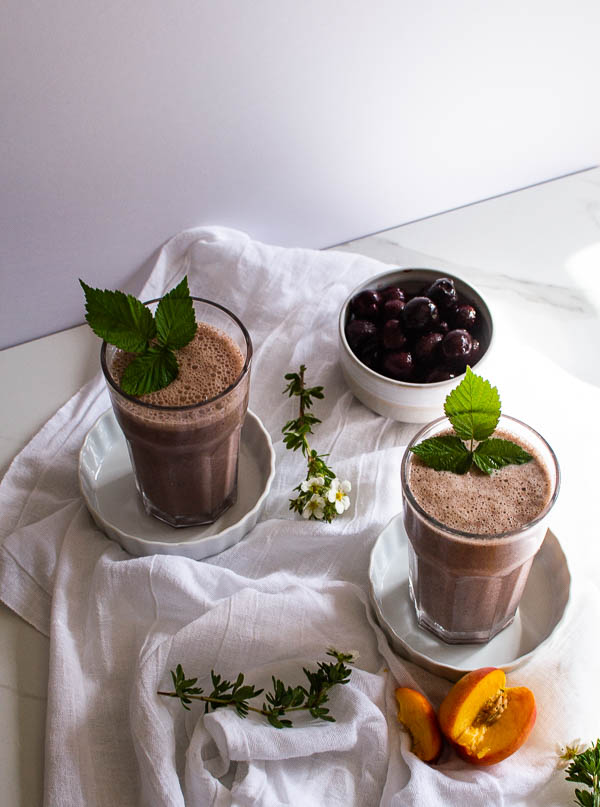 I love fresh fruit smoothies. Peach is definitely a favourite but find the commercially frozen variety lacking in flavour. This year I will be filling my own freezer bags with sliced peaches fresh from the farm and frozen at home.
Tips for freezing peaches
buy peaches that are ripe, but not too soft
wash and let air dry
slice peaches either with skin on or off (your choice)
toss gently with juice of one lemon for every 10 minutes and allow to sit for a few minutes
Arrange peach slices in a single layer on a parchment lined baking tray and place in freezer until completely frozen
transfer to freezer bags for storage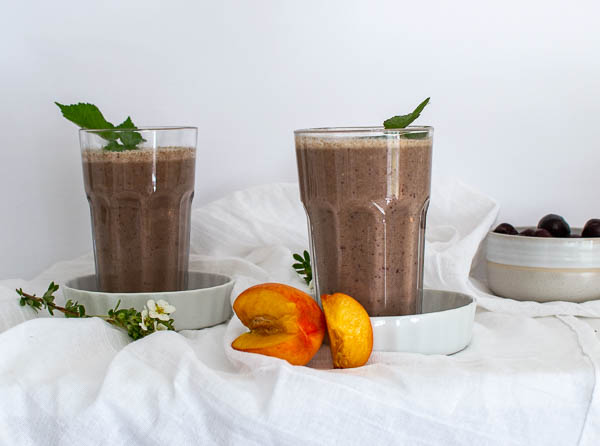 Fresh fruit smoothies are my go to breakfast all summer long!
Having so many options to buy fresh fruit in our area makes fruit smoothie flavour combinations endless! But, there is something about the flavour of a fresh, juicy peach that is a winner.
A handful of frozen cherries and a few tablespoons of hemp powder round out this yummy smoothie that keeps me full until lunch time!
I have struggled to find a plant based protein powder that isn't sweetened with stevia (can't abide the after taste) or one that doesn't have a grainy texture. I find that pure hemp powder isn't at all grainy, nor does it have an unpleasant after taste!
My favourite way to enjoy a fruit smooth is just that. Fruit! Peaches ice cubes and oat or nut milk! It tastes like a decadent milkshake but without all the added fat and calories!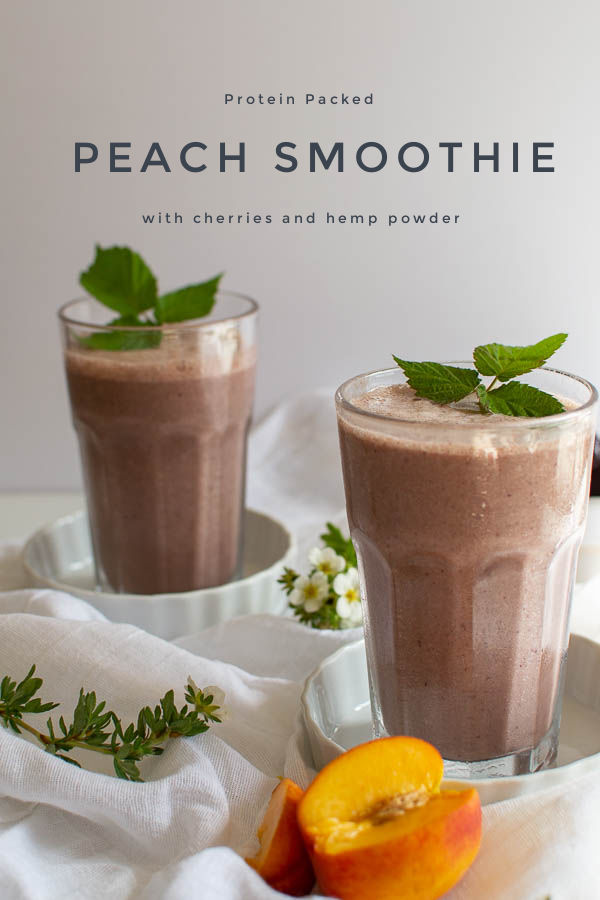 If you love smoothie's too, check out my favorite green smoothie recipe and my go to smoothie in the autumn, this creamy pumpkin smoothie that tastes just like pumpkin pie!
I sincerely appreciate you stopping by today and would love to have you come back often! Please consider subscribing to Red Cottage Chronicles. I will keep you up to date with an email whenever a new post goes live.
It could be flowers, a recipe, a stunning tablescape, or another fun project to make your house a home! Simply click here to subscribe. I never sell or share your information, and you can unsubscribe at any time!
Oh, and don't forget to scroll down for even more delicious recipes, both sweet and savory, made with fresh farmer's market finds!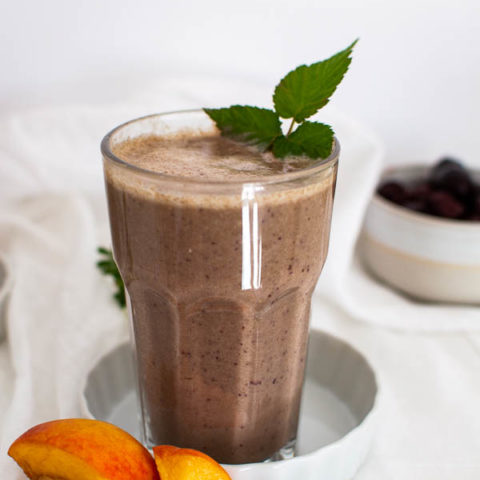 Peach and Cherry Protein Smoothie
Fresh fruit smoothie made from freshly picked peaches, frozen cherries and hemp protein powder
Ingredients
2 large fresh peaches, peeled and sliced (or frozen equivalent)
1/2 cup frozen cherries
4 tablespoons hemp powder
2 cups oat, nut or other milk of your choice
Instructions
Add all ingredients to a blender and blend on high until smooth. Pour into two glasses and serve.
Notes
I like to keep a couple of glasses in the freezer to serve my fruit smoothies in for some extra chill!
Thursday's Farmers Market Week Recipes