Mocha Brownies Are What Happens When You Have No Peppermint
A fudgy brownie base topped with a creamy coffee flavored frosting make these irresistible double chocolate mocha brownies a must try!
Have you ever been left scrambling to find a quick solution after you failed to take your own advise?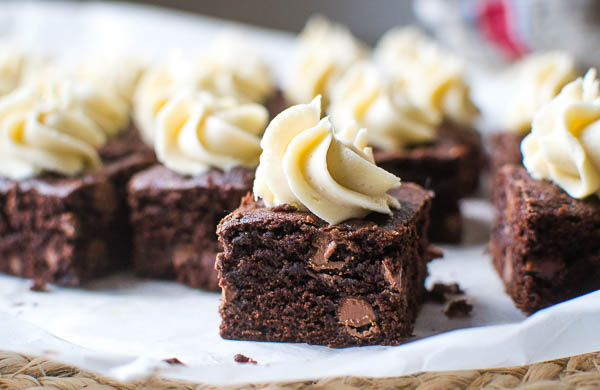 Well, that was me when I set out to bake up a batch of peppermint brownies for Tim to take to his co-workers. You may recall last month I made these decadent chocolate peanut butter cheesecakes for them.
A few weeks ago, confident I had everything I needed to make peppermint brownies, I didn't bother to check the recipe or the pantry. To make matters worse, I decided to wait until late Friday evening to actually make them.
Big mistake!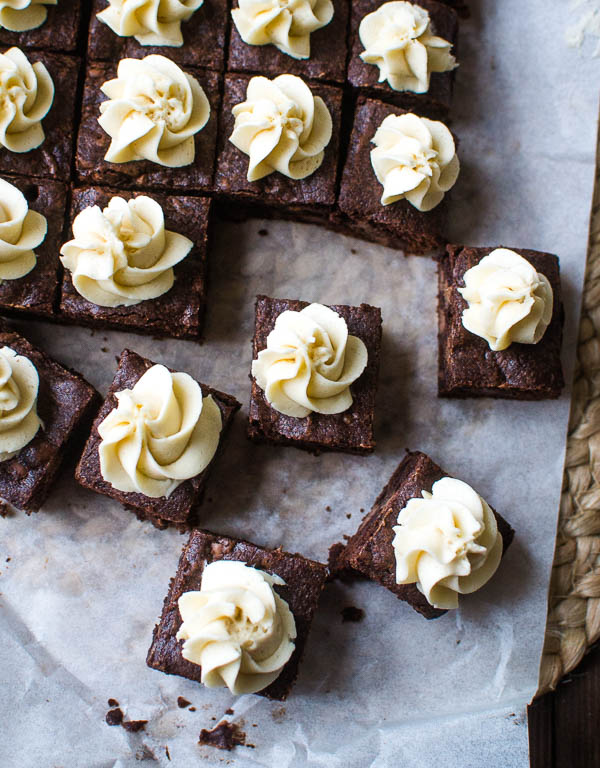 Oh, I had everything to make the brownies. And, was sailing along until I was making the frosting and went to grab the peppermint. How could it be that I had not a drop of peppermint?
Who would put an empty bottle of peppermint back into the cupboard 😉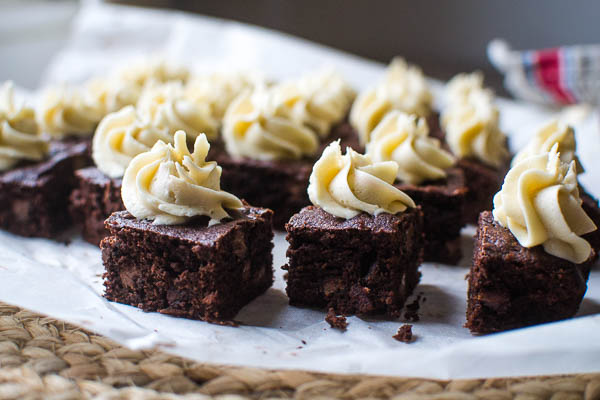 What I did find was a brand new bottle of coffee extract. I had gotten it in a gift basket and was yet to try it. Turns out it makes some really incredible coffee flavored frosting!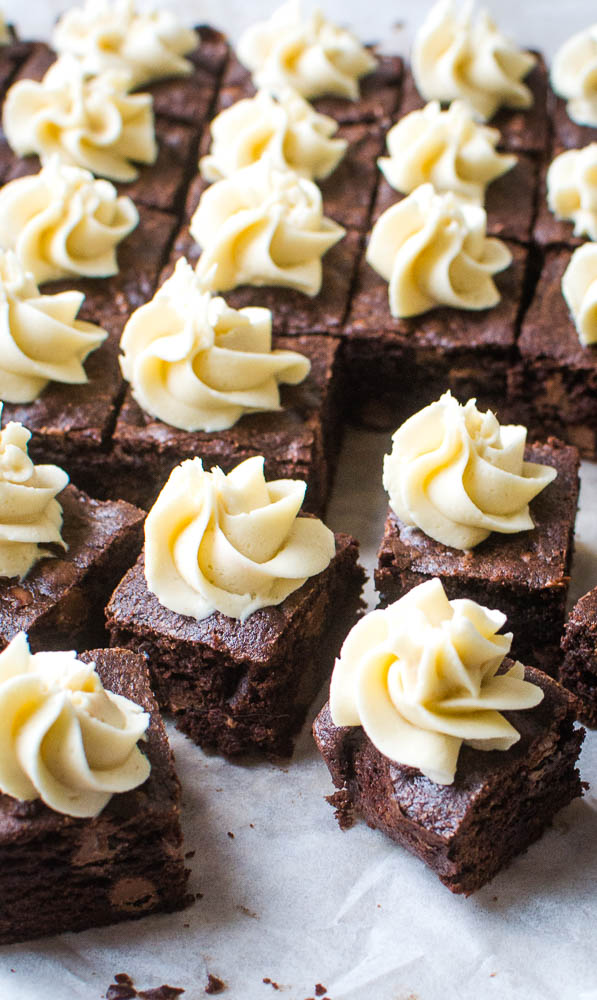 And we all know what happens when you combine the flavors of coffee and chocolate. Mocha of course!
These brownies are made in an 8 inch square baking pan, like this one, and cut into 20 two-bite brownies. Cut them larger for a dessert size serving. I used a Wilton piping bag and tip #2D to swirl on the frosting. You can get the Wilton kit for under $15 here. It includes tips and disposable bags.
Tim's co-workers loved these mocha brownies and there was not a single brown left at the end of the day! They didn't seem to miss the peppermint!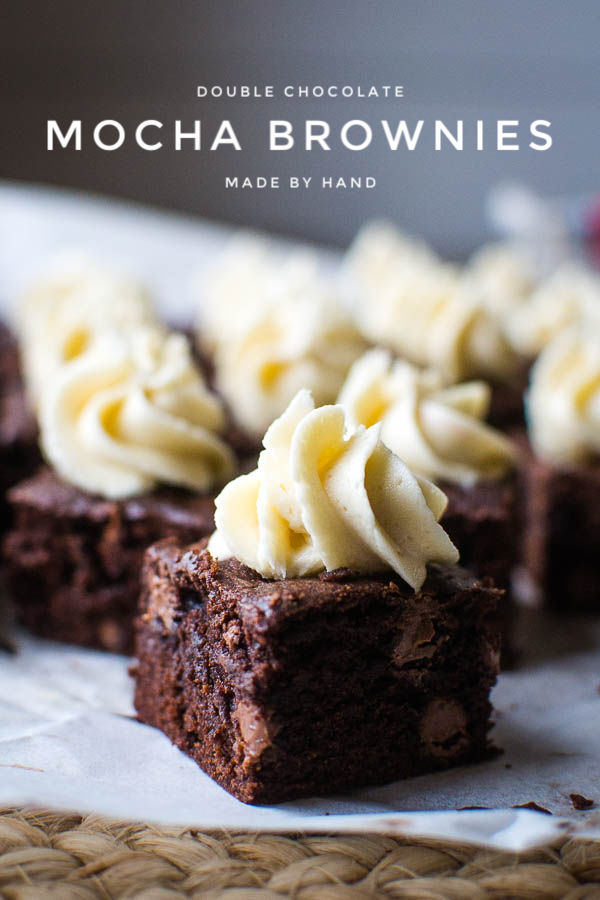 Turns out not following my own advise couldn't have turned out any better! Don't you just love a happy ending! Especially one that ends with mocha brownies!
Be in the know! It may be a delicious recipe, a stunning tablescape, or decor tips to make your house a home! Simply click here to subscribe. I never sell or share your information, and you can unsubscribe at any time!
Until next time…..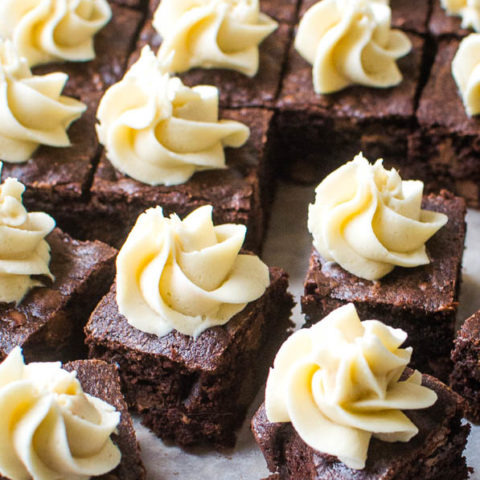 Double Chocolate Mocha Brownies
Ingredients
1 cup sugar
1/3 cup butter, room temperature
2 large eggs
3/4 flour
1/2 cup good quality cocoa
1/4 tsp salt
1 cup milk chocolate chips
FROSTING
1/2 cup butter, room temperature
4-5 cups confectioners sugar
1/2 cup milk
1 to 2 tsp coffee extract
Instructions
Preheat oven to 350 degrees. Line 8″ baking pan with parchment paper.
Cream butter and sugar using stand or handheld mixer until light and fluffy. About 5 minutes
Add eggs and continue mixing on medium for another 2 minutes.
Swift together flour, cocoa and salt and whisk well to combine.
Add dry ingredients to butter mixture and mix on low just until combined.
Fold in chocolate chips
Spread mixture into prepared pan
Bake for 20 to 30 minutes (until toothpick inserted comes out with just a few crumbs).
Allow to cool on wire rack.
Prepare frosting by combining butter, 2 cups confectioners sugar and 1/2 cup milk and beat on high for 2 minutes. Add 1 teaspoon coffee extract and 2 additional cups confectioners sugar and continue beating until light and fluffy and a spreadable consistency. Add additional one cup of confectioners sugar if necessary. For stronger coffee flavor add additional 1 teaspoon of coffee extract.
Add frosting to a piping bag. Cut brownies into squares and pipe frosting on each square.