If you are stopping by from My Family Thyme, welcome! I am delighted to be sharing my spring table decor today!
I can't believe I have styled my fourth spring table! I remember a time when I wouldn't even think about styling a table. Plates, napkins, utensils. I mean, isn't that all you really need?
In a nutshell, yes. But with just a bit of thought and helpful tips, it is easy to create a stunning spring tablescape that will add a festive ambiance to the occasion.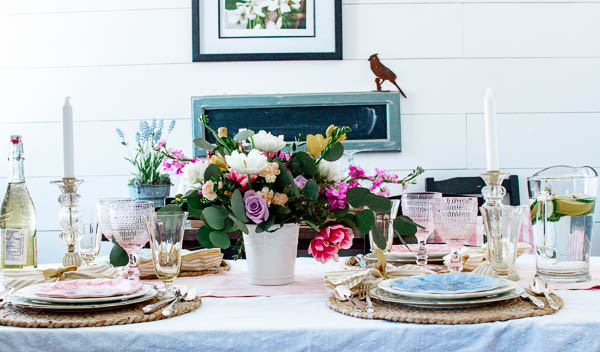 As I share my spring table decor with you today, I thought I would share 10 tips to style a beautiful table to celebrate the arrival of spring, or any occasion for that matter.
And, to inspire you even more, I am also sharing links to 24 fresh new spring tablescapes! You will find all the links at the end of this post.
I am so grateful to Chloe from Celebrate and Decorate who, throughout the year gives us tablescape scaping enthusiasts a place to share our inspiration!
10 Tips for your spring table decor
One – Shop your home
Always start by looking around your own home for things to style your table. I am guilty of buying all the pretty seasonal plates from the likes of Home Sense or Pier One, but I have learned to use what I have. And, my storage space is happier too!
For this years spring table I used placemats, pansy plates, white plates, table cloth and table runner, water pitcher, and candlesticks all from my own stash.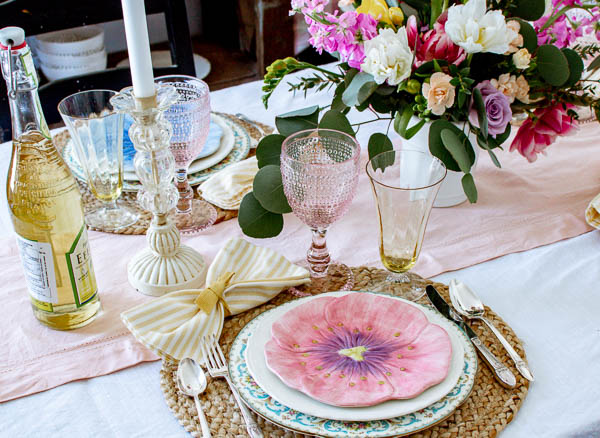 Two – Shop second hand
Tag sales, yard sales, estate sales, Goodwill, and other second hand shops are gold mines when it comes to table decor ideas. I have purchased so many great plates, glasses, pitchers, and even napkins from such places. It is a great way to build up a small stash of fun table accessories without breaking the bank.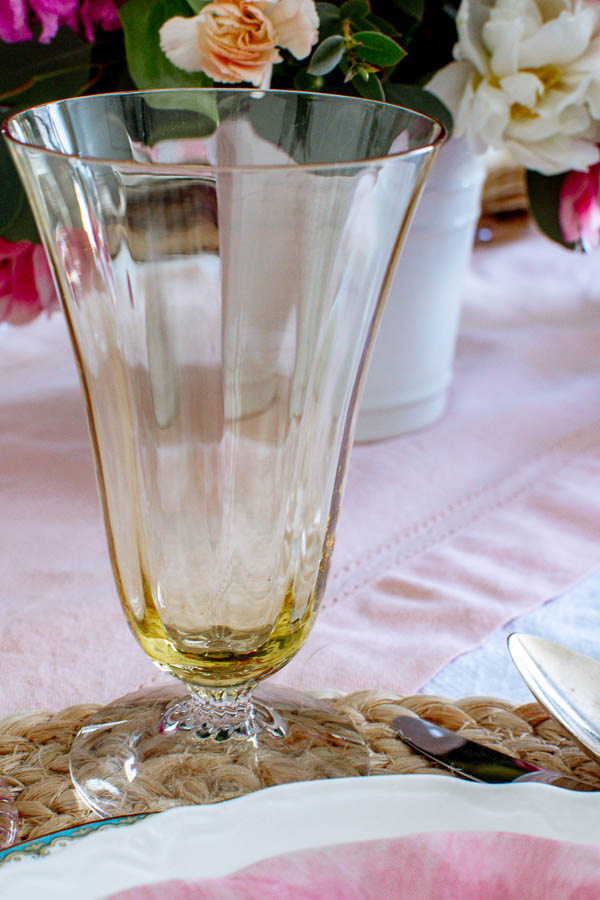 I purchased these pretty yellow water goblets for just $5.00 each from an antique store. I bought them with spring in mind, but they would be equally lovely on a summer or autumn table.
Three – Invest in a few everyday basics
Some of the prettiest tables are set with basic white plates, simple glassware and flatware. White plates are easily accessorized with colorful, seasonal napkins and/or little favors for your guests.
You can visit my tablescapes page to see several examples of how I use my favorite white plates to style tables for different seasons.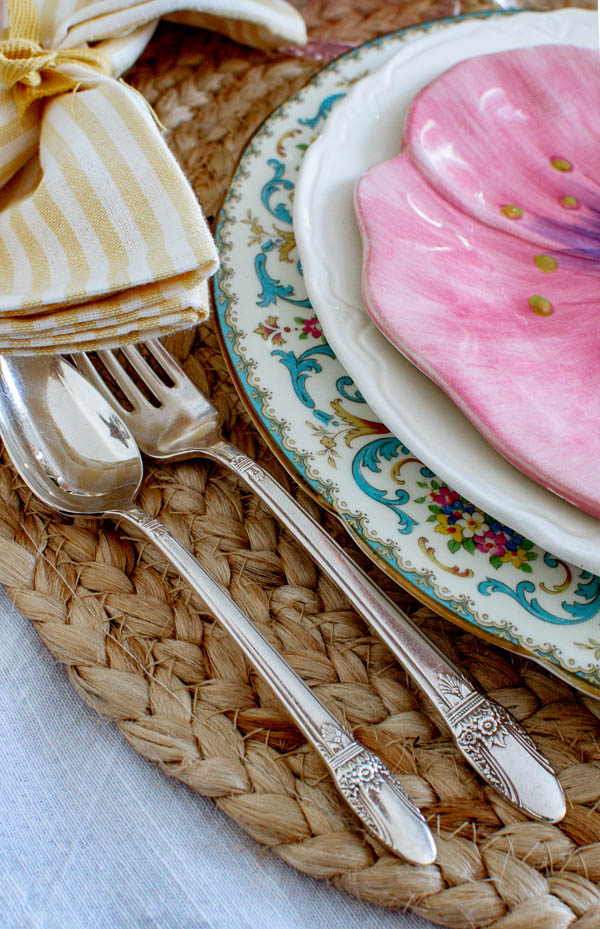 Four – Keep it simple
Don't feel like you need to cover every inch of your table. It is easy to want to add "all the things" for spring. Adding too many accessories can make the table top feel cluttered, and leaves little room for the actual food!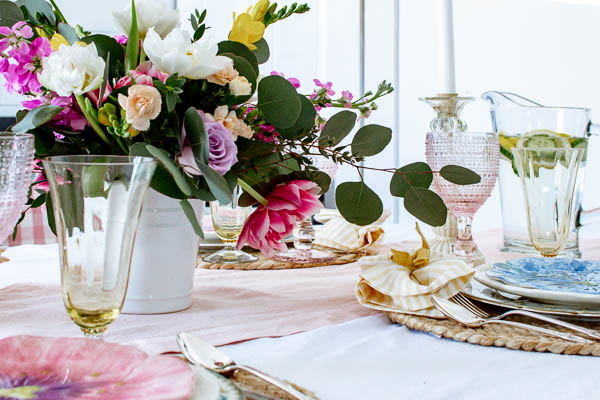 Five – Use layers to add colour and texture
One of the easiest and most effective ways to add seasonal style to your table is layering. Create a pretty plate stack using both basic plates stacked with perhaps your "good china", inexpensive seasonal salad plates and bowls. Layering plates on top of a place mat and/or a charger plate makes a stunning statement on any table.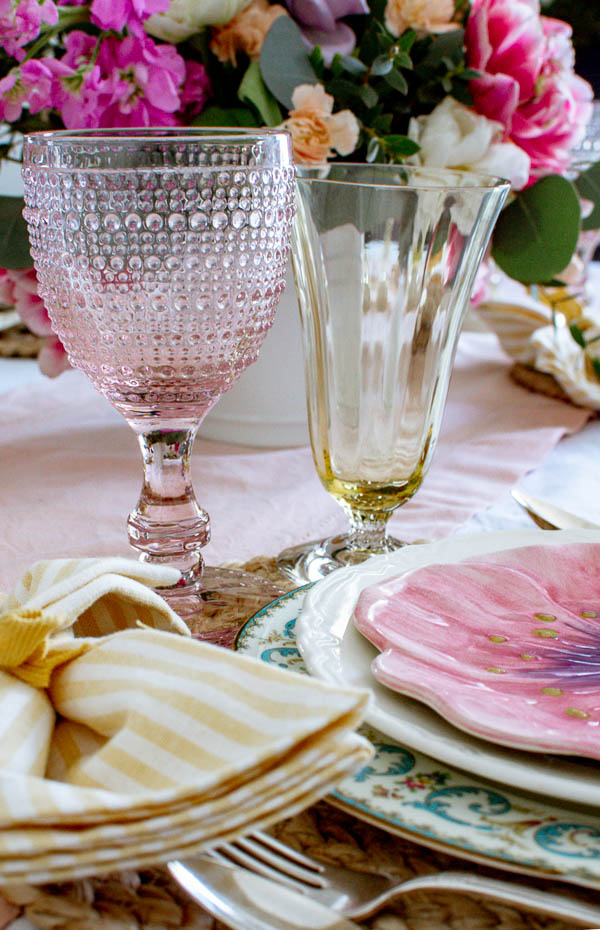 You will notice I have even layered the linens for this table. I wanted a white tablecloth to add a nice, crisp background, but layered a hemstitched pink table runner down the centre. Those two lines, along with the large sisal placemats add nice texture and depth to the table.
Six – Mix and match
Mixing and matching plates and glasses add character and interest to a table. I adore tables that are set with a mix of old and new or a mix of patterns and colors.
My oldest nephews wedding on Prince Edward Island is the perfect example of this. His bride shopped thrift stores and second hand shops for all the wedding dishes and the tables were stunning.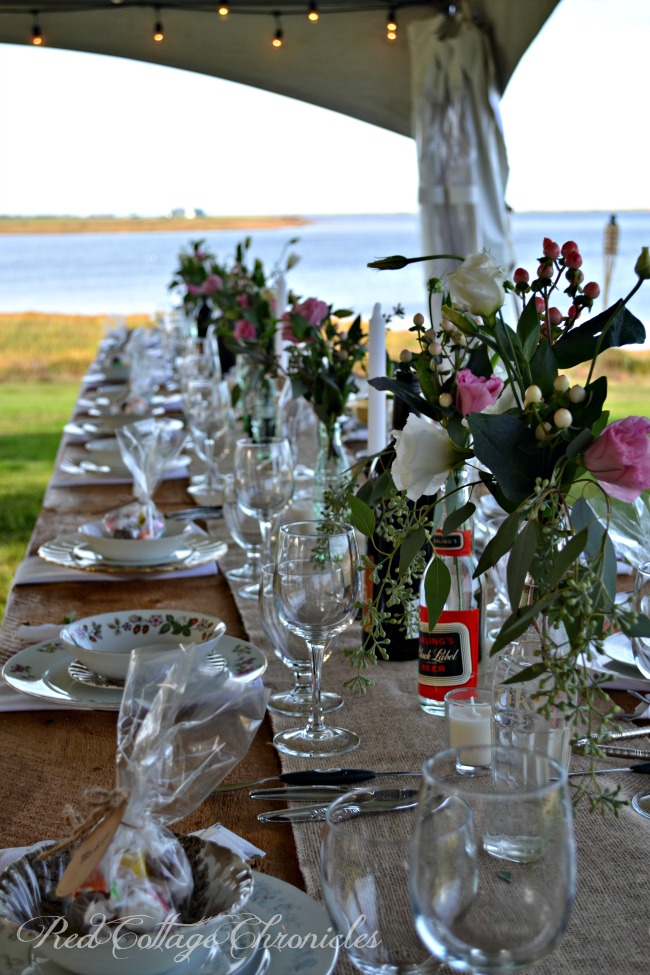 Seven – Break the rules
I recently saw a Facebook thread were someone was scolding those of us who don't set the table properly. She was referring mostly to the placement of the silverware.
This made me a bit sad. I would much rather sit around table set with love and the silverware in the wrong place than a table that is perfectly set with a hostess is fretting that she may have broken etiquette.
Sure, if you are hosting a super formal occasion that requires the utmost detail then by all means check and double check the placement of your utensils and glasses. But, for a fun social gathering with your favorite people, I say go ahead and do what pleases you!
Eight – Style a pretty centrepiece
The table centrepiece is the star of the show! It can set the entire theme of the table. Flowers are always a great choice, but don't have to be super fancy. A simple arrangement using flowers purchased at the grocery store or farmer's market is all that is needed. Just keep them fairly low so they don't block conversation!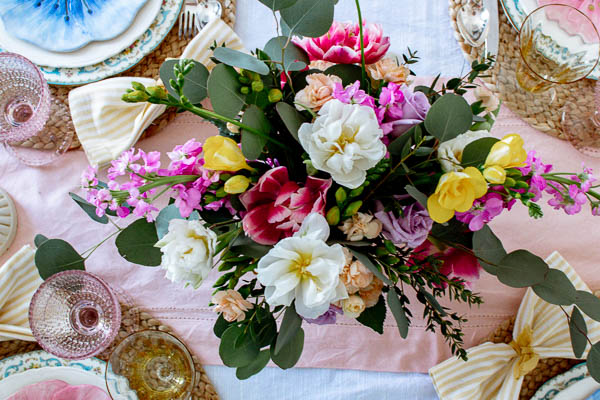 But, flowers aren't the only thing that can be used as a tablescape. I used a cake as a centerpiece for this table and it got rave reviews. Here, I show you how to decorate a cake with flowers that makes a beautiful centerpiece
9 – Use food or beverages as part of your design
I almost always use either a dessert or cheeseboard, or even a co-ordinating beverage as part of the overall table decor.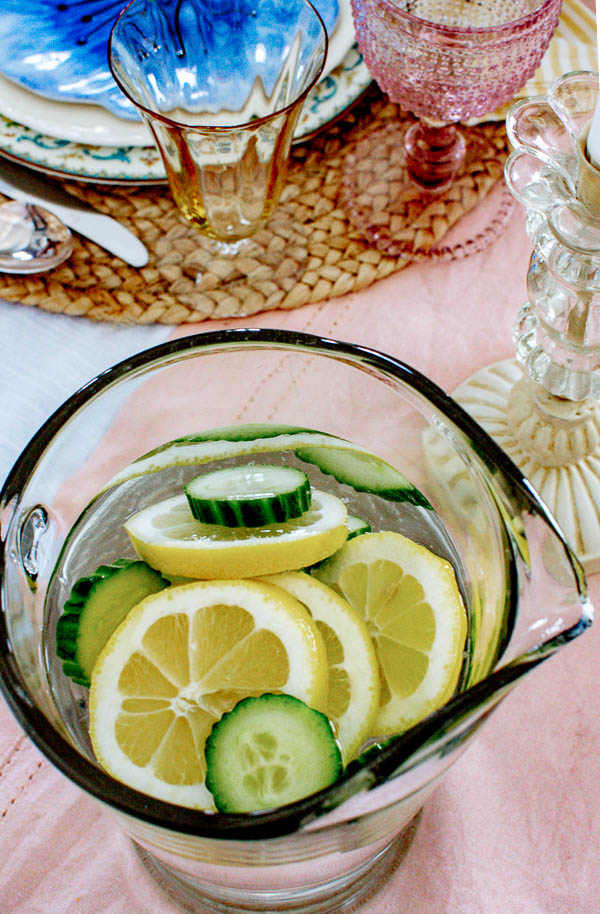 There is no easier way to add a pop of colour and style. A simple glass pitcher filled with filtered water loaded with fresh lemon and cucumber slices adds a colorful touch of spring to the table.
I also purchased a fun bottle of French pear soda. It was a bargain at just $3.00 and the bottle will be used over and over again!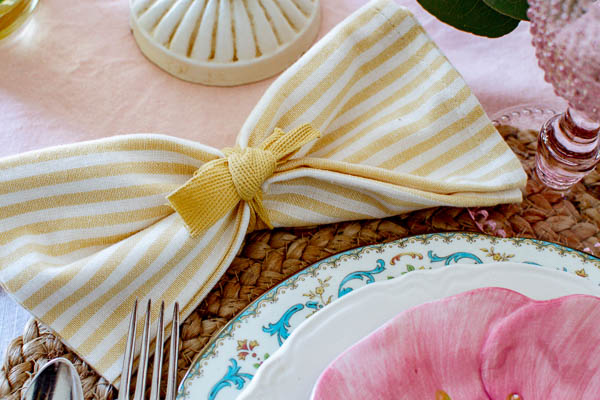 Ten – Relax
Even the prettiest of spring tables can feel depressing if you, the hostess of the party, is feeling anxious or frazzled.
Always be true to yourself when styling your table, no matter what the occasion. If your style is over-the-top-fun, then set your table to reflect that. If you are more comfortable hosting small gatherings without a lot of fuss, then you can most definitely set a simple elegant table that allows you to relax and enjoy your guests.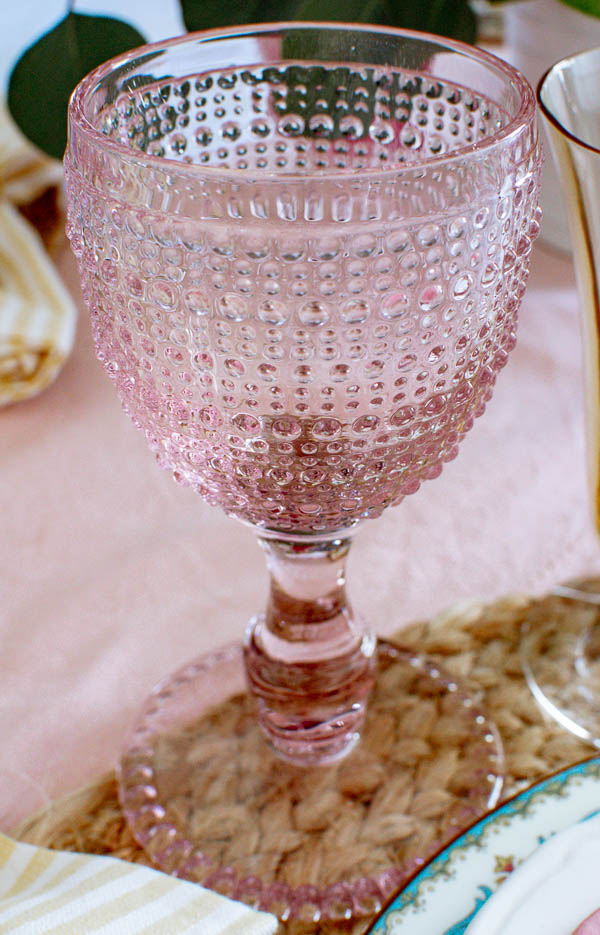 So there you have it! Ten simple guidelines that in my opinion make styling a table, be it spring or any other season or occasion a breeze!
And, because I had so much fun styling this table, I couldn't resist taking just a few more photos!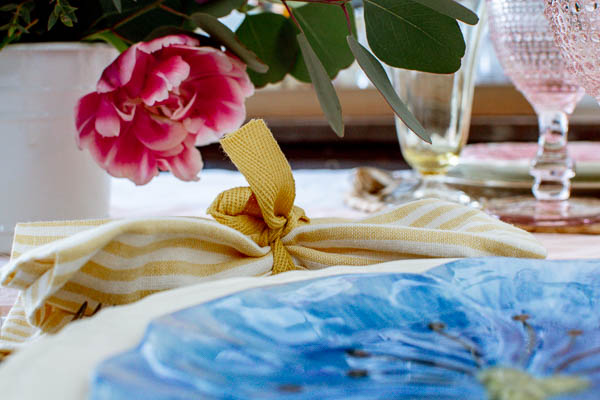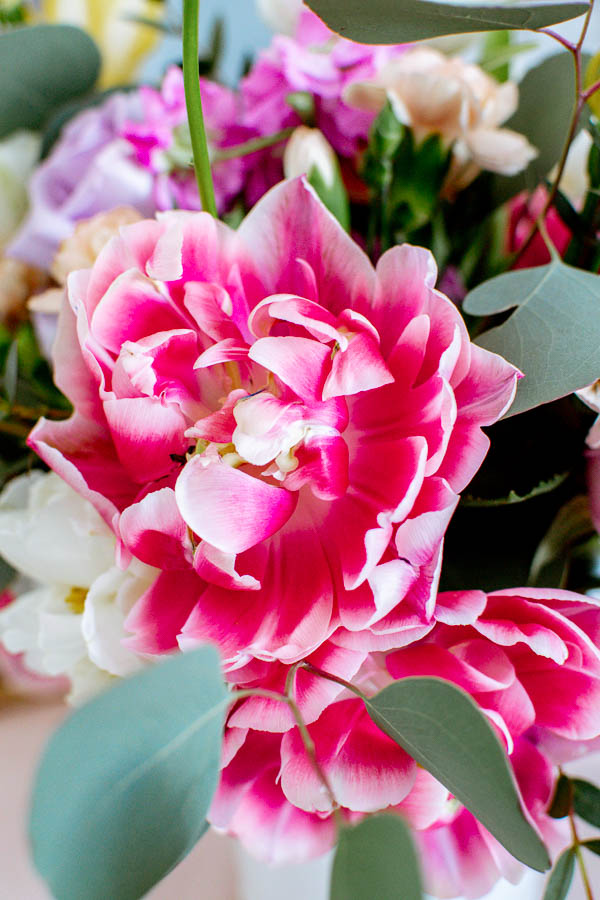 Be sure to visit all the bloggers, whose links are listed below. They are great group of table stylists who inject their own style and personality to their spring table decor, so there will be lots of spring table inspiration to go around!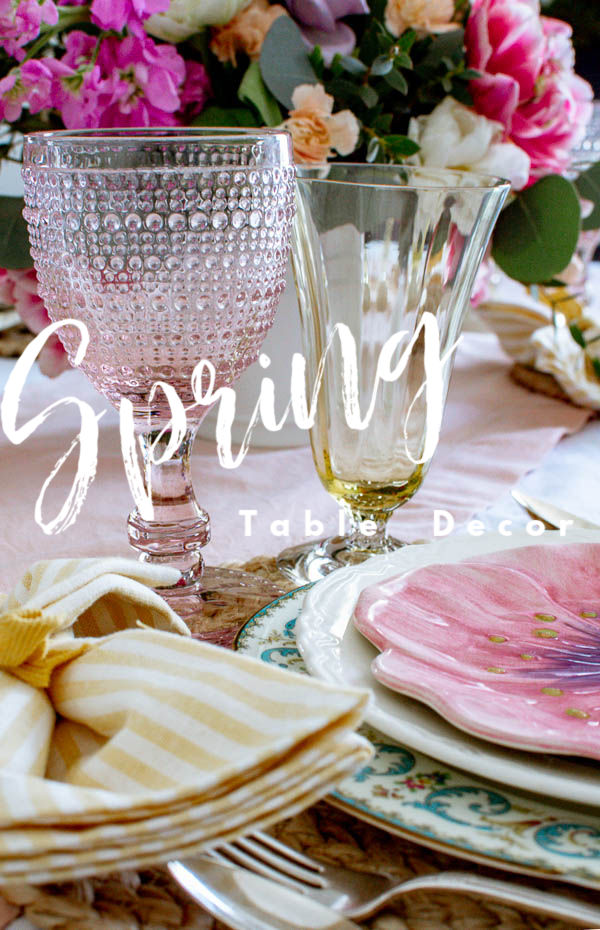 Be in the know! It may be a delicious recipe, a stunning tablescape, or decor tips to make your house a home! Simply click here to subscribe. I never sell or share your information, and you can unsubscribe at any time!
Until next time….

Spring Tablescape Blog Hop Links
Home is Where the Boat Is
Panoply
My Family Thyme
Red Cottage Chronicles
The Painted Apron
Everyday Living
Debbee's Buzz
From My Carolina Home
Home and Gardening with Liz
Create With Cynthia
Bluesky at Home
Harbour Breeze
Living With Thanksgiving
Katherine's Corner
My Thrift Store Addiction
The Little Yellow Corner Store
Sweet Sensations
Belle Blue Interiors
Corner of Plaid and Paisley
Zucchini Sisters
Life and Linda
Intelligent Domestications
First Day of Home
White Arrows Home
Calypso in the Country
Celebrate & Decorate