Every once in a while I love a good challenge.  The One Room Challenge has come along at the perfect time.  With plans to "remodel" our living room anyway, I am hoping this challenge will keep me on task to get it done!  It is a six week challenge, created by Linda at Calling It Home.  She has invited a talented bunch of bloggers to participate in her challenge and beginning Wednesday April 2 each blogger will post about their progress in their chosen room.
The fun part is that the rest of us can participate via a link up each Thursday beginning April 3!!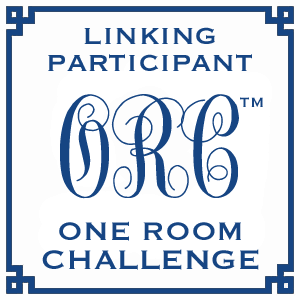 You can read more about it here
I have added a bit of extra pressure for myself.  That would be a very tight budget!  The Mr. and I have decided that paying down all of our debt INCLUDING our mortgage within the next five years is priority one right now.  This doesn't leave much room in the budget for redecorating.  What's a girl to do?  After careful planning I have $500 max!  Did I mention it needs new floors?!  I think I will be shopping the house.  And yard sales if the weather ever warms up!
If you follow me on Pinterest you probably have a good idea of my decorating style!
UPDATE – Now that the challenge is over you can follow along week by week by clicking the links below.
Week One is here!
Week Two
Week Three
Week Four
Week Five
Week Six – The Reveal
What room will I do in 2015?  Subscribe below to keep up to date!
Delivered by FeedBurner