Small Bathroom Makeovers!
Although I am knee deep in Christmas right now, I can't help but be excited about a project I have coming up in January! One of my very good friends Leslie is in desperate need of an update for her small bathroom and I am excited and honored that she has asked me to help her with it!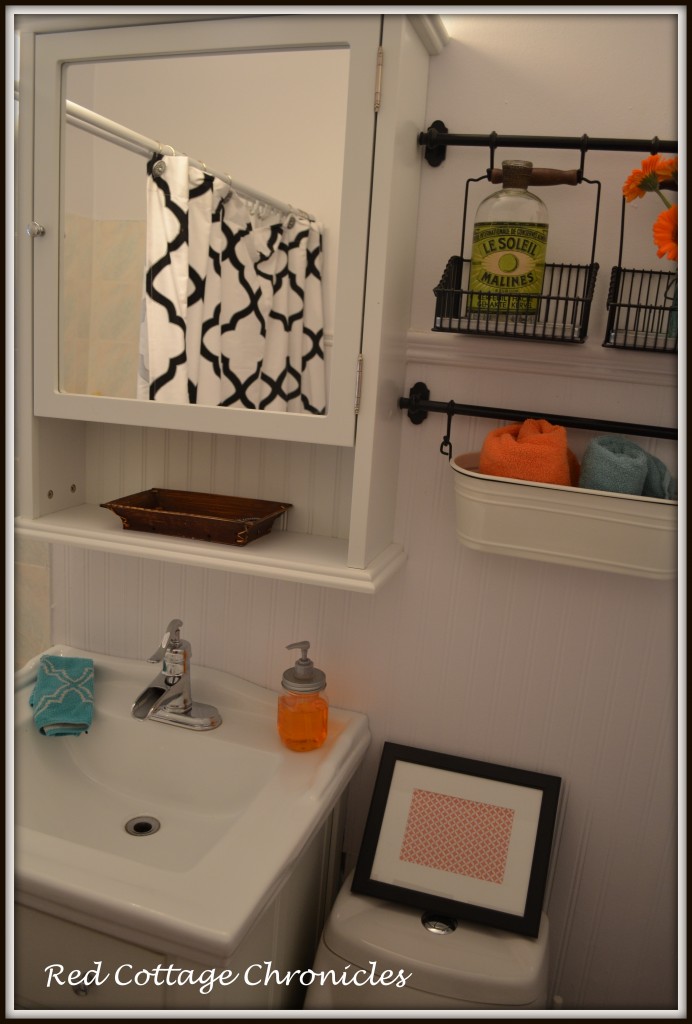 You may remember the small bathroom makeover I did at our house early last year. You can read about it here.
Well, Leslie lives just a few doors down and has the same small bathroom challenge that I do. She however is lucky enough to still have the clawfoot tub that is original to the home!
Before I show you the pictures I really must tell you that just a very short time ago the walls were covered in a pretty blue wallpaper and made a big difference from what you are about to see!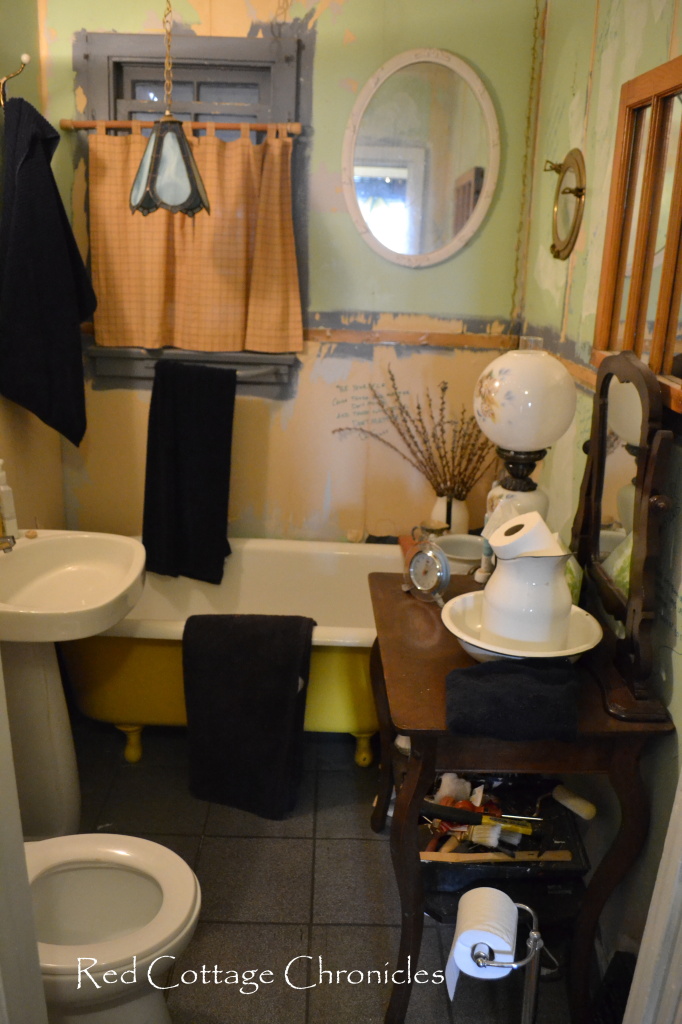 See, down at the bottom of that table, she even has all the tools in there with the best intentions to get started. But, we all know how taking on a big project on your own can be a daunting experience and having a friend to give you a hand can make it so much easier to bear!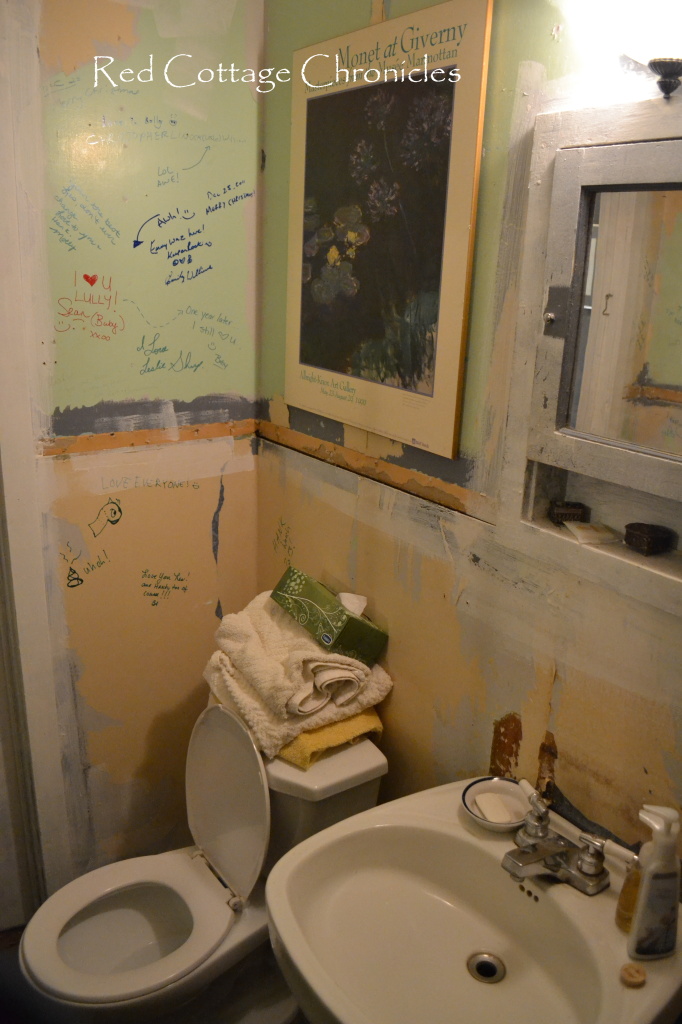 When she got the gumption to take the wallpaper down, that is as far as she got before she realized it was a project bigger than she wanted to handle on her own. Then after a visit from her niece and nephew she was greeted with some "inspirational" messages! As friends popped in for a visit, signing Leslie's bathroom wall became the thing to do. While it has turned out to be kind of fun to see all the messages which clearly show how much she is loved, it is long over due to get on with the reno!
I wanted to be able to share with her all the inspiration I have for the space, and I can't think of a better way than by starting a small bathroom board on my Hometalk page!
I discovered Hometalk this summer and can't believe it took me that long! If you like Pinterest you will love Hometalk. While it is a similar platform where you can search subjects and clip images to your boards, it is exclusively for all things home and garden. It goes way beyond a simple pin. You can even ask questions and post them for other Hometalk members to chime in on. You can search for pros in different categories, you can follow other Hometalkers, and create posts about home projects you have completed.
Here is a look at some of the small bathroom makeovers I have clipped to share with Leslie. You can view my entire small bathroom board here.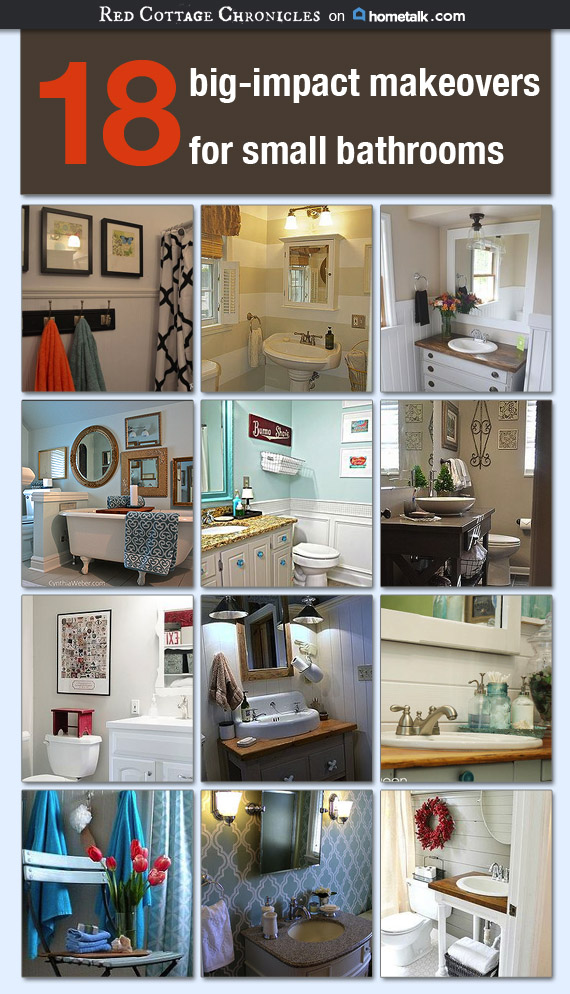 I am really leaning towards the vertical planked walls, and I think painting the tub out white again will create the illusion of more space. I know for sure storage is one issue that has to be addressed! Leslie likes her stuff!
I can't wait to introduce you to Leslie (and share with you the story of how we met) in the New Year and get started on this exciting project!
With inspiration like this from Hometalk I cannot imagine the after being any less than stunning!
Until next time…..
Maureen
Want to see how it all works out? Enter your email address below to subscribe and you won't miss a post!