One Room Challenge Week 1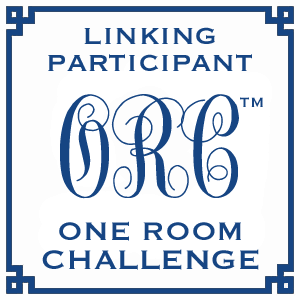 I was so glad to have come across this One Room Challenge via My Sweet Savannah! I love Melanie's house and adore her neutral, comfortable style and would love to have those views of the lake that she has!
But instead I have a tiny little cottage. And the nearest water is the Welland Canal that connects Lakes Erie and Ontario!
I have a love\hate relationship with my little home. I love the big yard that we have, and that we have park space directly behind our home where no one can build! I hate that the main floor is less than 500 square feet. I love that we do have a big screen porch on the back that extends our living space in the summer! I hate that it is impossible to find a quiet spot away from everything. I love that maintenance is fairly inexpensive because of the size. I hate that I can't host a party for more than about 10 people comfortably (although Christmas Eve Brunch draws a bit of a crowd – its a good thing we are all close family and friends!)
I cannot change the size of my home and I am so blessed to have a roof over my head, central heating and a family to love on!
I am tackling our living over the next six weeks. The floors are badly in need of replacing. The walls need to be painted and the décor needs to be refreshed to more reflect my coastal casual living style!
I will be linking up each Thursday at Calling It Home
Some before pictures…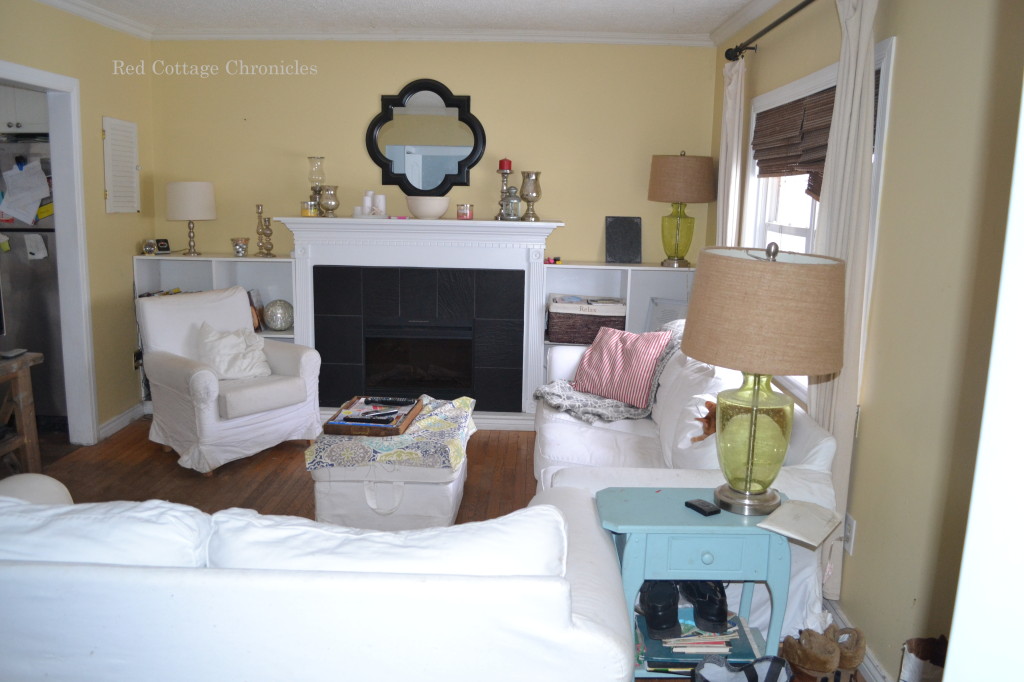 This is the view from just inside the front door. You can see how worn the floors are. That is the kitchen just through the door at the upper left.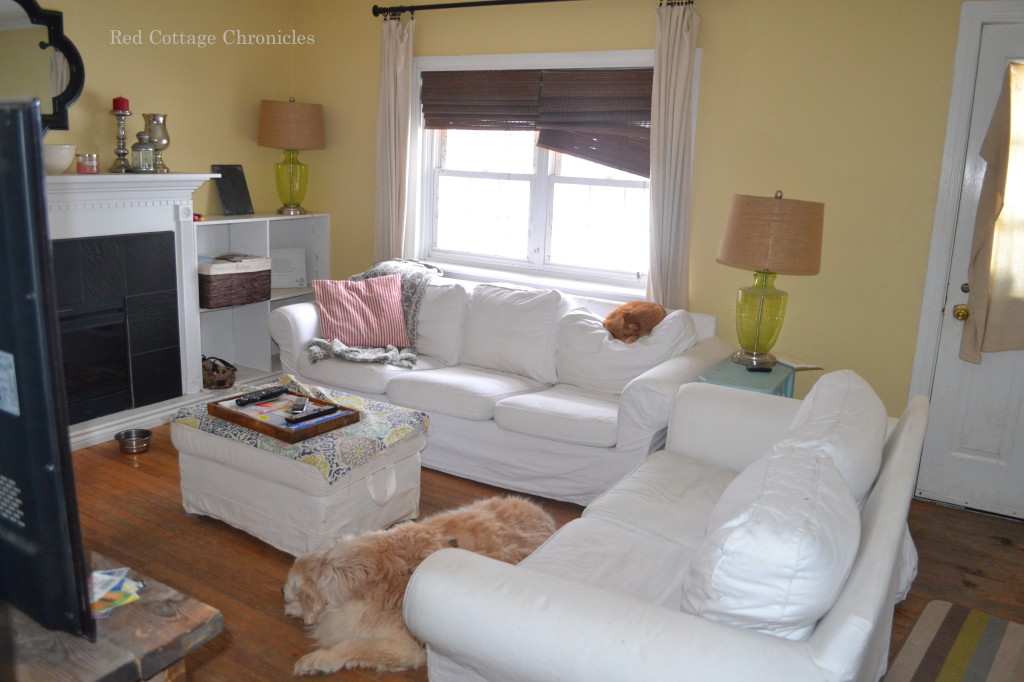 Stepping over about 5 paces, this is the view from near our bedroom door! I really think it is time to fix that blind!! Although it doesn't show in this picture, the windows are actually two separate 6 over 6 pane windows. They do allow a lot of light into the room.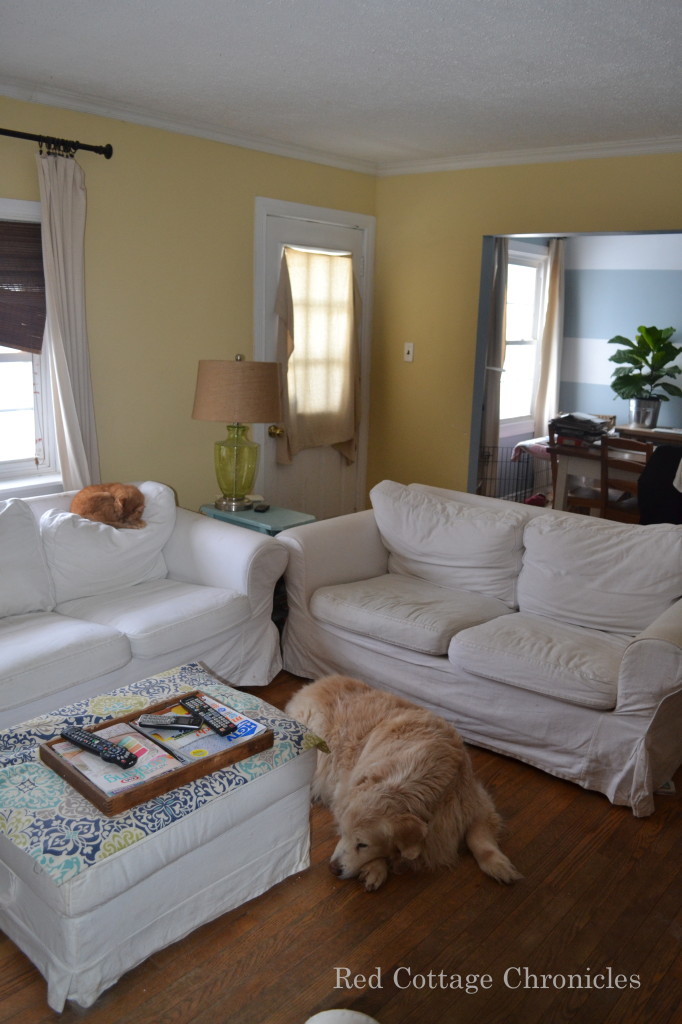 Standing just inside the kitchen door and looking towards the front door (yup, time to actually commit to a window covering on that front door!) and the dining room, which have just recently painted. I am longing for a wide plank wood floor, so that is the first order of business!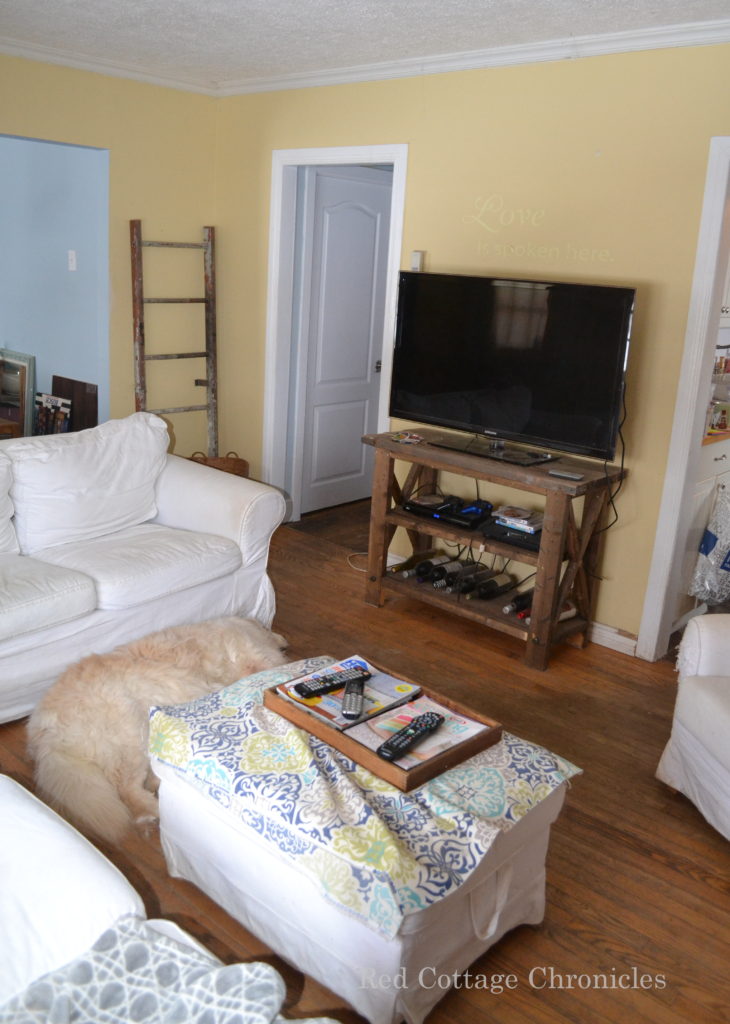 And finally, a view from the front corner near the window. You can see a sliver of the kitchen to the right. The door at the top of the picture is our bedroom door. Just to the right of that, just out of view, is the one and only bathroom! My husband built the tv stand to match this one he made for the dining room. I think it is time for some cord control!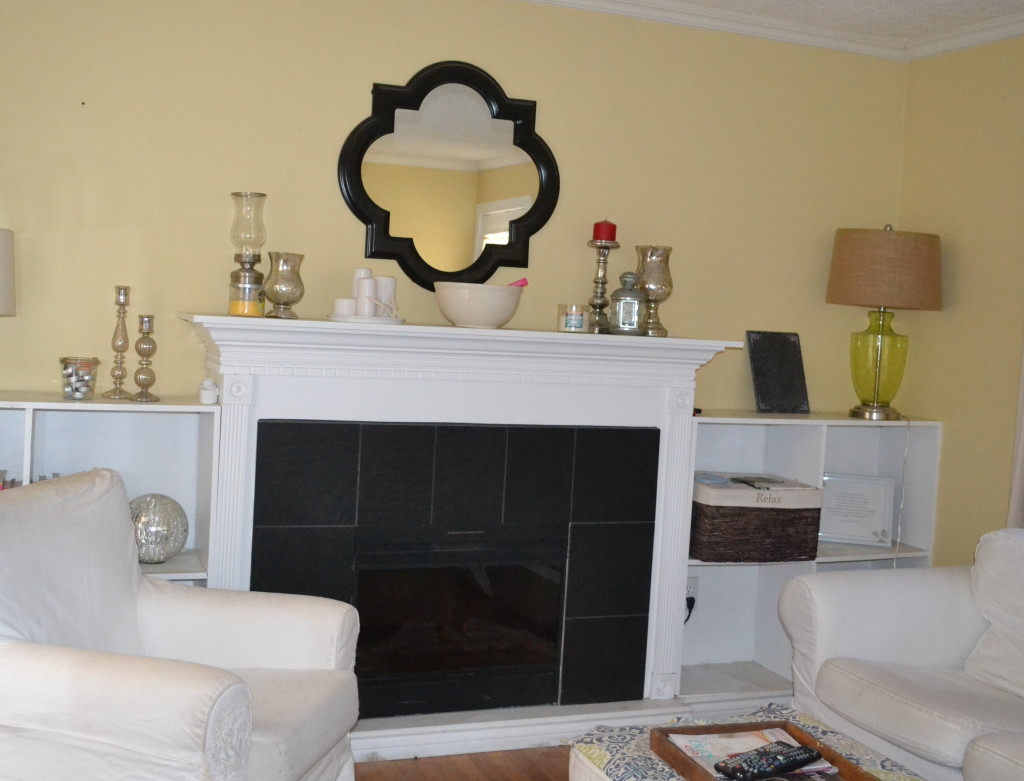 The fireplace my husband built for me a couple of years ago and I love it! Not sure if I am keeping the shelving on either side though! May replace it with some free standing pieces instead. Will have to see!
So their you have it. The sad and tired before!
I am kind of a fly by the seat of my pants girl when it comes to decorating so I will make many choices as I go.
What I know for sure is the floors are changing. We are DIYing it by laying 6″ plywood planks. The wall color we have chosen is East Coast Blue from Rona Collection paints. The slip covers will stay white and I hope to achieve a casual beachy vibe.
Oh, the budget. $500.00! And the work begins now!