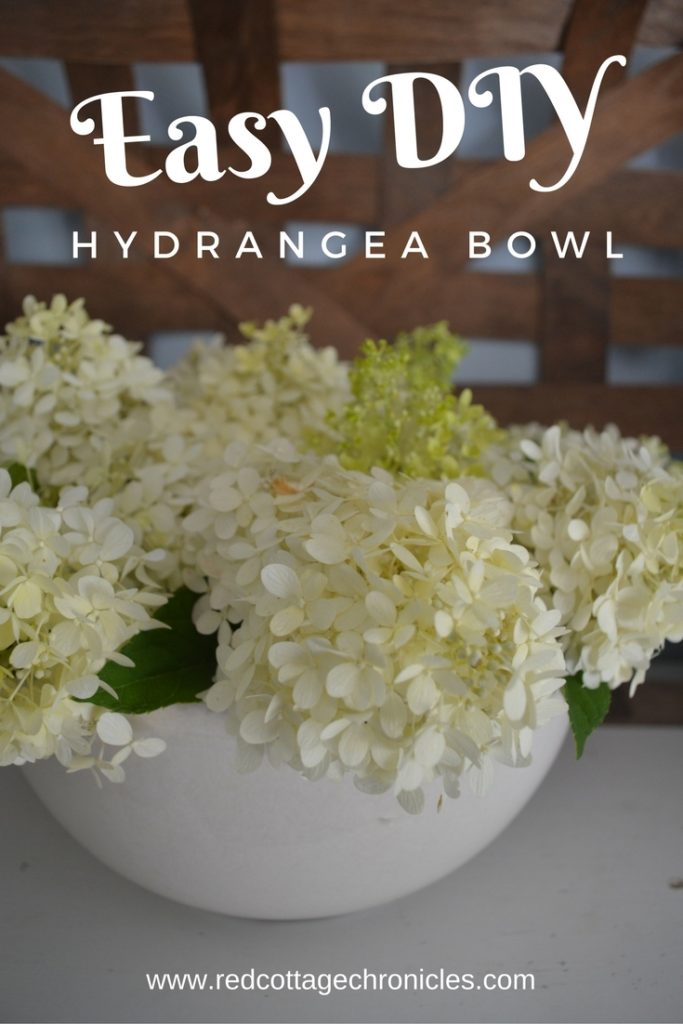 Here we are at another Monday! I can hardly believe we have past the half way mark of the summer season.
Before I get to this super easy DIY hydrangea arrangement, I just want to take a moment to welcome all the new visitors to the Red Cottage Chronicles community! I sincerely appreciate each and everyone one of you for taking the time to keep up with the goings on at our little cottage!
If you haven't subscribed yet, I'll make it really easy to do! Just click the subscription image at the bottom of this post! I would love to have you on board.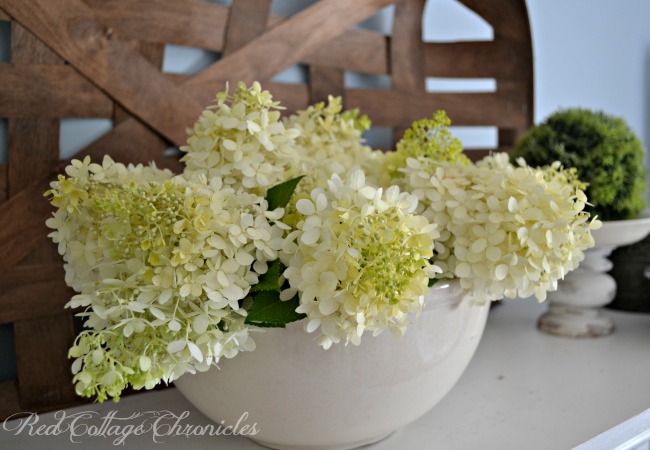 I found myself on with a rare weekend on my own, with Tim working and the girls off house sitting. I finally had a chance to put my feet up and relax.
That lasted all of 5 minutes as I glanced up at my very sad and neglected mantel that was displaying nothing more than my DIY tobacco basket, the dogs empty food bowl and a big empty ironstone bowl. A depressing site indeed.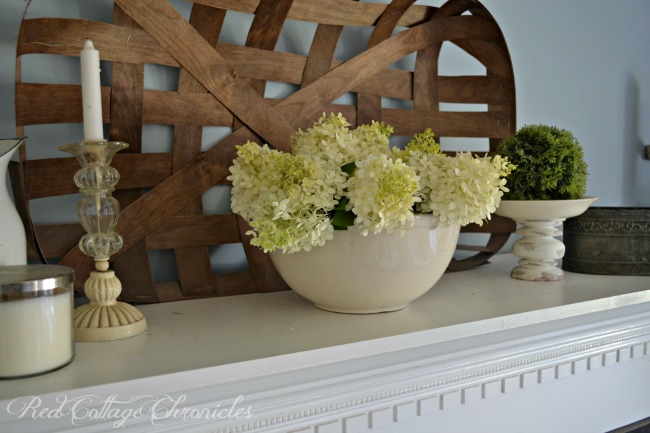 So, I headed out to the screen porch with a glass of sweet tea and my ipad to catch up on some reading so I wouldn't have to look at my sad mantel.
If you have a overactive creative brain like me, you will have an idea of what happened next!
I didn't even get my behind in the chair when I caught a glimpse of my Limelight hydrangea tree in full bloom right outside the screen porch door. The image of the empty ironstone bowl popped into my head. Only I envisioned it full of hydrangea blooms sitting all proud and pretty in the middle of the mantel.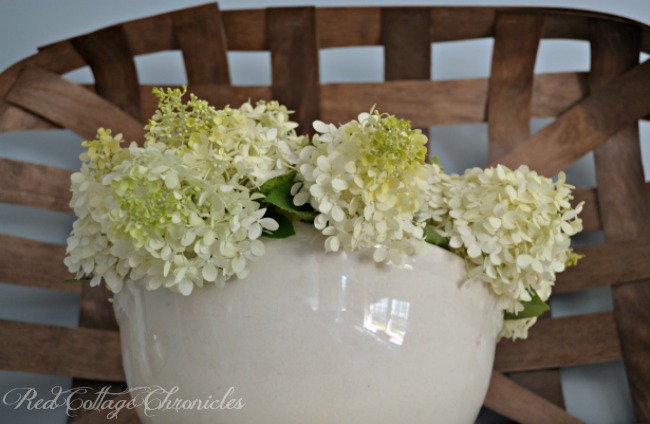 And then it hit me! Who am I kidding, I am most relaxed when I am creating something!
I grabbed my garden snips and snipped off blooms, both full and just emerging. I gathered up some tape and the ironstone bowl and got to work. Seems I am getting tons of use from my re-purposed kitchen cart these days using it to arrange flowers and other garden tasks!
I made a grid across the bowl using scotch tape. I arranged the blooms in the grid to create this easy diy hydrangea arrangement. No need to fill all the holes as long as it is full. Place large blooms in the middle and smaller around the edge. I also tucked a few smaller ones among the centre to add that extra hit of lime colour on top.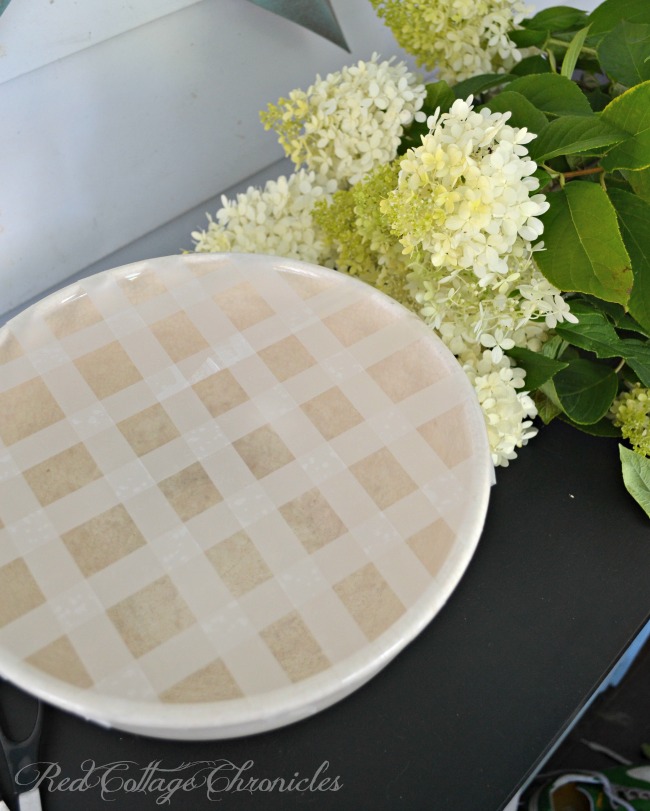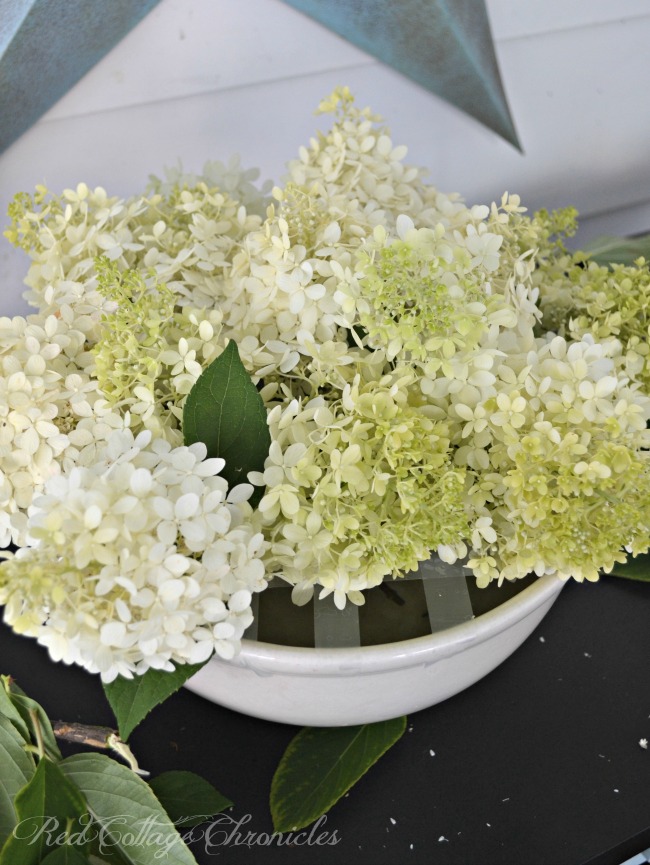 Back in the house I gathered up a few things to compliment my hydrangea arrangement. I love my chippy enamel pitcher and use it often on the mantel and table centrepieces. A candle stick, my favourite lavender candle, my thriftstore upcycled "cake plate" and an old metal tin rounds out the otherwise simple mid summer mantel.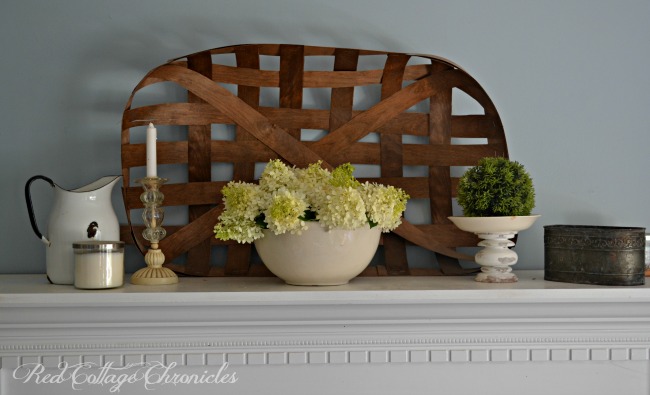 I waited until the hydrangea arrangement was in place before filling the bowl with water to keep the hydrangeas fresh for a while. I will just let them dry out as the water dries up, and then re-purpose the dried hydrangeas come the fall.
And speaking of fall. Bring. It. On! I cannot wait to get rid of these temperatures reaching 40 degrees.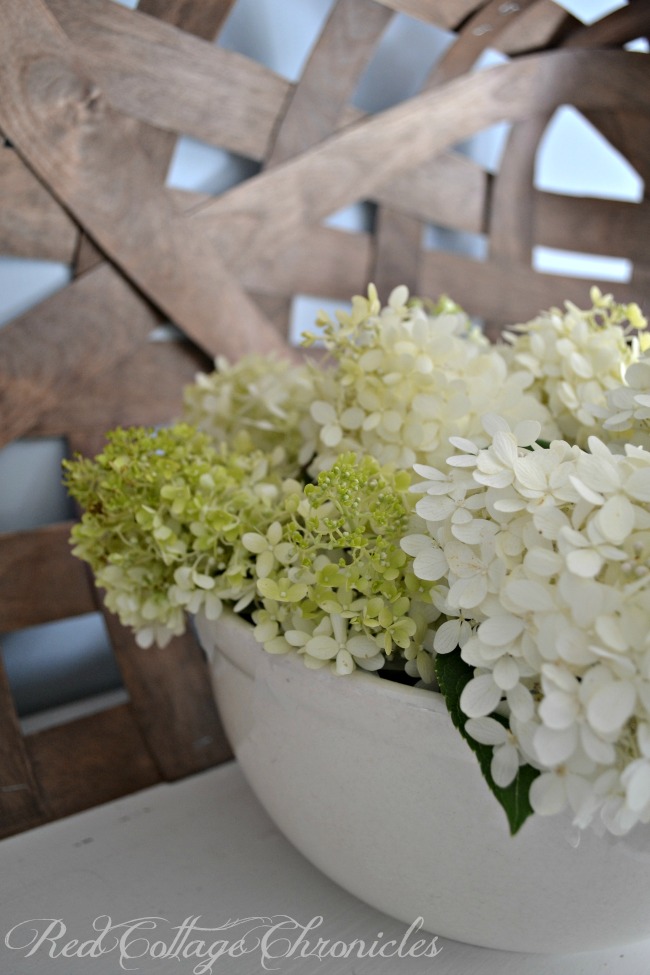 So much for putting my feet up!
Until next time…..