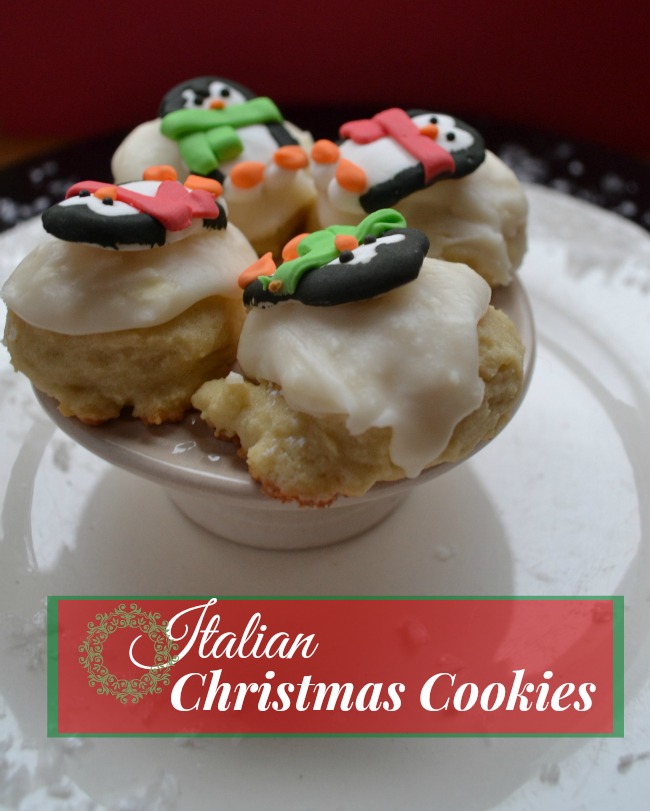 Welcome back to another edition of Taste of Home Tuesday.  Last week I was down for the count with a nasty cold, but thankfully it didn't last too long and I was getting back in the swing of things by the weekend.
One of the things I love about tasteofhome.com is that you can put an ingredient in the search bar and a whole host of recipes will pop up that require that ingredient!  That was the case this weekend when I had a tub of ricotta cheese that was getting near the "best before" date and I wanted to use it up.
These Italian Christmas Cookies caught my eye and I was happy to see they made a really big batch!  I actually froze half the dough for baking later.
Once out of the oven they were flying off the cooling rack before I even had a chance to frost them! They are almost cake like with just a hint of sweetness if you prefer them unfrosted.
I did manage to decorate some with little penguin candy pieces I bought from Wilton, and then I  just sprinkled some with red and green sprinkles.
These Christmas cookies will make a very nice addition to any holiday baking tray.
You can find the recipe for these Italian Christmas Cookies here at tasteofhome.com
Until next time…..
Maureen