So excited to be participating in Winter Wonderland Christmas Home Tour 2014! So many fun stops on the tour. Make sure you check out each and every one for some awesome Christmas inspiration! Thank you to my friend Michele from Shelstring Blog for the opportunity to welcome you in for a peek inside the red cottage!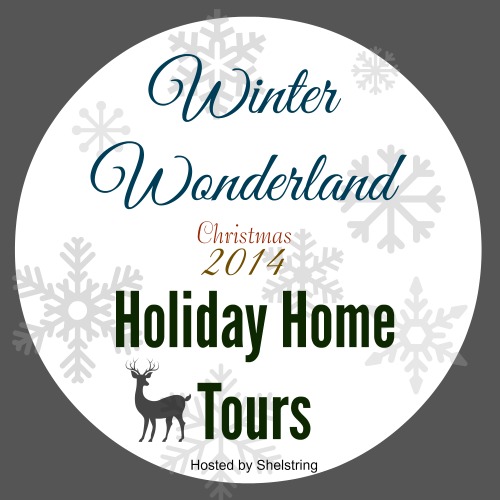 Welcome to The Red Cottage Christmas Bedroom 2014!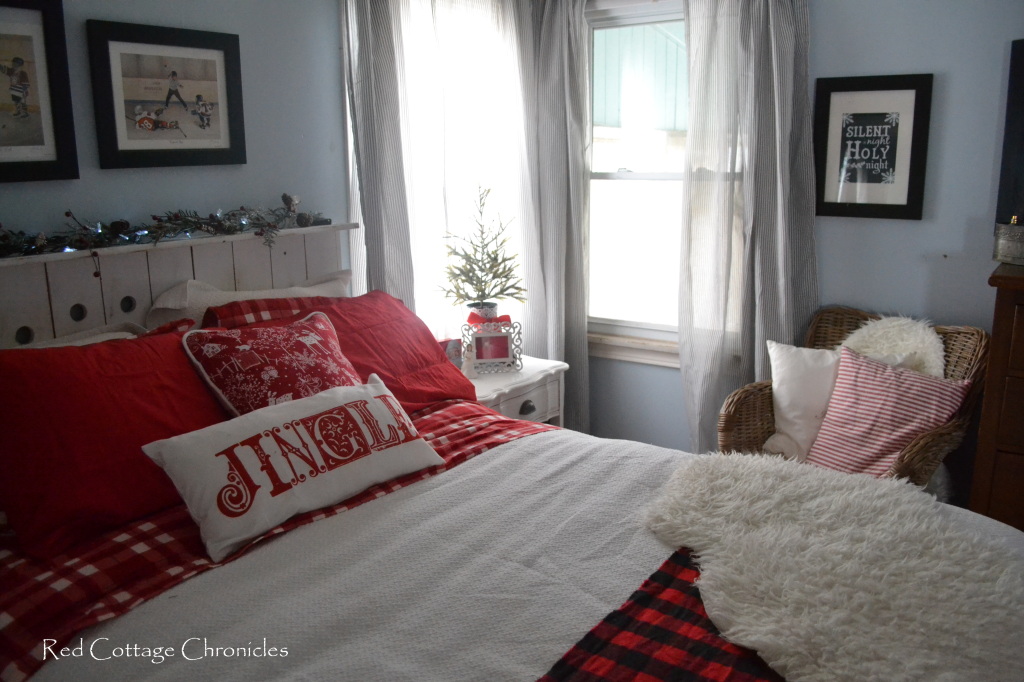 Since a nasty head cold has taken hold of me this month, I am decorating for Christmas one room at a time! Our bedroom was the first room I did because I love how cozy it makes it feel. It is my saving grace at the end of the day. It's a place I snuggle up and read, or study, or just watch TV! I know that TV in the bedroom is taboo, but when you live in a small space, you do what you gotta do!
I am going with a prominently red theme this year. It really is my true to heart Christmas color. Decorating for Christmas does not have to cost a lot and for the most part I worked with what I had, I borrowed thing or two, and hit the stores for some bargains to pull it all together!
Lets get started, shall we.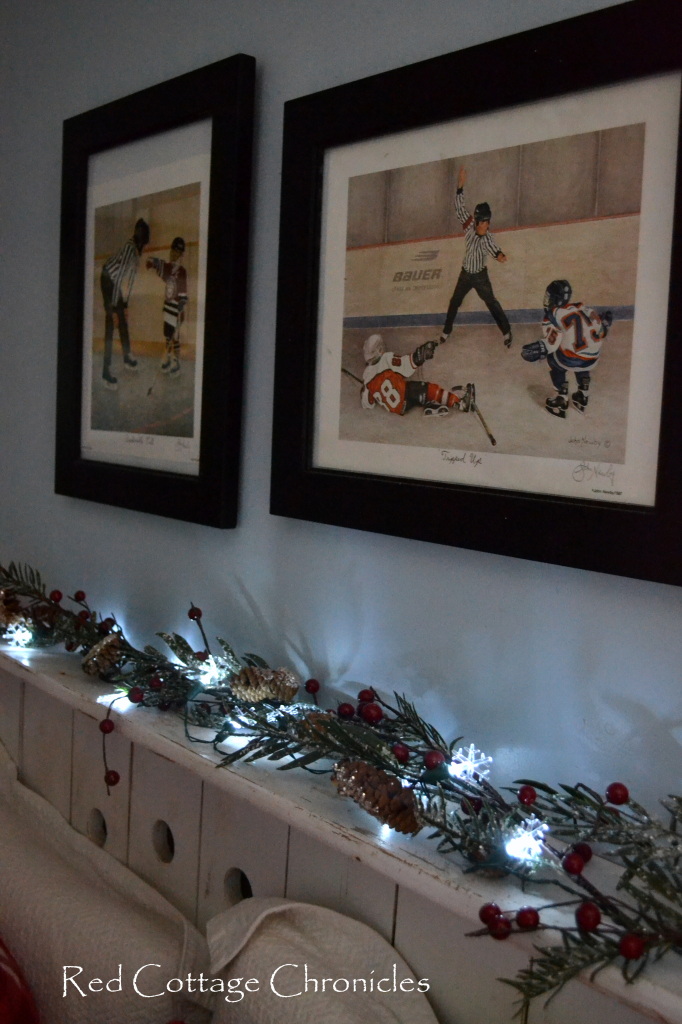 This little vignette means more to me than you can imagine! The headboard my husband built for me not long after we were married 28 years ago and I still love it to this day.
The pictures on the wall are by a local artist John Newby who sadly recently passed away. He did almost exclusively hockey prints and I was thrilled to find a couple with referees.
My husband and I met at our local hockey arena when I was just 15! I worked at the snack bar and he played hockey and was a referee! Fast forward 34 some odd years and he is still a hockey referee, as well as a supervisor of on ice officials, my full time job office is located at the arena that he spends so much time, and the color on my bedroom walls is called…..Ice Rink!! Yes I am Canadian!!
The sparkly berry garland is actually 2 strands purchased at the Dollarama (dollar store here in Canada) and twisted together, with a string of battery operated snowflake lights purchased at Target! They were only $3.50 since I had a 25% off coupon!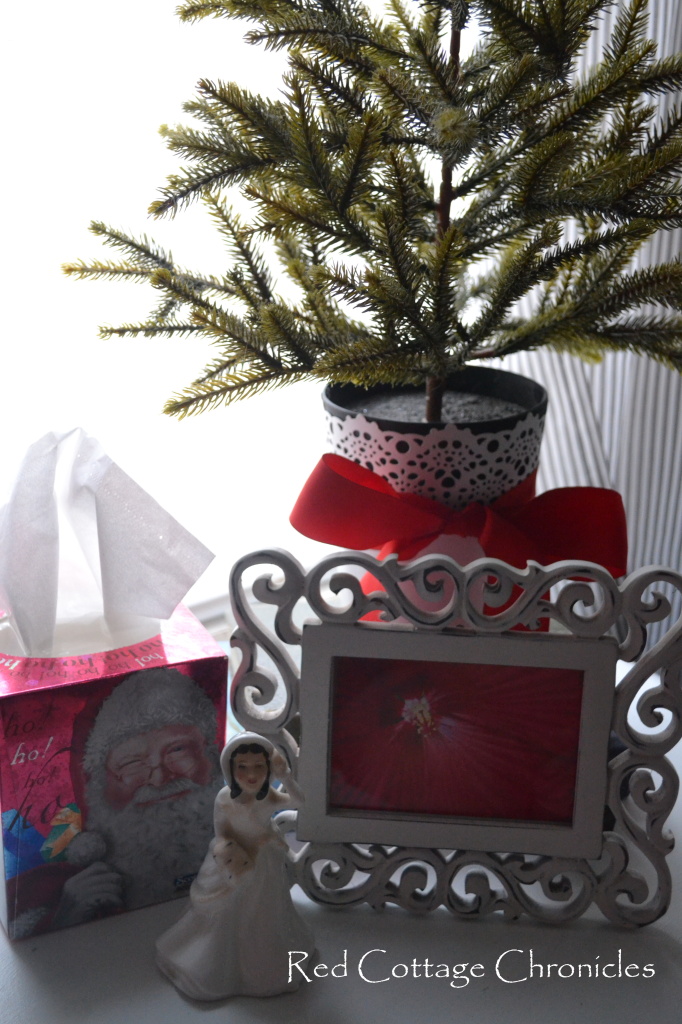 A Christmas tree purchased at Ikea a couple of years ago dropped into a metal flower pot also from Ikea, a festive box of Kleenex, a photo by a friend and my Royal Dalton "Maureen" figurine adorn my bedside table.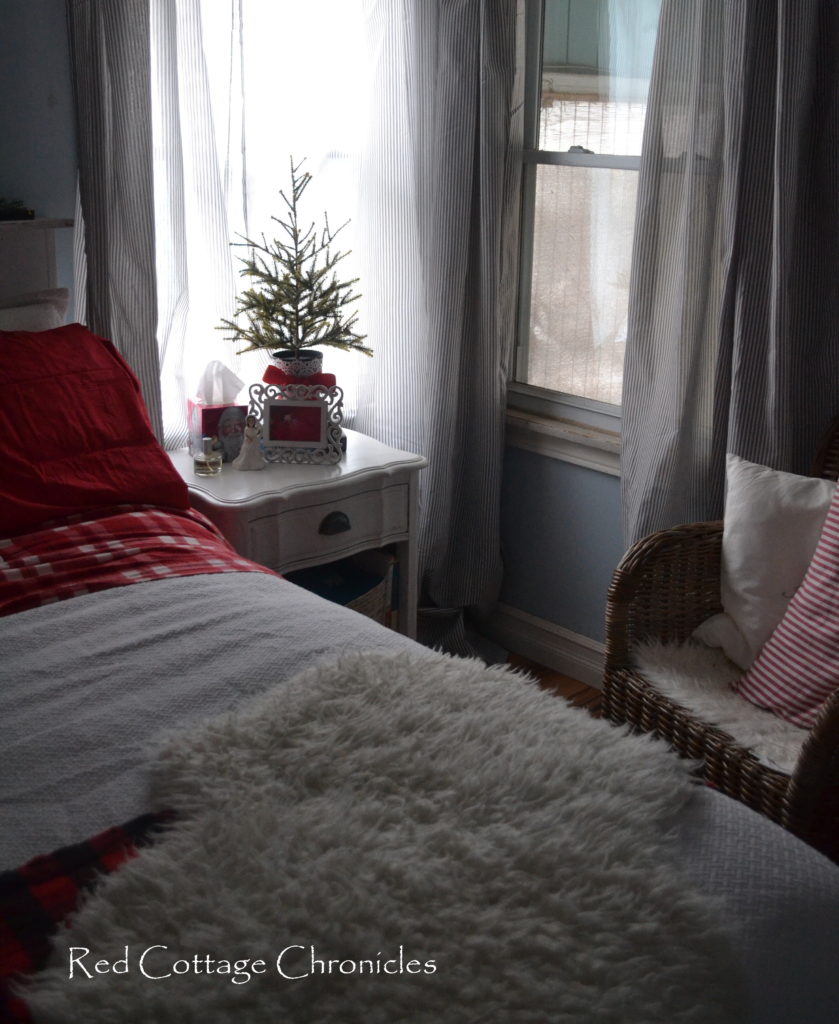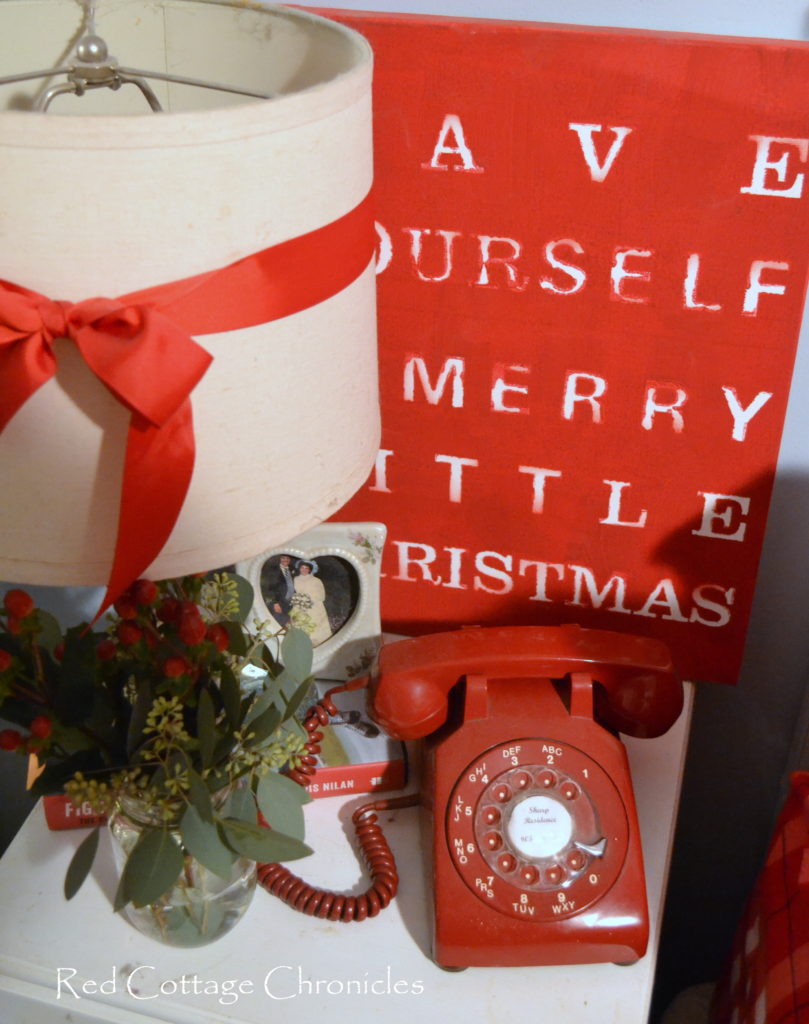 On my husbands bedside table sits a a sign I "painted" many years ago on a cheap canvas from Michaels. I simply stuck some stick letters on it, painted the whole thing red, and then peeled the letters off after it dried. A little primitive, but I kind of like it just as it is!
I used a ribbon I had lying around to tie around the lampshade, put some berries from the garden into a mason jar and a fun red telephone borrowed from a friend! It just so happened that the book Tim is reading now has a red book jacket! (If you look real close, you can tell it is a book about hockey…go figure!)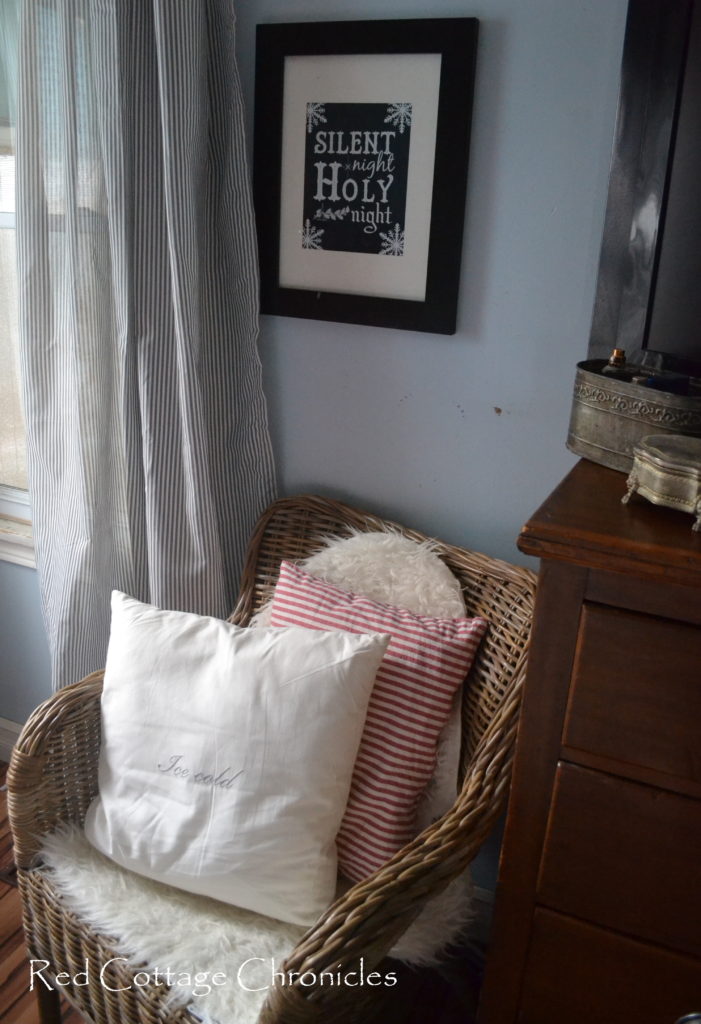 A quiet corner for reading and relaxing! Pillow covers purchased over the last couple of years at Ikea. Faux sheepskin rug, also from Ikea and a free printable I found on line, tucked into a frame I already had!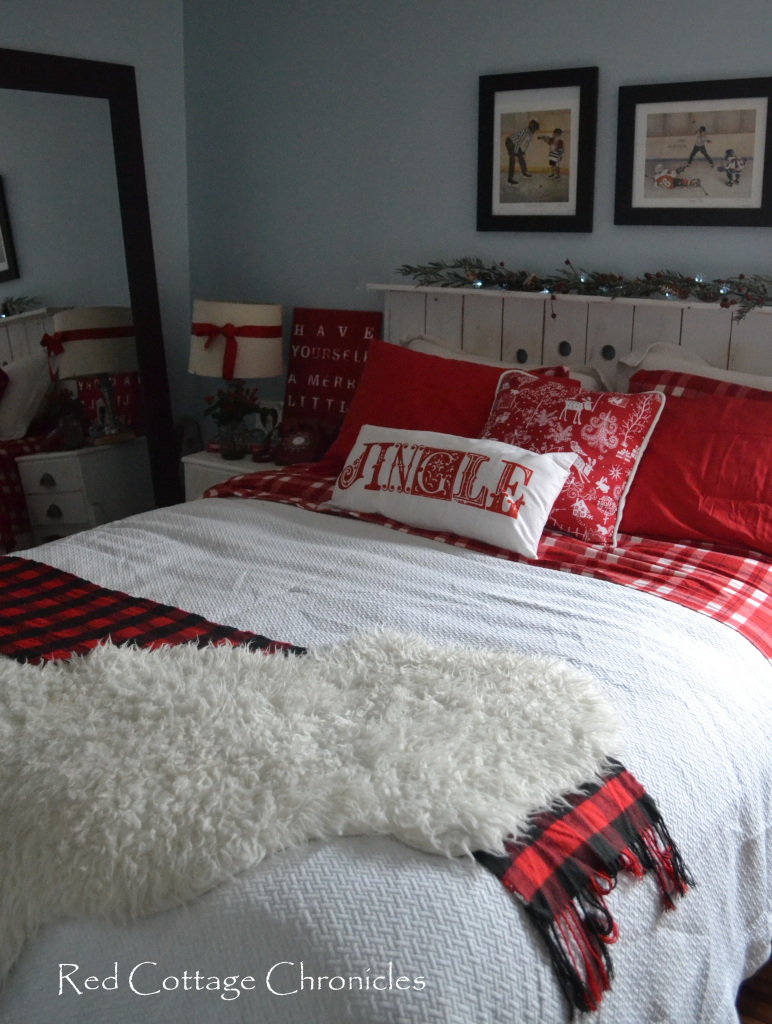 The bed is made up with new flannel sheets from Target (on sale for $19.99), red pillow cases from Ikea, and 2 Christmas themed pillow covers bought at Quilts, Etc. buy one get one half price! I already had the pillow forms and just switched out the covers. I draped a plaid scarf across the bottom of the bed and topped it with a second faux sheep skin I had on hand, also from Ikea.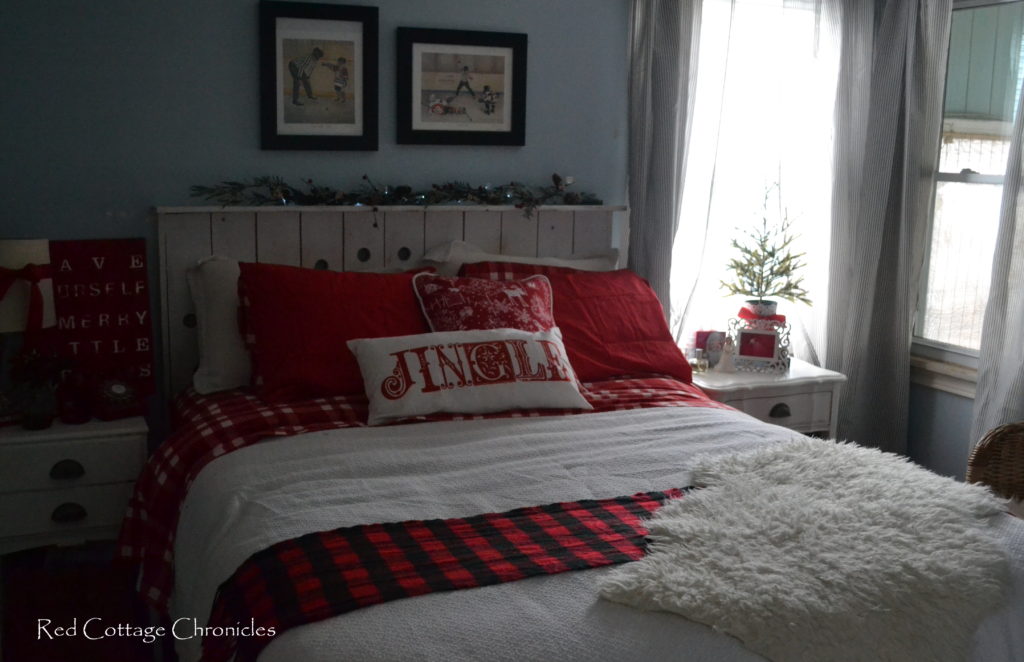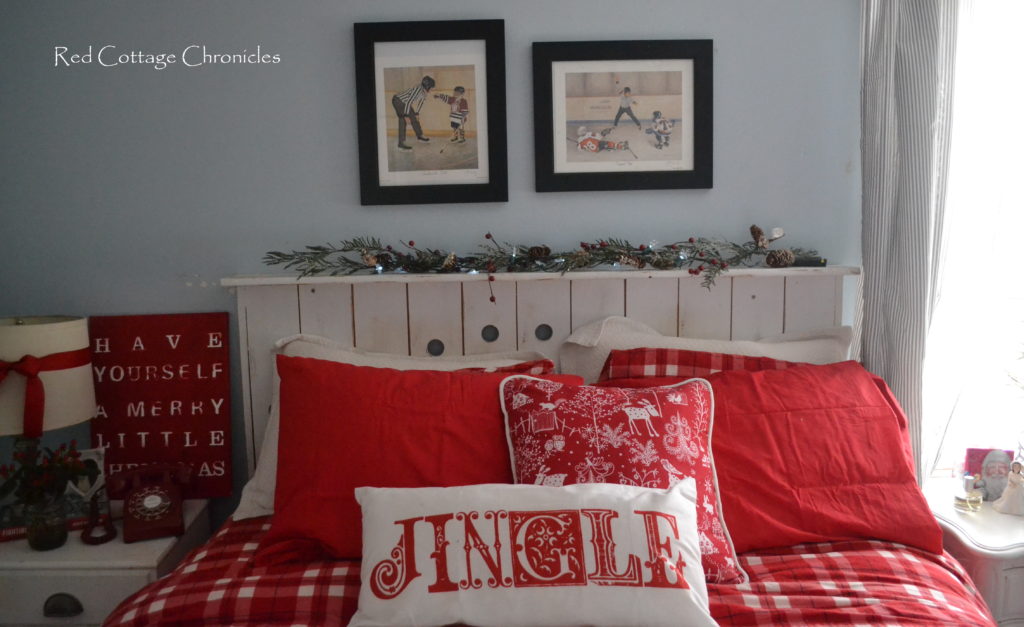 Well, there you have it. My cozy Red Cottage Christmas bedroom! I think I maybe spent about $50 all together, but the sheets I will use all winter long, so really shouldn't count that expense. As far as the rest of my purchases, I know I can repurpose them in years to come!
Do you decorate your bedroom for the Christmas season?
I will be sharing other rooms throughout the house in the next few days as I am starting to come out of this cold induced haze! I am particularly happy with the way my mantel came together and can't wait to show you all!
Here is a quick peek of a corner of the living room and our tree!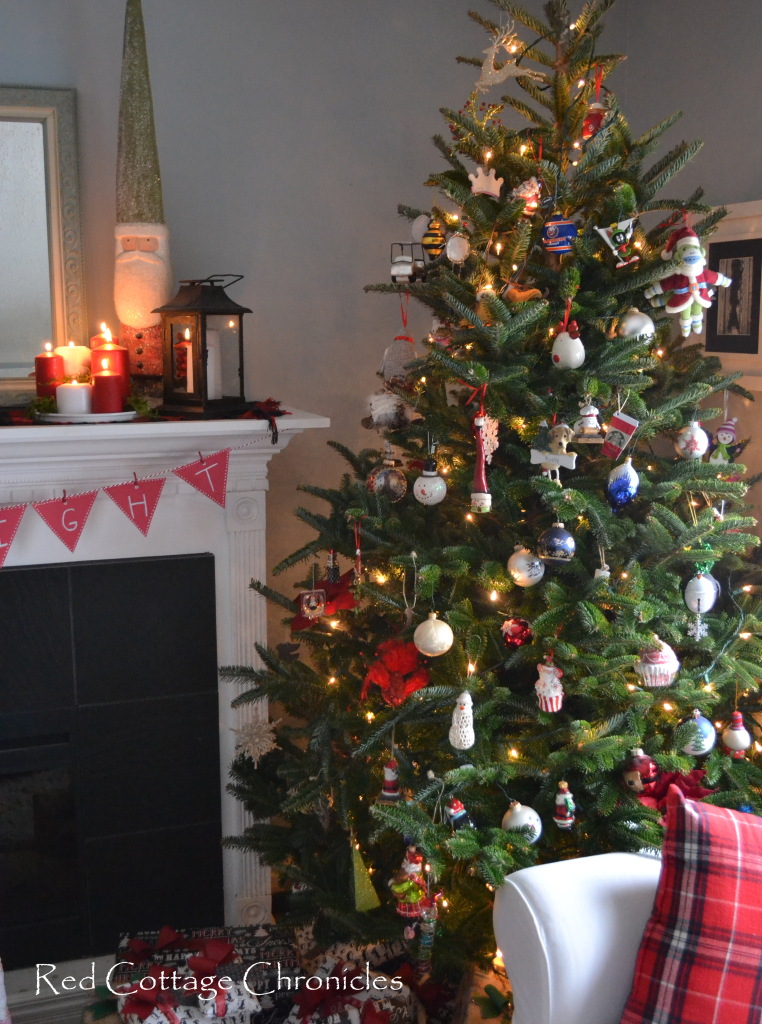 If you want a look at last years Christmas décor, you can find it here! And to tour all the Winter Wonderland homes just follow the links below!
Until next time…

Till next time……..
Maureen