Despite the fact we lost our power for about 7 hours today, and the wind his howling so loud outside my window I am so glad to see signs of spring popping up all around. Specifically in the grocery store! In my opinion tulips are the poster flower for spring. I have shared with you before easy ways to arrange grocery store flowers, and today I went with all tulips in a farmhouse style tulip arrangement.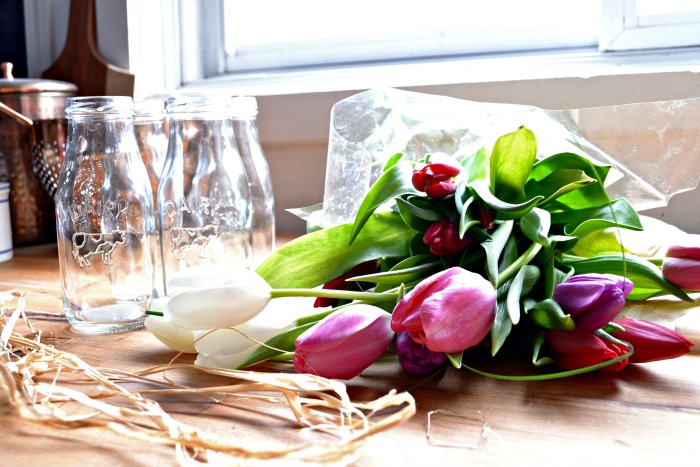 If this is your first time stopping by, welcome. Here at Red Cottage Chronicles every second Monday is Market Flower Monday. It is when I share the flowers I purchased at either the farmer's market or the grocery store. And then I show you how I have arranged them at home!
This week I purchased a "more than a dozen" bunch of tulips from Zehr's for just $12. Turns out more than a dozen equals fifteen. I gathered up four of my little milk bottles and some left over raffia from this spring floral wreath.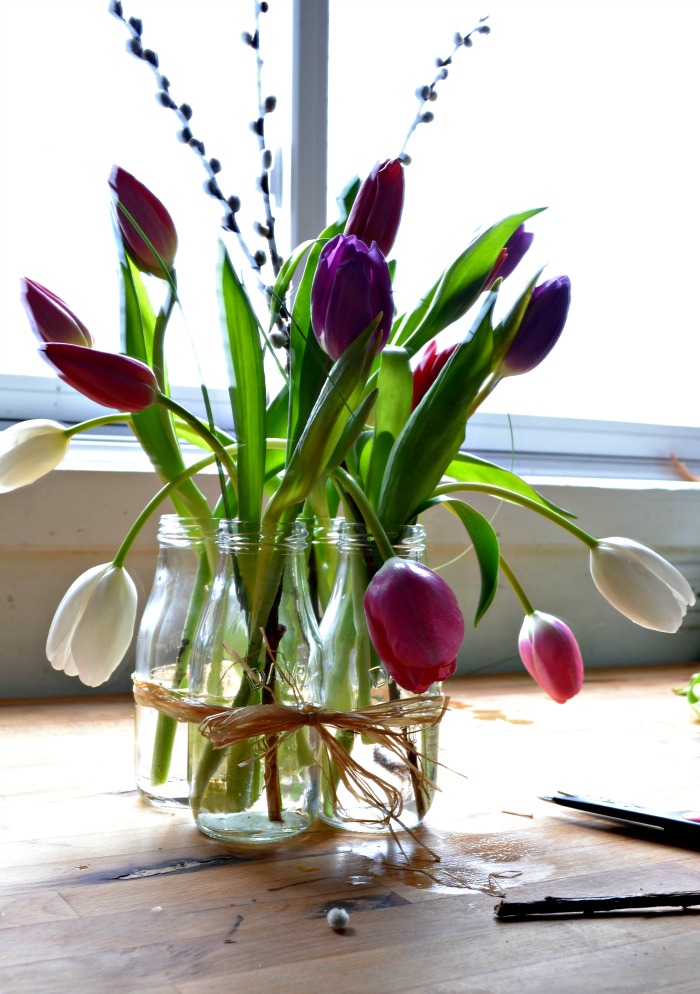 This tulip arrangement could not be any easier. I simply tied the four bottles together with a long piece of the raffia. Then I divided the tulips between the bottles and added few stems of pussy willows just for fun!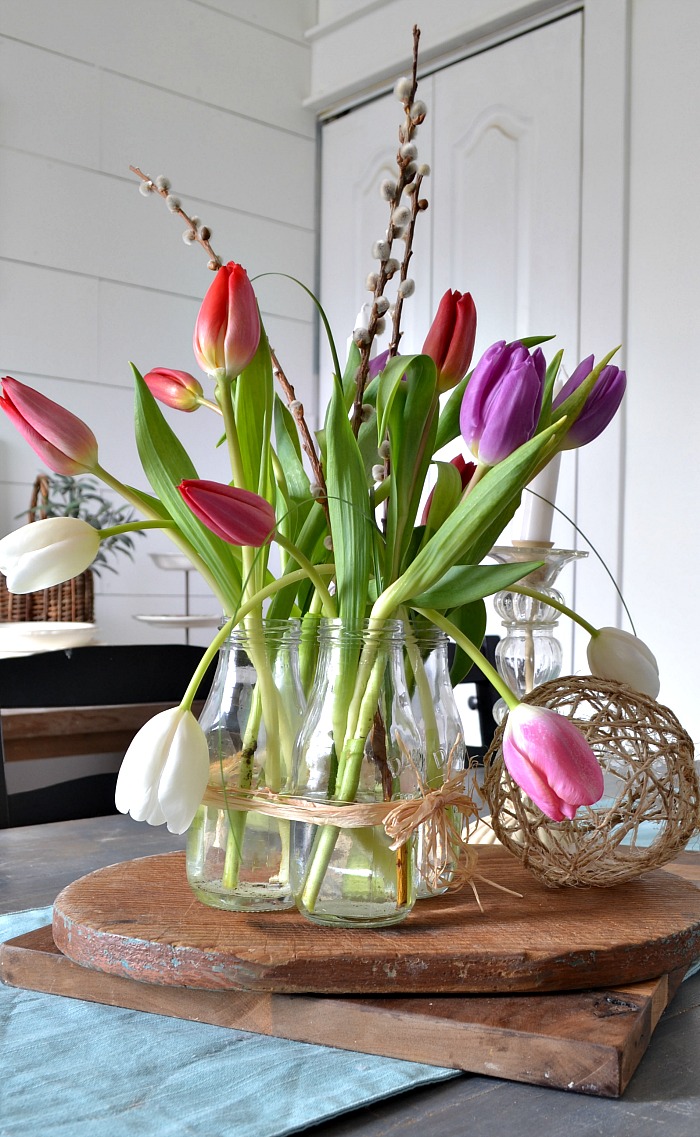 How easy is that! I could show you stem by stem how I placed them in the jars, but there really is no rhyme or reason. Whatever pleases your eye is exactly the way they should look!
Casual and free flowing with that rustic charm that defines farmhouse decor. A tulip arrangement that doesn't look arranged at all! Set atop cutting boards in the centre of the dining room table it makes a pretty pop of spring color on a very grey and incredibly windy day!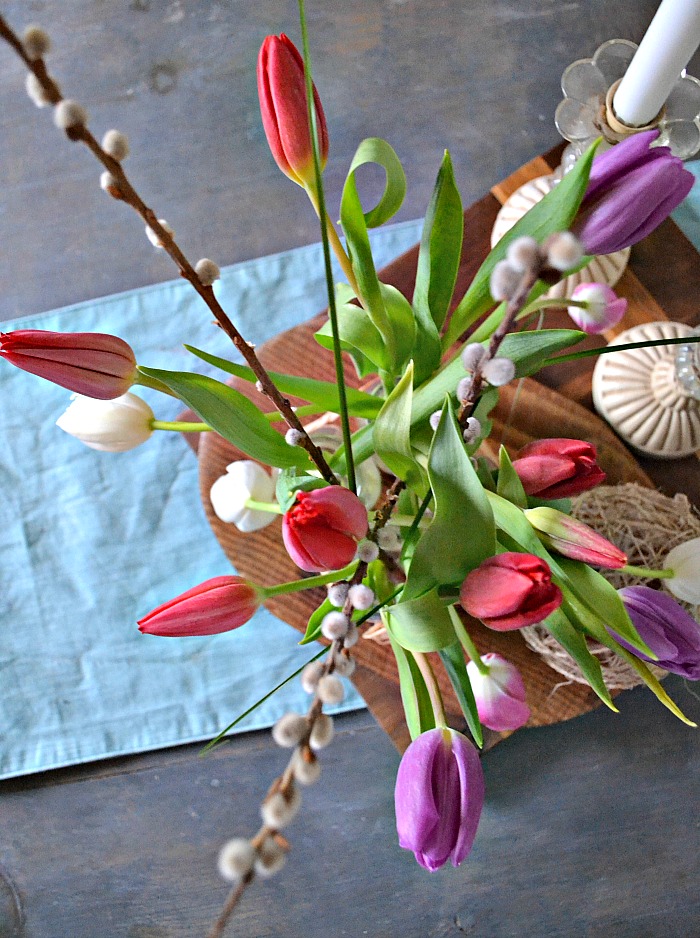 I am looking forward to see the tulips all open and show their real beauty. Kind of like spring itself. It starts out slowly and then starts to unfurl it's full color and beauty.
Tips for creating a spring tulip arrangement:
choose tulips that are still closed
choose a variety of vibrant colors, or go monochromatic
change the water every two or three days
make a small vertical slit through the stem just below the bloom to slow the growth as they will continue to grow even when cut
remove the lower leaves
choose a grouping of small jars or bottles instead of one big vase for a farmhouse look
allow the blooms to fall where they may
accent the arrangement with pussy willow or other twigs or small branches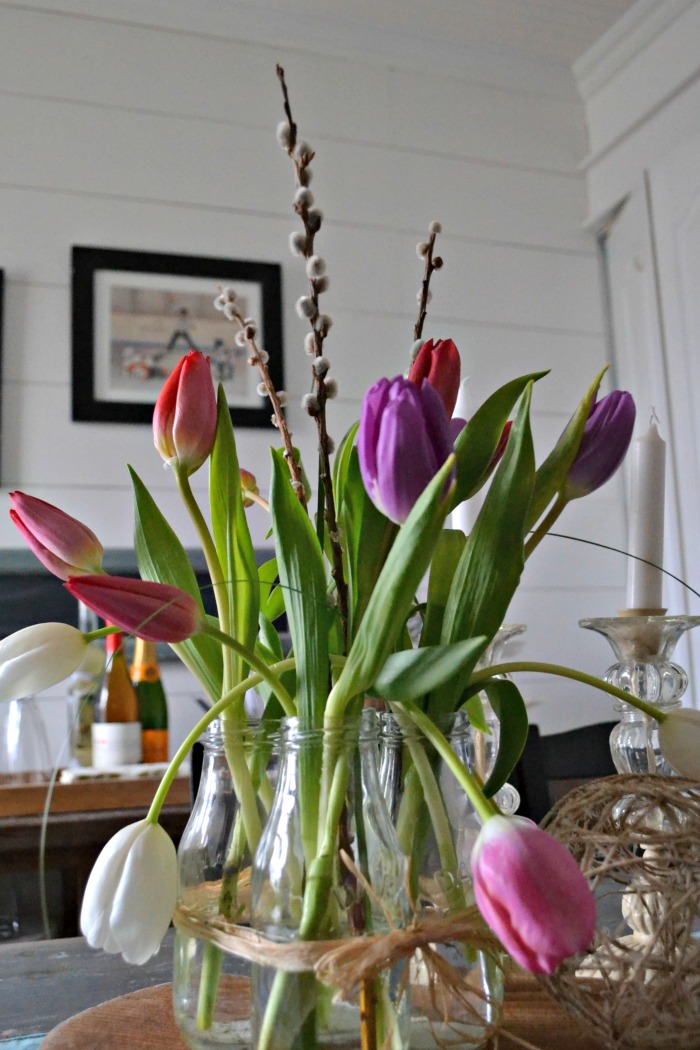 Spring is less than a month away, but adding touches of the season inside makes it seem like I might just wake up tomorrow and the snow outside will have melted away!
Until next time….

If you want some behind the scenes happenings from our Red Cottage, be sure to SUBSCRIBE to our email list! I will never, ever share or sell your information or send you spam! I will send you an update to let you know when a new post goes live, plus every two weeks I will send you a newsletter with some extra content not shared on the blog!