Here we are the One Room Challenge Week Four already! Only a week and a half to go and you would think I should be panicked given the state the room is in right now. But, I am really not. Tim just finished working three weekends in a row, but he is plugging along in the evenings. Not to mention the challenge runs from Thursday to Thursday, but I am always late!
Last year at this time it seemed like we had so much more done when renovating our kitchen, but when I look back, really I wasn't!

One Room Challenge Week Four
This is the week that all the uninteresting stuff happened. Well, maybe not all uninteresting, but definitely the hardest decisions needed to be made. Paint and flooring.
Did I mention I am a Libra!? Decisions do not come easy. Especially ones that are of a somewhat permanent nature. While it is true paint can be changed, but that doesn't come without extra costs and extra work. Flooring is far more of a permanent decision and one that I took extra time to do my research.
But, both decisions have been made, which means that things will be moving along quickly from this point.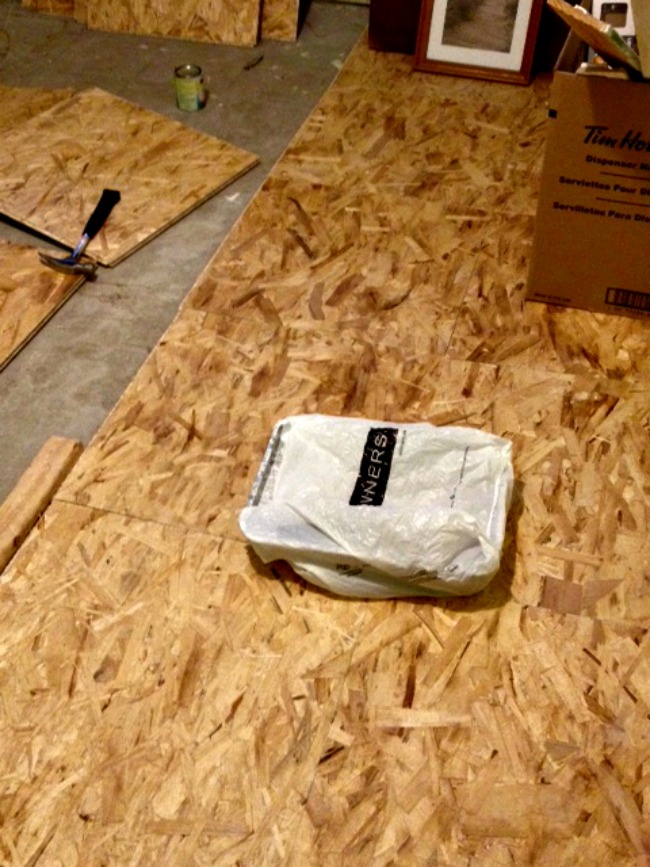 Being in the basement, no matter how waterproof, there is always that chance of moisture coming in. We chose DriCore sub floor panels to lift the floor up off the concrete. Each tounge and grooved tile is 2 feet by 2 feet and have a dimpled layer of waterproof material that provides an airspace between the concrete and the actual partical board layer.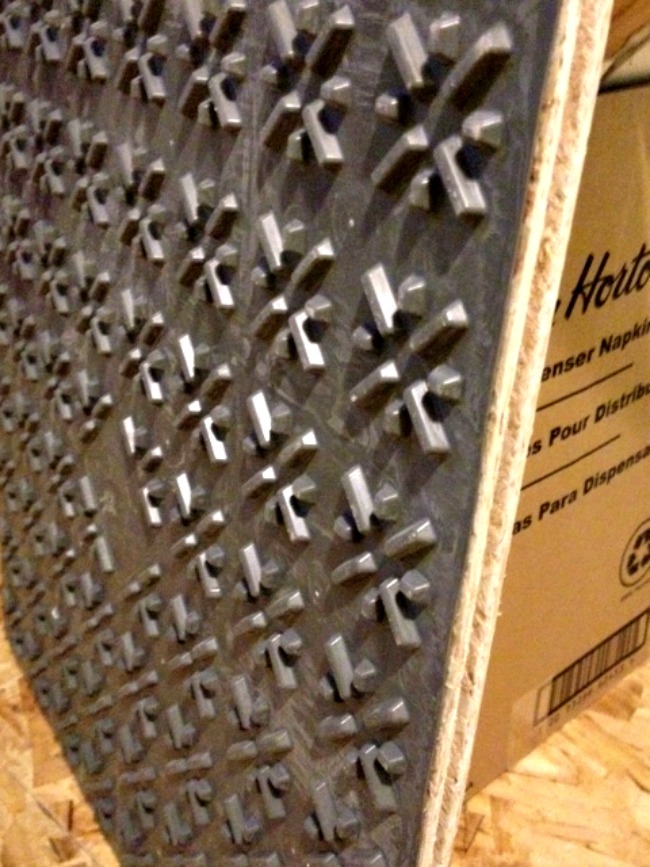 As I mentioned we did manage to finally chose a paint colour. Or should I say, 'I' finally chose a colour. I knew I wanted a cool grey, but nothing too dark. Being a basement bedroom, my goal is to make it as bright as possible, while still feeling cozy.
Since this room will become my office/craft room when Samantha moves out in the near future I wanted a colour we could both love since I do not want to repaint anytime soon.
I decided on White Tulle. It is a CIL colour, but I used the Rona Collection paint in an eggshell finish. I am so pleased with how well it went on. One coat coverage that went on smooth and easy. This is such a hard room to photograph, but here is a picture of the newly painted walls (still not completely dry!)
Now, let me tell you a bit about the flooring we chose, and why we chose it.
After doing some research, checking reviews and getting some samples of different flooring we decided to go with Golden Select flooring, in the Toledo finish. I certainly was delighted when they offered to partner with us on this project. Golden Select is available in Canada at Costco. Here are some highlights that swayed my decision:
the thickest laminate I have ever seen, at a very solid 15 mm
they have a pre-attached foam backer layer that really gives a nice feeling underfoot, plus this saves the need for any additional underlay (unless installing directly onto concrete subfloor).
30 year residential warranty
Greenguard Gold certified
With V-groove edges on all four sides and moisture resistant edges to help improve water resistance, and a hand scraped texture they were my favorite choice for having that authentic hardwood look.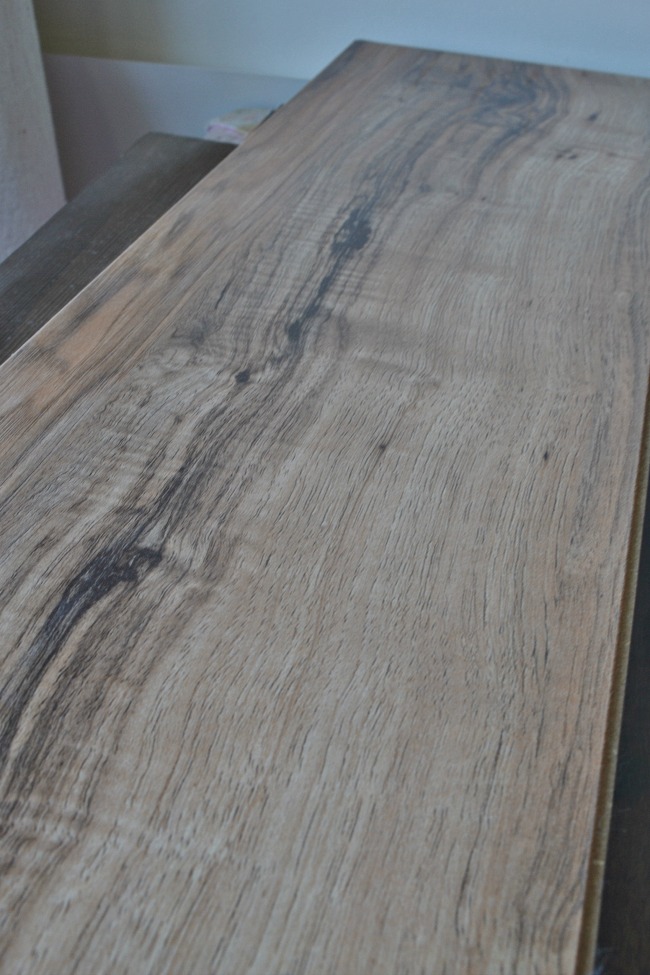 We chose the Toledo finish for it's warm, neutral wood tone as well as for the wide almost 8″ wide planks. Tim is confident that installation will be a breeze, since he was able to view the how-to video.
It has been a busy two weeks, and the flooring will be ready for installation tomorrow since it has been allowed to acclimate for 48 hours.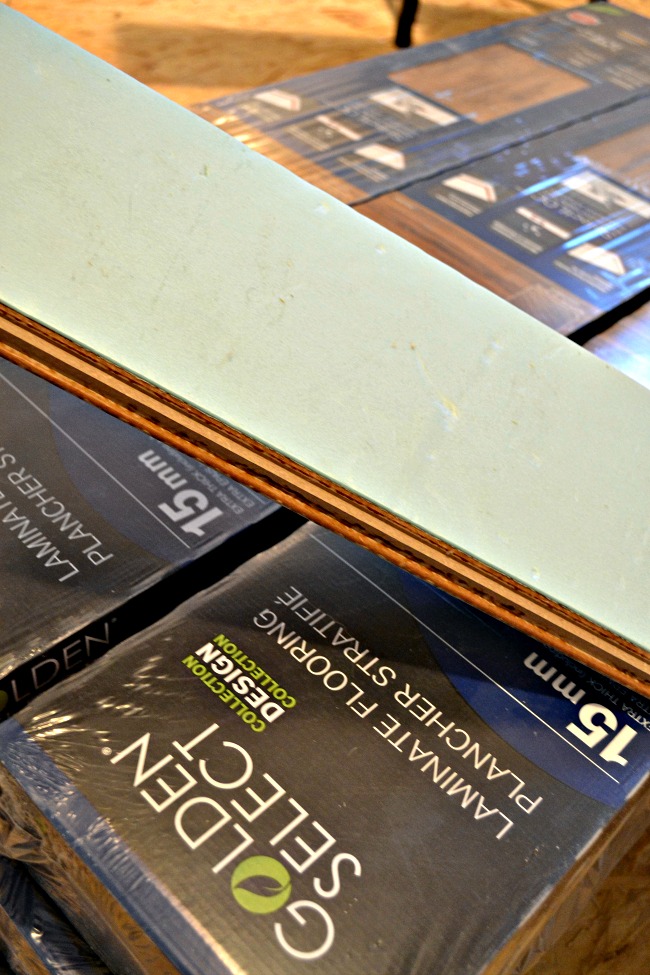 We are so close to be ready to just move things in and do all the fun 'decorating' tasks. I cannot wait to share the installed flooring with you next week, as I think it is going to look fantastic.
We are awaiting the arrival of new ceiling fixtures and an area carpet. While we have the two dressers, we still have to pick up the pipe to complete the closet area. Minor detail!
Be sure to visit the One Room Challenge week four to see the projects of over 100 other guest participants, plus the featured designers!
Until next time…..