Welcome to week 5 of the One Room Challenge(TM). This is the week I have been patiently waiting for! Our stunning black farmhouse sink has been installed. And I am not exaggerating when I say it is not your typical farmhouse sink!!
If you are just stopping by for the first time, The One Room Challenge(TM) is hosted twice a year by Linda from Calling It Home. Each Wednesday Linda hosts 20 featured bloggers who are transforming a room in just 6 short weeks! On Thursdays she hosts guest bloggers who are also participating in the challenge as they update their weekly progress! If you are looking for inspiration for your own renovation or just love home decor you really must click here to access links to over 200 participants!
As for my own One Room Challenge(TM) 6 week renovation, you can catch up through these links:
Before I start gushing about my fabulous new sink, let me share a bit more of the progress we have made this week. I must admit it's finally starting to feel like we actually might just get this project finished on time!
As I mentioned last week we decided to go with the Acacia Williamsburg butcher block countertops from Lumber Liquidators. While I really didn't care for my old ones as well as I should have, I really still love the look of wood counters. Our old sink didn't do our old counters any favors either given it had raised edges, which made it easy for any splashes of water to pool around the outside edges. Since I hadn't kept up with treating the wood the way I should have, this resulted in yucky water marks that were impossible to remove.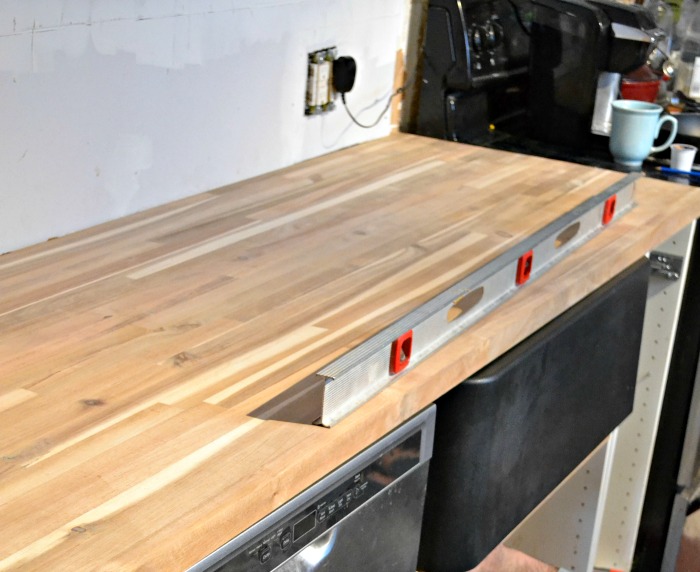 So I have learned my lesson, purchased a better butcher block sealant and actually even entered a reminder into my phone for six months time to re-seal!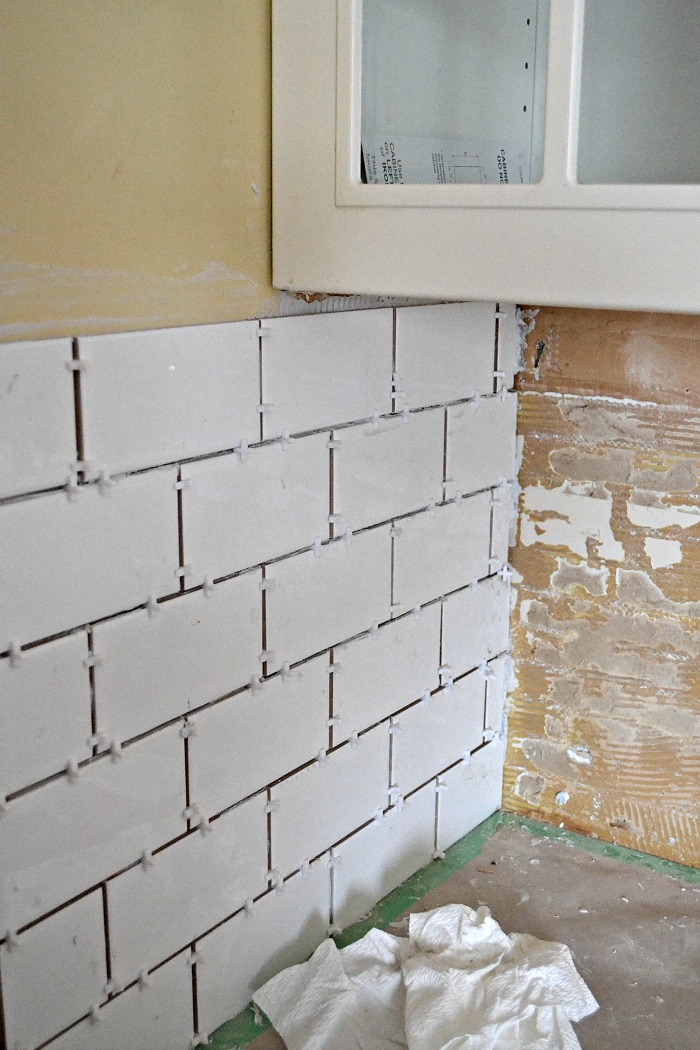 The other thing we have completed is the subway tile backsplash. Well, almost completed. By the time you are reading this the grout will be finished! Tim did an outstanding job given it was his first ever attempt at tiling. I cannot believe it took me so long to decide to actually tile the backsplash.
We have all the crown molding being installed today, cupboard doors are painted and also being reinstalled.
But now about that farmhouse sink!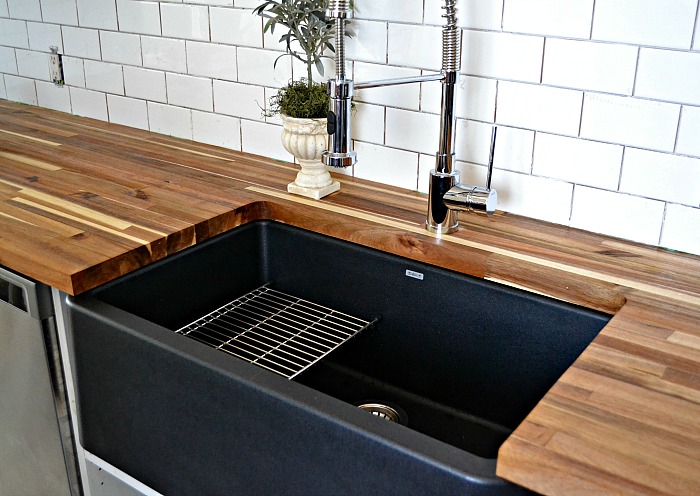 I cannot tell you how long I have wanted a farmhouse sink. Even when we updated our kitchen some 14 years ago I wanted one, but it just wasn't in the budget. I got the closest thing I could afford and looking back at it now, I don't know how I did dishes in that tiny little thing for so long!
This time I was not going to settle. I was having my farmhouse sink no matter what. After several weeks of research, Pinterest pins, visits to home improvement stores and kitchen stores I came across the Ikon apron front sink from the Silgranit line of sinks made by Blanco.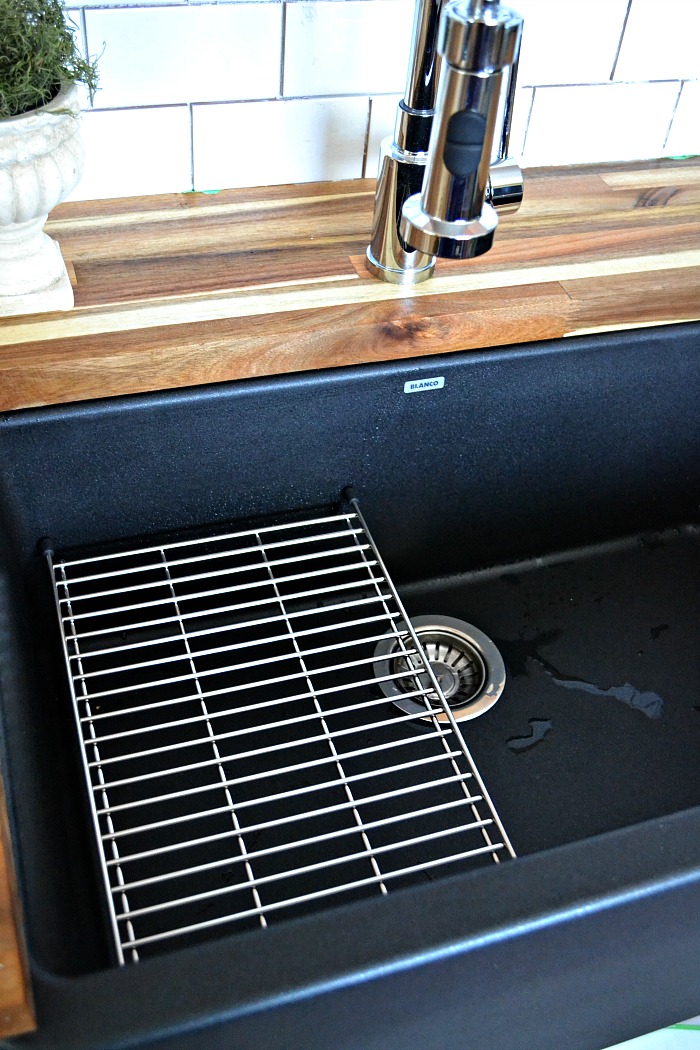 If you have never heard of Silgranit by Blanco, it is made of to 80% granite which offers exceptional strength and durability. It comes in a variety of colours which makes choosing the exact one to compliment your individual style a breeze. Unless you are a Libra like me and decisions do not come easily when given too many choices!
I really had my heart set on a classic white farmhouse sink, which by the way the Ikon Silgranit sink is available in white, but when I saw the Anthracite, I just couldn't resist. It reminded me of old slate sinks you might have found in old old french country kitchen or New England farmhouse kitchen.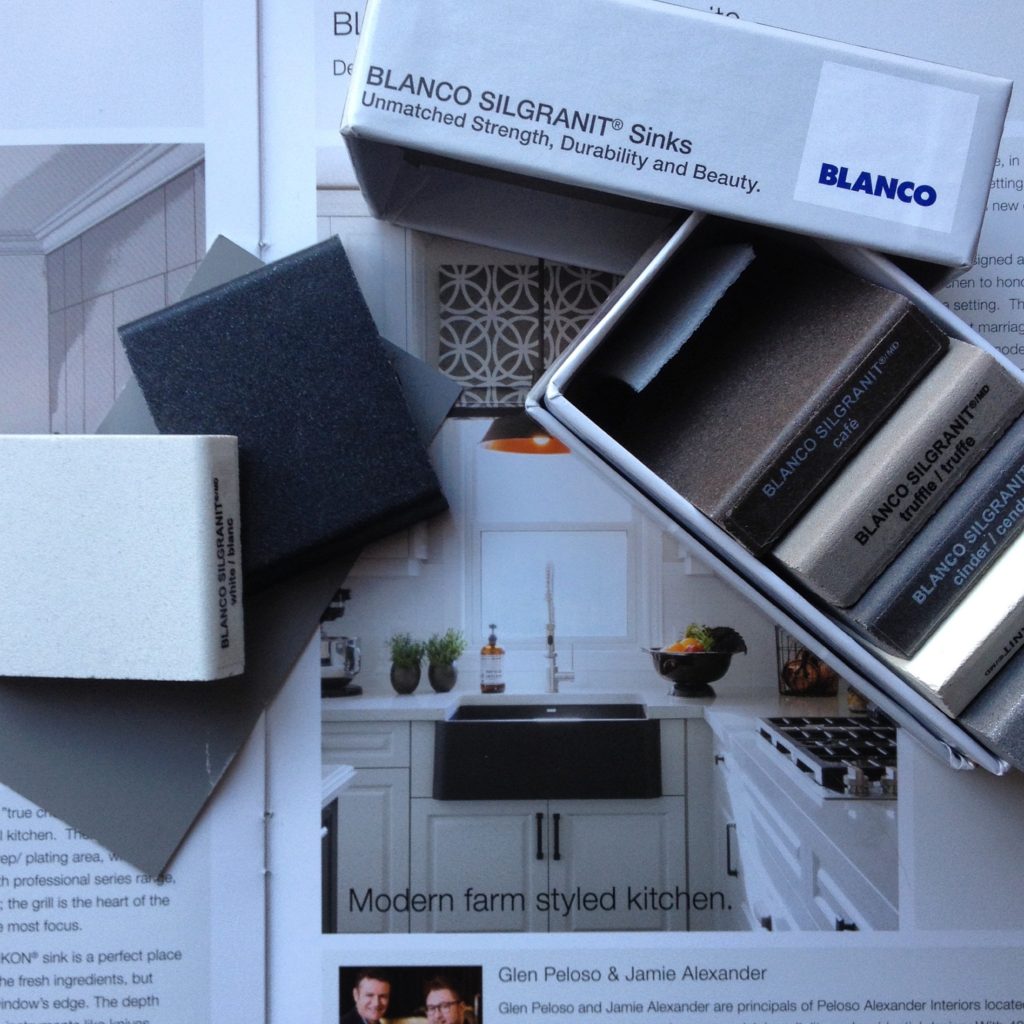 During one of my visits to a local kitchen store, I spoke to a gentleman who had just toured the Blanco factory here in Ontario. He assured me Silgranit is very easy to clean. He said while he was there they tested a multitude of food products (that might typically stain) on the white Silgranit sink and nothing left a stain behind. Since we have switched to all natural cleaning products it is nice to know natural baking soda or regular dish soap is all you need for daily maintenance.
While we are not terribly hard on our sinks, I have on the rare occasion been guilty of setting a hot pan in the sink without thinking. I was glad to know that Silgranit is heat, scratch and acid resistant! Oh, and the colour won't fade which is important given that my sink is opposite a bright sunny window.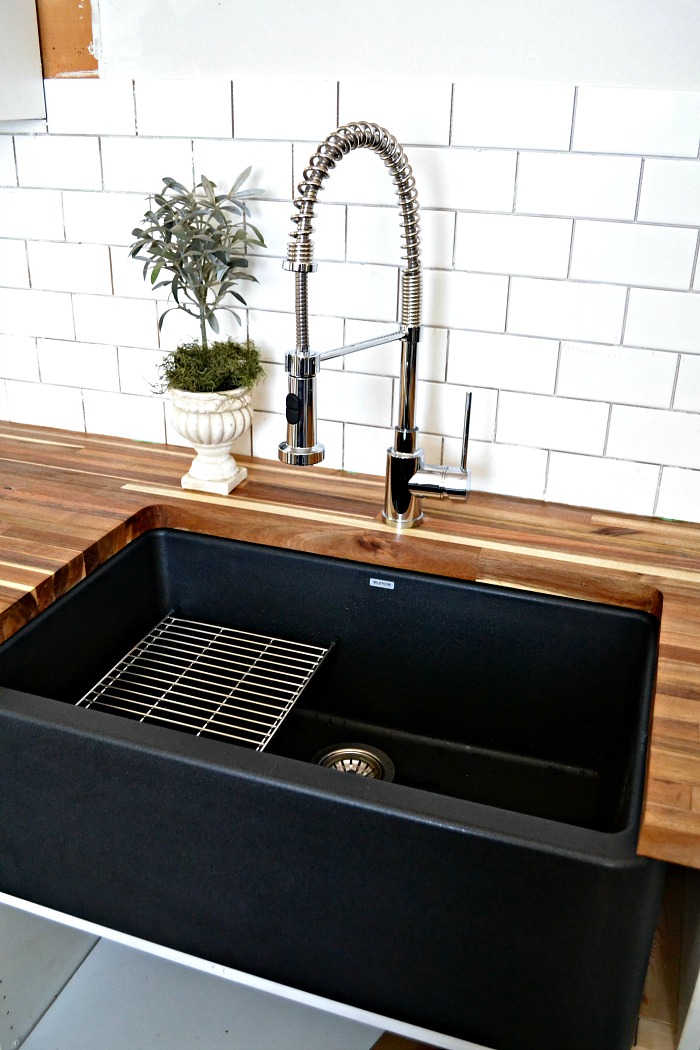 All of these things made our sink choice much easier, but it was the overall beauty of the Ikon Silgranit sink that sealed the deal. While at first glance one would think that a sink of this colour would work best in a modern kitchen, and indeed it looks fantastic in that setting, but choosing a black farmhouse sink truly warms up our country farmhouse kitchen.
The Diva faucet also from Blanco really makes a statement paired with this sink. I was extremely impressed with how substantial this faucet was. It is definitely built to last a very long time!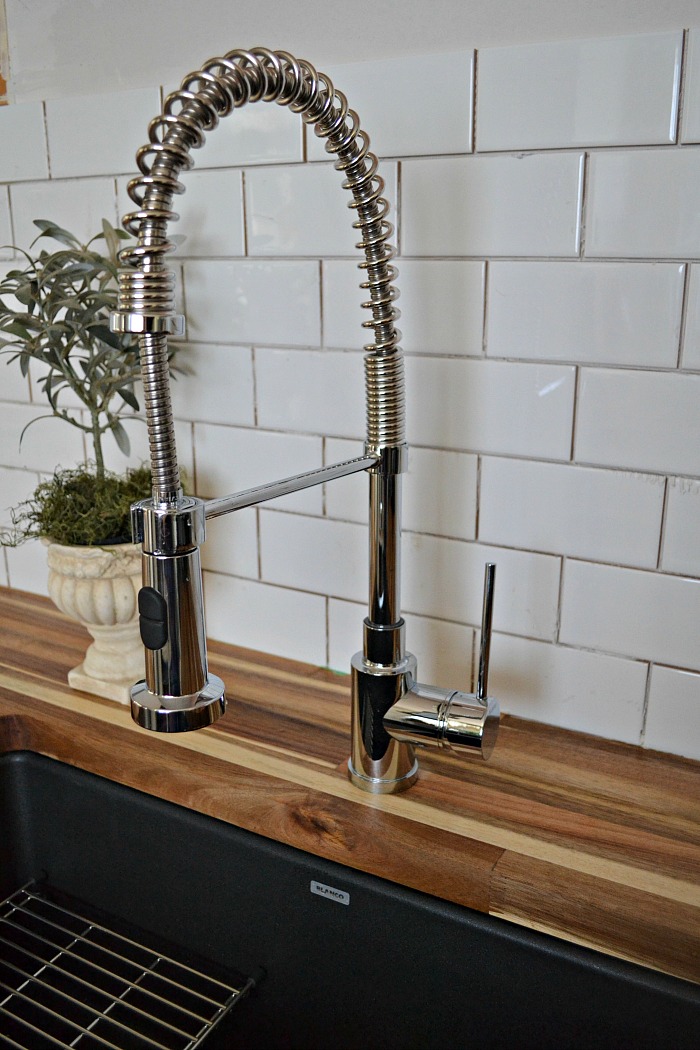 I got the optional stainless steel grid that has little rubber feet and allows it to be placed either directly in the bottom of the sink or suspended like I have it here. I know this will be put to good use when I am washing up coffee mugs in the morning. I can just leave them on the grid to drip dry without taking up any counter space.
Blanco recommends the sink be installed by a professional, and had we been building a whole new kitchen with new cabinetry we have opted for that. Since this was a complete DIY project and new cabinets were not in the budget we were easily able to modify our cabinet and install the sink and faucet ourselves. I will share the tutorial soon.
I could go on and on, I am so giddy about my new kitchen sink. So much so, that I have been pouting because I can't do dishes in it yet. It is all covered up while we finished the tile, grouting and painting!
We will be busy, busy, busy over the next week putting all the finishing touches on the room.
Kitchen Renovation Checklist: just a few things left to do!
Remove most upper cabinets including above the range microwave
Create built in shelving in an old recessed space behind upper cabinets (similar to the photo in my mood board below)
Build new sink cabinet to accommodate apron front sink (we were actually able to modify our existing cabinet which was a money saver
Paint all lowers (almost done)
Install new rangehood and custom rangehood cover
Level the ceiling
Change the flooring
Remove cabinets below the window and replace with a custom moveable island
Install backsplash & shiplap
Paint the entire room
Install open shelving above sink
New countertops
New lighting
Until next time…..

*While Blanco Canada did provide me with a Silgranit Ikon sink and a faucet of my choice, all opinions and dialogue are my own.