I have to admit summer is not my favorite season. But, dining alfresco is the one thing I really look forward to when the weather starts to warm up!
Benefits of dining al fresco
More room to entertain
can be casual and easy to throw together
or can be elegant and refined
When you live in a small home like we do, entertaining during the cold winter months means limiting the guest list to only a few at a time.  While we enjoy those more intimate gatherings of family and friends, it is the summer time where things really come to life!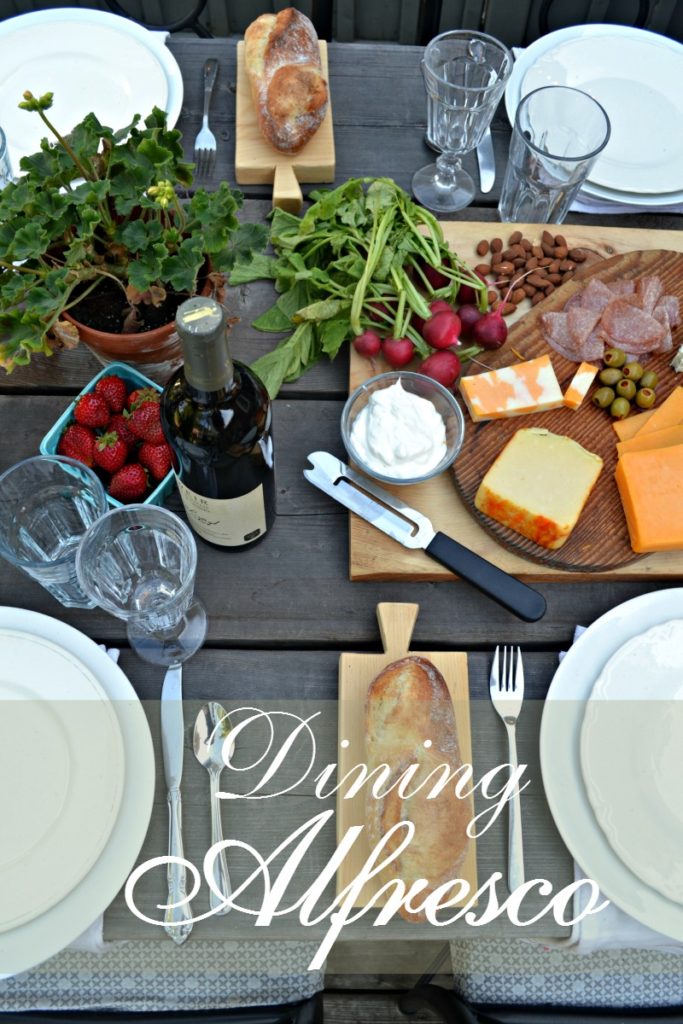 I am excited today to be part of a week long Dining Alfresco Blog Hop featuring five days of outdoor dining inspiration at your fingertips. You will find links to all the participants below.
You will want to visit this post, how to plan the perfect summer dinner party tablescape for easy and inexpensive tips!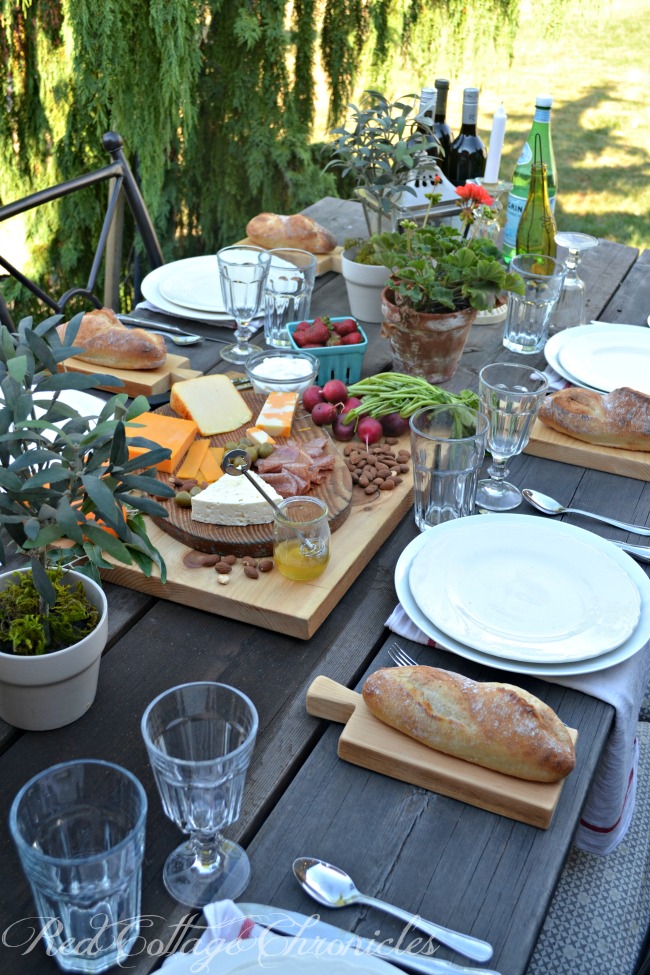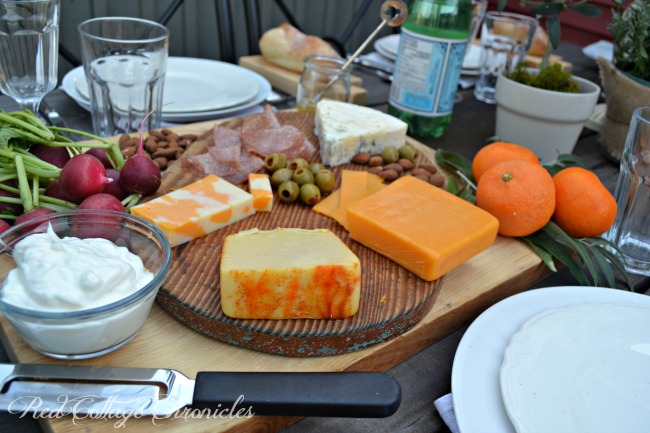 Dining alfresco is probably my most favourite thing about summer time. And, we do it often. Many weekends from June until September you will find family and friends enjoying a meal, playing lively games of bocce ball (which even extend out into the park behind our home), and relaxing over hours of conversation.
Often our backyard gatherings are spur of the moment, and are always relaxed and easy going. They usually involved bbq of some type, and using an edible centerpiece means that we can all gather together and nibble a bit while Tim tends the grill just a few feet away.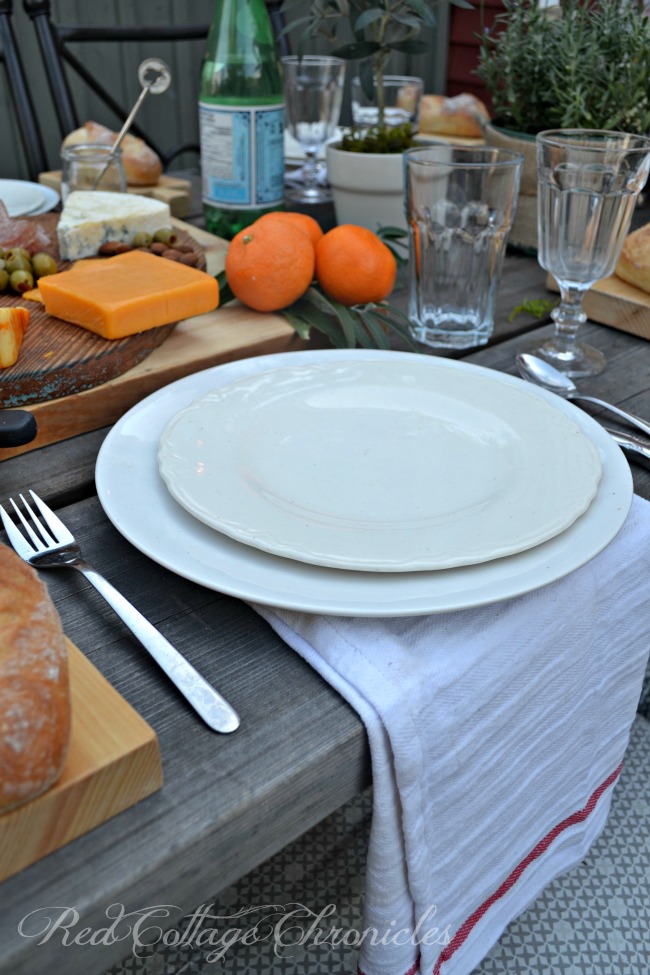 In keeping with the relaxed and casual theme, I had Tim build me this outdoor harvest table that can easily sit ten. It is rustic and weathered and perfectly imperfect.
I keep things simple by using simple white plates*, inexpensive Ikea glassware, Ikea tea towels for napkins and mismatched cutlery. At the end of the night I simply load up the dishwasher and throw the tea towels in the wash!
I had Tim whip up a set of miniature cutting boards. They are perfect for little baguettes that guests can slice off a piece and pile on some cheese!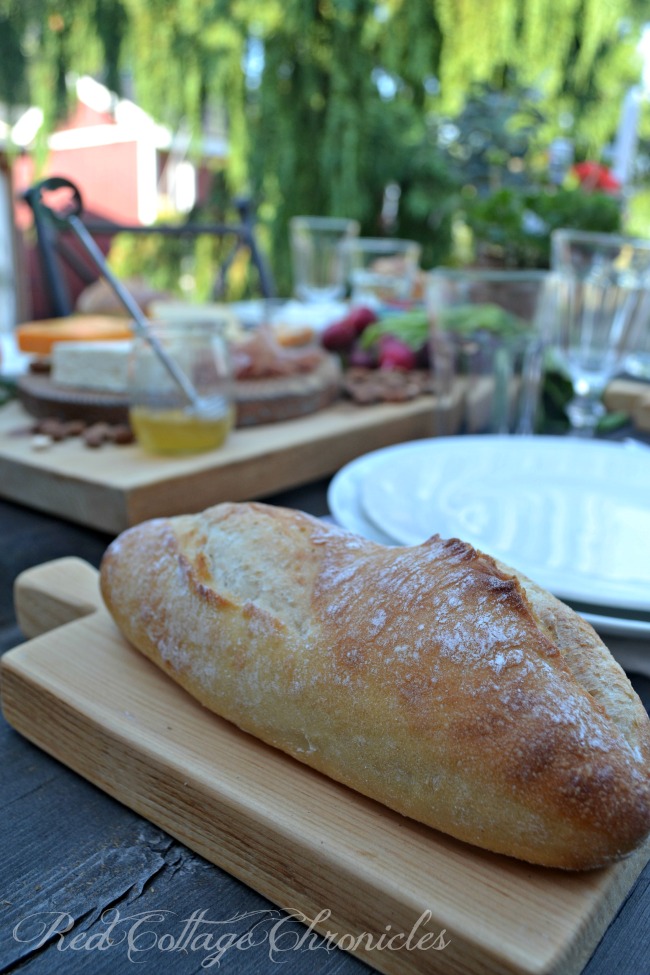 When it comes to dining alfresco, for me it is all about the gathering of people. The tablescape helps to set to mood, and I know that summer entertaining in our family is easy and relaxed. Life is busy and creating an inviting place to invite friends and family, makes it that much easier to slow down and leave the rush behind. At least for a few hours!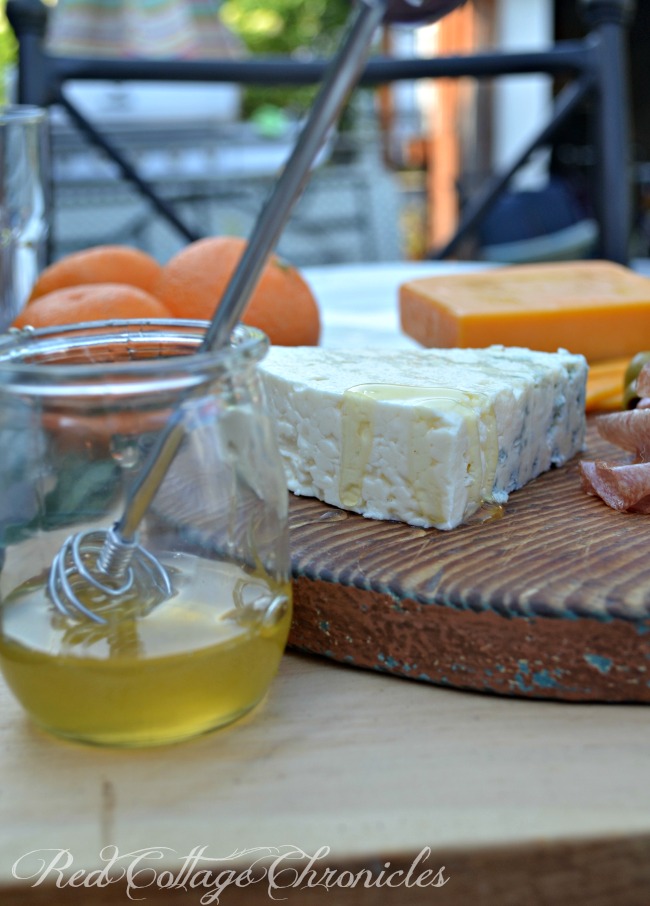 Having dessert close at hand means I don't have to get up and down from the table!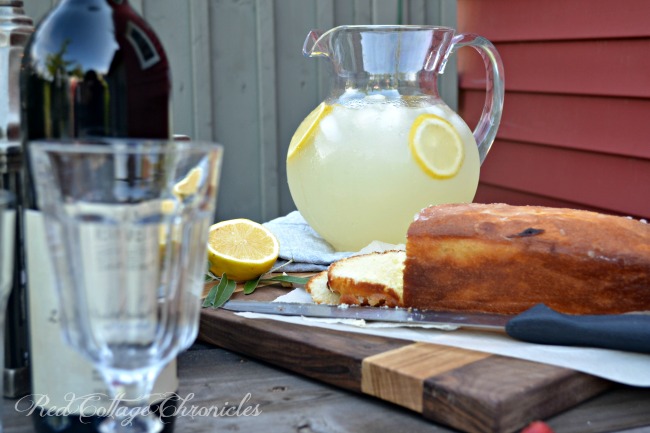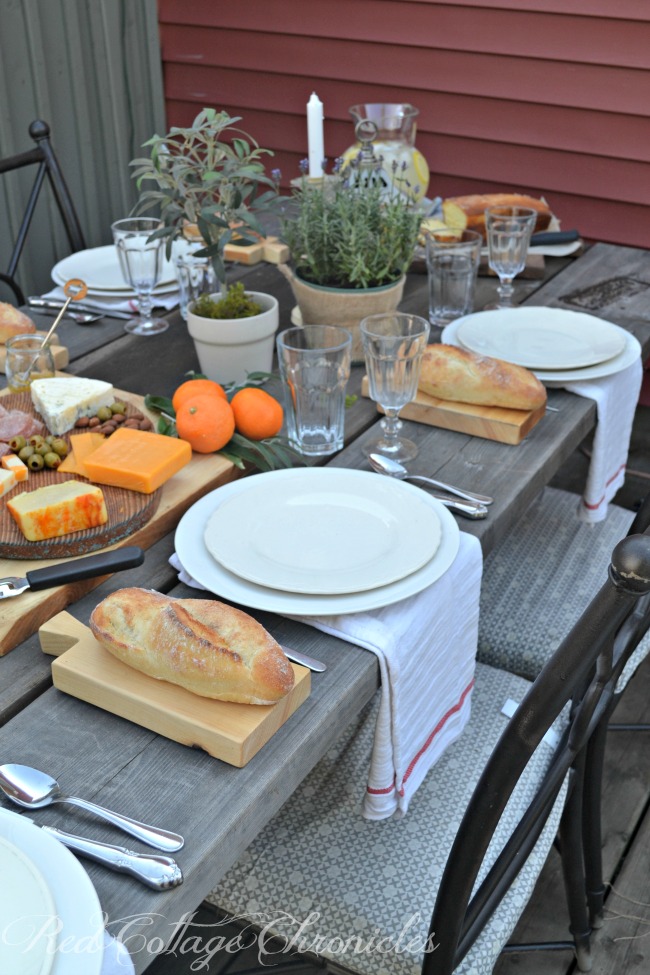 A few candles and patio lights keep things glowing when the sun starts to set.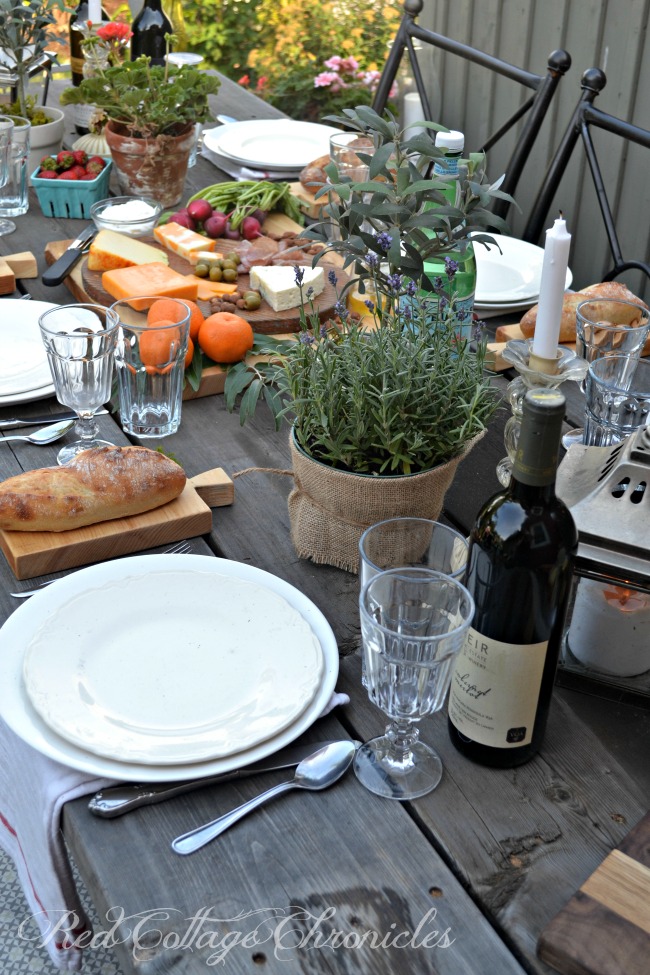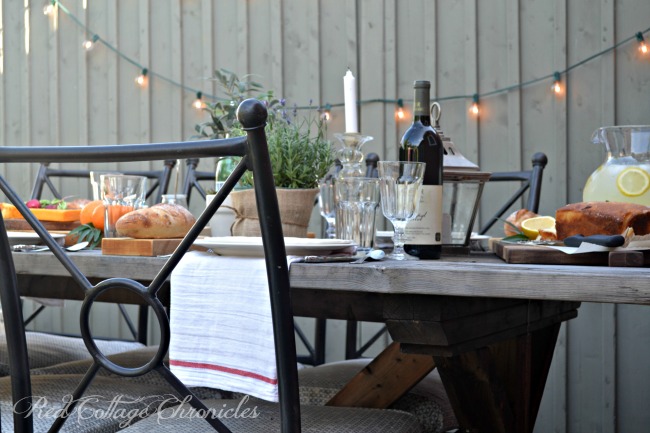 A little pot of fresh lavender not only looks pretty, but helps to repel pesky bugs.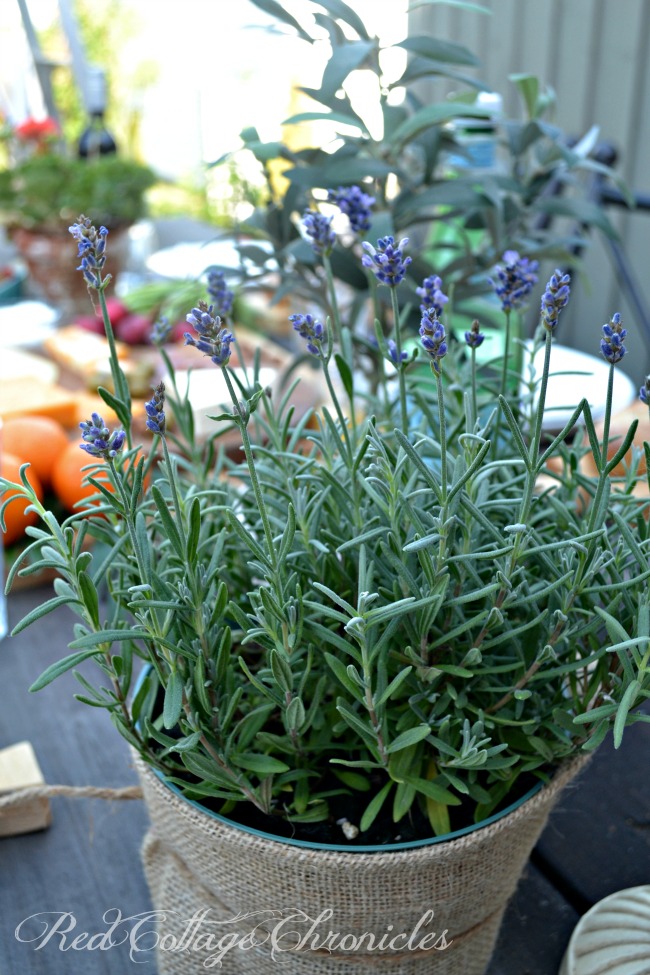 I am all for using what I already have. Whatever fruit, veggies and cheese is in the fridge. Nuts or seeds from the pantry. Some olives and *honey too. If you have never tried honey on blue cheese, you really need to try it. Dessert is as easy as baking a quick loaf. It's inexpensive and serves several!
Just a few more pictures to share and hopefully inspire you to put together an easy and relaxed tablescape, throw some cheese, nuts and fruit on a platter, invite a few friends and spend some time breaking bread!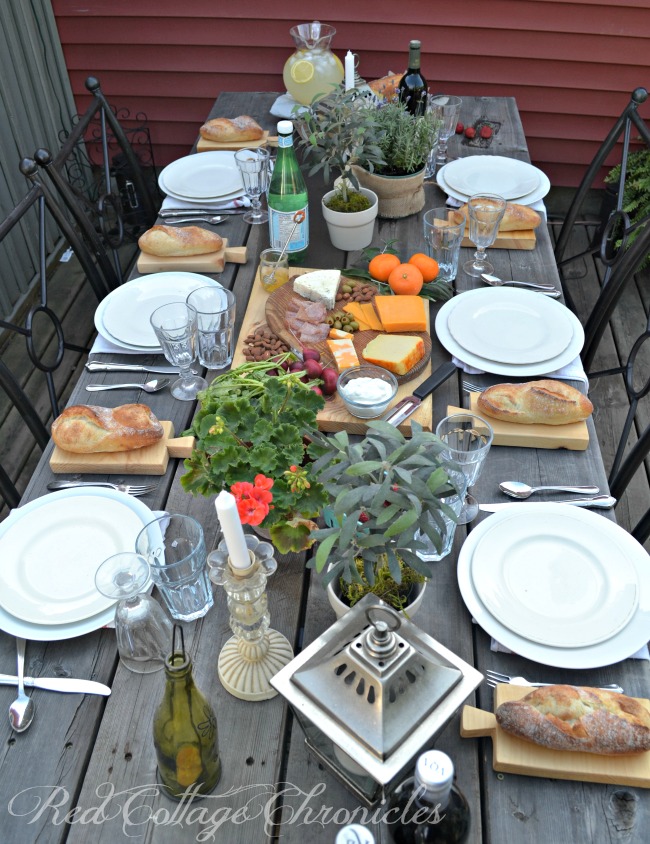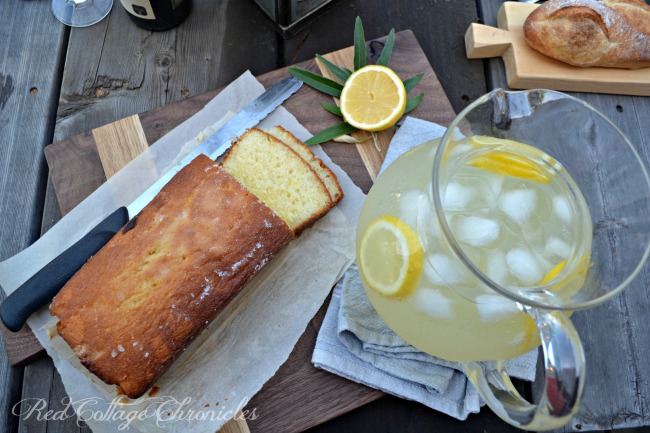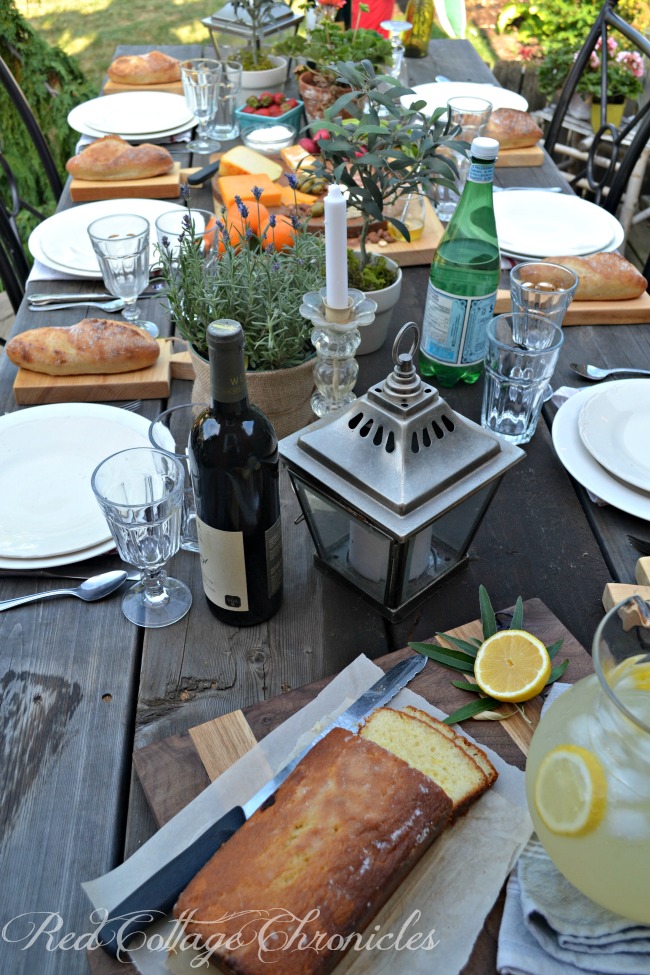 Now that I have shared my style, check out all the links below for even more dining alfresco inspiration.
Since your comments make my day, leave me a comment and let me know what your dining alfresco style is!
Until next time….

*This post contains affiliate links for your convenience. If you click an affiliate link, like what you see and make a purchase I will receive a small commission with no additional cost to you.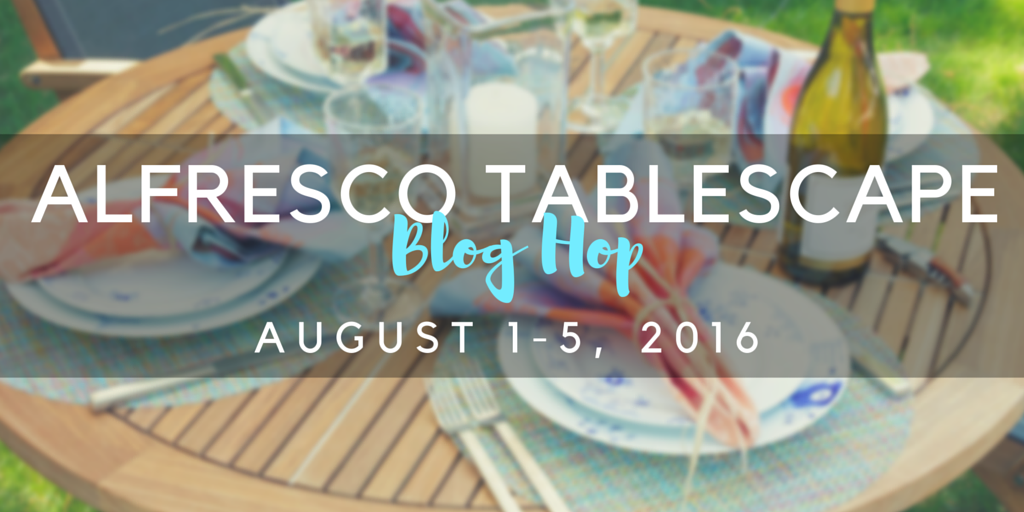 Thank you to Chloe Crabtree from Celebrate and Decorate for putting this Blog Hop together!
Wednesday
Red Cottage Chronicles | The Little Yellow Corner Store | Ramblings of a Southern Girl
CoziNest | Love of Home
Thursday
Panoply| Flourish & Knot | The Painted Apron | Dining Delight |
Celebrate & Decorate
Friday
B. Lovely Events | Lolly Jane | A Toile Tale | Bluesky Kitchen | Rattlebridge Farm