One Room Challenge Week 2
Welcome to One Room Challenge Week 2 Link-Up!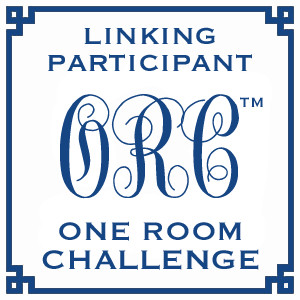 It has been a very productive week here at the Red Cottage. Panic has already set in but there is no turning back now!!
If this is your first week visiting the link party, you can see the before photos here.
It was all about the floors this week. I don't think I will rest until they are done. And while we have made great progress, the scariest part is yet to come. Committing to a stain color, and of course there is the task of applying six to eight coats of varethane!
First task. Buy the plywood. Although it was a bit more costly, we went with good one side to eliminate the extra sanding required. When I factor in the cost of our time (and how little of it we have) it was the right choice for us. We had it cut to 6″ planks the home improvement store. Another time saving decision since we don't have a table saw.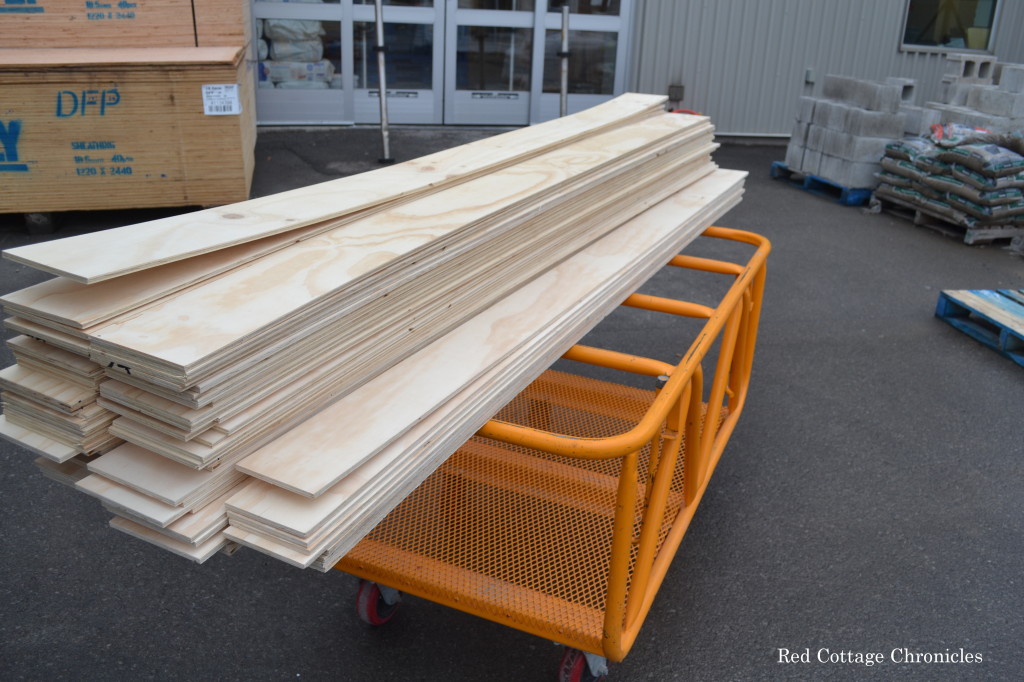 I was lucky to get a 15% off coupon the morning we were going to buy the lumber. Yeah!!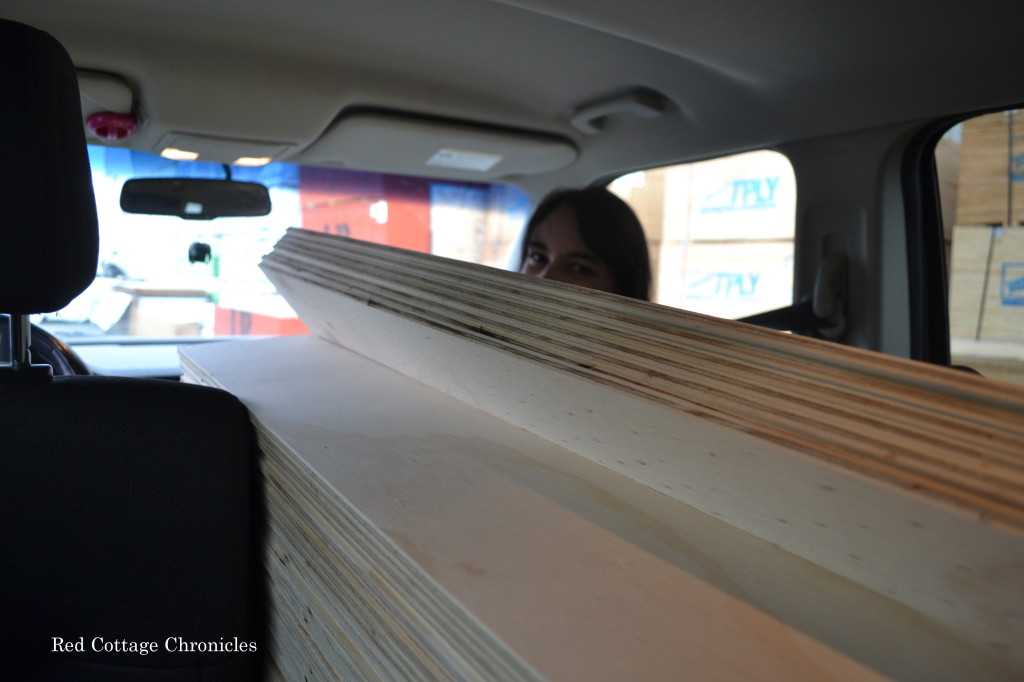 Tim loaded it all into the car. That's me up front doing my best "Wilson" impression from Home Improvement!! Truth is, I was pretty much wedged in there.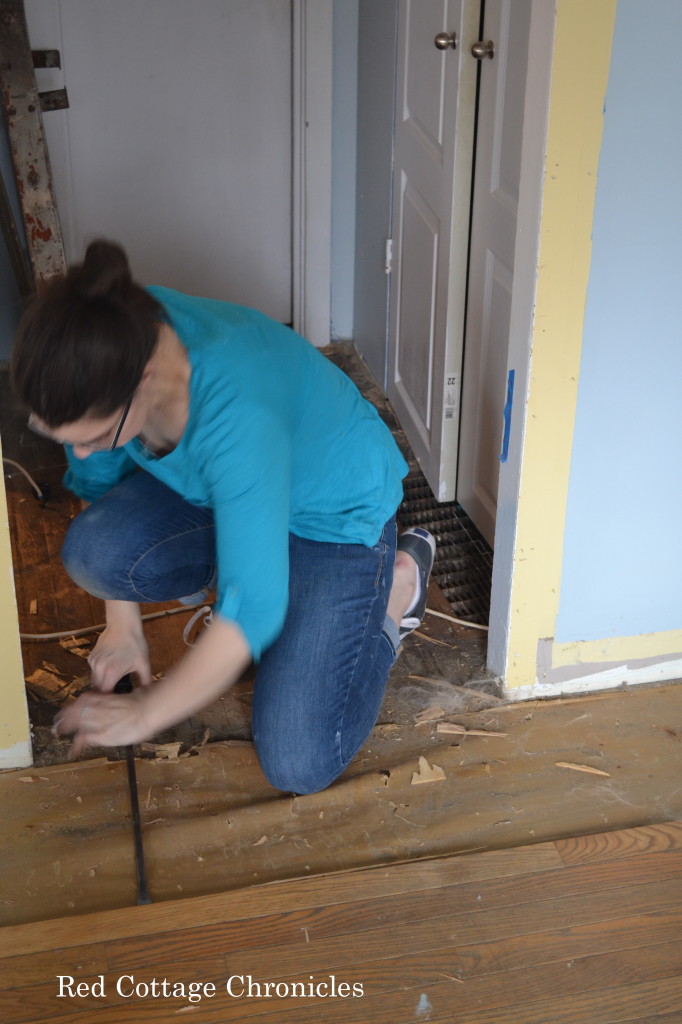 By the time we got home from the lumber store, Sam was itching to get that old flooring up. I don't know what Tim would have done without her. She set to work and there was no stopping her! Between her and Tim the old floor was up and out in about 3 hours! Tim will admit it was way more Sam than him!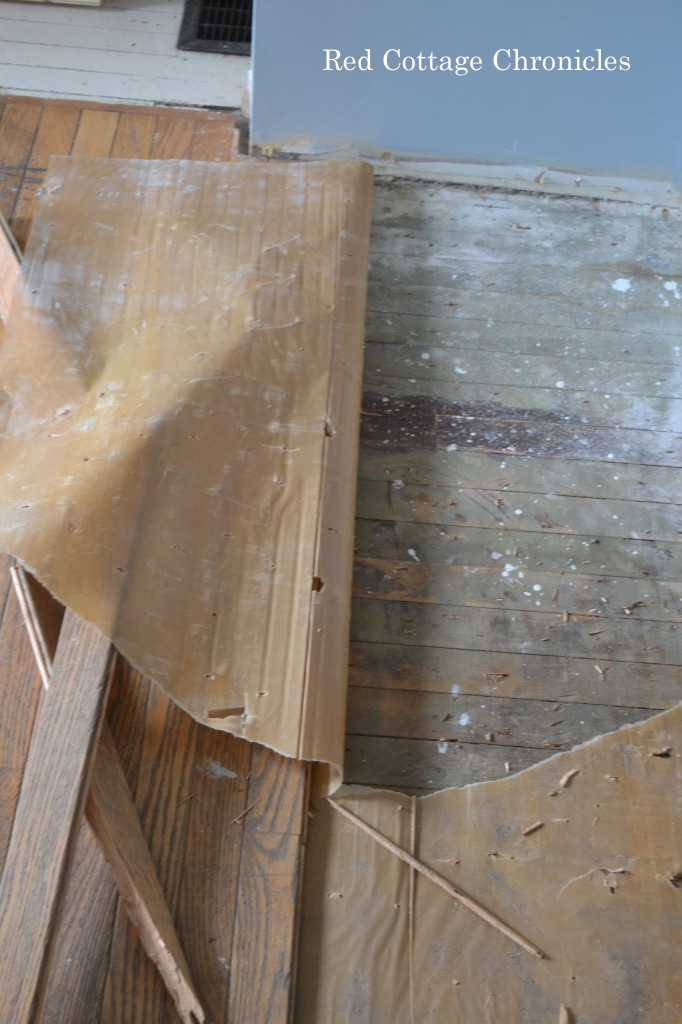 A first glimpse of what we found underneath. I am sure that old wood was beautiful back in its day! I even toyed with the idea of refinishing it but the more we uncovered the more I knew it just wasn't possible.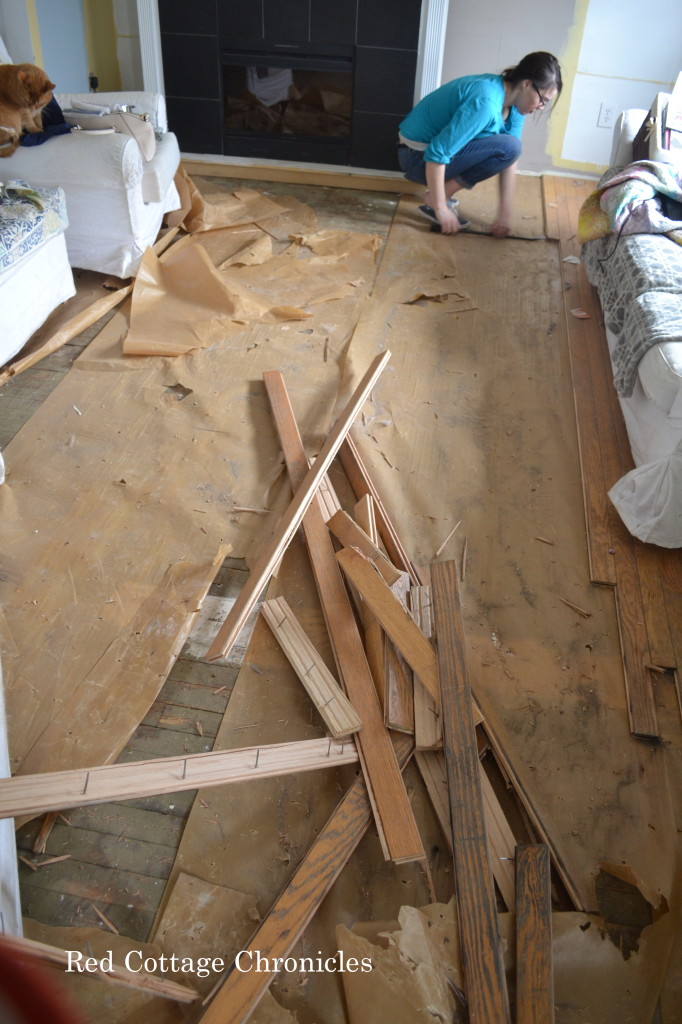 Being a tiny house there was really nowhere we could put all the furniture, so we just moved it around as we went. My job was clean up, taking the old boards outside and loading them up to be taken away. I was falling a bit behind!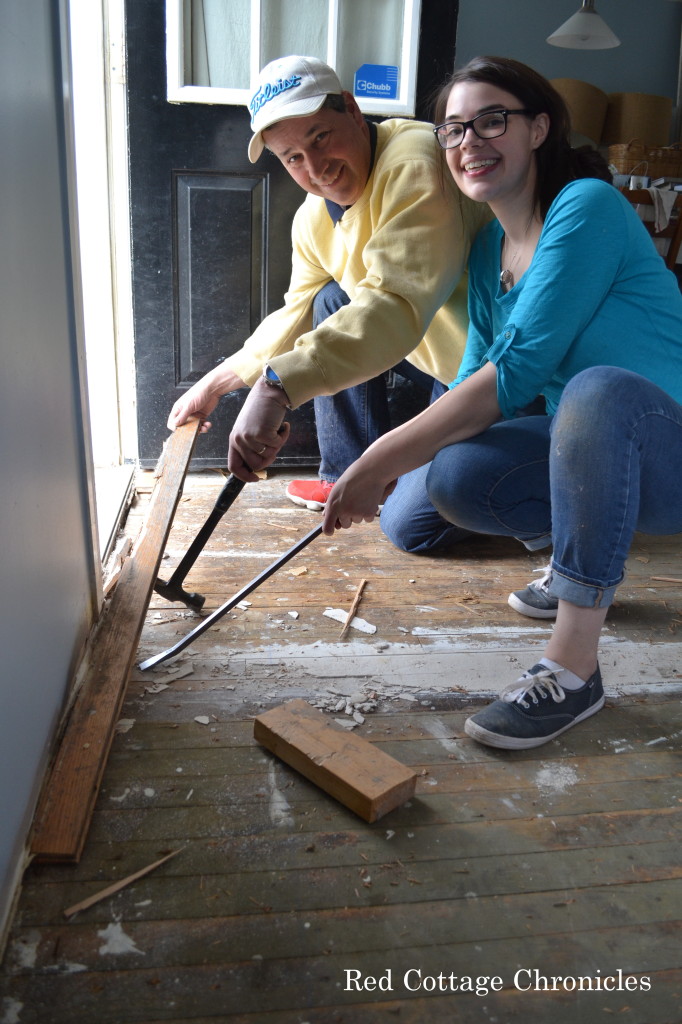 The last board coming out! All smiles 🙂 Sam let Tim in on the photo just to make it look like he worked as hard as she did!
So it is out with the old……..
And in with the new……..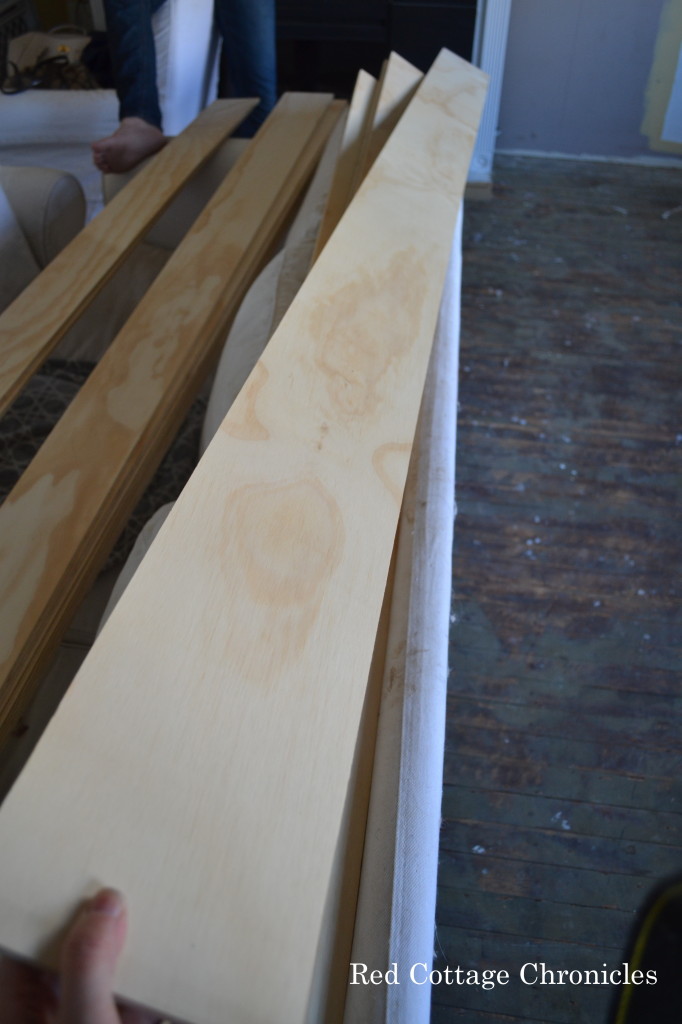 We chose wood with lots of character. There are not a lot of knots, which is okay with me, I just love the natural random pattern on the wood that will be enhanced with the stain. Using a sanding block I gave each edge a quick sand to provide a very slight bevel. Took me only about 20 seconds a board.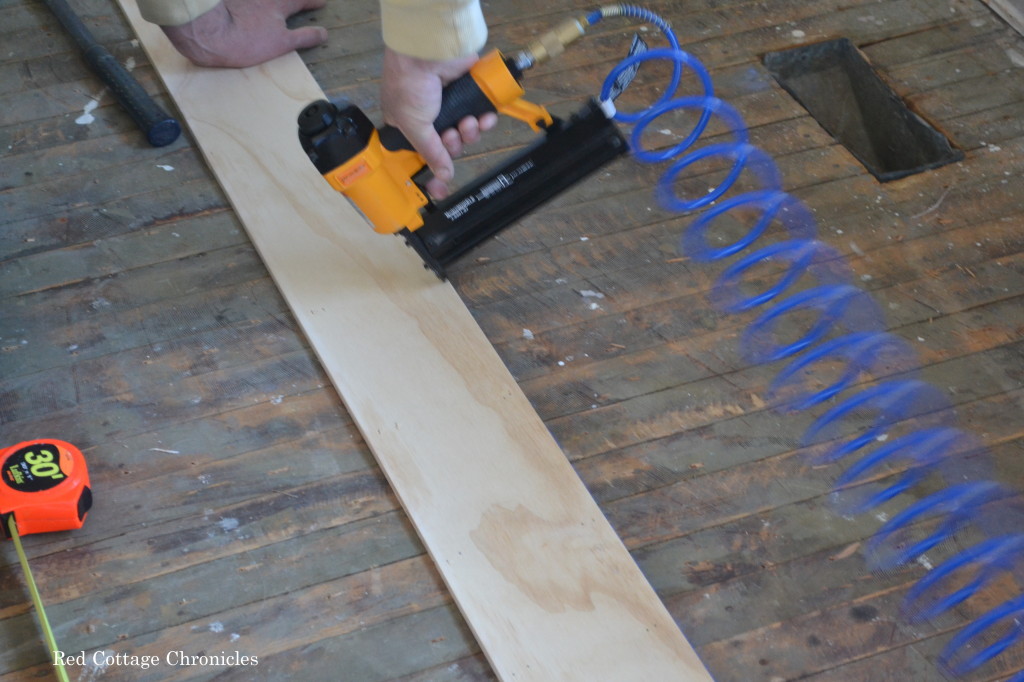 Since we are running the new floor straight through the living room and the dining room we started the first row well out from the wall as this would be the first row to run the length of both rooms.
We first made a level chalk line the length of the room and checked it twice to make sure it was straight and an even distance from the outside wall all along the entire length.
Using an air nail gun 1 1/2 inch 18 gauge finishing nails are nailed 2 on either side of the board every 6 inches. Tim made sure to hold the nail gun to a slight angle towards the outside edge. After this first row was in place, he worked back towards the front wall, and then went back to the first row and is working is way across the rooms.
We used dimes as spacers between rows. They left the perfect "gap" between boards!
The total length of both rooms is 24 feet, and the width is 12 feet.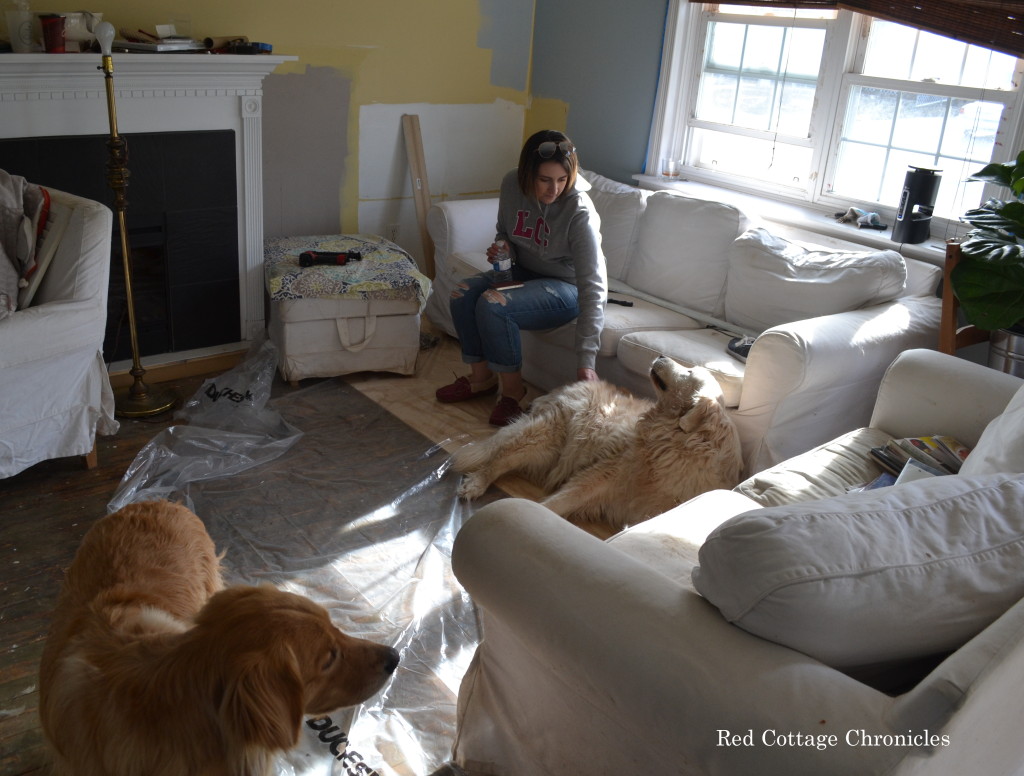 When I look at how it looks now and wonder what was I thinking taking on this challenge I am reminded of my early teen years, when my mom would give me a home perm. (It was the late 70's, everybody was rocking a curly home perm, weren't they!) Looking like a dork with tiny rollers and cotton all over my head, she tried to make me feel better by saying "sometimes you just have to go through looking ugly to be beautiful"!! This room is looking pretty ugly right now.
I hope to be staining the floor by the weekend. It is supposed to be warm and sunny and I can keep the dogs outside for the entire day, allowing lots of dry time. Then cover it back up with plastic until the verathane goes on next weekend.
I bought sample pots of three different stains that we all kind of liked at the store.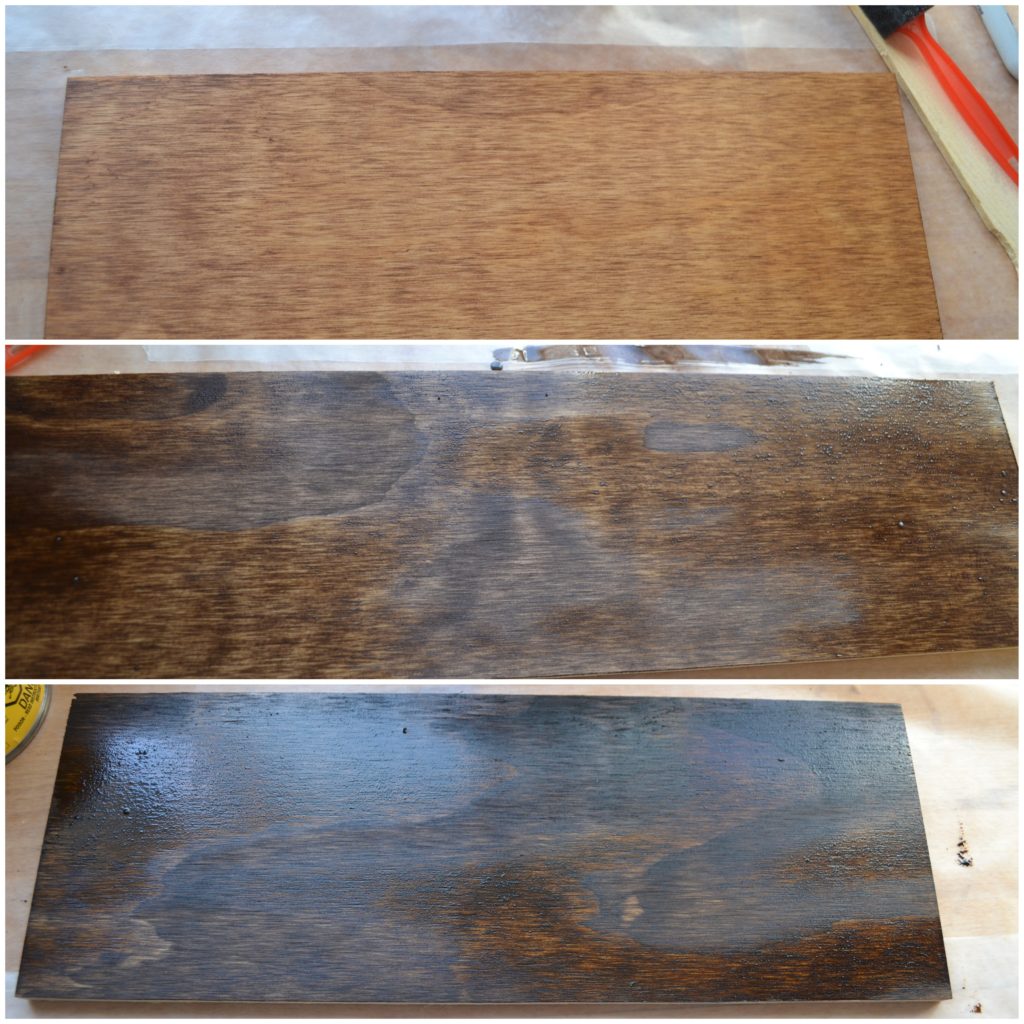 This is with one coat of stain and 3 coats of Varathane. The Varathane was hastily applied with a cheap craft sponge and I was too impatient to wait 2 hours between each coat, so it has a bit of a texture to it but it gives us an idea of the depth of color for each sample. I am leaning towards the last sample. It is Minwax special walnut. Not totally sure though yet. I don't know what I was thinking when I thought I would like the first one, Early American. It is even orangier in person than it is in the picture. I also thought about maybe a whitewash finish but I think a darker floor is a more suitable option in our household.
Again, the wall color we are going with is East Coast Blue from the Rona Collection in a satin finish.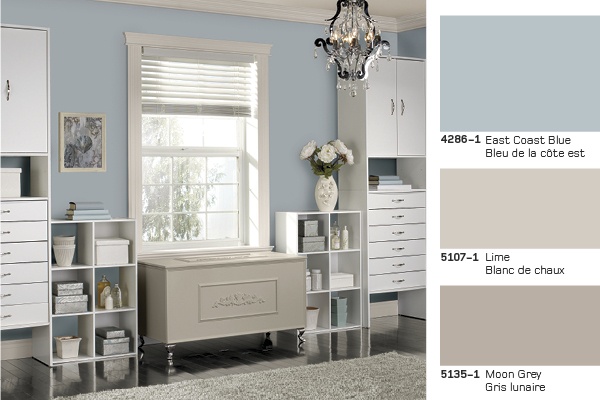 We have already painted the dining room in this color. I love it on our walls because depending on the light in the room and how you look it, it is more of a grey than blue which is exactly what I was going for.
Besides completing the floor through to the stain process this weekend, and painting the walls, I am working on restyling an old lamp (which I scored for free) to look like the one in the photo below from Pottery Barn! I will share that next week.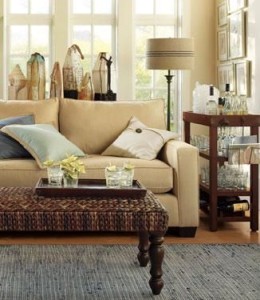 So much more to do! What do you think so far?!