Earlier in December I hinted about a bathroom renovation I was going to do for my friend, Leslie! As you can see, her bathroom is looooonnnng overdue for a face lift.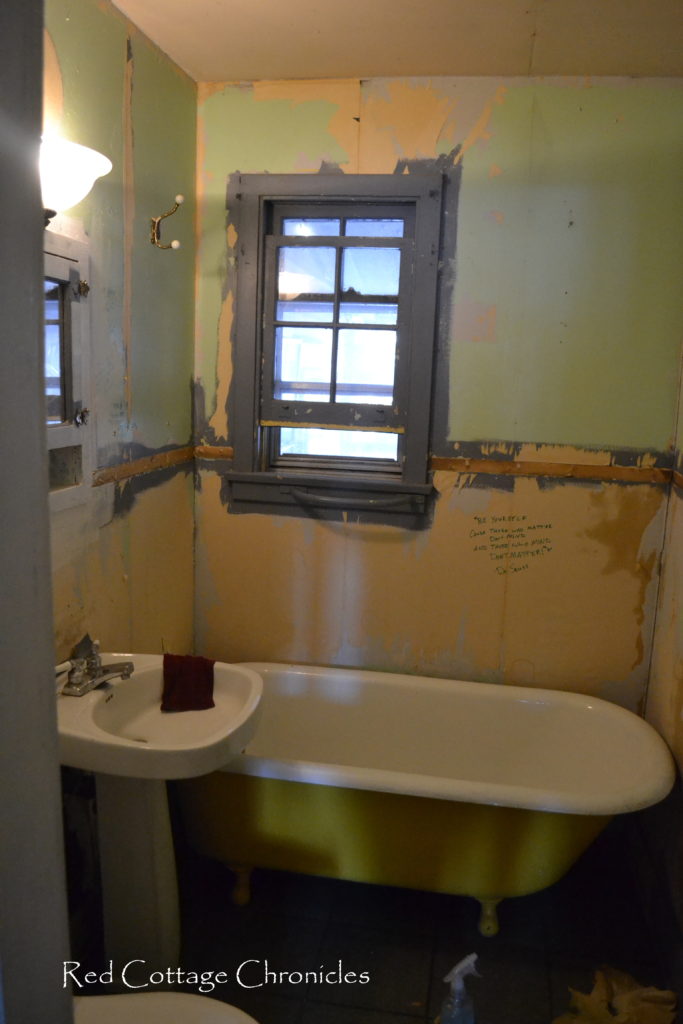 She did try to start herself, but just lost interest before she really got going. It is never fun to work on a project like this all by yourself! I was happy and excited about the challenge to make it over on a budget. After all, that's what friends are for.
Let me introduce Leslie and Hank!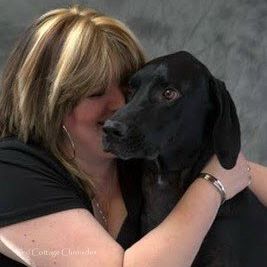 Leslie and I go way back. Like high school way back. We didn't know each other in school really. We travelled in different crowds. She hung out the "smoking area". A place that scared the living daylights out of me! It wasn't until after we graduated high school that she started to date Tim's brother. I was quick to learn that people who hung out in the smoking area weren't that scary after all and we became fast friends.
Tim and I married first and then a year or two later they were married. Leslie and I got along great! The brothers, not so much! Never the less it didn't stop the two of us from spending many a Sunday afternoon hitting local antique shops. I think we saw the movie Notting Hill together at least 10 times. And don't even get me started on Dirty Dancing.
They bought a house only 3 doors down from us and we were happy to be not only friends and sisters-in-law, but also neighbours.
Fast forward 5 years. Leslie came to her senses and kicked my brother-in-law to the curb! She has been independent and happy ever since.
We kept Leslie in the divorce!
She is still one of my very best friends, my neighbour and my go-to-girl for auctions, antique hunting and a good chick-flick. In fact, my entire family consider her a friend and even my sister's boys consider her Auntie Lull, and they were never related in the first place!!
So, back to the bathroom makeover! Here is a picture before she got the (short lived) notion to give it a face lift. A cute and cozy small bathroom. Perfect for our little tiny cottage homes.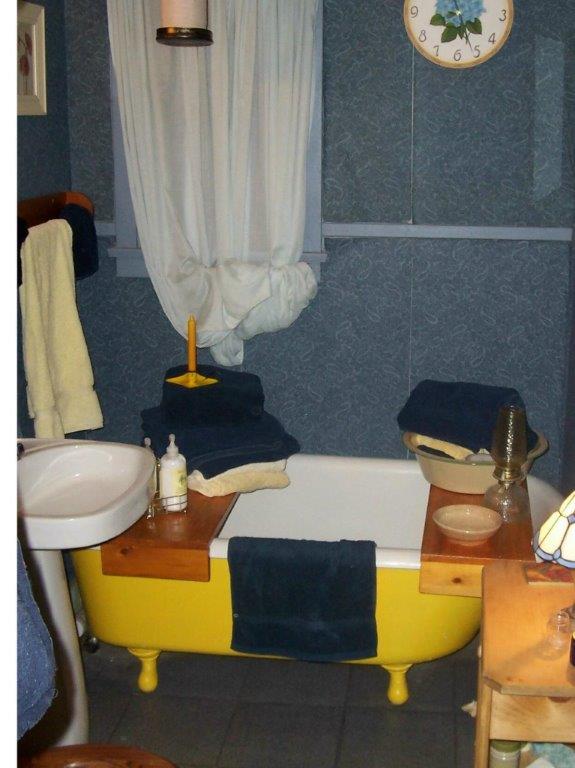 And, this is as far as she got.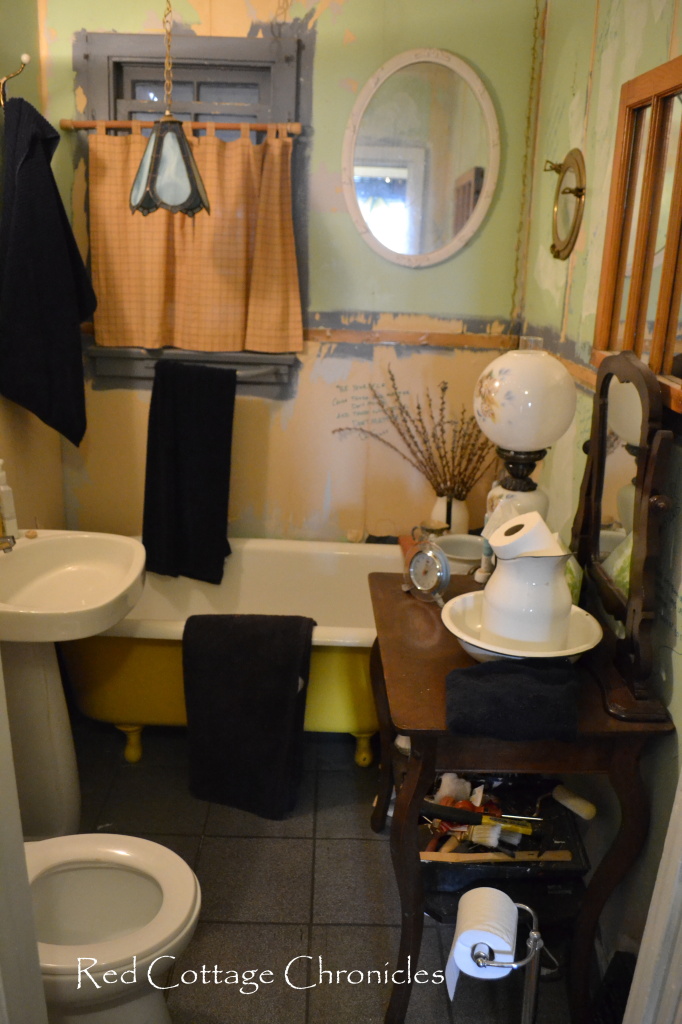 It is always so much easier to be motivated when you have someone along with you on the journey! Not to mention, she is not exactly the HGTV type!!
She knows what she likes, but is not quite sure how to get there! That is where I come in. The visionary and the motivator! And of course Tim executes all the "carpentry" and plumbing work!
Lets have a closer look at how it looks now, shall we. You can read about how the "writing on the wall" came to be here.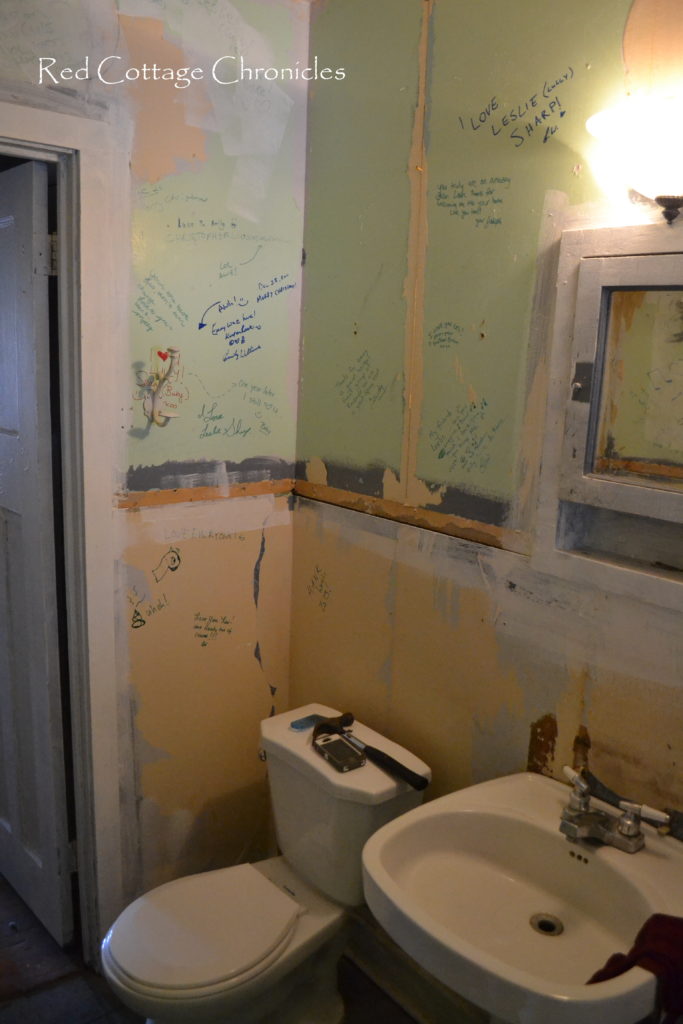 We are keeping the tub, toilet and sink. All the faucets will be changed. And, as a matter of fact we did some shopping to pick some new ones! There is nothing like shopping at a home improvement store. With someone else's money!!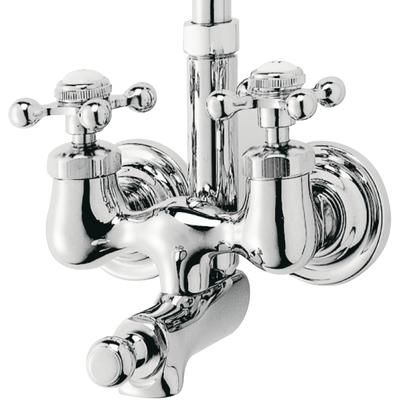 How cute is this bath tub faucet we got at Home Depot! It has a diverter so we can add a shower to the tub, like this one, also from Home Depot.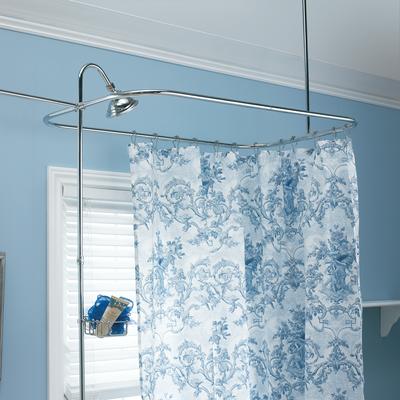 We are going with board and batten on the bottom. The entire room will be painted a fresh, bright white. The outside of the tub too! A new light fixture, some amazing mirrors all from Leslie's collection, new towels in a olive/celery or possibly a muted shade of blue and a few fun accessories will complete the look!
Here is a sneek peak of the board and batten wall treatment! Next step is to give the whole room a coat of primer with Kilz primer and then pick the perfect white for the final finish! Next weekend, the plumbing fixtures and lighting get switched out.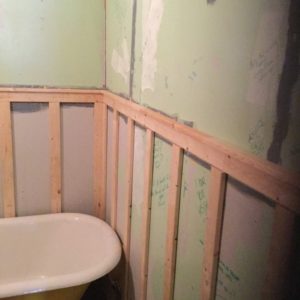 UPDATE: The reno is done, and you can see this small bathroom went from really bad to beautiful in the reveal here!