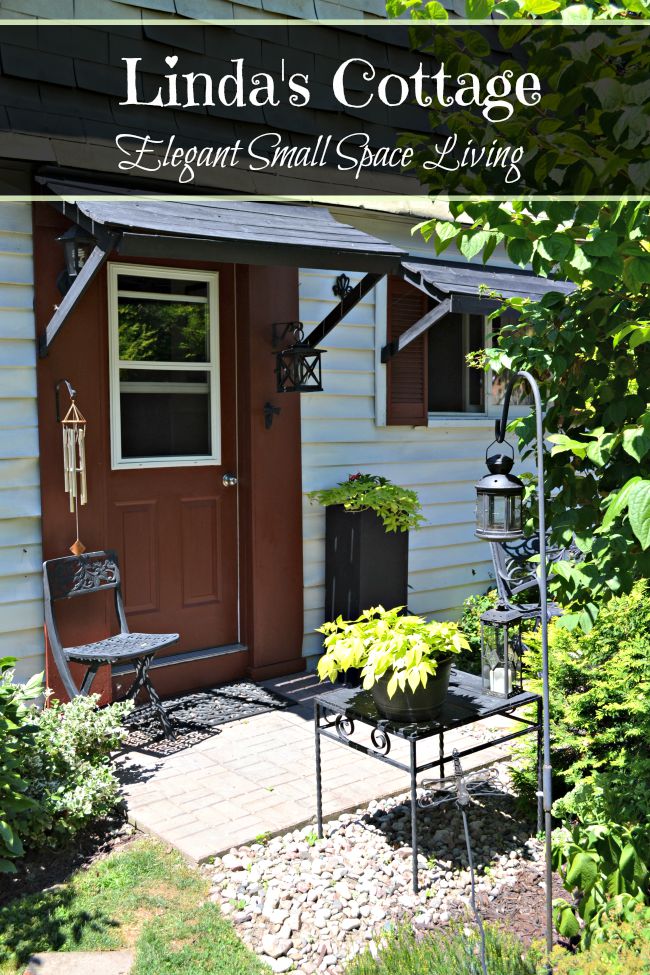 As a fellow small space dweller, I am so excited to share a tour of Linda's Cottage with you today!
There are lots of pictures to see, so grab a beverage and get comfortable!
If you have been following Red Cottage Chronicles recently I am sure you remember Leslie.  You can read a bit more about how we know Leslie here.
Linda is Leslie's mom and she lives in the cutest little cottage ever.  It truly is a guest cottage that sits in back of Leslie's sisters home.  She has created elegant cottage living in the city!
She has got some mad design skills.  And sewing skills.  And gardening skills.  And DIY skills.  And homemaking skills!
You know how sometimes you see gorgeous homes on Pinterest and on blogs and you know for sure there was some strategic styling and placement going on to get just the right shot, while there may be total chaos in the background?  Well, that is not Linda's home!
We showed up at her door completely unannounced.  (Leslie's idea, not mine!) and I didn't do one single thing to style any of these pictures.  In all fairness, Leslie did mention to her Mom last September that I would love to photograph her home to share on my blog one day!
Without further adieu let me introduce you to Miss Linda and her cottage home.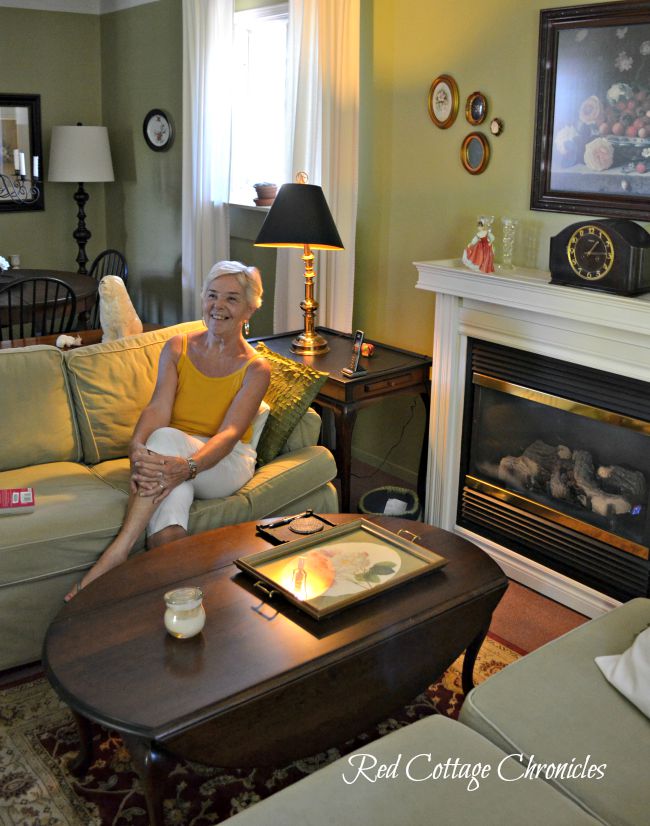 When you enter through the front door, you are greeted in a tiny entrance.  The doorway to the right leads you to the living and dining room.  The pretty white gas fireplace is flanked by two comfy love seats.  Linda bought the slip covers at Ikea and tailored them to custom fit the loveseats she already had!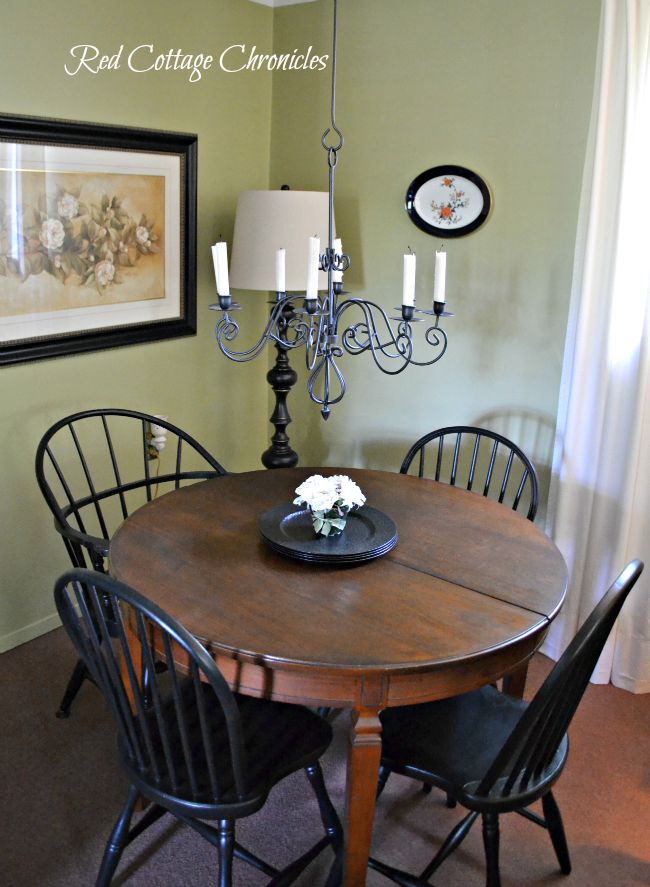 Right behind the living area is her dining room.  I am in love with that wood table paired with the painted black chairs, which I found are from an old family owned lodge from the 1920's or 30's! Totally elegant, yet cottagey at the same time.
Did I mention that she is way ahead of her time.  She has been painting furniture and DIYing for as long as I have known her!  And she doesn't hesitate to mix and match different styles, and that just adds an amazing element to the overall feel of the space.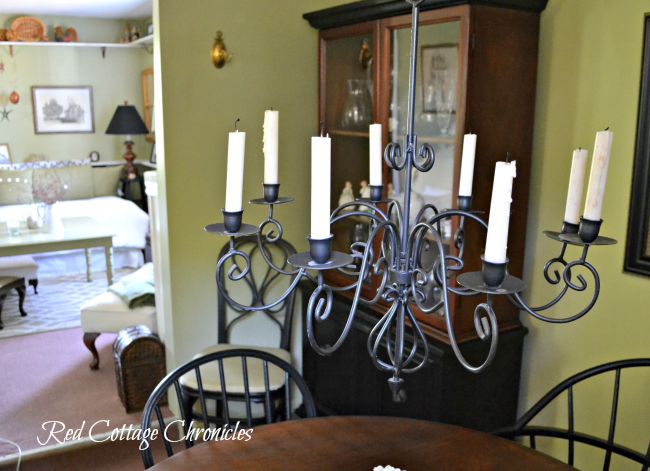 Is this candle chandelier not gorgeous?  Leslie had picked it up on a thrifting excursion for only $5 and gave it to her mom.  It looks like it was made for this room.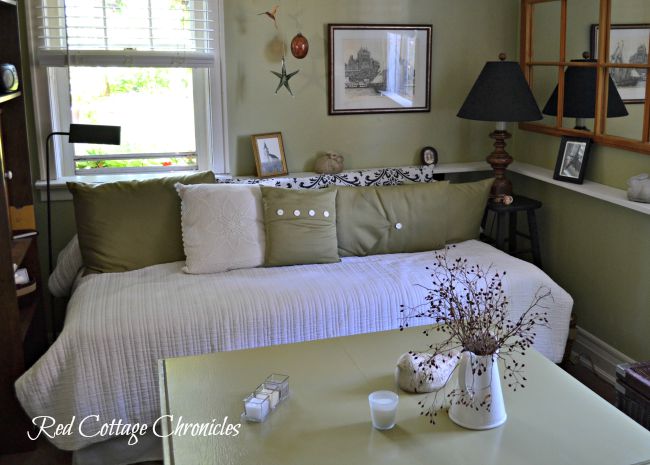 Off the dining room is the little den/guest room.  A twin size mattress works as an extra bed for overnight guests, but functions as a comfortable sofa for watching television during the day.  Narrow DIY shelving gives some extra space for treasures and makes great use of otherwise unused space.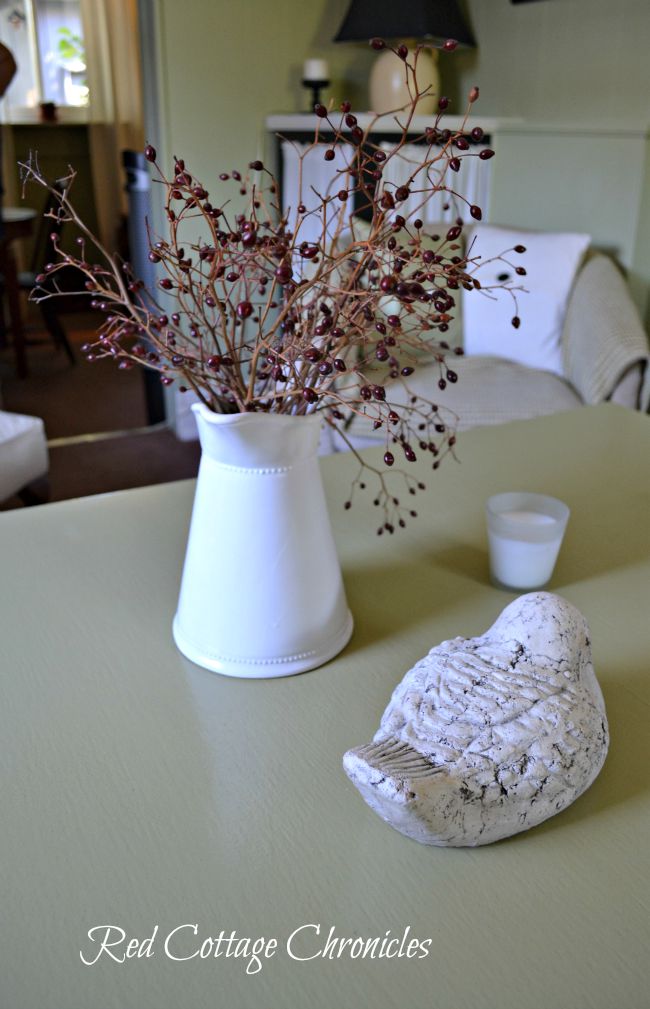 A large coffee table painted a pretty shade of sage green is perfect in the space, proving that fewer larger pieces of furniture work best in a small room than several small ones.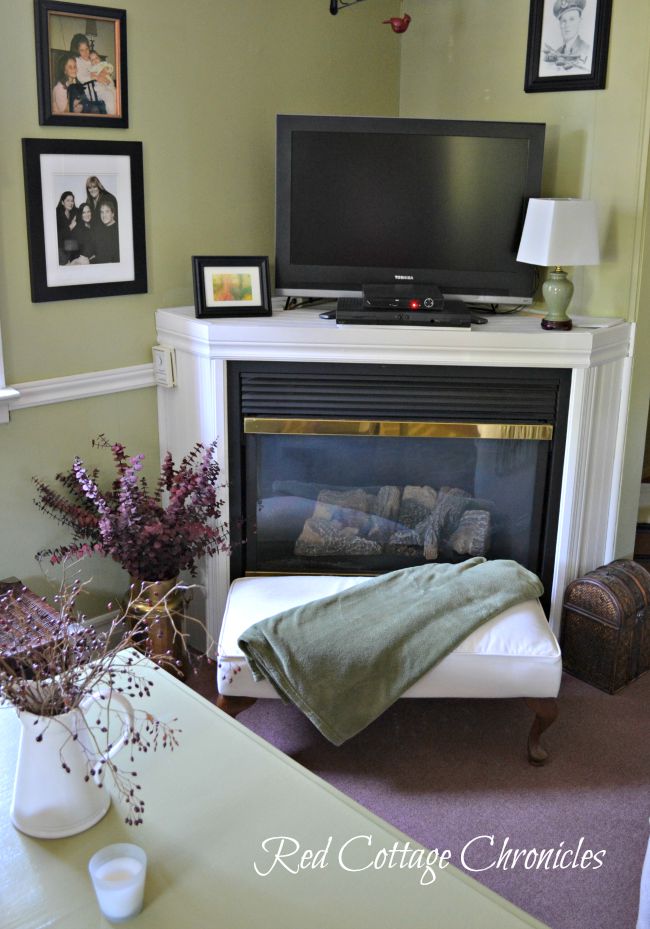 A corner fireplace holds the television, and along with the fireplace in the living room, is all that is necessary to keep the cottage toasty warm in our cold Canadian winters.  A  long foot stool provides some extra seating when family comes to gather!  Linda upholstered it in a neutral creamy/white cotton duck fabric.
The kitchen is off the front entry to the left.  Both the country hutch and the little kitchen table was built by Leslie's dad and painted by Linda to compliment her style as it evolved.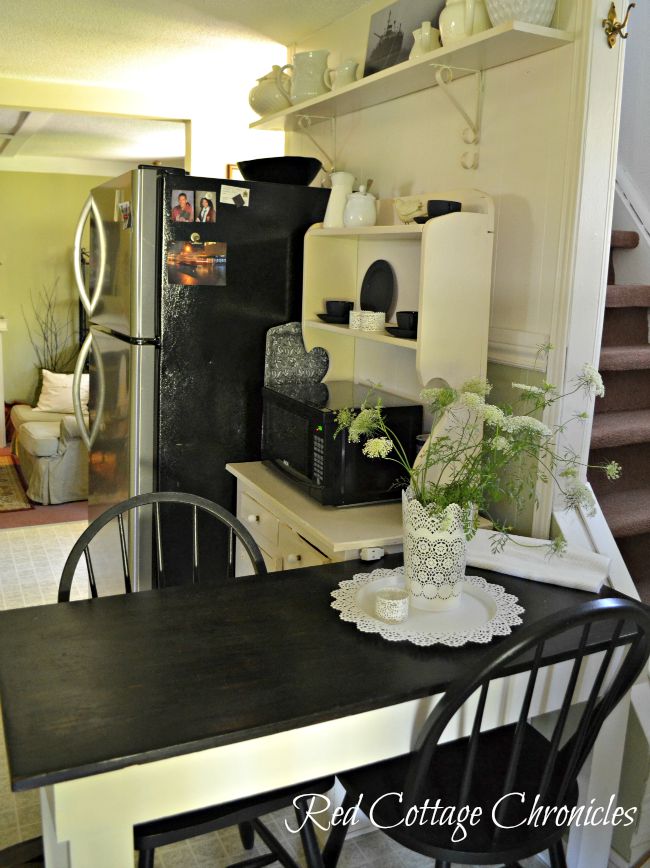 You get a peek at the little staircase that takes you up to the loft, just behind the kitchen wall.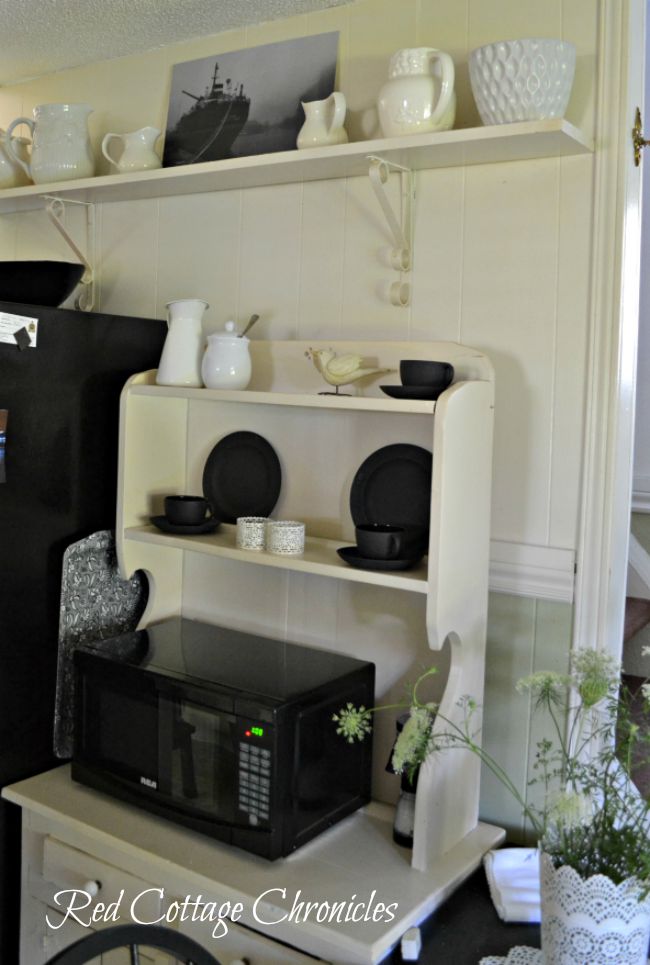 The hutch provides much needed storage and is the perfect spot for the microwave.  Extra high shelving holds various collections and her daughters Lisa's photography.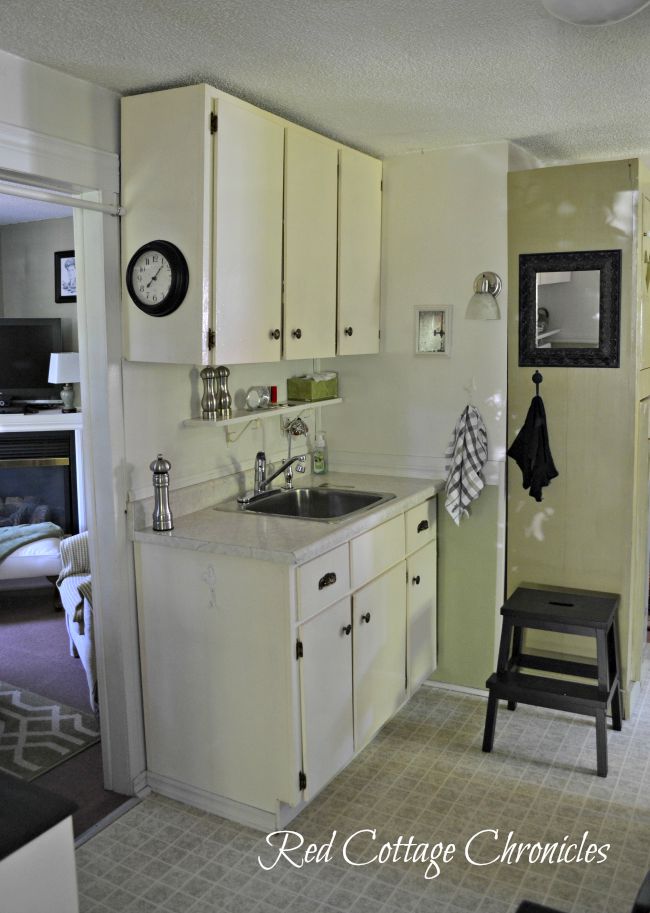 The tiny bank of cabinets are original to the house, freshened with a coat of paint and fresh handles and knobs.  The other entrance to the den is here off the kitchen.  The Ikea stool, again painted black sits against a small built in pantry.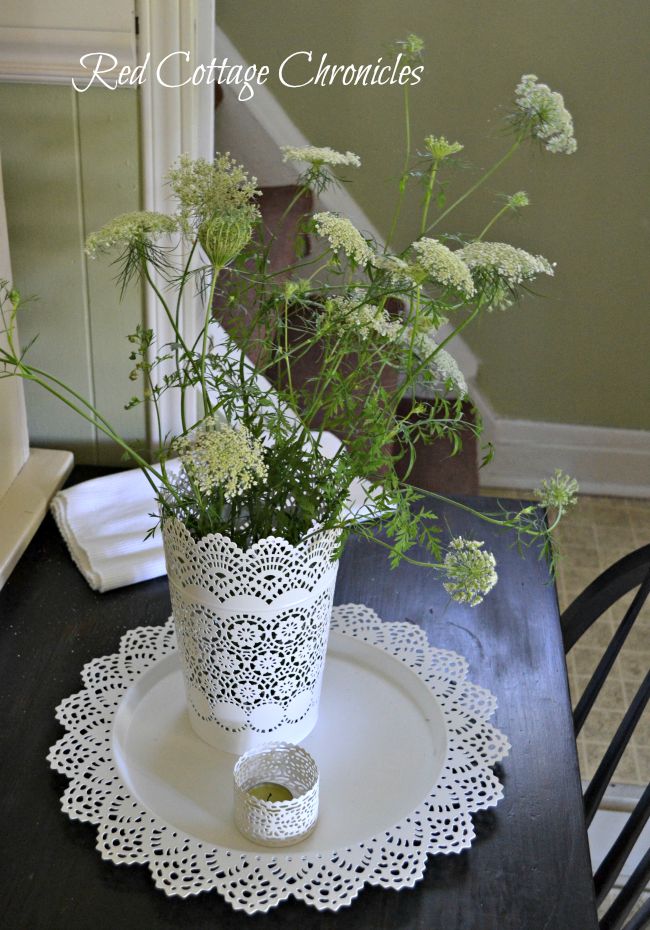 She had picked some Queen Anne's Lace, what some people consider a weed, because she loves the airy lacey feel.  Doesn't it just go to show you that you really don't have to spend a dime to love the home you have!
There you have seen the entire main floor!  We didn't pass through a single room that does not have a DIY project in it!
We are going to head upstairs to the "master suite"!  The bedroom is just big enough for the bed, tiny side tables and a chest of drawers!  The window floods the room with light making it feel larger than it is.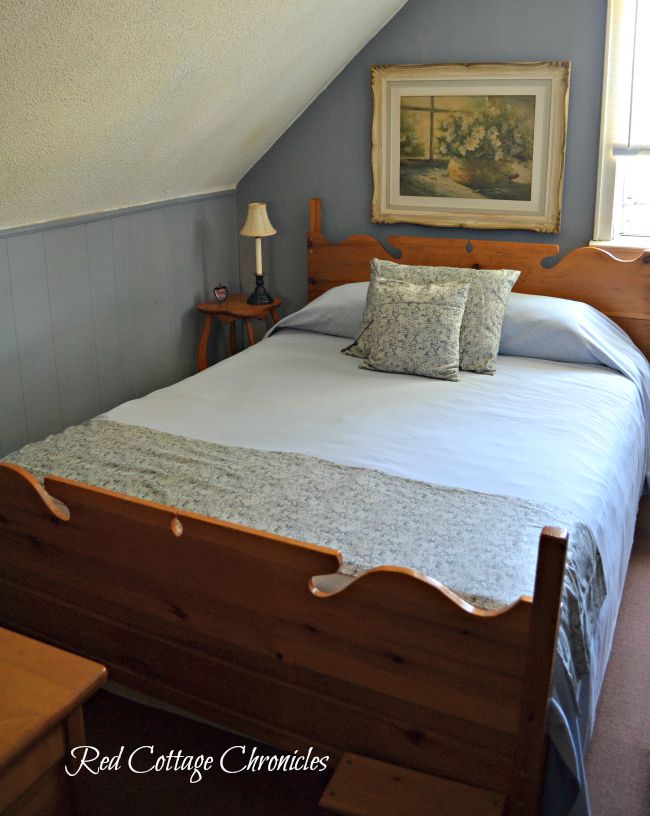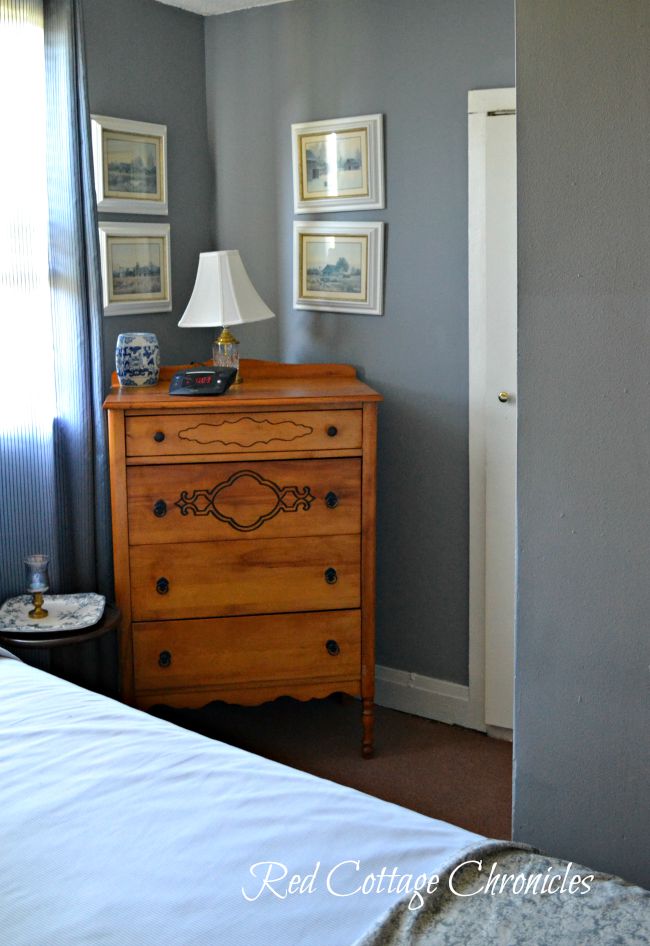 A little stool beside the bed, topped with this gorgeous plate is the perfect place to hold jewelry or reading glasses overnight.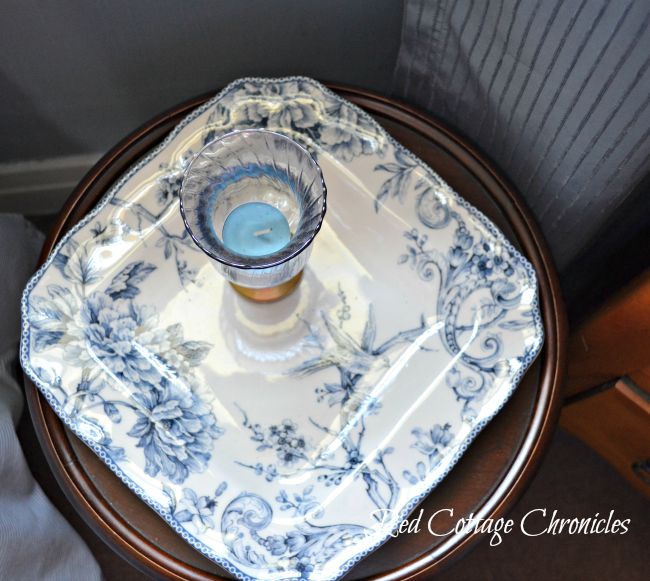 Just at the top of the staircase is the landing, which works as an extension of the bedroom.
A vanity and storage chest, again DIY builds, add extra storage.  The only bathroom is also accessed off the landing.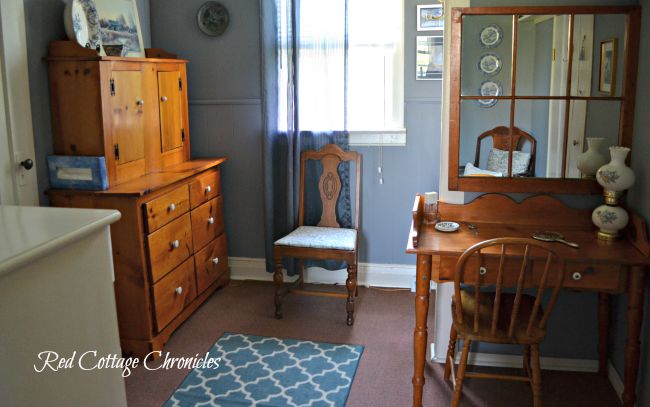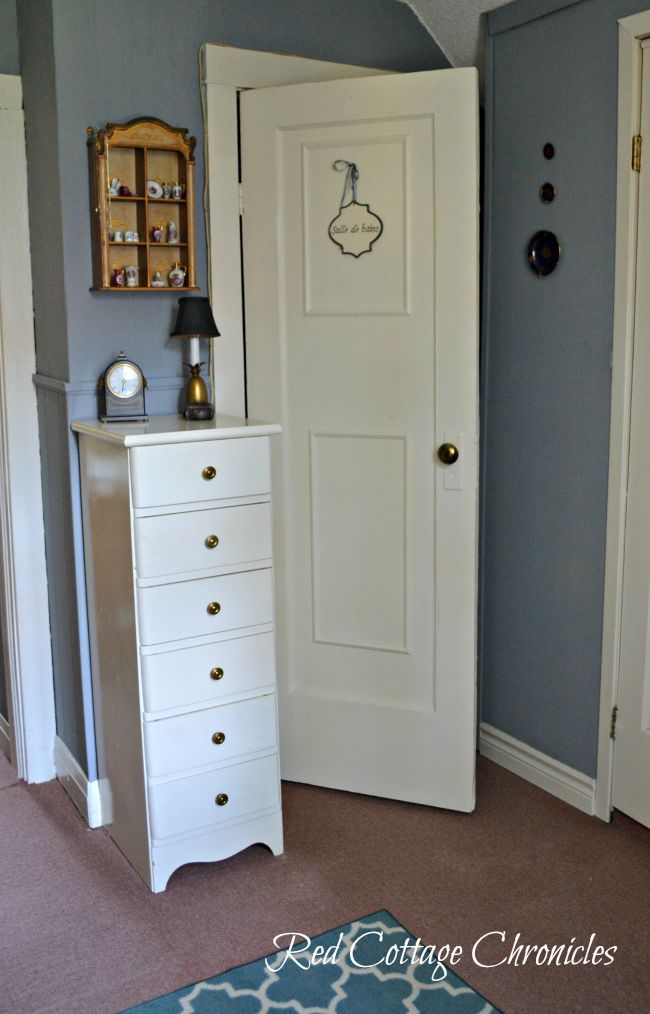 As much as I love the inside of this little cottage, the screen porch and the outdoor living spaces are equally special!
The screen porch is off the kitchen and is used as an extra room 3 seasons a year.  It would be hard to find something in this room that has not been found, re-styled, built, or completely refurbished!  In fact the screen porch itself was a DIY project.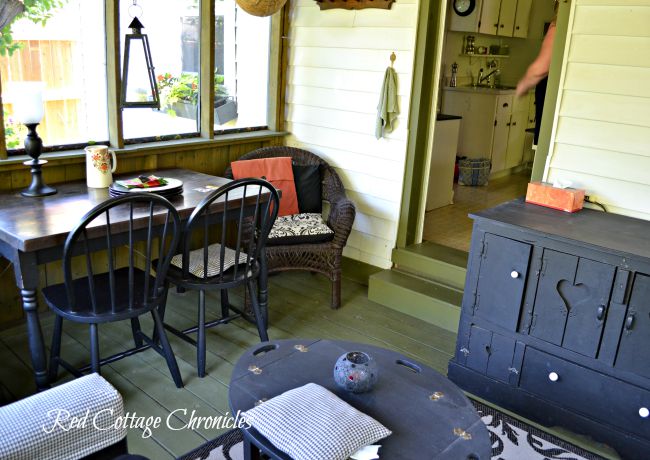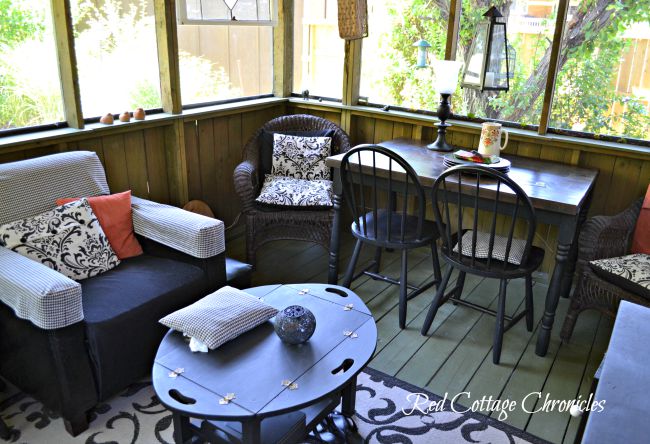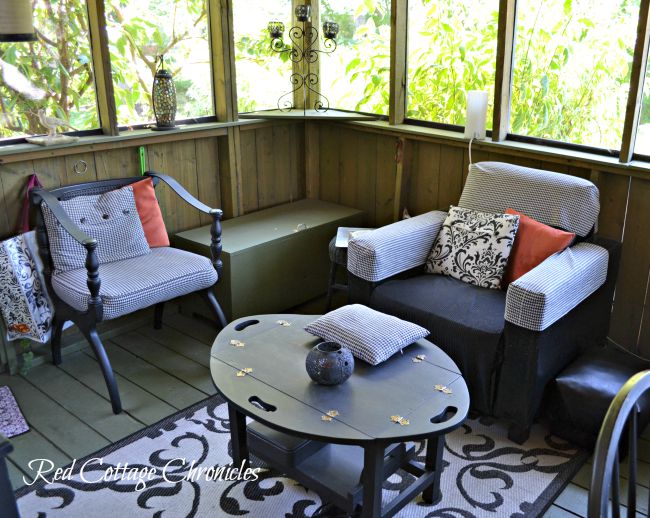 Would you believe me if I told you that ornate little chair recovered in the cutest black check fabric, was a roadside find that was not only pink, but broken?
Little touches like this candle lantern hung over the table and the portrait off her very first dog painted on the lid of an oil drum just add to the elegant cottage feel.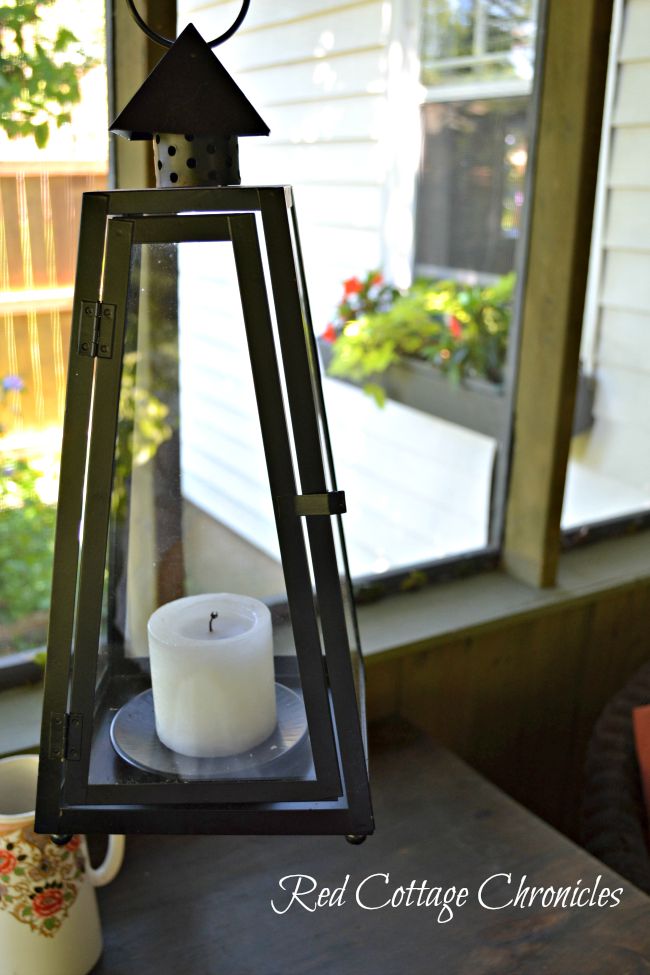 The screen porch is surrounded by gorgeous, lush gardens and makes for a beautiful view.
Shall we go outside and have a look?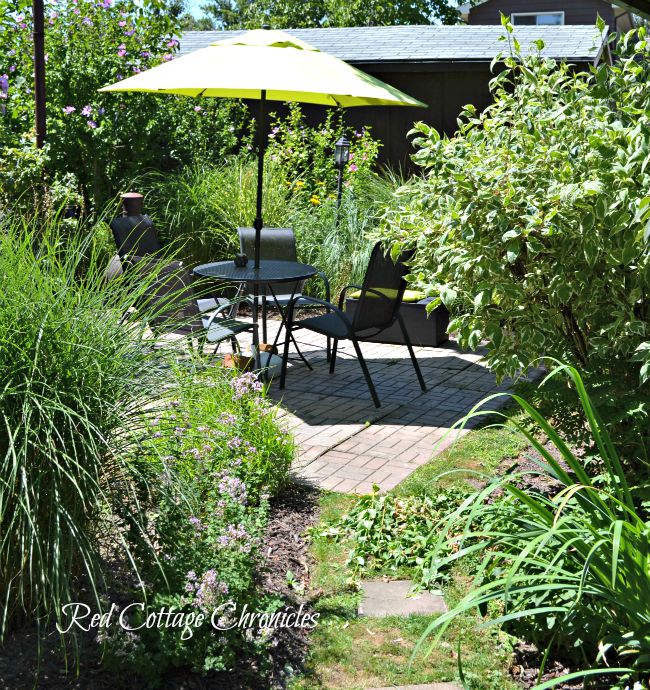 Linda has not one, but two outdoor "rooms".  This first one pictured above is off the screen porch, has a little outdoor fireplace and is super private.
And then there is the second one, on the other side of the cottage just in front of the cutest garden shed!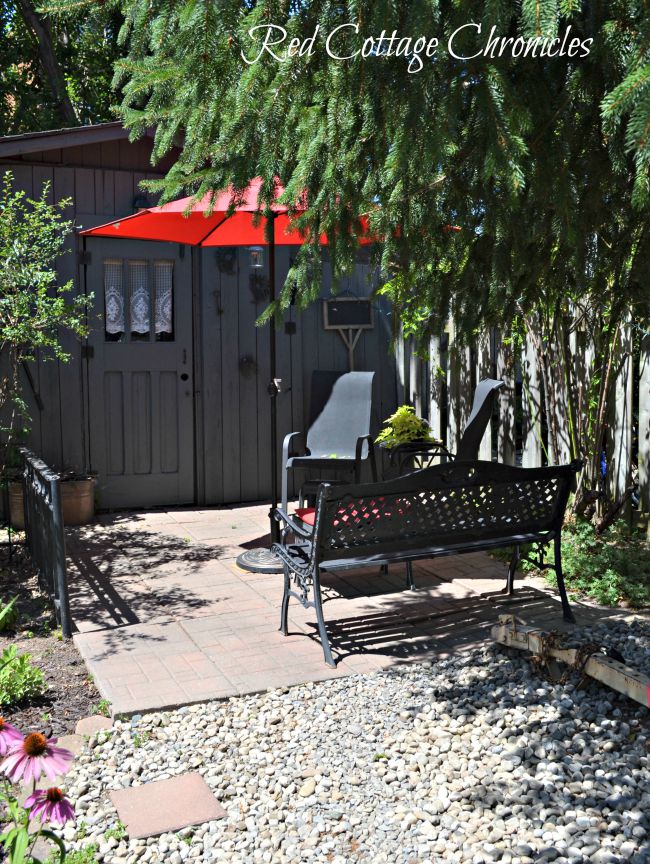 And of course, the gardens themselves.  I could do an entire post just dedicated to the gardens, but here is a quick peak.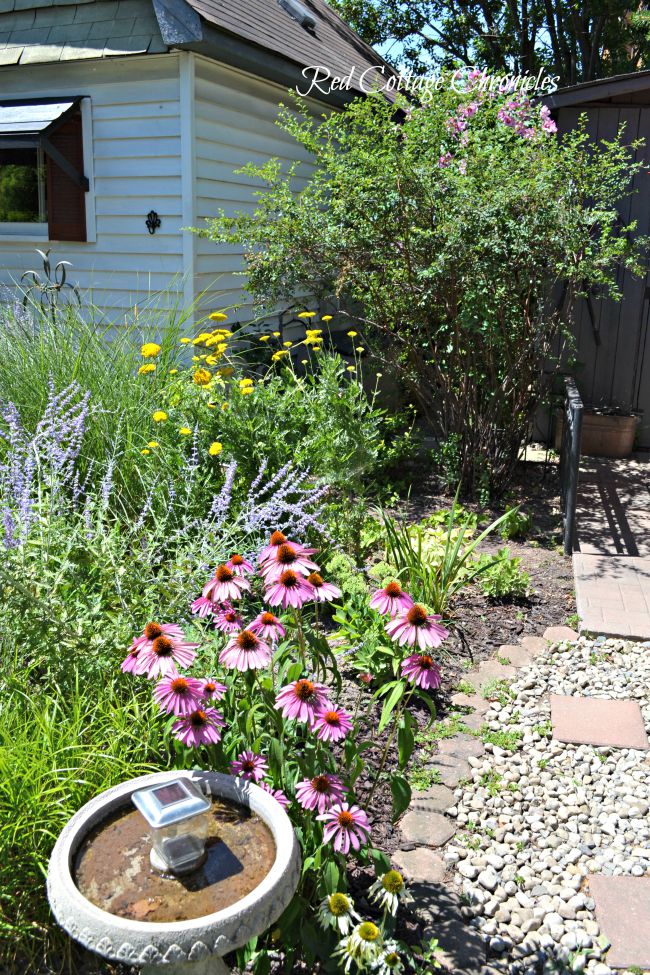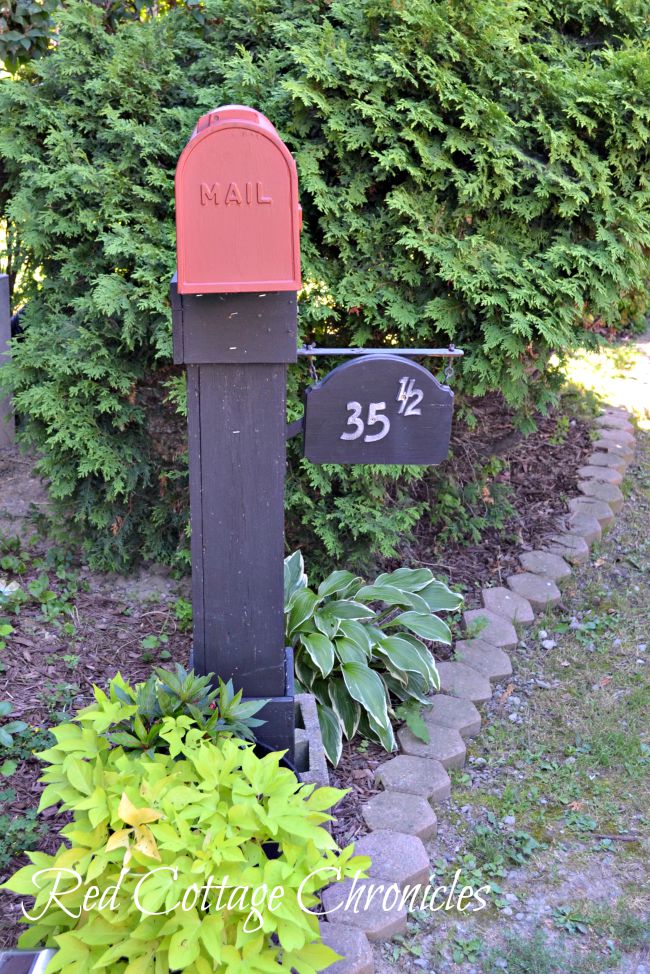 So what did you think?   Has Linda not created elegant small space living in her little cottage.
The best part of her style is that she really has created all this with almost no budget.  Collecting things here and there, re-upholstering and painting and repurposing furniture that she has had for years brings it right up-to-date with whatever style she is going for at the moment.
And I love that just because a project may not be in the budget, she finds ways to make it work as it if is intentional.  Take the flooring for example.  New wood floors throughout may not be in the budget,  nor are they much of a priority right now.  She simply uses area rugs over the existing carpet to create the look and feel she wants.  No fussing about it.  She just embraces what she has and makes it work! If  we hadn't got to talking about the DIY hardwood floors that Tim did for me, I honestly would not have even noticed the flooring, but the area rugs totally caught my a attention!
Oh, the money I could have saved if I had only taken that attitude!
I am so grateful for her giving us all the opportunity to look into her cute little space.  I, for one, know if someone knocked on my door out of the blue and asked to photograph my home, I would have panicked to say the least!
Thank you Linda!
Until next time…
Maureen