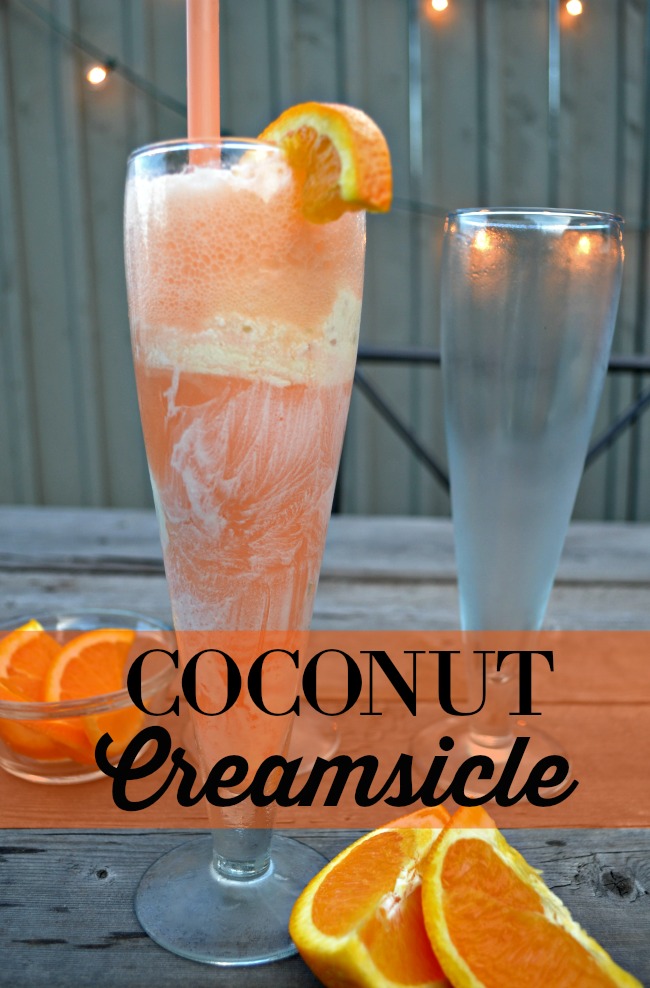 Welcome to week one of Summer Sippers, a summer drink series featuring cool beverages from myself and 4 other talented bloggers! I am starting off the series by sharing my recipe for this frosty Coconut Creamsicle!
There is nothing like kicking back with a frosty cold drink during the hot days of summer. The frostier, the better.
Inspired by one of my favourite summer drinks, the Root Beer float, I decided to create a more tropical version by combining coconut and orange flavours.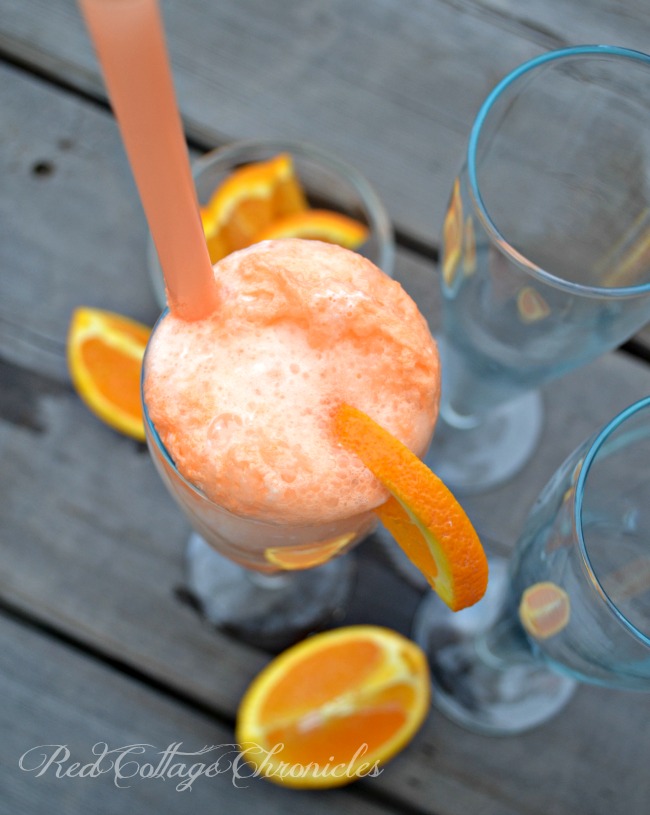 I must tell you, testing out summer drink recipes can be tedious 🙂 Getting just the right creamy combination requires measuring, mixing and tasting until you find that just right flavour that gets the attention of your taste buds!
But, this creates a bit of a problem. After 4 or 5 tries, you find the one and then your taste buds want more and you polish off one or two of the perfected recipe just to keep them happy.
This is not a job for the faint of heart (or appetite)!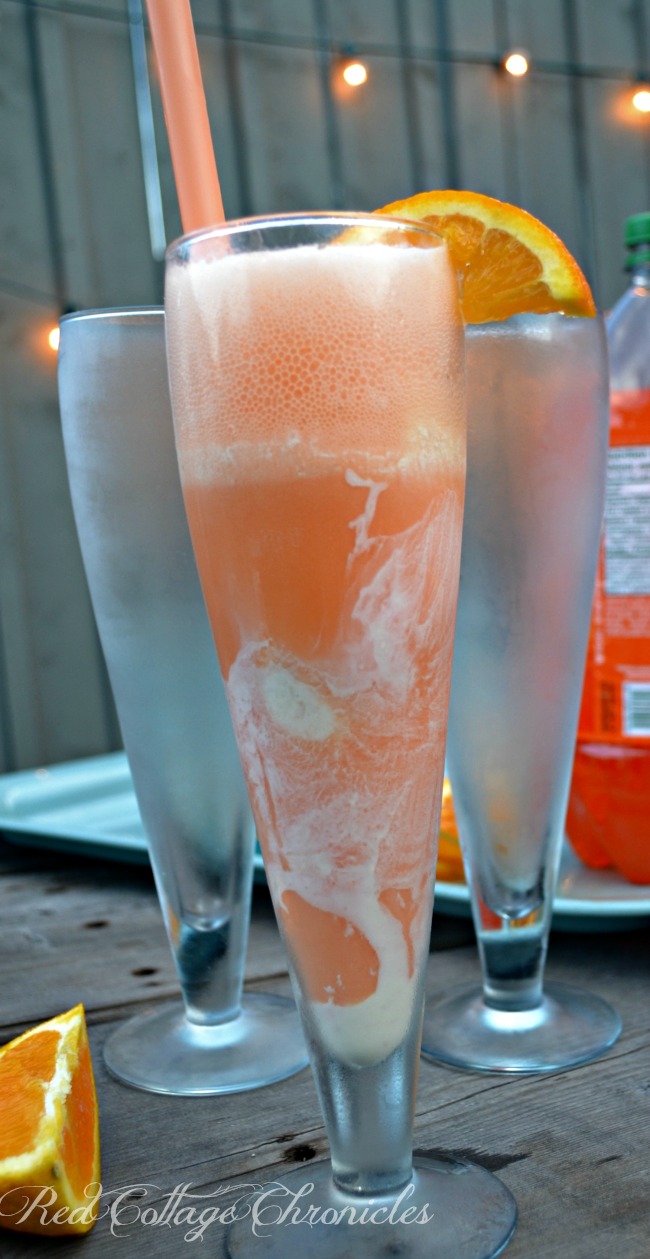 When serving a frozen beverage I recommend you pre-chill your glasses. I actually use tall Pilsner beer glasses, like these ones*, that I put in the freezer about an hour before I am going to be serving summer drinks. As soon as you bring them out of the cold, they get that beautiful frosty coating that helps keep your drink extra cold!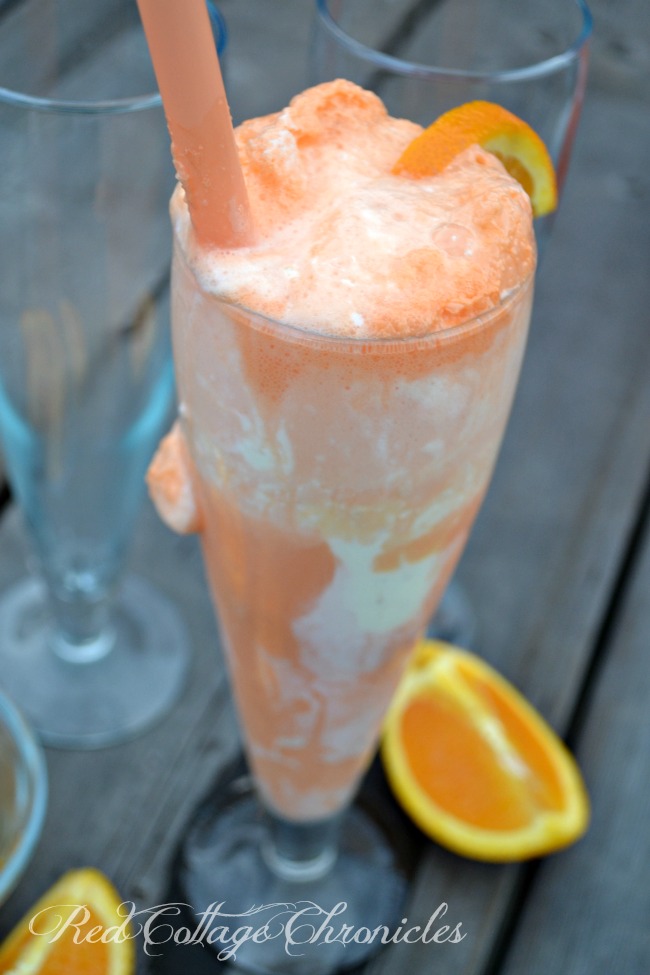 Follow these simple steps to the ultimate delicious frosty summer drink:
In a tall pre-chilled glass add 2 scoops any variety coconut ice cream (I used Presidents Choice Black Label Toasted Coconut)
Pour 1/3 cup chilled lite coconut milk over the ice cream
Fill the glass to the top with orange soda such as Orange Crush or Fanta
Add a straw, swirl around to mix
Enjoy!
I made a family friendly version, but feel free to add a splash of Grand Marnier Liqueur for an adults only beverage!
Over the next 6 Friday's we will all be sharing a new frosty creation to help keep you cool this summer. Most of mine will be family friendly, but since I live in wine country I can't help but share an ice wine cocktail or two!
Won't you join us! Simply scroll down and click on any picture to go to the recipe!
Until next time…

*This post contains affiliate links. Please be assured that I will only link to a product that I already have or would purchase myself. If you choose to make a purchase through this link I will receive a small commission.