I couldn't wait until Monday to share this fabulous strawberry recipe I found here!  Strawberry Shortcake Cookies!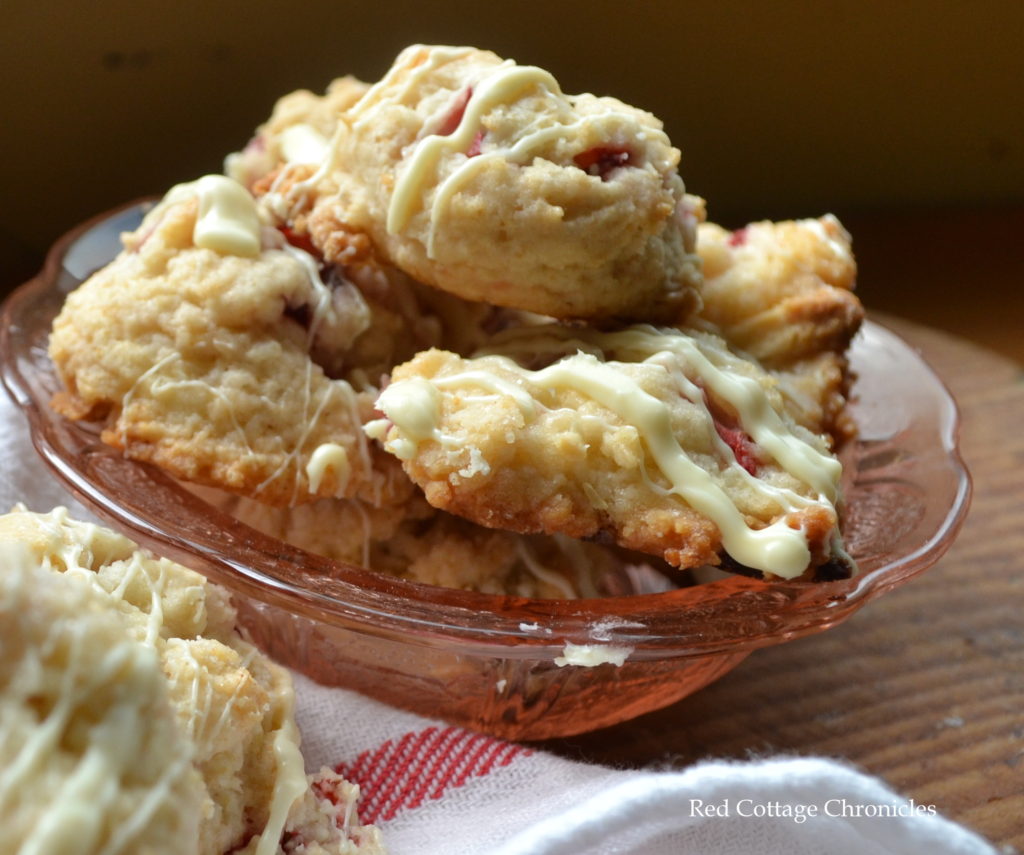 It is a simple recipe that turns out a moist and tasty cookie with tender chunks of strawberry.  I put my own spin on it and added small chunks of white chocolate, and a fine drizzle of melted white chocolate on top.  It added just the right amount of sweetness.
Last year it seemed that we had such a short strawberry season and they were gone before I knew it.  I was glad to hear from the farmer at the market this morning that this year we should get good berries at least until the end of June!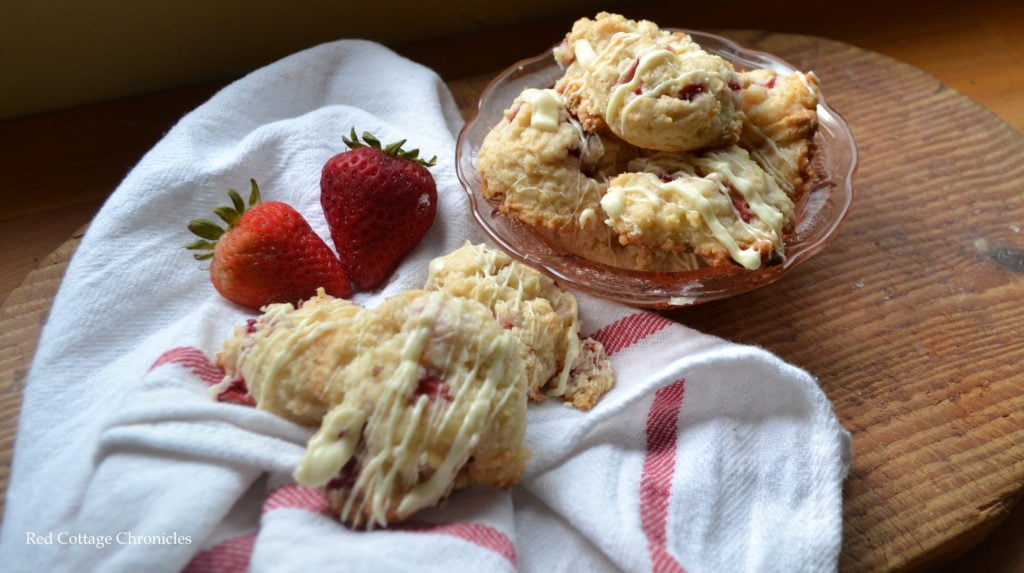 So…….. lets get started shall we!

Start with 2 cups fresh picked strawberries.  Cut into small chunks, about 1/4 inch each.  Add to a glass bowl and squeeze over 1 tsp fresh lemon juice.  Set aside.

Sift together 2 1/2 cups all purpose flour, 2 1/2 teaspoons baking powder, and 1/2 tsp salt.  Add 2/3 cup of sugar and stir with a wooden spoon.  Add 6 tablespoons cold butter cut into small chunks.  Cut this into the flour mixture using a pastry cutter or clean hands.  I prefer using my hands.

Continue cutting in until mixure resembles course crumbs.  Using a spatula stir in 2/3 cup heavy cream (whipping cream) until dough just starts to come together.

Gently fold strawberries and 3 ounces finally chopped Belgian white chocolate into the batter.  Do not over mix to prevent strawberries from becoming soft and mushy.  Drop by tablespoon fulls onto parchment lined baking sheets.  I use by trusty tablespoon size scoop.  Bake at 375 degrees for 15 to 20 minutes. Remove to wire rack to cool.
I didn't take any pictures of this step, but simply melt 3 ounces white chocolate over a double boiler or in the microwave, and drizzle using a fork over all the cookies.  Allow chocolate to set before storing in an airtight container.  (That is assuming there are any left to store!)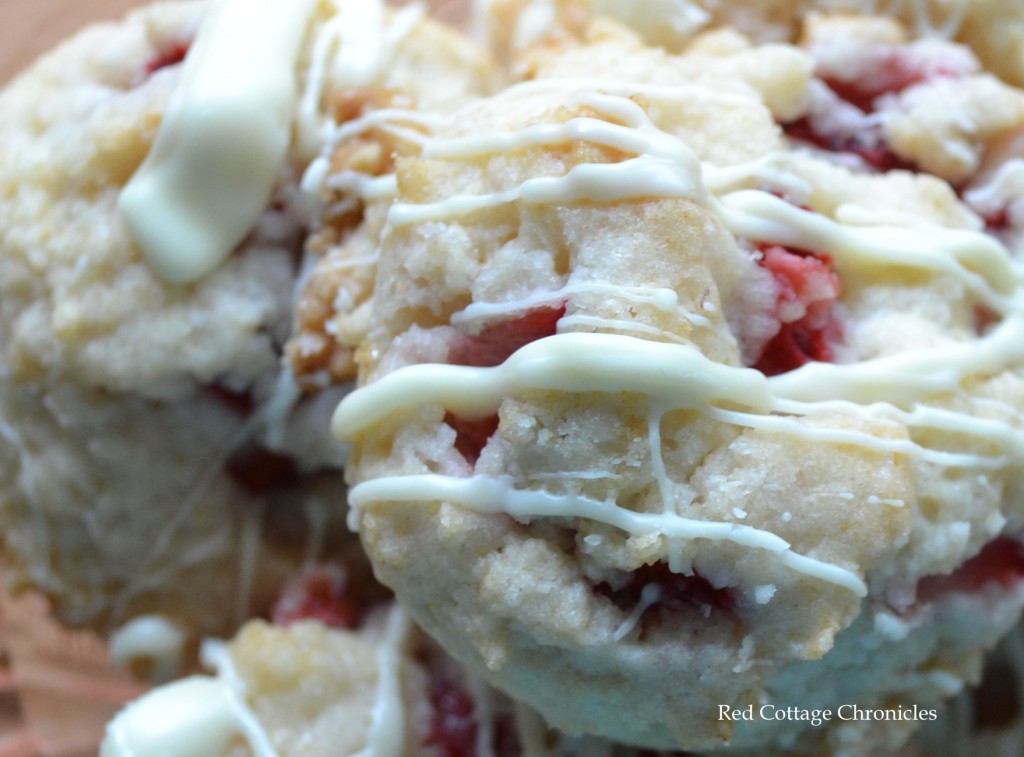 This is one of those melt in your mouth cookies.  It is really just like a strawberry shortcake on-the-go!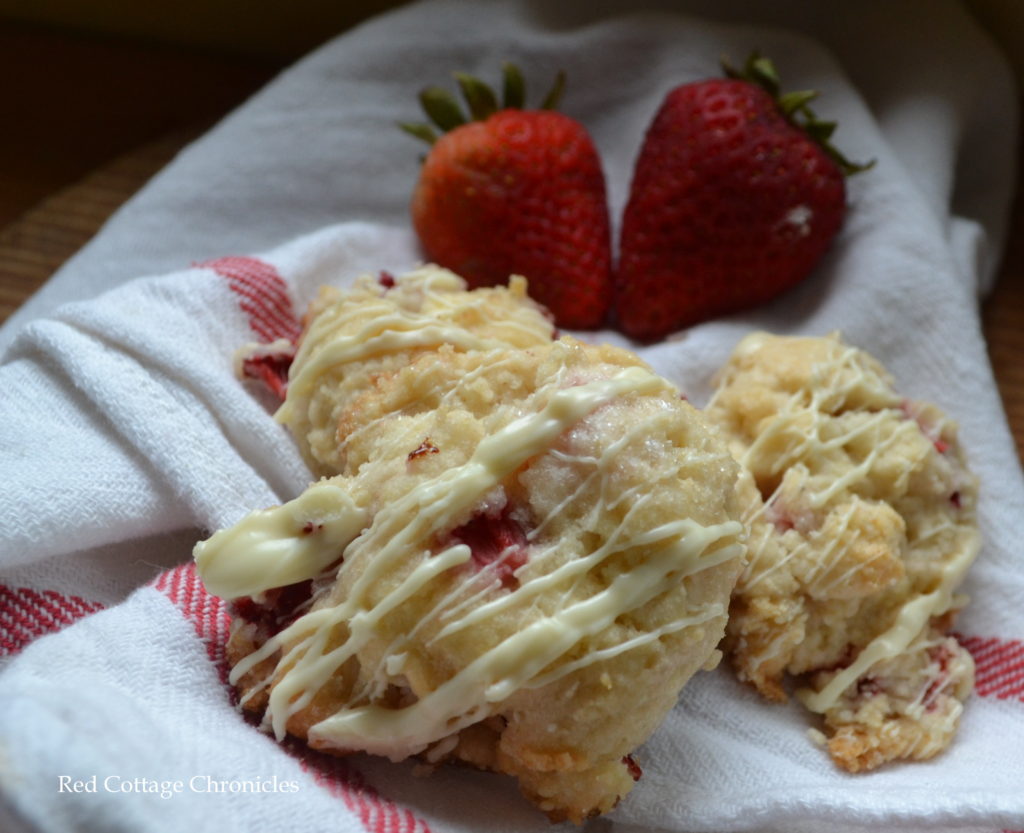 There you have it.  A preview of my week of everything strawberry.
Enter your email address to subscribe and you won't miss a single recipe!