Planning any summer parties?  Want a dessert that looks like you were in the kitchen all day, but really gives you all the time to enjoy your guests!
This Raspberry Pistachio Napolean is sure to impress! 
It looks and tastes fancy schmancy, but requires very little effort.
Really, it takes only about 30 minutes from start to finish!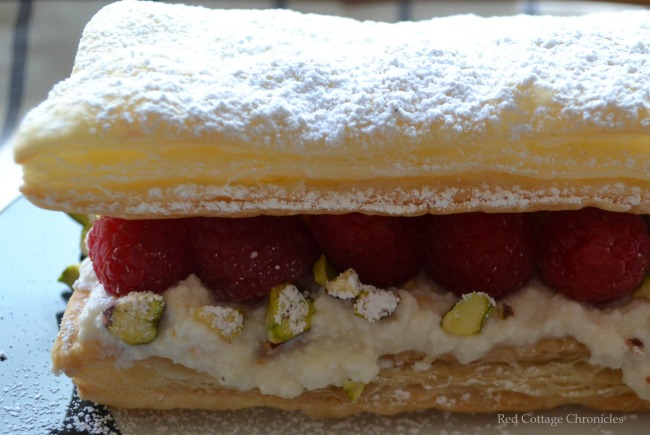 I know…..hard to believe 30 minutes and you are the pastry queen!  While you are glowing in all the compliments about your amazing pastry skills, you can tell everyone how hard you worked in the kitchen to create something special just for them!
When really all you had to do was take one sheet of frozen puff pastry, partially thawed, and using a pizza wheel and a ruler cut into four 3″ by 6″ rectangles.
Then place each on a cookie sheet lined with parchment paper and pierce each piece all over with a fork.  Lay another sheet of parchment paper on top of pastry and cover with another cookie sheet.

Place in the oven preheated to 400 degrees.  Bake for 15 minutes.  Remove top cookie sheet and parchment paper and continue to bake for 2 to 5 minutes until golden brown.  Remove from oven and cool.

While the pastry is baking combine 3/4  cup ricotta cheese, 3 tablespoons confectioners sugar, 1/4 tsp vanilla and about a tsp of grated orange rind.  When the pastries are completely cool spread half the mixture on the flat side of each of two of the pastry rectangles.  Using 1/4 cup chopped pistachios, sprinkle over each half.  Arrange fresh raspberries over each (you will need 1/2 pint).
Top each with the remaining two pastry rectangles and dust with a bit of confectioners sugar.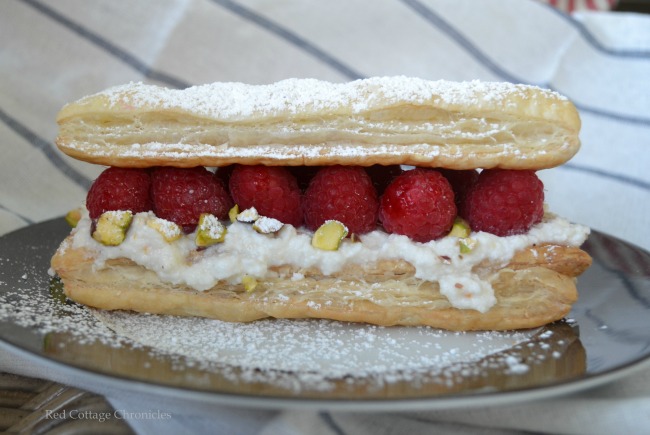 You`re all set to impress!!
 You can cut each in half to be enjoyed by 4, or leave them as they are for a more intimate party for two!
Enjoy!!
Raspberry Pistachio Napoleons
Author:
Prep time:
Cook time:
Total time:
Ingredients
1 sheet frozen puff pastry, partially thawed
3/4 cup light ricotta cheese (you can use full fat if you wish)
4 tbsp. confectioners sugar, divided
1/4 tsp pure vanilla extract
1 tsp finally grated orange zest
1/4 cup roasted salted pistachios, shells removed and chopped
1/2 pint fresh raspberries (I use organic)
Instructions
Heat oven to 400 degrees and line cookie tray with parchment paper
Cut pastry to 4 rectangles, measuring 3″ by 6″ each
Place each rectangle on prepared cookie sheet and pierce all over with a fork. Cover with another sheet of parchment and place another cookie sheet on top.
Place this in the oven and bake for 15 minutes.
Remove top cookie sheet and parchment paper and continue baking for approximately 2 to 5 minutes (it took mine 3 1/2 minutes) or just until golden.
Remove from oven and allow to cool completely.
Meanwhile in a mixing bowl, stir together ricotta cheese, vanilla extract, 3 tbsp. confectioners sugar and orange zest.
Divide the cheese mixture between two of the pastry rectangles, spreading just to edges. Sprinkle each with pistachios and then arrange raspberries over pistachios.
Cover raspberries with the remaining two pastry rectangles.
Sprinkle each with remaining tbsp. of confectioners sugar.