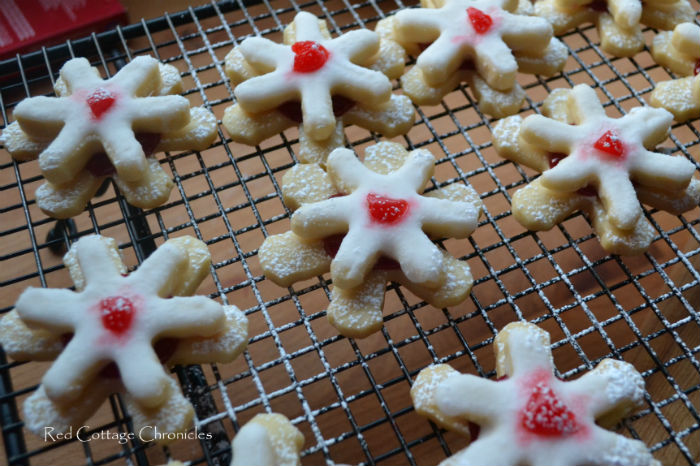 So far there is no snow forecast for Christmas in Southern Ontario. I am secretly hoping and praying they weather people's are wrong! They are teasing us with the possibility of a "few flurries" in the evening on Christmas Day.
I guess I am just going to have to make my own snowflakes!
I don't know if my memory is fading, but I am sure when I was young we always had a white Christmas. Like, so-much-snow-I-better-get-a-toboggan-for-Christmas white!
And when we got our toboggan's and "magic carpet" sliders we would spend hours in frigid temperatures, bundled up in snow suits so warm we could hardly move. Yet, we trudged up the hill only to be zip back down it in seconds! Over and over again.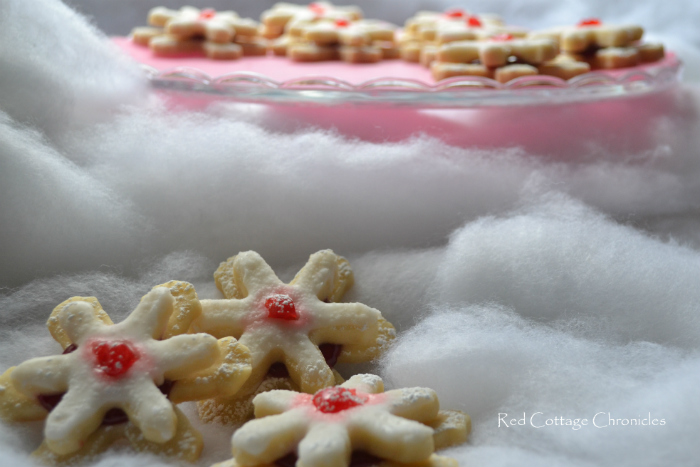 We would get home when it got dark and peel out of our suits, remove our completely frozen handmade mittens for Mom to put over the heat registers along with our boots, just so we could do it all again the next day!
On a Saturday night we would get fresh baked biscuits warm from the oven with homemade strawberry jam for a treat!
Now that I am a "grown up" you would never find me outside in the snow ALL day, but I really enjoy seeing it fall just the same! It adds a sparkle and magic that just makes everything seem more radiant at Christmas time.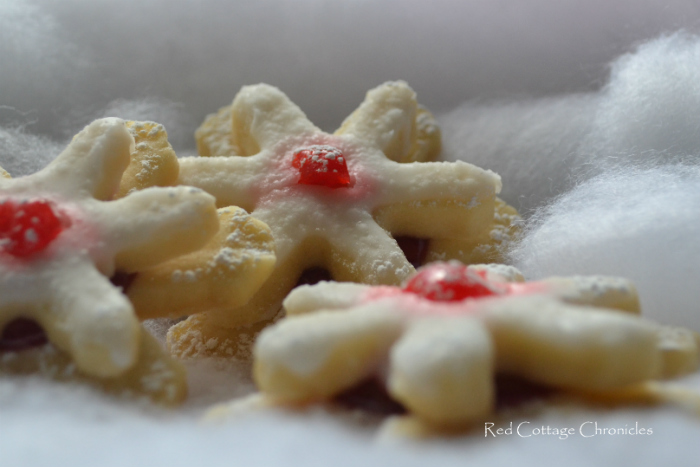 And while there is no snow in the forecast this Christmas, being with family and friends and celebrating the birth of our Saviour Jesus Christ makes the day pretty perfect anyway!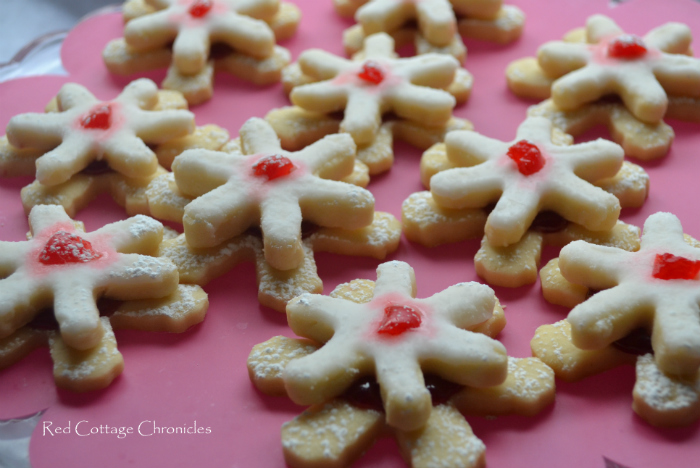 Adapted from a recipe I found in Taste of Home, these raspberry snowflake cookies are a spinoff of my favorite empire cookie. Instead of a regular round empire, I used a medium and small snowflake cookie cutter!
The sweet, cool, almond glaze and sprinkle of icing sugar keep memories of snow days alive!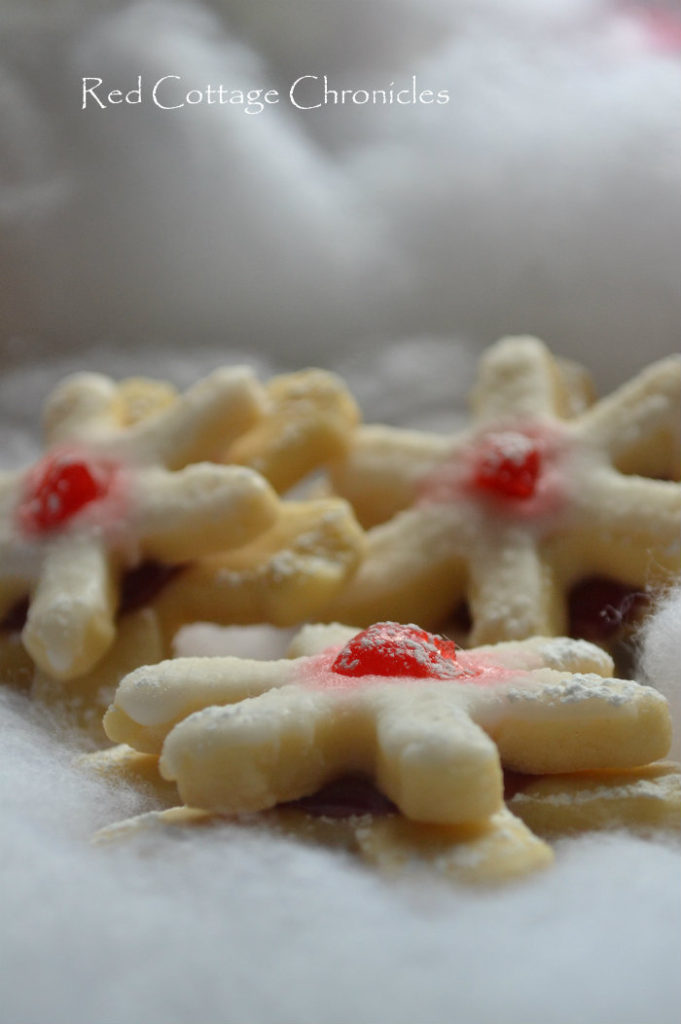 Until next time………
Maureen
Raspberry Snowflake Cookies
2016-11-02 05:19:27
Ingredients
1/2 cup softened butter
1/2 cup icing sugar + 1 cup, sifted
1 teaspoon pure vanilla extract
1/2 teaspoon almond extract
1 3/4 cup plus 2 tablespoons flour
1/2 cup seedless raspberry jam, room temperature
1/4 teaspoon almond extract
2 tablespoon warm water
2 maraschino cherries, chopped small
Instructions
In the bowl of electric mixer (or a large bowel if beating by hand) cream the butter and 1/2 cup icing sugar until fluffy.
Beat in vanilla and almond extracts until well combined.
With mixer on low, slowly add flour increasing speed to medium when all flour is added. Beat until dough comes together.
Remove dough from bowl and wrap in plastic wrap, and chill for 10 to 15 minutes.
On a lightly floured surface roll dough to 1/4 inch thickness. Using a medium and small snowflake cookie cutters, cut even numbers of both sizes.
Bake larger snowflakes for 10-12 minutes and small ones for 8 to 10. Until edges are just slightly golden.
Allow to cool on wire rack.
Meanwhile combine remaining 1 cup of icing sugar, 1/4 teaspoon almond extract and water, beating with a spoon until smooth and spreadable, but not runny.
Ice the small snowflakes with frosting and top with a small slice of maraschino cherry
Place a teaspoon of raspberry jam in the centre of large snowflake and top with a small, iced snowflake.
Dust edges with additional icing sugar.
Adapted from Taste of Home
Adapted from Taste of Home
Red Cottage Chronicles https://www.redcottagechronicles.com/