Channeling My Inner Irish
Every year come March 17th, I think every one feels like they are a little bit Irish! I channelled my inner Irish to style my St.Patrick's Day tablescape!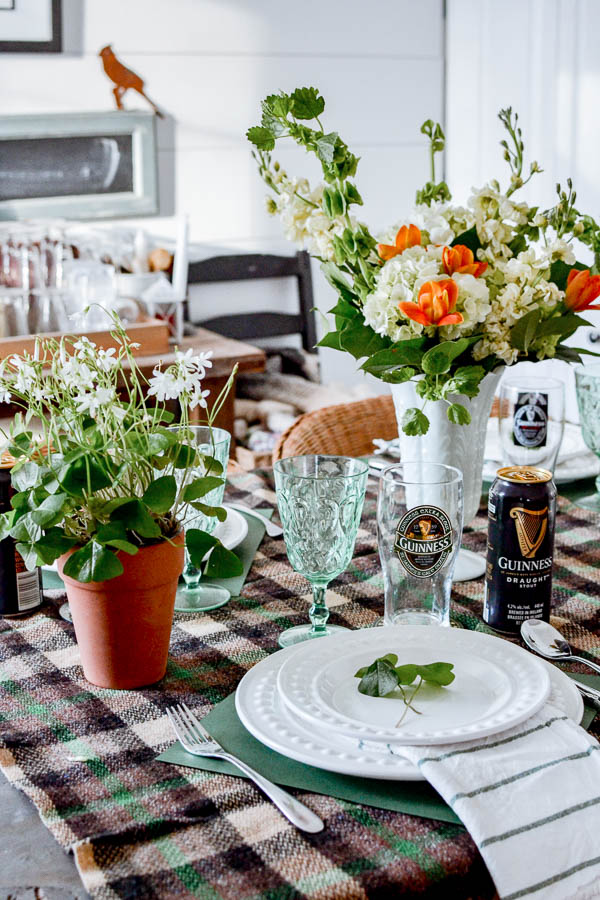 Today I am joining Debbee from Debbee's Buzz and several other talented content creators as we share our St.Patrick's Day tablescapes! You will find all the links at the end of this post.
When you think of St.Patrick's Day, what comes to mind? I am going to guess you said either shamrocks or green beer!
In our younger days partaking in a cheap green beer or two might have been on my husbands to-do list come March 17th, but now that he is all grown up, celebrating with a Guinness is more his speed!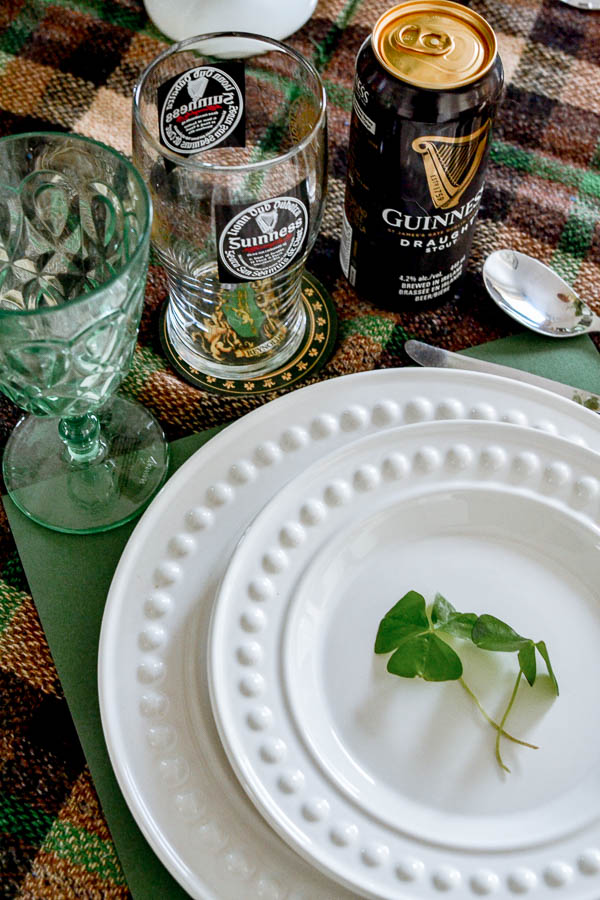 And is there really even a St.Patrick's Day without Shamrocks? I don't think so!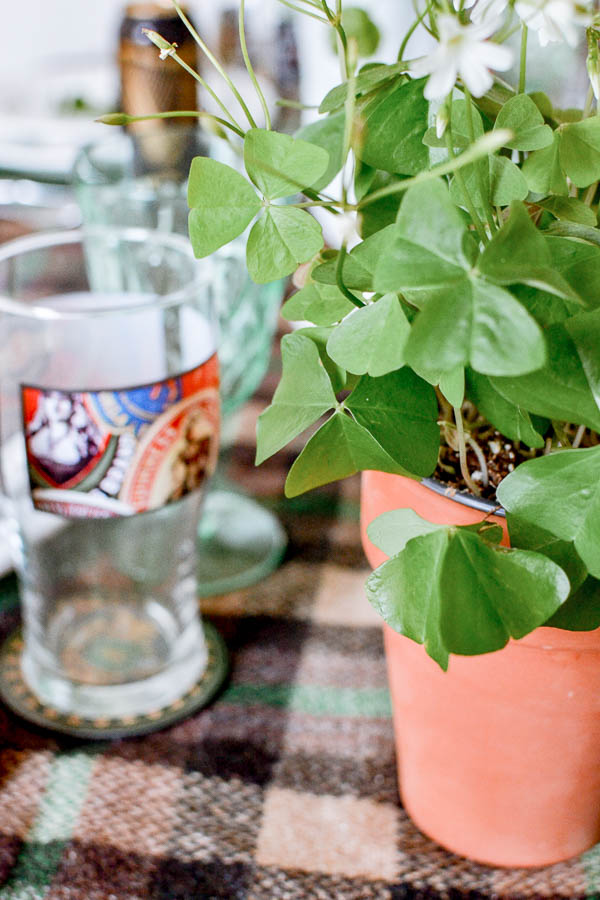 Last year I made a sweet shamrock subway art with my Cricut Maker! Now, if I could only remember where I put it!
My St.Patrick's Day Tablescape Inspiration
I didn't need to look any further than our family room beverage centre to find some fun St.Patrick's Day tablescape decorations!
We have several Guinness beer glasses, and there always seems to be some Guinness chilling in the bar fridge!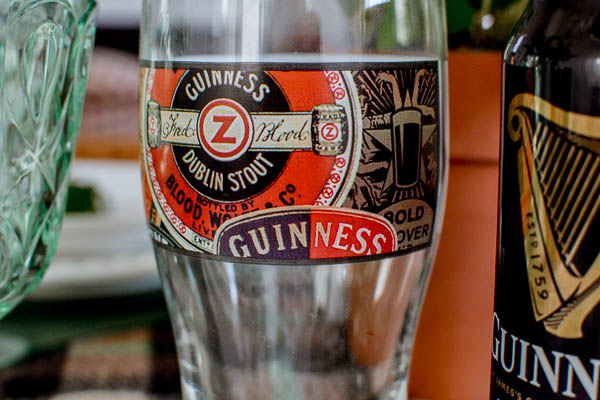 Even though Ireland's beverage of choice is an integral part of this tablescape, I still wanted it to be a bit more on the classy side, then college keg party!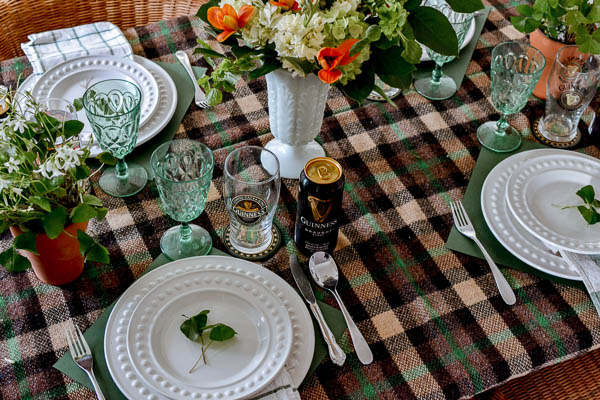 I used a wool blanket, not from Ireland, but the hint of green against the different shades of brown makes the table feel cozy. Like I imagine a neighborhood pub in Ireland would feel!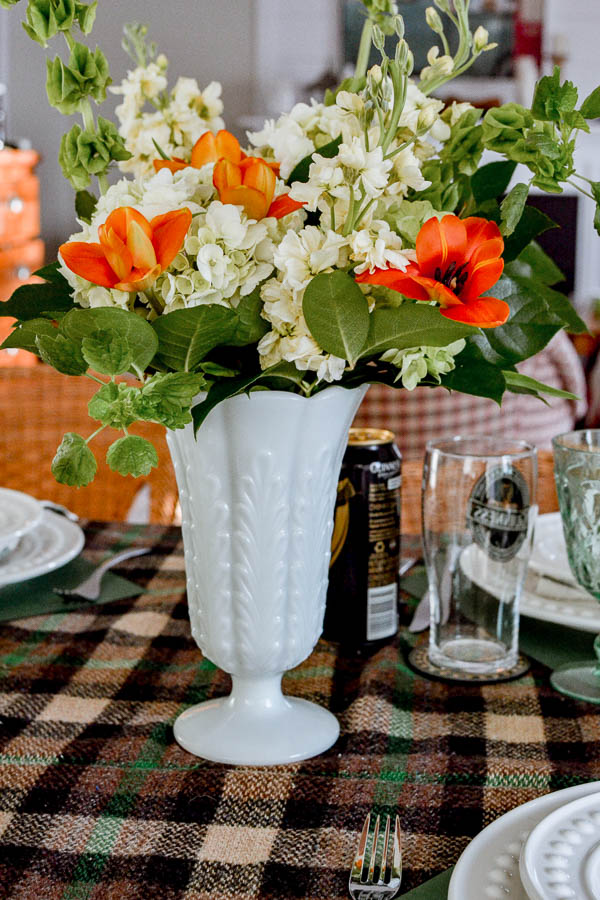 And, what would a dinner table be without an eye-catching centerpiece!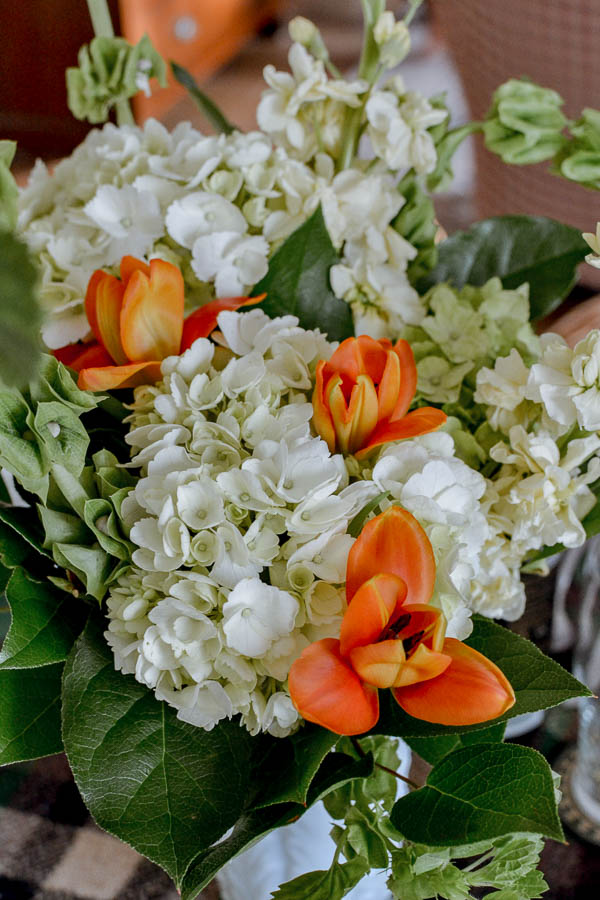 Bells of Ireland are just one of the flowers in this centerpiece with a nod to the Irish flag! White and green hydrangea, white stock, and orange tulips casually arranged to create this arrangement.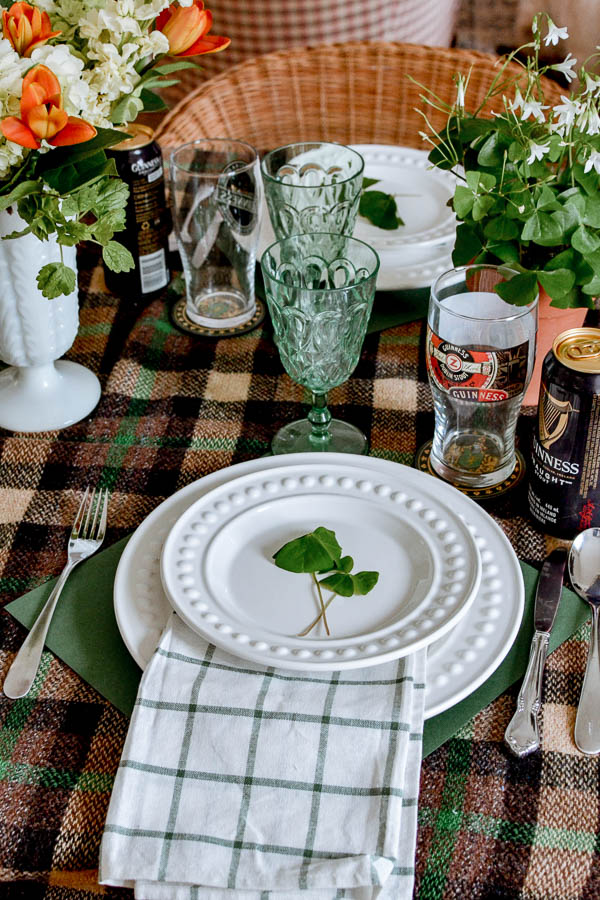 Green and white dish towels from Ikea serve as oversized napkins. Each on a little different pattern!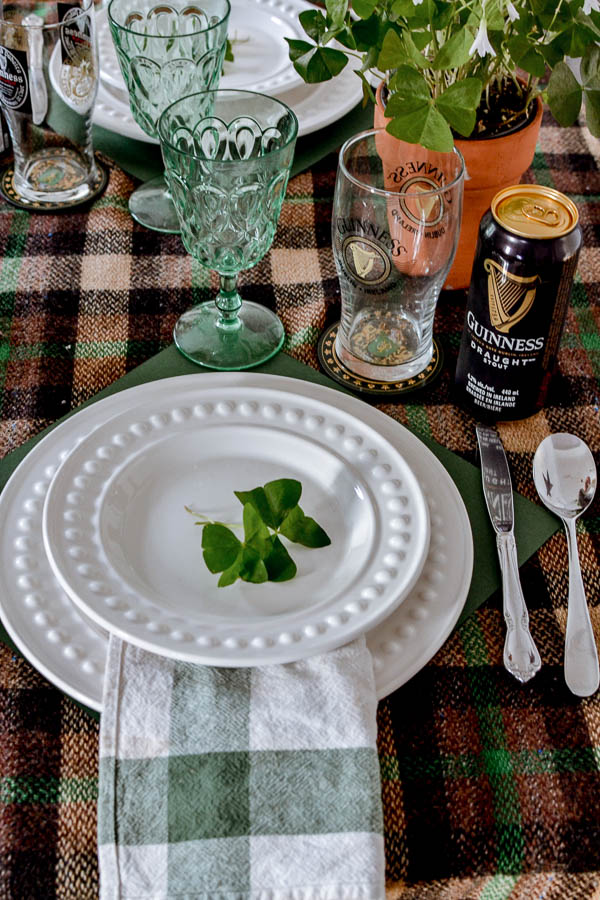 Shamrocks clipped from the plants are laid atop each white plate, creating a crisp spring-like contrast! Simple mix-matched flatware complete each place setting.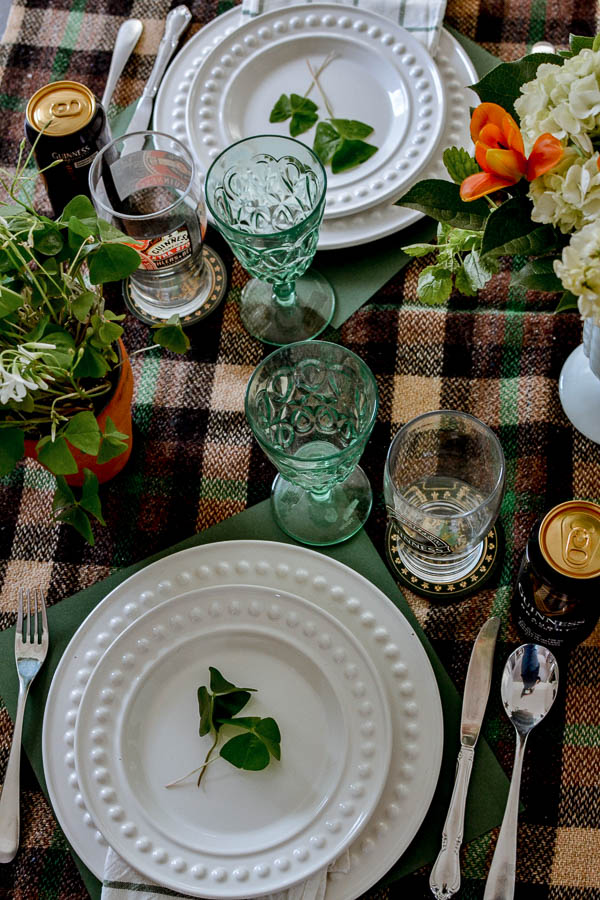 Finally, acrylic green water glasses add a touch of color next to the beer glasses, and can be used for water or a St.Patrick's Day cocktail!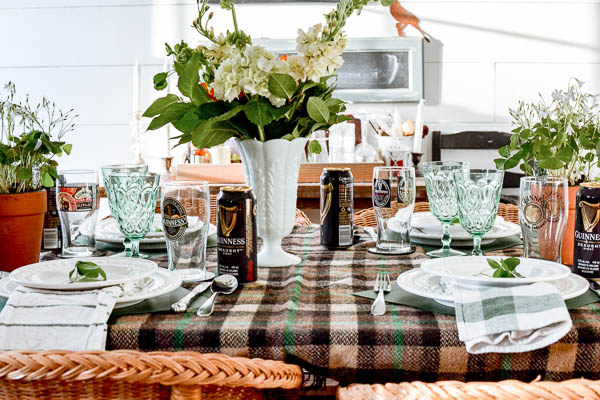 This simple, yet festive St.Patrick's day table is the perfect fit for our quiet, refined celebration!
Sláinte!
Until next time…..

Debbees Buzz ☘ Vintage Dishes & Lucky Clover Fold Napkins
Home is Where the Boat Is☘ Loads of Shamrocks St. Patrick's Day Table
Panoply ☘ An Unpretentious St. Patrick's Day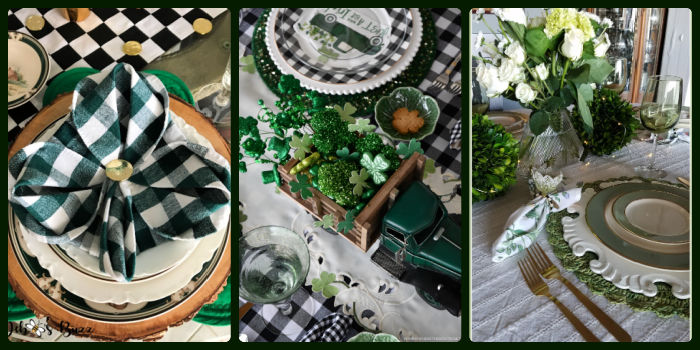 My Hubbard Home ☘ Putting on the Green & Yellow
Life and Linda ☘ Keeper of the Traveling Shamrock Cloth
Corner of Plaid and Paisley ☘ Reprise of Ewe & McGreggor St. Patrick's Day Table
Me and My Captain ☘ Not Lucky, Just Very Blessed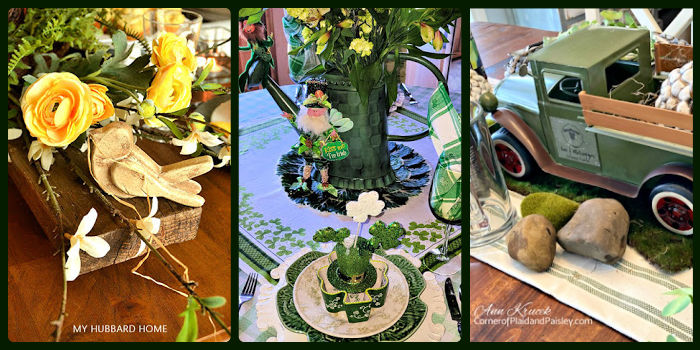 Red Cottage Chronicles ☘ Channeling My Inner Irish
Celebrate and Decorate ☘ St. Patrick's Day Luncheon Tablescape
Calypso in the Country ☘ St. Patrick's Day Table Decor
Design Morsels ☘ St. Patrick's Day Table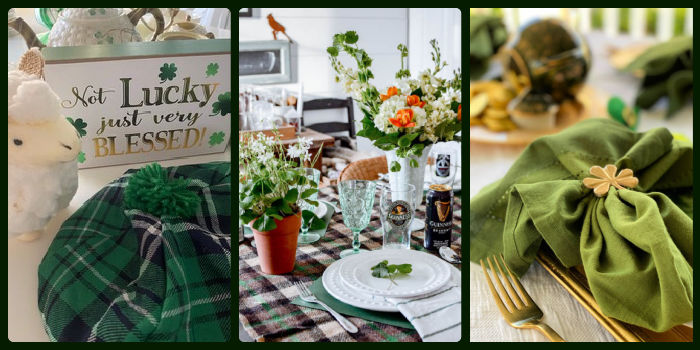 The Painted Apron ☘ Celebrating the Green Table
Hyacinth for the Soul ☘ Lucky in Life ~ Celebrating Green Table
Zucchini Sisters ☘ Green & Orange St. Patrick's Day Table