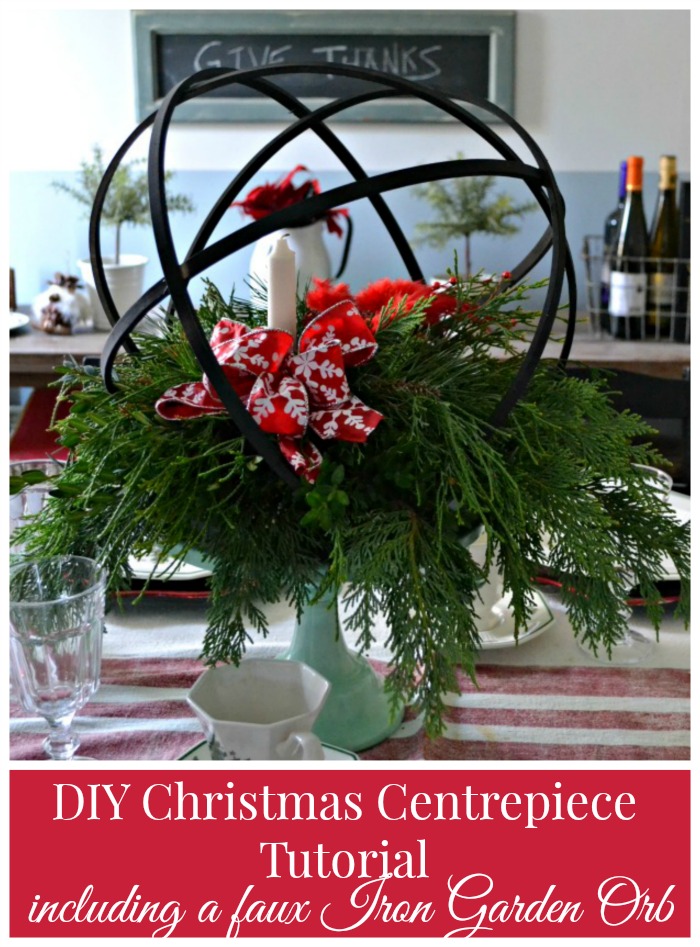 I am so excited to be participating in the Handmade Holiday Blog Hop this year! This is the 6th year for this fun blog hop, but my first participating. Today's theme is Homemade Holiday Decor. Join me and over 30 talented bloggers who are sharing their DIY home decor ideas for the Christmas season, complete with step by step tutorials!

I think you are really going to enjoy my tutorial today! An easy and inexpensive DIY Christmas Centerpiece I made for around $10 including the faux iron orb!
Faux Black Iron Orb DIY Christmas Centerpiece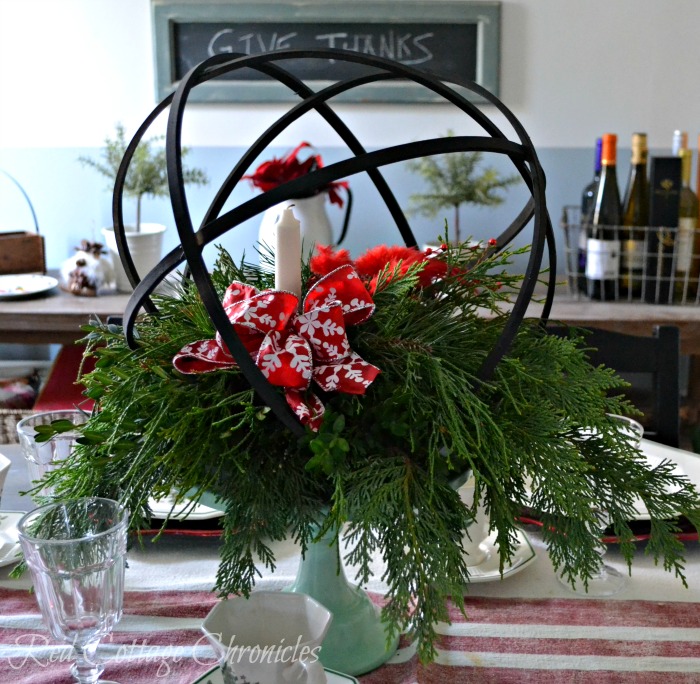 You will need:
Three 14″ embroidery hoop sets (I used 3 centre hoops and 1 outer hoop)
Glue stick and hot glue gun
Black spray paint – I used black chalkboard spray paint as that is what I had on hand
a shallow plastic container
a piece of floral foam for fresh flower arrangements that has been soaked for several hours
florist tape or string
a selection of evergreens
a bow and one or two other Christmas embellishments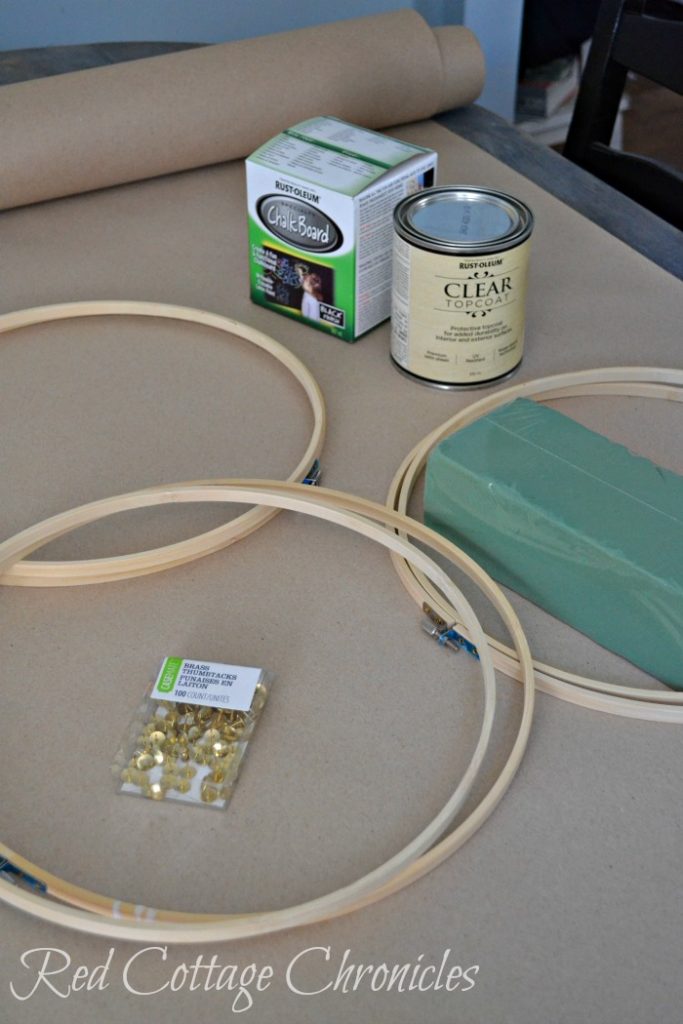 Gather your supplies and separate your rings. You will need 3 inner rings and only 1 outer ring. I had planned on clear coating the chalkboard paint, but I really liked the finish without the clear coat.
Starting with the inner rings, insert one inside another and spread out, then insert the third again spreading out until the rings are spaced evenly. You only need to gently press down on each ring to get them to intertwine together.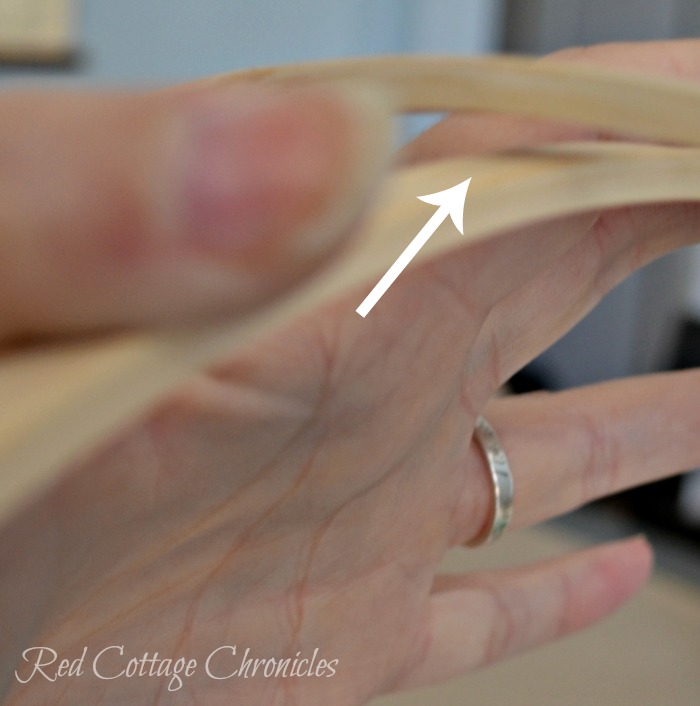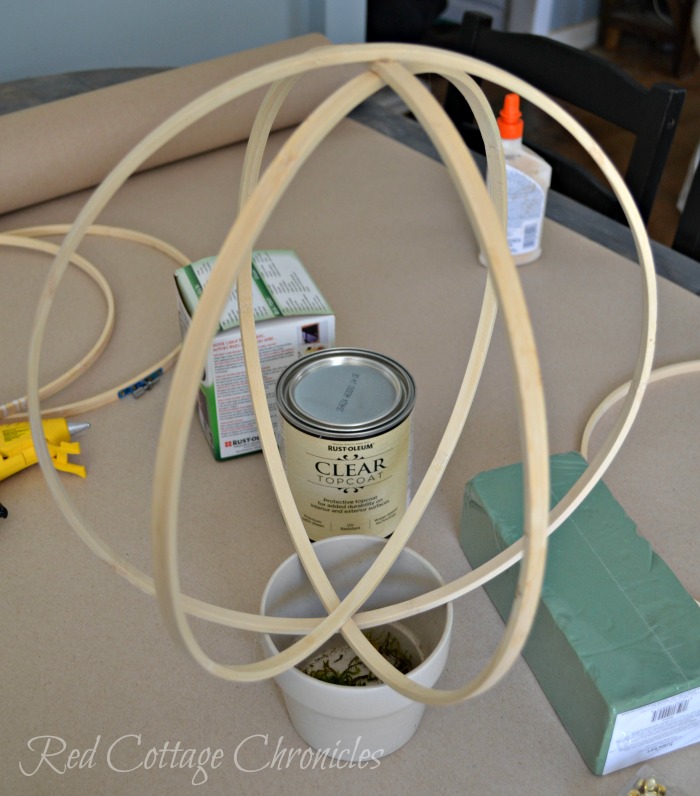 You want the rings spaced out as pictured above.
Using your hot glue gun carefully add a dab of glue at the top and bottom of the orb when the rings meet. Hold down each joint for a minute before moving onto the next. I glued the first two in place before adding the third one, again just gently pressing down on the inner hoop to position the glue between the two.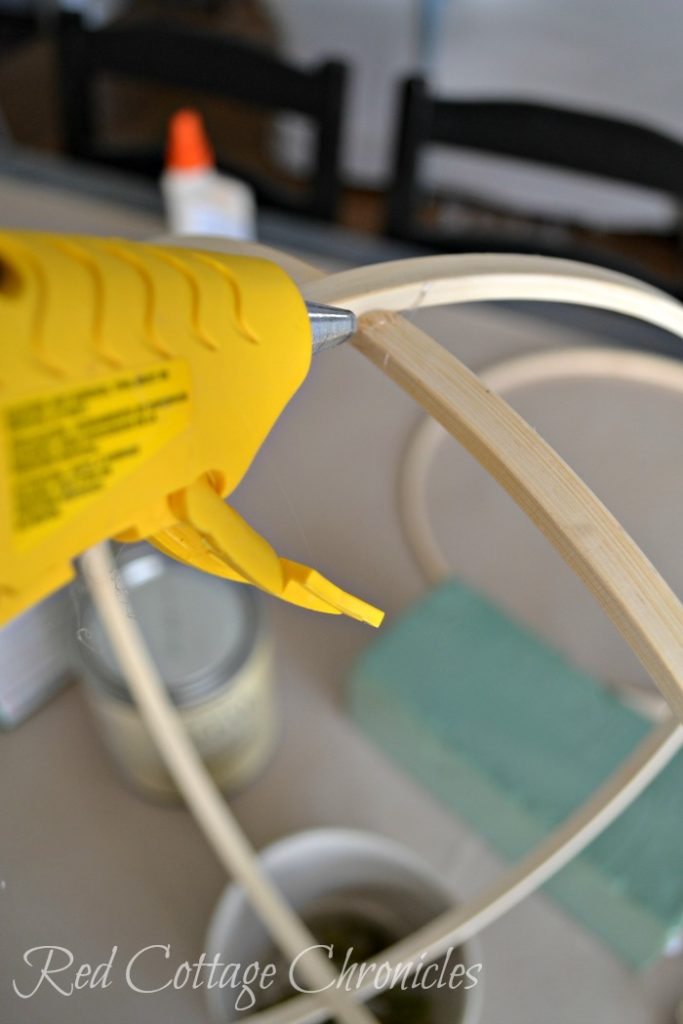 Allow the glue to dry for about 10 minutes.
Finally fit the single outer ring around the centre and tighten. Then glue each joint where the hoops intersect, all the way around.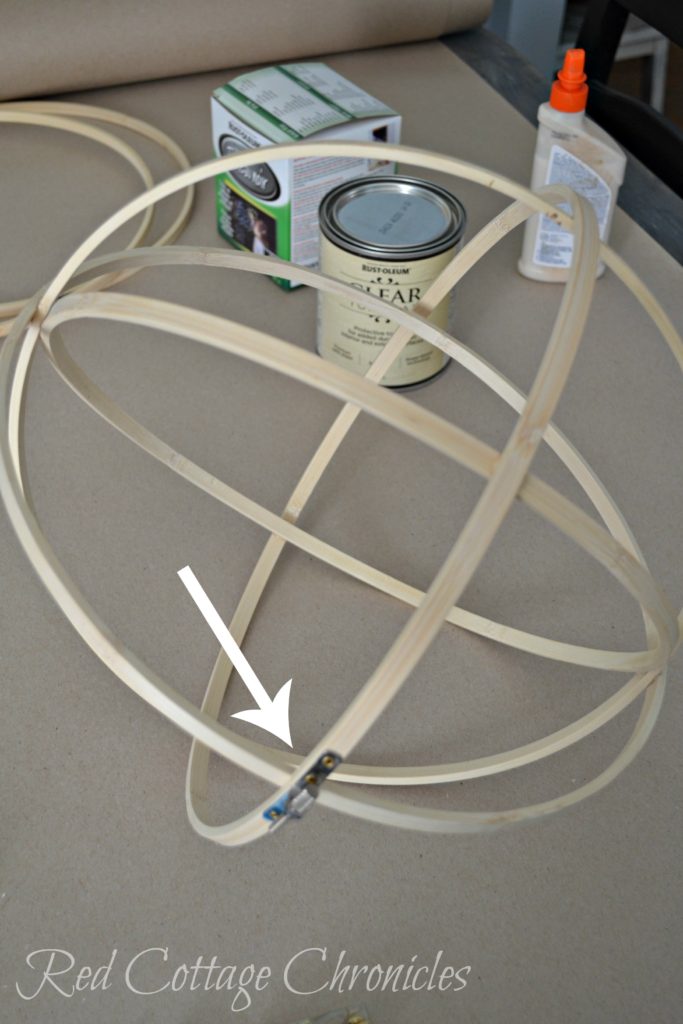 In a well ventilated area (preferably outdoors) spray the entire orb black in 2 or 3 light coats. I placed mine into a deep box to keep over spray to a minimum, but I have my eye on one of these spray paint tents!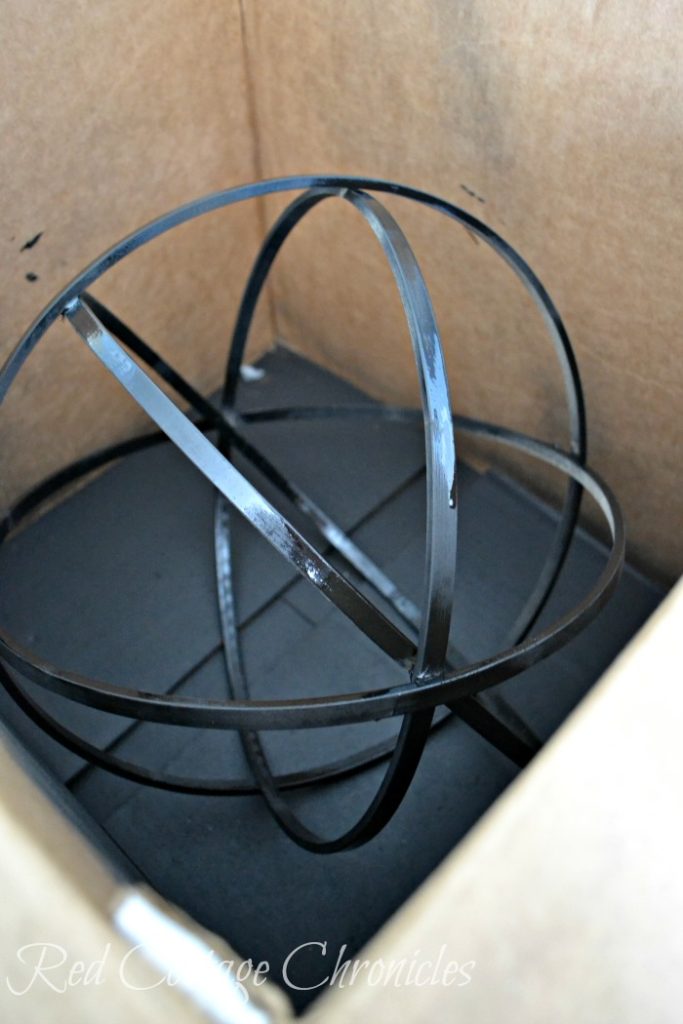 Allow to dry overnight (or at least an hour or two if you are inpatient like me!)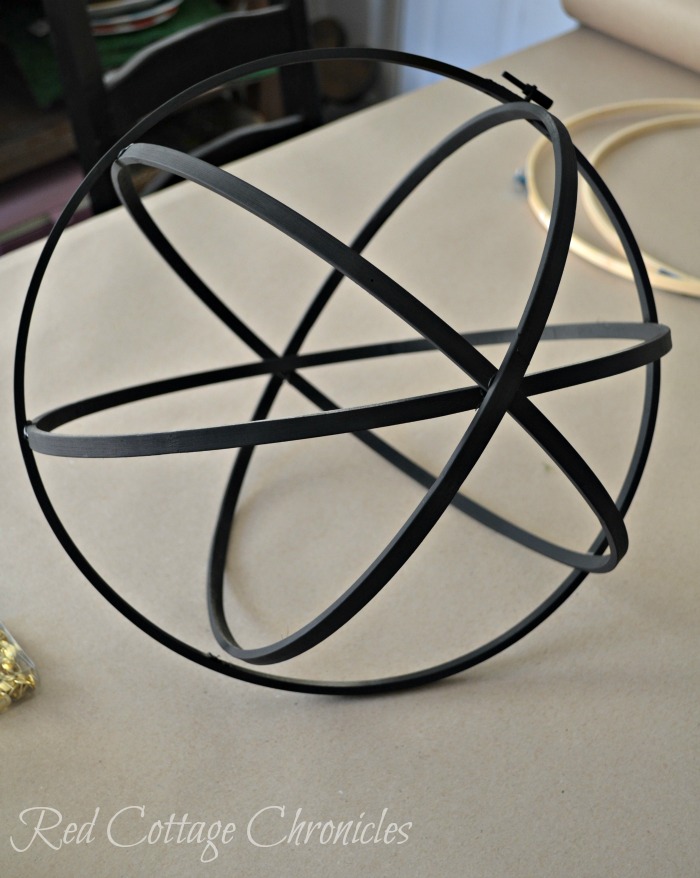 I could not get that one last joint close enough to glue together, but since it was the only one, I wasn't worried about it!
Now, onto the arrangement!
Gather some evergreen stems either from your own yard, or head out of a hike and bring some snippers! If all else fails, you can buy Christmas greens at almost every grocery store during the holiday season.
Place the orb on your table and fit in a leak proof shallow container. I used a leftover takeout tray. Add a block of wet floral foam and either using waterproof florist tape or string fasten the foam into the tray.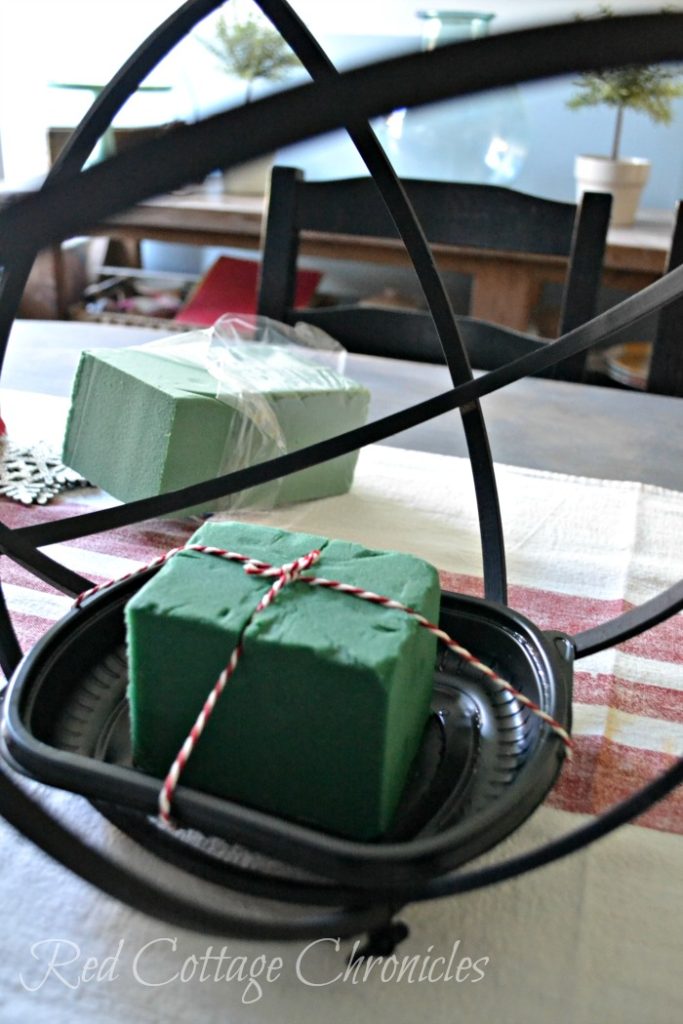 I didn't bother to fasten the tray onto the orb at all, as I don't plan to be moving it around and the weight of the wet floral foam keeps it firmly in place.
Place the orb onto a cake stand of any height you wish. Begin to add greens starting with the lighter flexible ones and layering different types as you go.
I used some clippings from my boxwood bush, my mugo pine, my weeping cedar and another evergreen we have in our yard.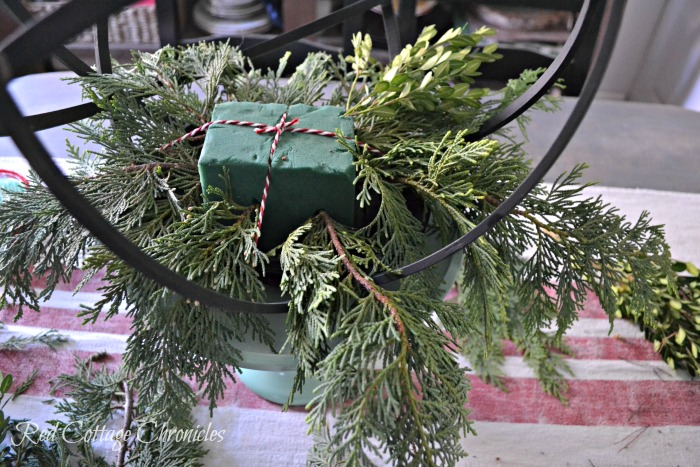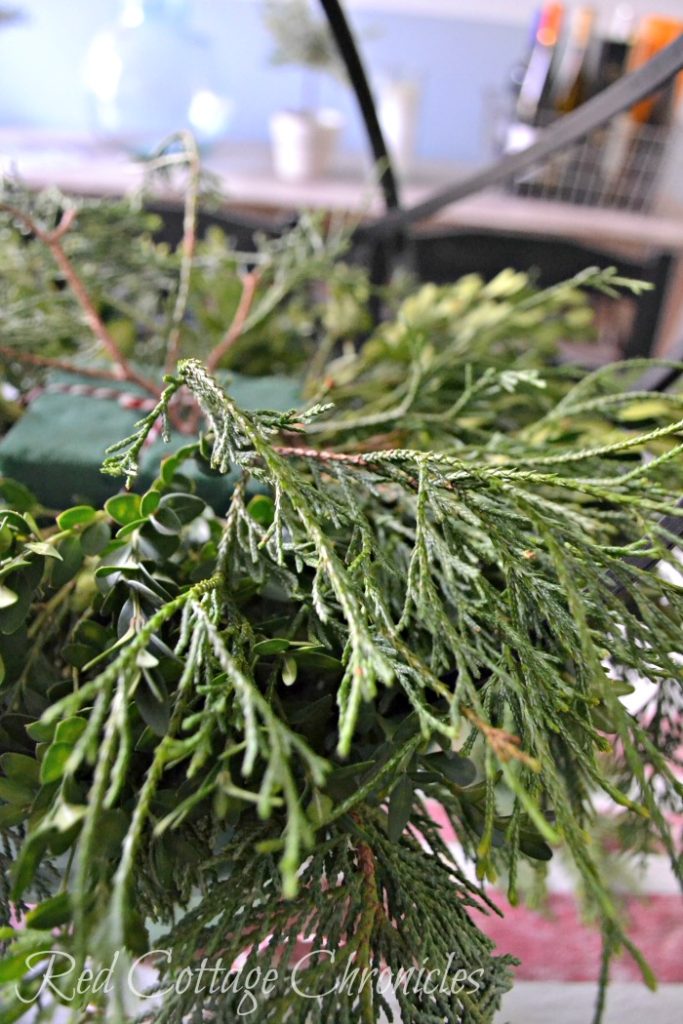 As you fill in the greens to hide the foam, add in a bow and a Christmas embellishment or two. I added a sequenced red bird, a ribbon and a white taper candle.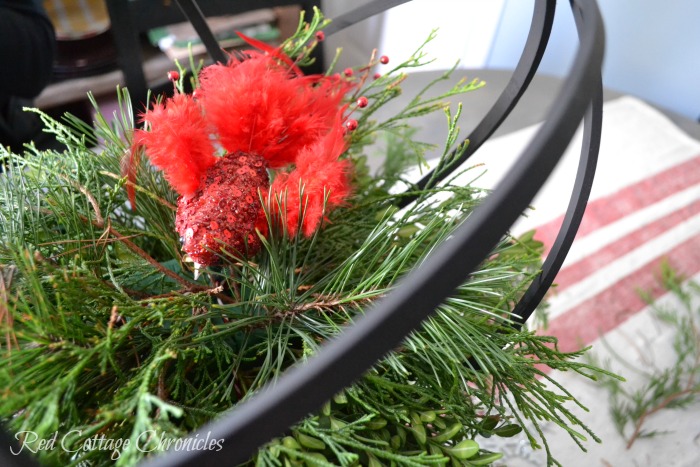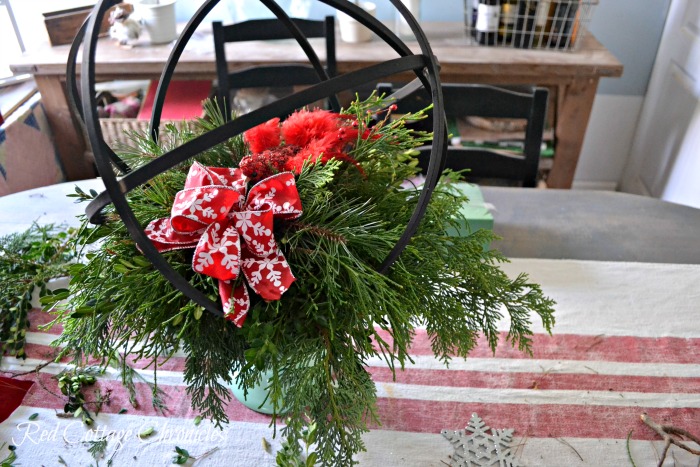 And that is all there is to it! Flower arranging is an art, and in my opinion anything goes when it comes to art! Add in or take away greens wherever you feel it is needed, but don't over think it!
The total cost was around $10.00 for the embroidery hoops and the floral foam. Everything else I had around the house.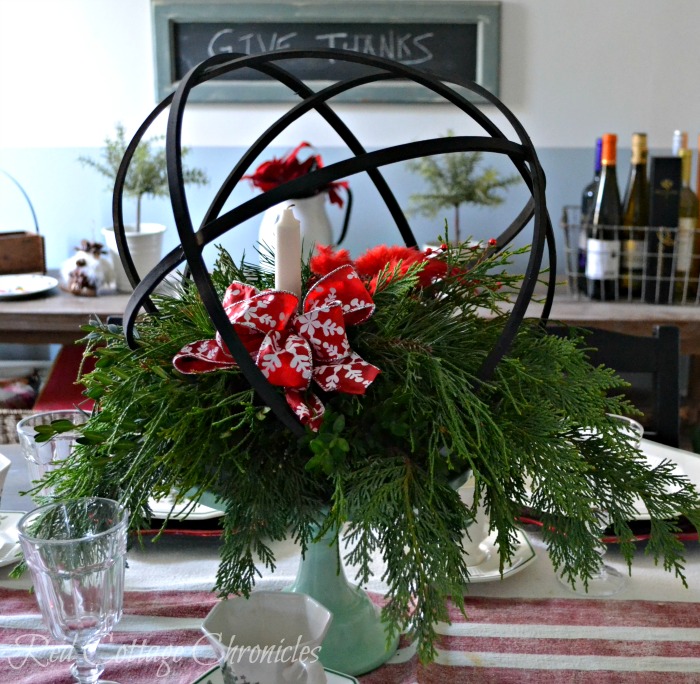 Be sure to add some fresh water to the plastic tray every once and a while to keep the greens fresher longer. With proper care this arrangement should last through the holidays, and after that I can re-purpose the faux iron orb somewhere else in our home or garden.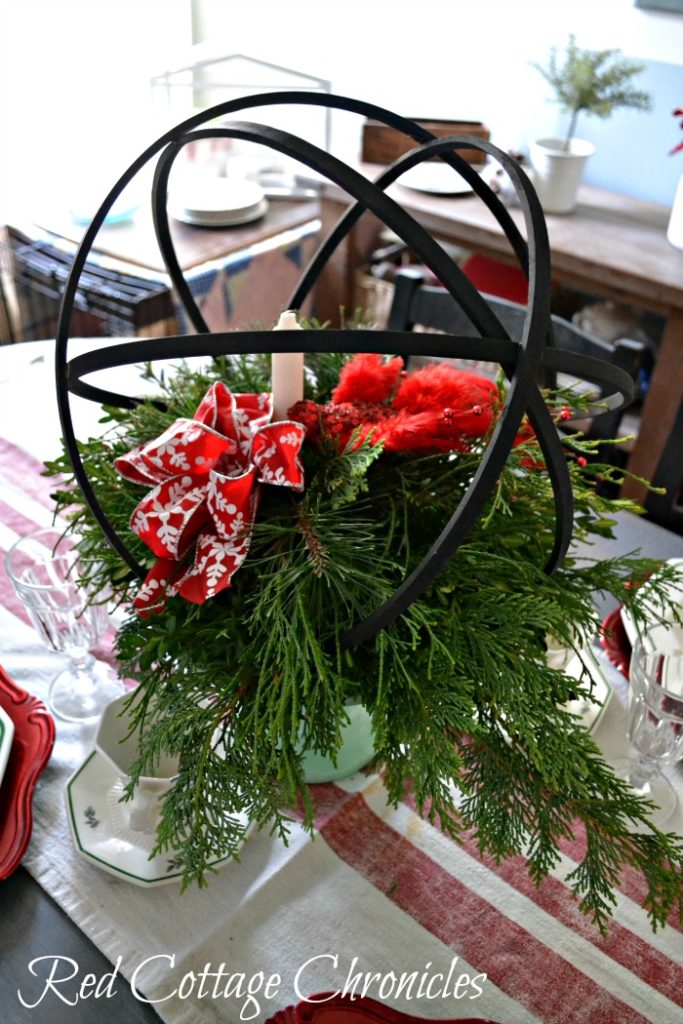 By perching it up on a raised platform such as a cake plate, it leaves plenty of room on the table for food and such.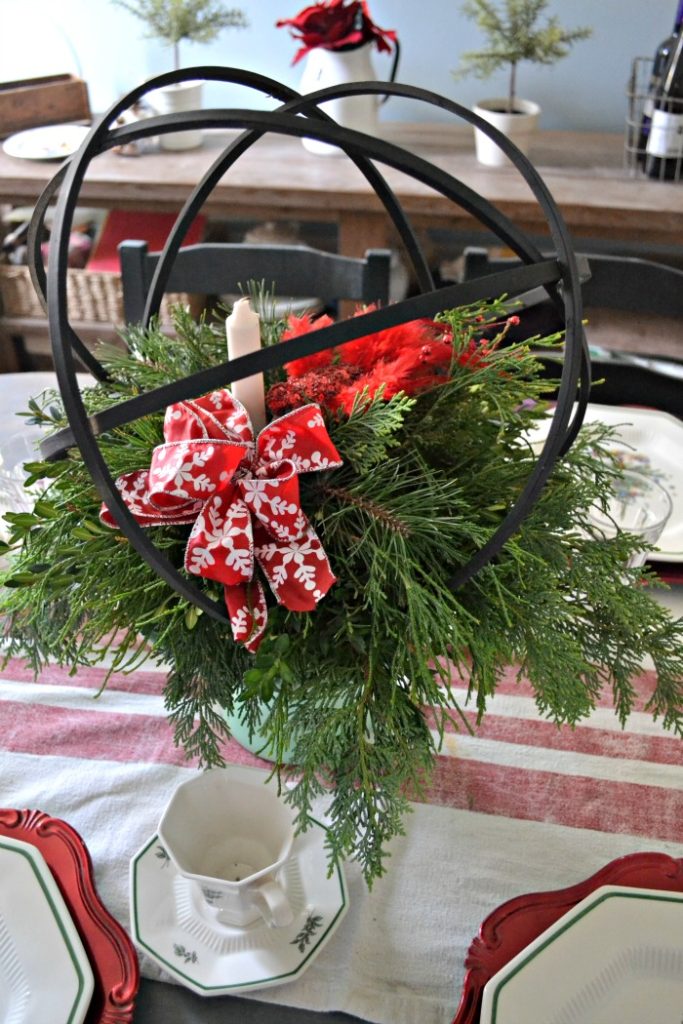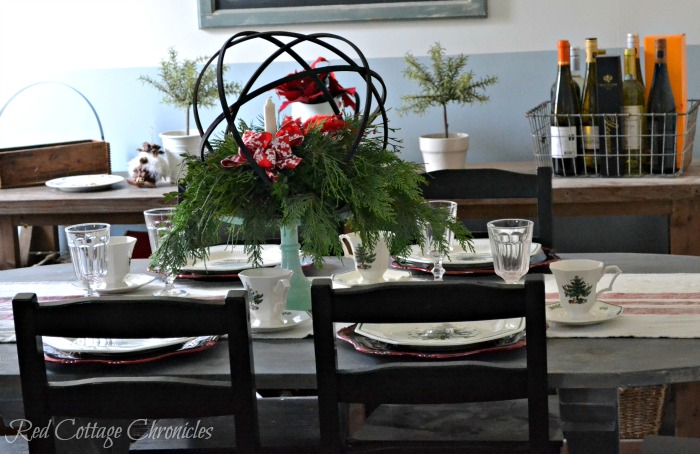 Be sure to check back tomorrow as the Handmake Holiday's blog hop is all about festive food!
But now, for even more Handmade Holiday's decor inspiration be keep the blog hop going and visit all these lovely bloggers who are participating this year!
Looking for even more fun DIY, home decor ideas and recipes? Be sure to subscribe to Red Cottage Chronicles. Just click here and you are on your way to being among the first to know when a new idea comes to life!
Until next time….

A big thank you to Jennifer Priest of Just JP and all the sponsors for making this Handmade Holiday Blog Hop and giveaway possible!