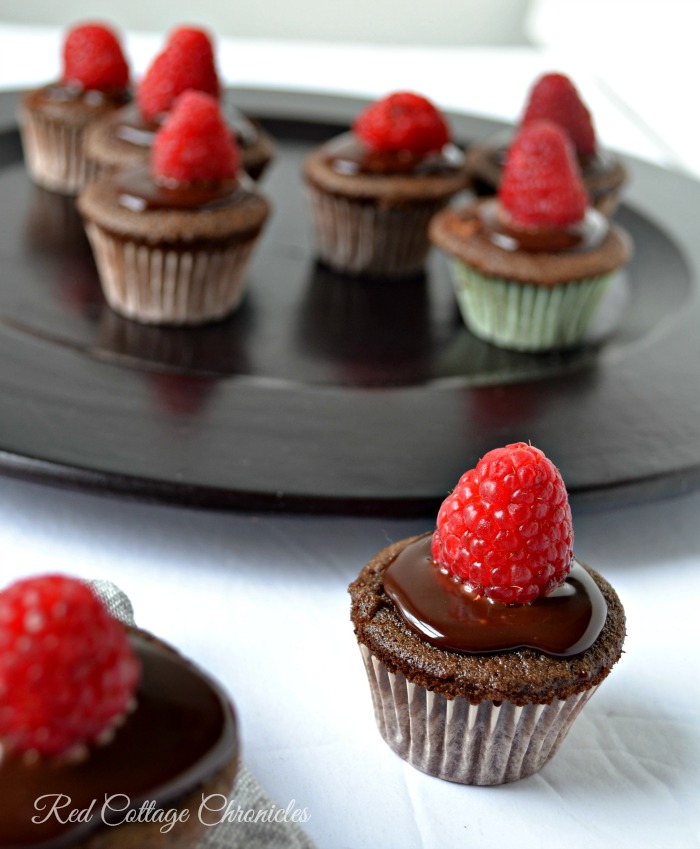 Several years ago I made these Chocolate Raspberry Cupcakes for the Linen Sisters. They are a talented bunch of ladies who meet twice a month to sew linens for the Altar. They cut, sew, embroider, repair and care for all the linens for the Church. Their skills are so awesome they now even sew for other Altar Guilds in the area!
Their main fundraiser every year is a Mother & Daughter Tea where they serve an assortment of teas, along with trays of sandwiches and baked goods, and I these mini chocolate raspberry cupcakes were perfect for the occasion.
I made then again this weekend as a treat for the employees my husband supervises at work. They are getting ready for a visit from "the bigwigs" from head office and have all been working extra hours to make sure everything is up to snuff.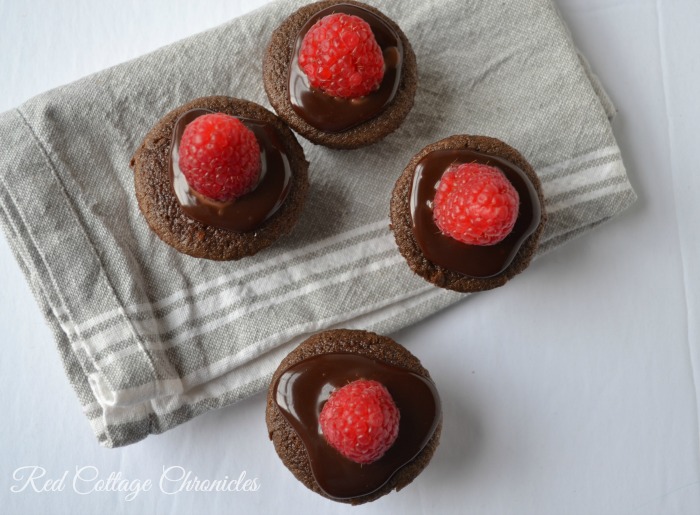 His guys have come to welcome the treats I bake for them and I often get requests for their favorites like these salted caramel puff pastries, but I thought I would surprise them with something different. Turns out they have another favorite to add to their list! Really though, they are always so appreciative when I send them in a treat.
They do take 3 steps to make, but are worth the bit of extra effort. While I am baking the cupcake I will make the filling and the ganache. The ganache needs a bit of standing time anyway to allow it to thicken up a bit, and since it is the last step, it is ready to go when I need it.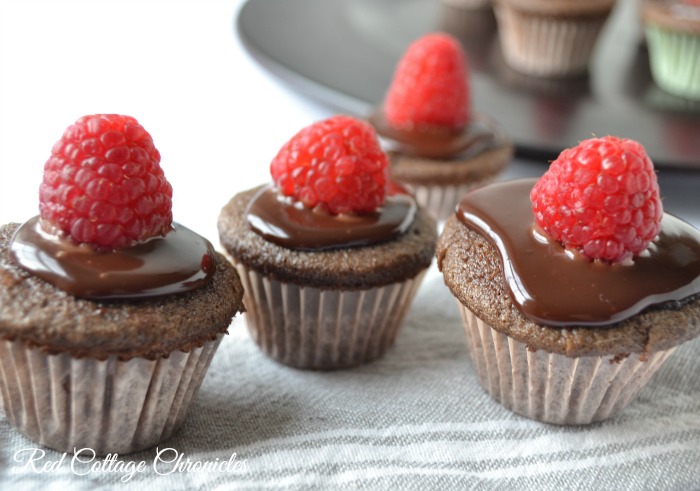 I do find that filling the cupcake liners with batter a bit messy and used to use a pastry bag, but hated having to clean it out. Now I use my trusty mini cookie scoop. It holds just the right amount of batter for each cupcake and I throw it in the dishwasher for easy clean up. It is one of my favorite kitchen tools.
You will need a pastry bag for the filling though. No getting out of cleaning up at least one, unless you buy the plastic disposable ones. You will also need a #230 filling tip. Just put the tip right down into the middle of the cooled cupcakes and squeeze out a bit of filling.
Once the cupcakes are filled, drizzle about a half teaspoon of the thickened ganache over the top and add a fresh raspberry for that extra fresh raspberry flavor.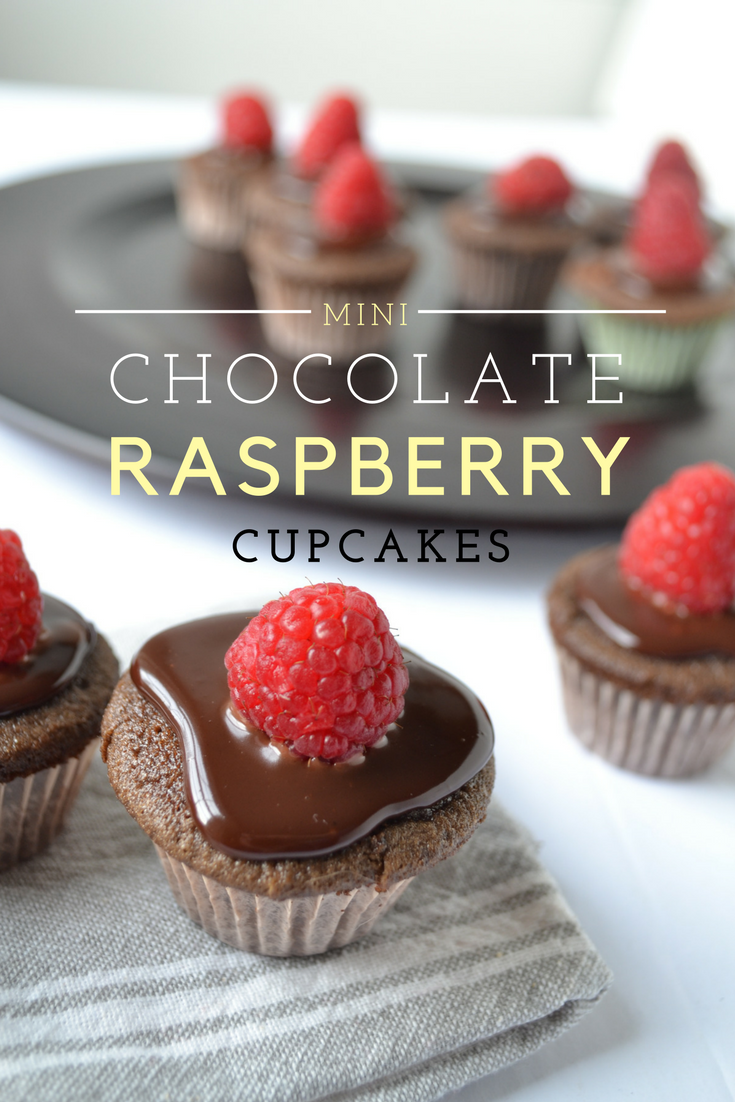 This recipe makes about 50 mini chocolate raspberry cupcakes, which makes it the perfect recipe for bake sales, tea parties, or just feeding a crowd!
Until next time…..

Mini Chocolate Raspberry Cupcakes
2017-01-28 12:31:47
Serves 50
Ingredients
2 ounces unsweetened chocolate
3 teaspoons vanilla extract, divided
1/2 cup butter + 2 tablespoons
1 ½ cups sugar
2 eggs
2 cups cake flour
1 1/2 teaspoons baking soda
1/2 teaspoon salt
1 cup ice water
4 ounces of cream cheese, softened
2 cups icing sugar
4 tablespoons seedless raspberry jam
6 ounces Belgian dark chocolate
2/3 cup whipping cream
Instructions
Preheat oven to 350 degrees. Line mini muffin tins with mini cupcake liners and set aside.
Melt the unsweetened chocolate in a heatproof bowl over simmering water and set aside to cool.
Cream 1/2 cup of the butter and slowly beat in sugar, beating until light and fluffy.
Add the eggs, one at a time, and 2 teaspoons of vanilla; mix well.
Add the chocolate and mix until combined.
Sift together the flour, baking soda and salt and add to chocolate mix. Mix on low speed for a few seconds until combined, and then continue mixing on medium for about 2 minutes.
Add 1 cup of ice water and on low speed mix, increasing speed to medium once all the water has been incorporated , continue beating for about a minute.
Using a tbsp or filling a pastry bag with batter, fill each muffin tin to approximately 2 thirds full. Bake for about 10 minutes, until toothpick inserted in centre comes out clean.
Remove from oven and cool completely on cooking rack.
While the cupcakes are baking prepare the filling and the ganache.
In bowl of mixer, cream together cream cheese and remaining 2 tablespoons of butter.
Add raspberry jam and mix until combined.
Add vanilla, and icing sugar and combine well. If you prefer a thicker filling, you can add more icing sugar as required.
For the ganache chop chocolate into very small pieces and add to a heatproof bowl.
Heat cream until just until boiling. Watch carefully as you don't want this boil over.
Remove from heat and add hot cream to chocolate and mix until shiny and smooth.
Allow to set and thicken slightly
To assemble to cakes, fill a pastry bag fitted with a #230 tip with cream cheese filling. Insert tip into each mini cake and squeeze a small amount of filling into centre.
Top each cake with about a 1/2 teaspoon of ganache, and 1 fresh raspberry!
Red Cottage Chronicles https://www.redcottagechronicles.com/