Pineapple Coconut Angel Food Cake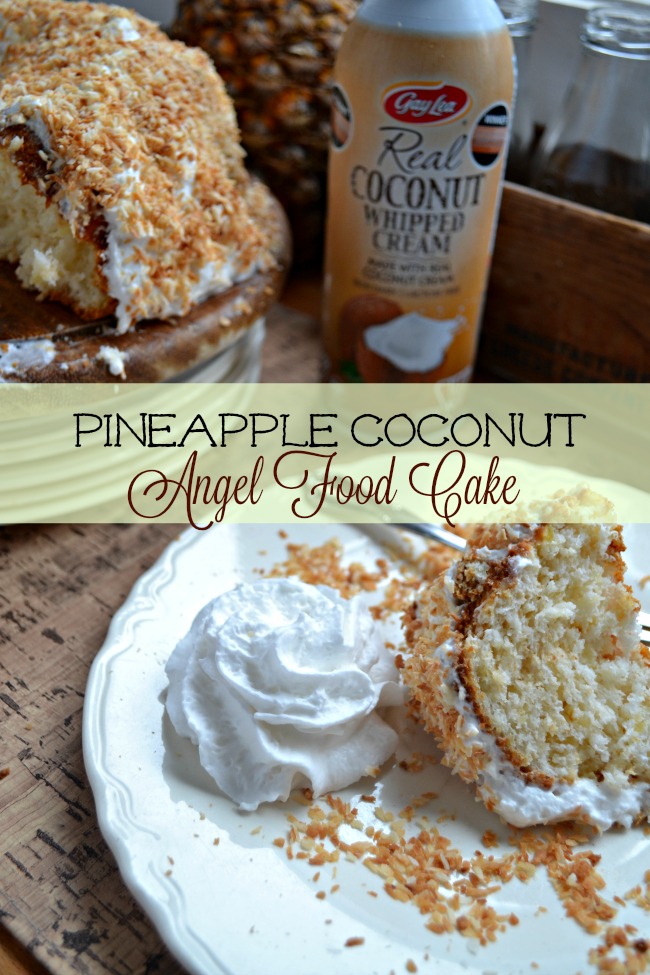 Our family has a longstanding birthday cake tradition. I have no idea where my mom came up with the idea. A simple store bought angel food cake, frosted with whipped cream blended with crushed chocolate bars. The type of chocolate bar varies with the person whose birthday we are celebrating, but that is all that changes!
When I was thinking about a cake for Easter I came up with the idea of making a pineapple angel food cake and "frost" it with coconut whipped cream and toasted coconut.
The same family favorite lightened up with pineapple and coconut.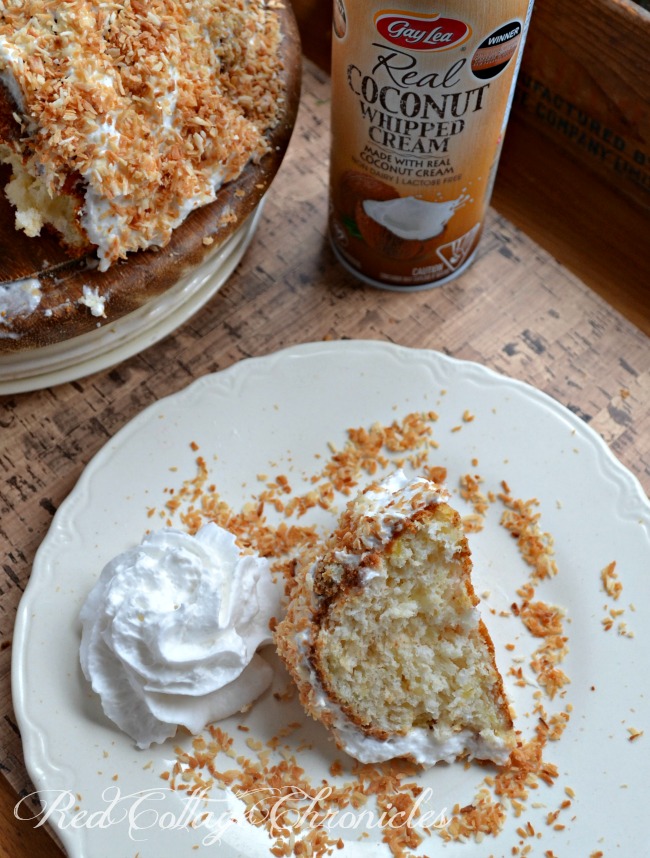 Less than 10 minutes of hands on time and you have one light and delicious dessert.
The pineapple angel food cake took literally 2 minutes to get in the oven. Simply add a 14 ounce can of crushed pineapple to a angel food cake mix, pour into a bundt pan sprayed with non-stick spray and bake according to the cake mix directions then allow to cool!
The best part is using GayLea's Real Coconut Whipped Cream. It is made with real coconut cream, is vegan friendly and 100% delicious!
I discovered this delicious whipped cream when I was looking for a vegan option to top fresh fruit. It is dairy, lactose and gluten free it is the perfect option when I am making deserts for my vegan/lactose intolerant nephew.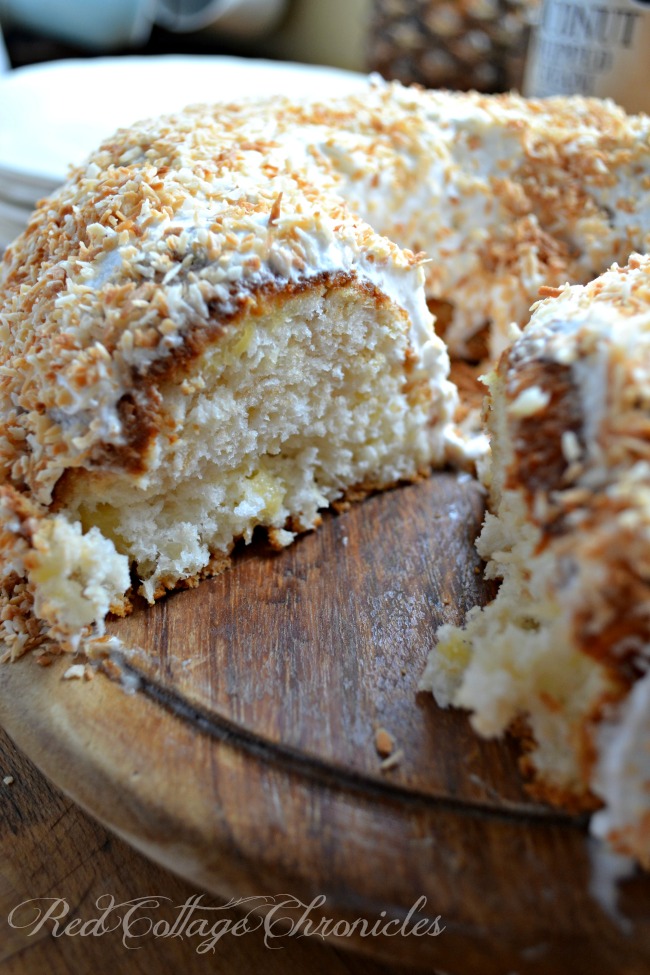 Every single bite gives you the lightly sweet taste of crushed pineapple and smooth coconut flavor of the whipped cream finished with the crunch of toasted coconut!
And, did I mention how easy it is!
Simply combine pineapple and angel food cake mix and pour into a bundt pan and bake.
Spray on Gay Lea Coconut Real Whipped Cream and spread to evenly cover cake.
Sprinkle generously with toasted coconut.
Sit back and enjoy the compliments on your delicious dessert!
(I recommend refrigerating the prepared cake until ready to serve)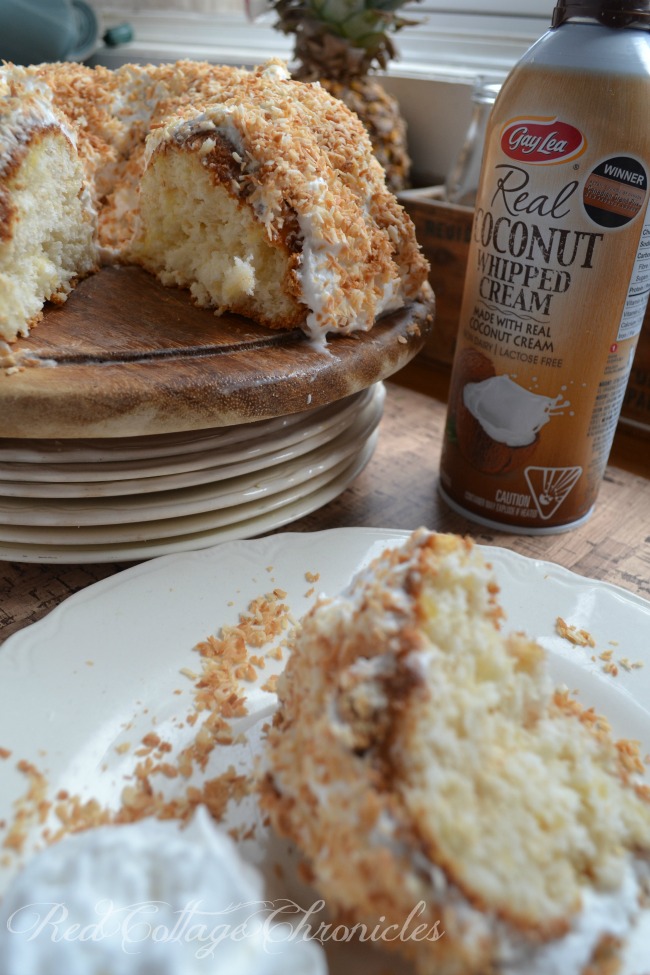 Since discovering this coconut whipped cream last summer we have used it to top hot chocolate, cream pies, pudding, and fruit! And, when no one is looking….sneaking a shot straight from the can!
You can visit Gay Lea on Pinterest for even more ways to use their line of real whipped cream including original and low fat varieties.
Until next time…..
Maureen
"Disclosure: I am part of the Gay Lea Ambassador Campaign and I receive special perks as part of my affiliation with this group. The opinions on this blog are my own."