While my Nana's Scottish shortbread recipe will always be my favorite, I couldn't resist trying this yummy pumpkin shortbread. After all pumpkin season is such a short season!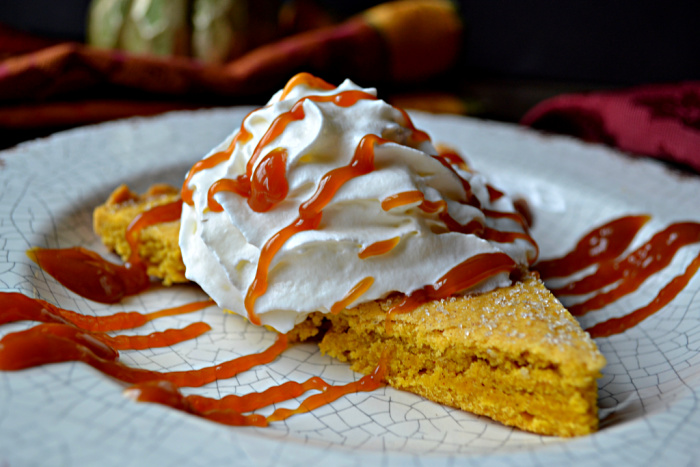 Do you love baking with pumpkin? When I was a kid I turned my nose up at anything pumpkin. Particularly pumpkin pie. Now, I can eat pumpkin pie straight out of the pan. No whipped cream required! I like to think I have a more refined pallet now that I am older!!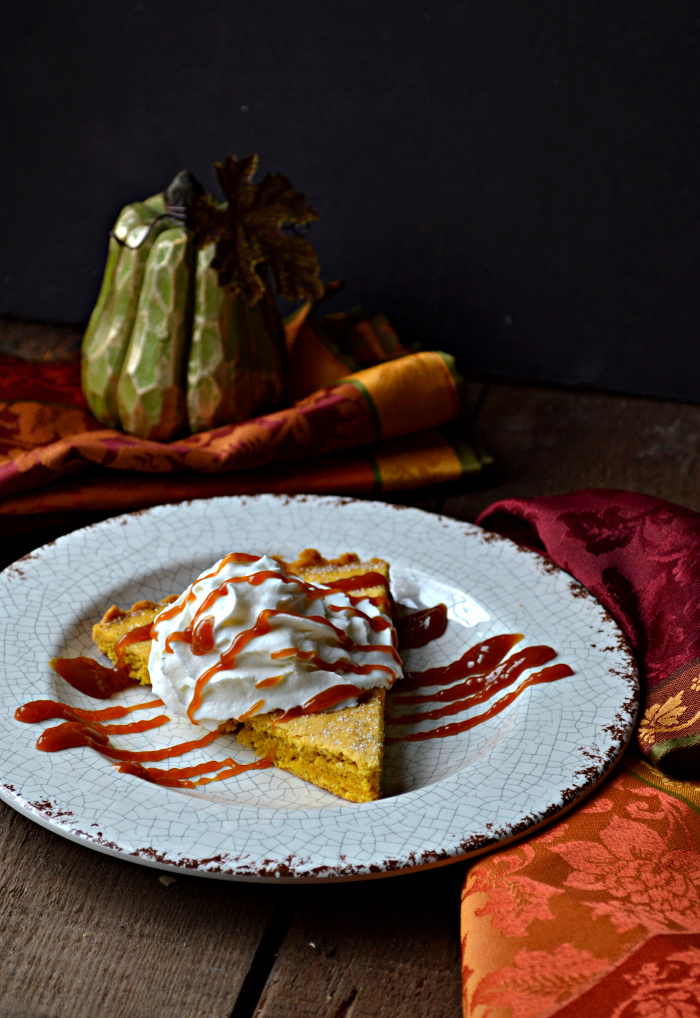 But then I couldn't resist jazzing it up a bit for dessert. A dollop of whipped cream and a drizzle of caramel sauce took it to the decadent dessert level!
While original shortbread has a buttery, and somewhat sandy yet firm texture, this pumpkin shortbread is more tender and moist. Instead of baking these in a square pan use an 8 inch round tart pan, and it cut into wedges so the are the perfect size for dessert.
They were just as good the next day all on their own. A sprinkle of sugar adds a touch of sweet to the pumpkin spice flavor.
I am so ready for the official start of autumn this week and this pumpkin shortbread has me dreaming of cool days and cozy nights. Pumpkins are starting to show up at the Farmer's markets and grocery stores. Garden mums in all he colors of fall too.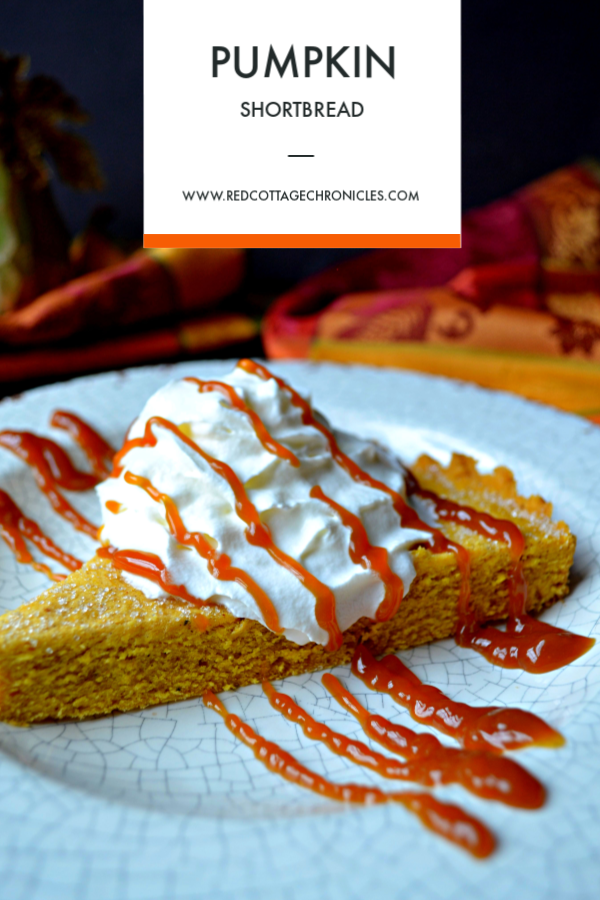 Here in Canada we will be celebrating Thanksgiving in a few short weeks. And, of course October is my birthday month so that is a celebration all its' own! So many reasons to bake up some autumn pumpkin goodness!
Oh, if you want to try my nana's Scottish shortbread, you can find the recipe here.
Until next time….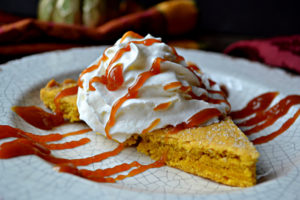 Pumpkin Shortbread
2018-09-18 17:30:31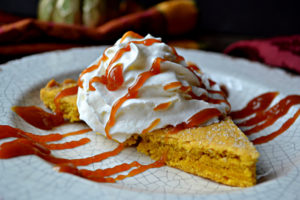 Serves 6
Ingredients
1 1/4 cups all-purpose flour
1/2 cup cornstarch
1 1/2 teaspoons pumpkin pie spice
1/2 teaspoon salt
3/4 cup unsalted butter, softened
2/3 cup icing (confectioners) sugar
1/2 cup Pure Pumpkin (not pumpkin pie filling)
Course sugar for sprinkling
Optional: whipped cream and caramel sauce
Instructions
PREHEAT oven to 300° F. Spray 9-inch tart pan with removable bottom with nonstick cooking spray.
In a small bowl whisk together flour, cornstarch, pumpkin pie spice
BEAT butter and icing sugar in bowl of electric mixer until creamy. Add pumpkin and beat until combined.
Add the flour mixture and mix just until incorporated.
Spread dough into prepared pan, smoothing top with spatula.
BAKE for 70-80 minutes, until firm and golden. Remove from oven and sprinkle top with course sugar.
Cool for about 10 minutes.
Remove side from pan and serve warm or allow to cool completely.
Cut into wedges when ready to serve.
To serve as dessert, top with whipped cream and drizzle with caramel sauce
Red Cottage Chronicles https://www.redcottagechronicles.com/