The Very Best Cheddar Cheese Tea Biscuits
Tea biscuits are one of those comfort foods for me.  Some of my best memories of childhood revolve around food. Cheese tea biscuits are even better!
I always remember my mom whipping up a batch of biscuits a Saturday evening. They were a favorite of my dad, and we got to enjoy them warm from the oven slathered with butter and homemade strawberry jam.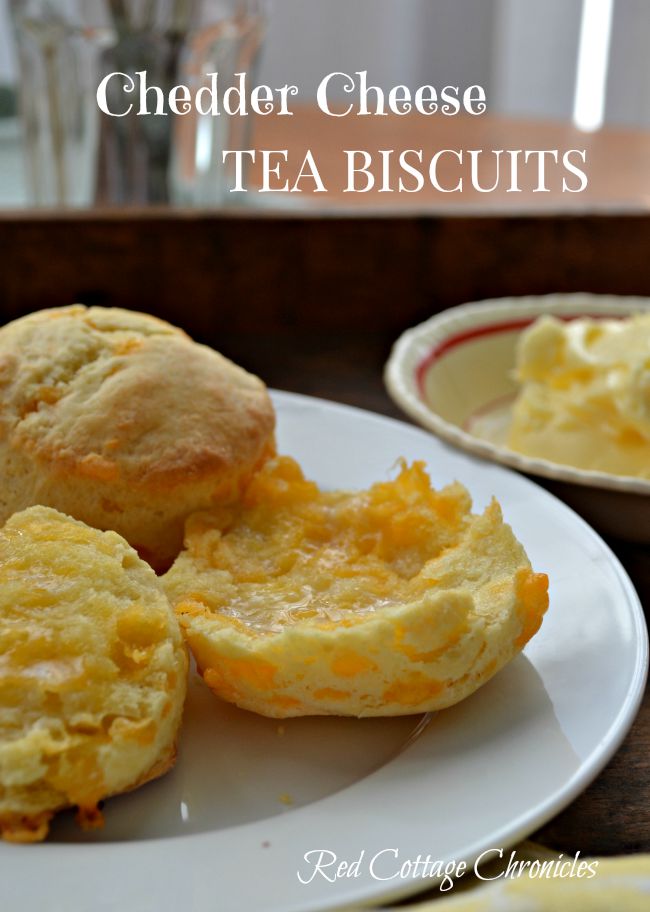 Why you will love them
these cheese tea biscuits are loaded with sharp cheddar cheese
they rise up so high and fluffy
serve these warm from the oven with a steaming bowl of hot chili or stew
perfect for after school snack
made from simple ingredients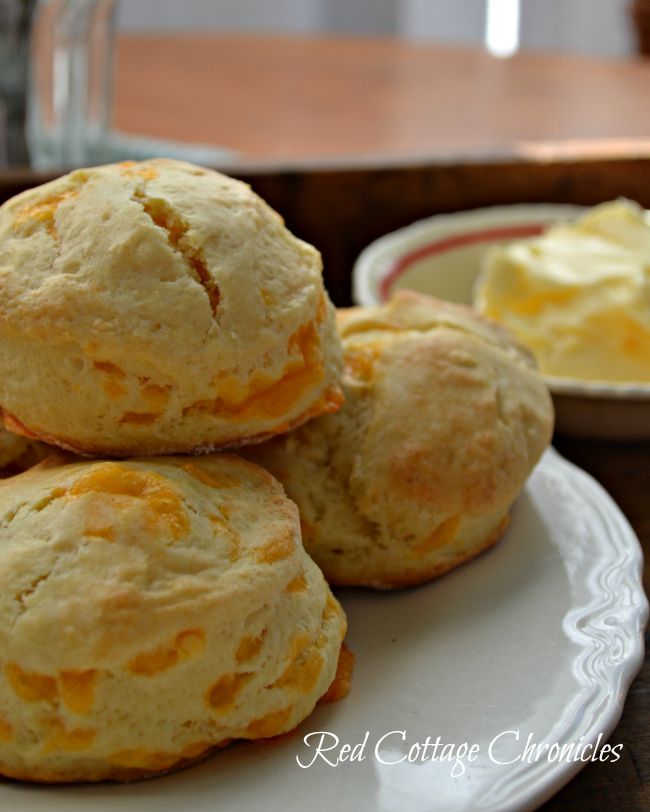 How long does it take to make tea biscuits
I vaguely remember actually watching my mom make them (eating them comes to mind clearly though!), but I do remember thinking they were rather complicated and it seemed to take forever. I was very wrong!
Now that I make them myself I cannot believe how easy and quick they are to whip up.  Start to finish takes only about 20 minutes and about 15 of that is baking!
Now that I am older and more refined I still love them smothered in butter, but am equally partial to balsamic strawberry jam or apple jelly!
Which reminds me. Have you ever tried apple pie with a really good piece of aged cheddar? Yum!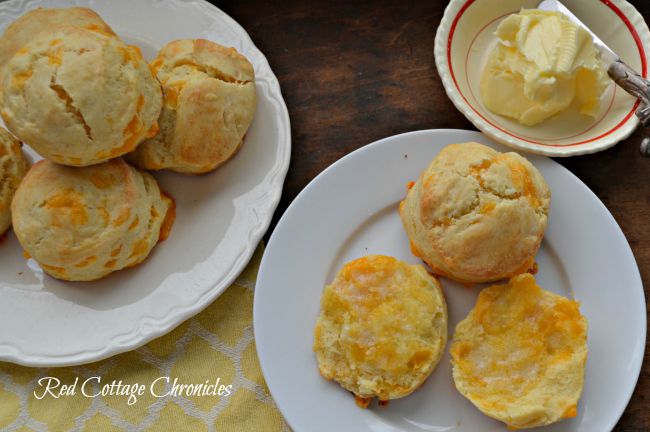 Prep tips that I find make for a fool-proof cheese tea biscuits:
Do not over work the dough – just mix till moist and knead 7 to 8 times
Don't use a rolling pin, just pat the dough out into a rectangle
Use a biscuit cutter for perfect rounds every time
Line your baking sheet with parchment or other non-stick sheeting
Don't forget to brush the tops with milk or cream before baking
Try if you can to enjoy hot from the oven, otherwise 20 seconds in the microwave is all that is needed to reheat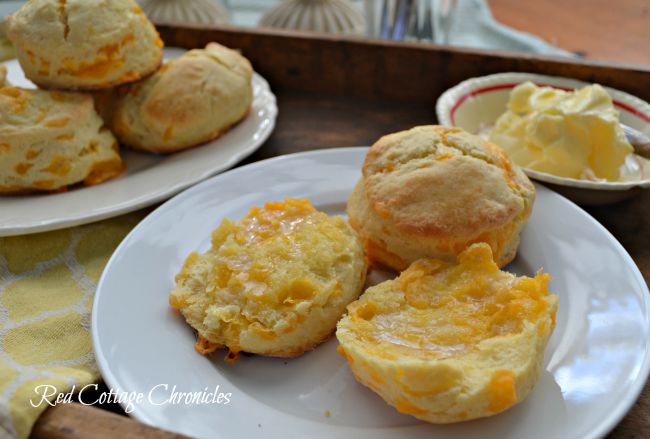 And don't skimp on the butter!
Other Biscuit Recipes to try
Until next time…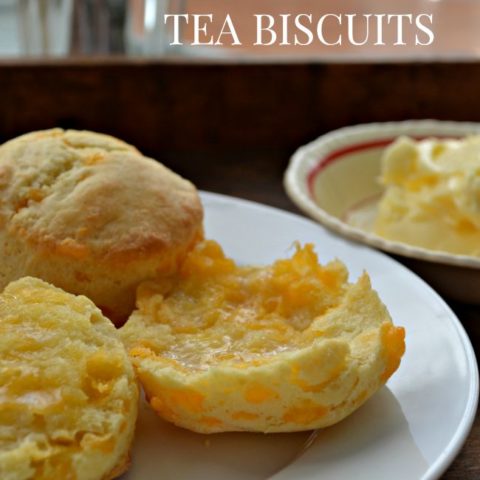 The Very Best Cheddar Cheese Tea Biscuits
Classic Cheddar Cheese Tea Biscuits that rise high and are so light and fluffy on the inside.
Ingredients
3 1/2 cups all purpose flour
2 tablespoons baking powder
1/2 cup + 2 tablespoons shortening, chilled
1 cup milk
2 eggs, beaten
1/2 cup + 1 tablespoon sugar
1 teaspoon salt
1/2 cup grated sharp cheddar cheese
Instructions
Preheat oven to 400 degrees, and line baking sheet with parchment paper
Whisk the flour and baking powder together
Rub shortening into the flour mixture until it resembles course crumbs
Dissolve the sugar and salt into the beaten eggs and milk, whisking until sugar is dissolved
Add liquid to flour mixture all at once, and using a wooden spoon or spatula mix only until the mixture comes together. Dough will be sticky and wet.
Turn the dough out onto a well floured and surface and sprinkle with the shredded cheese. Work dough gently until dry and cheese is combined. Add flour as needed. Do not overwork the dough.
Knead 8 to 10 times and then sit aside to allow to rest for 5 to 10 minutes.
Roll out on a floured surface to about 2 cm thickness. Cut into 12 circles with a 3" biscuit cutter, place on parchment lined baking sheet
Brush with milk and bake for 12 to 15 minutes or until golden. Remove from oven and cool on a wire rack.