You won't believe it, but these mini carrot cakes start with a boxed cake mix! By the time you are done though, no-one will be the wiser!
I have always associated carrot cake with spring time. Maybe it has something to do with the Easter Bunny, which leads me to think of carrots. Or, maybe it is the fact that the seeds are being started, and before we know it, we will be picking fresh carrots from the garden.
they really are super easy to make
they are easy to customize
makes for a cute surprise in lunch boxes
great for Easter, Mother's Day, wedding or baby showers
perfect way to make your guests feel extra special when entertaining
Sure, baking a delicious carrot cake does make for a perfect end to a yummy Easter meal. But, making mini carrot cakes really show that attention to detail that make your guests feel super special. (And, they will be none the wiser just how little effort they required!)
What you will need to make Mini Carrot Cakes
rimmed baking sheet
large round cookie cutter
parchment paper (optional)
offset spatula. (optional)
Piping bake and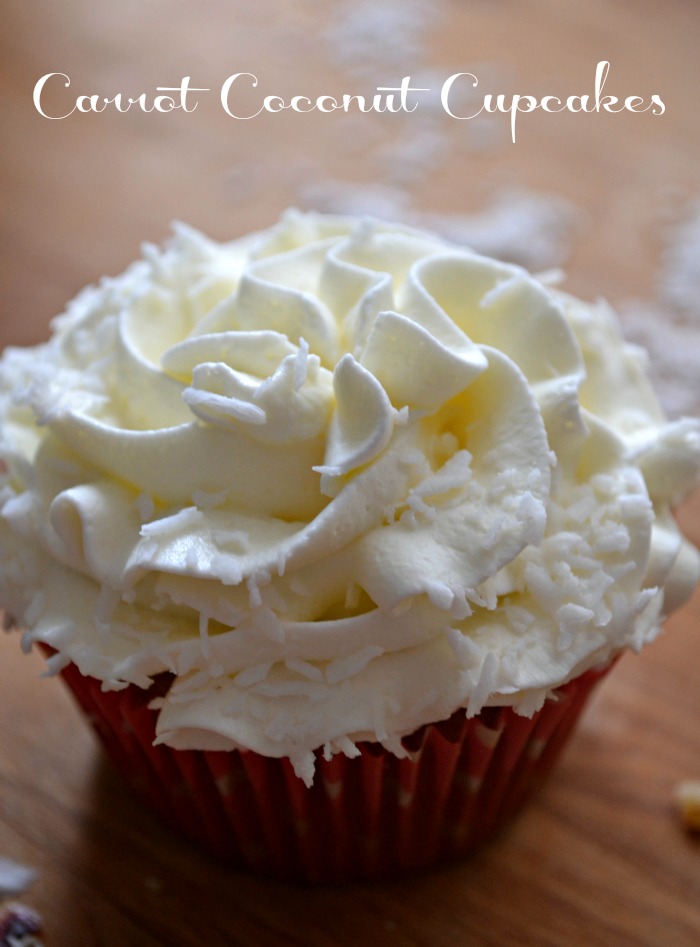 I can't wait to start sharing some of the DIY projects I have on the go! While I put the finishing touches on a few things, I wanted to share the "recipe" for these easy Carrot Coconut Cupcakes. Life has been full lately and keeping me very busy, but I finally had a chance to get back in the kitchen to get some baking done.
We have been enjoying unseasonably warm temperatures here in Southern Ontario, hitting over 60 degrees one day last week. It is so hard not to start leaping ahead to spring thinking. Visions of tulips and peonies have been dancing in my head!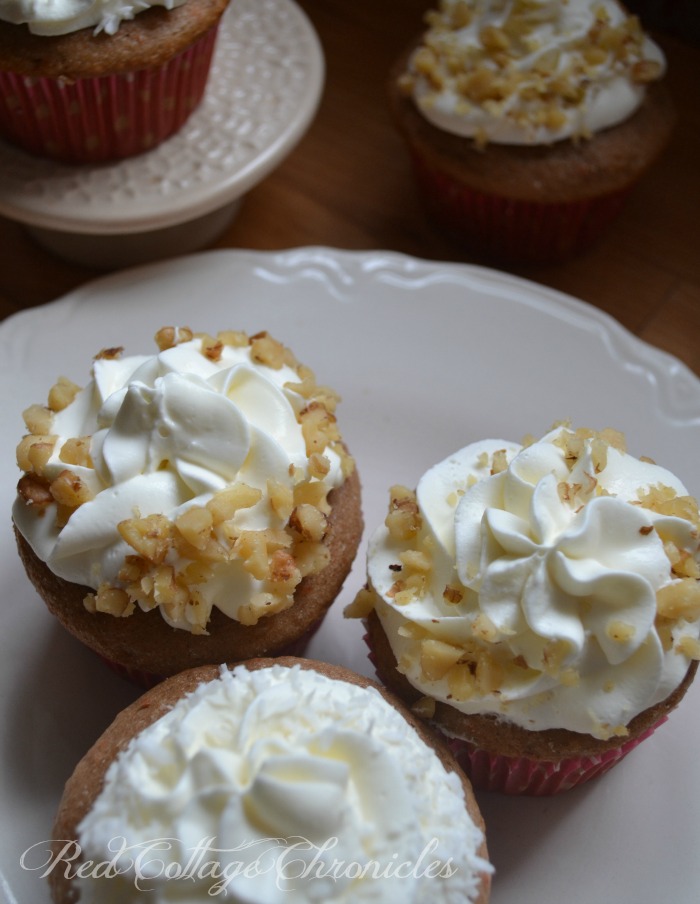 Tim is going to build us a new dining room table so I wanted to find some really gorgeous wood for the top. I found a specialty wood shop in a nearby town and we headed there on Saturday to pick out the perfect pieces.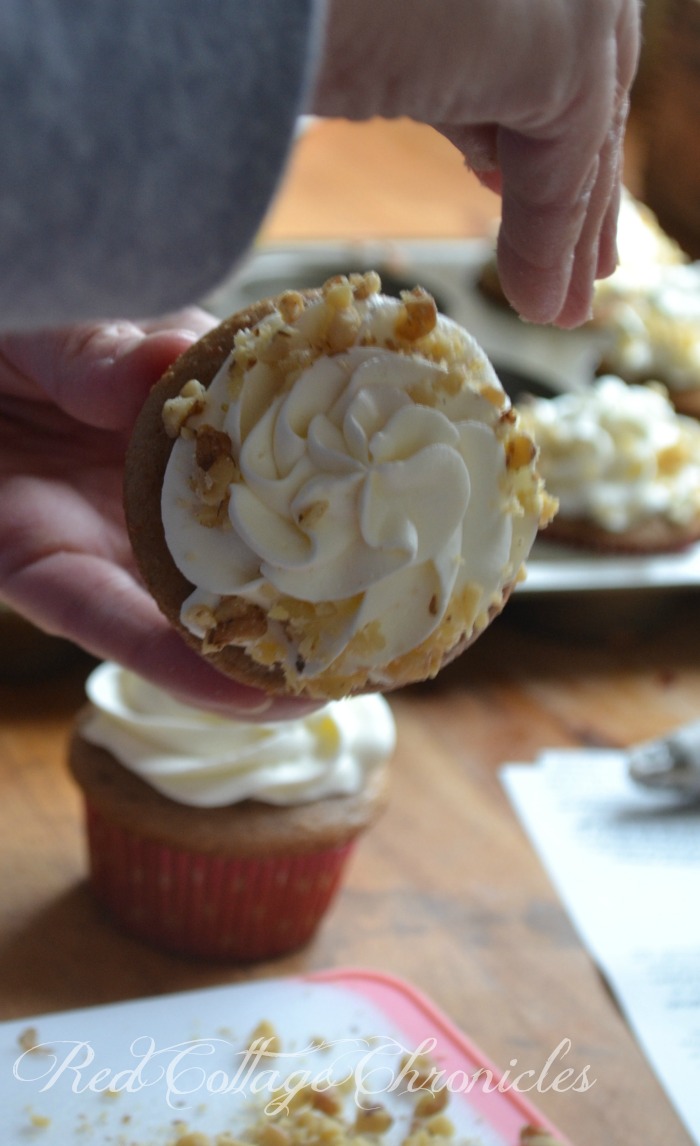 On Wednesday I am going to share how we added a built in "chest of drawers" in some space hidden behind a wall in our very small (10 x 12) "master" bedroom!
Today I had the chance whip up some cupcakes to take to Super Bowl dinner at my sister's house!
The frosting is the creamiest and most decadent whipped cream frosting I have had in a long time that I found here. I changed up the extracts a bit to get the flavour I wanted. The carrot cake is made from a mix with a bit of a twist! Instead of water or milk as called for on the box mix, Silk Unsweetened Coconut milk.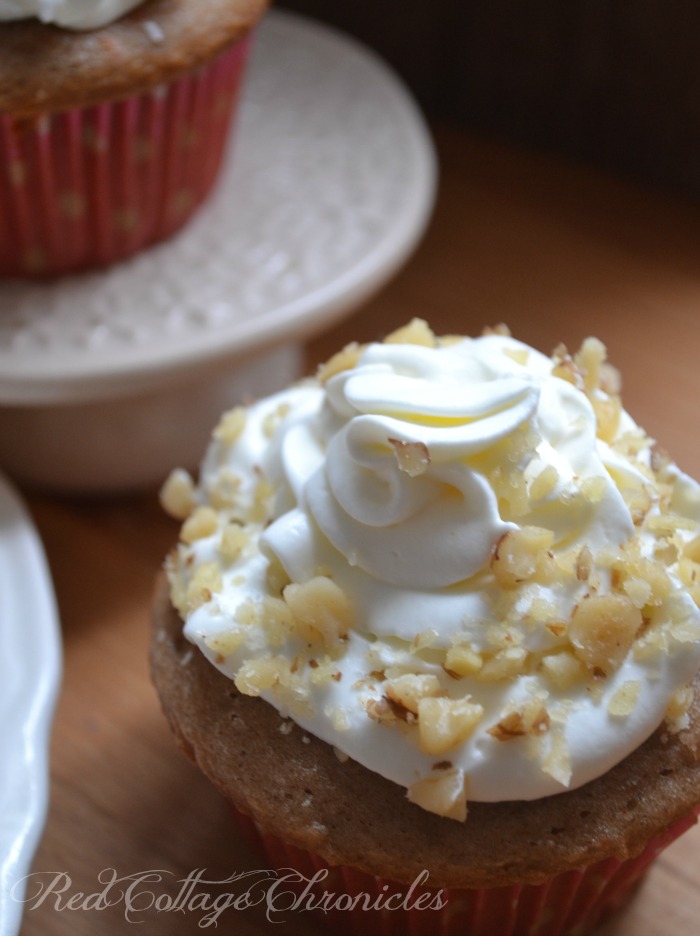 A sprinkling of finely chopped walnuts or sweetened shredded coconut is the perfect finishing touch!
Speaking of finishing touches. You might want to check out my post featuring a delicious fresh strawberry cupcakes and a very funny story about my early attempts at cake decorating!
Until next time….


I would love for you to become part of my Facebook family and invite you to come "like" Red Cottage Chronicles by clicking right here!
Carrot and Coconut Cupcakes
2016-02-07 13:48:23
Serves 20
An easy carrot and coconut cupcake that starts with a boxed cake mix!
Ingredients
1 boxed Betty Crocker Super Moist carrot cake mix
1 cup Silk Unsweetened Coconut Milk
2/3 cup vegetable oil
3 large eggs
1 8 ounce pkg cream cheese
1/2 cup granulated sugar
1 teaspoon coconut extract
2 cups whipping cream
Finely chopped walnuts and/or shredded coconut for garnish
Instructions
In the bowl of electric mixer combine cake mix, coconut milk, vegetable oil and eggs on low for 30 seconds. Increase speed to medium and beat for 2 minutes.
Line 24 cupcake tins with liners and fill each about half way with batter.
Bake for 19 to 23 minutes (testing with a toothpick after 19).
Remove from oven when toothpick comes out clean and allow to cool completely
To prepare frosting
With paddle attachment of electric mixer combine cream cheese, sugar and coconut extract on medium until combined.
Switch to whisk attachment and beat until smooth and creamy.
With mixer still running at medium/high slowly add cream, scraping down the sides of the bowl as necessary, until mixture forms firm peaks. DO NOT OVER BEAT.
You can spread frosting on cupcakes or pipe on with a piping bag.
Sprinkle edges with finely chopped walnuts or shredded coconut.
Refrigerate any leftovers!
Red Cottage Chronicles https://www.redcottagechronicles.com/