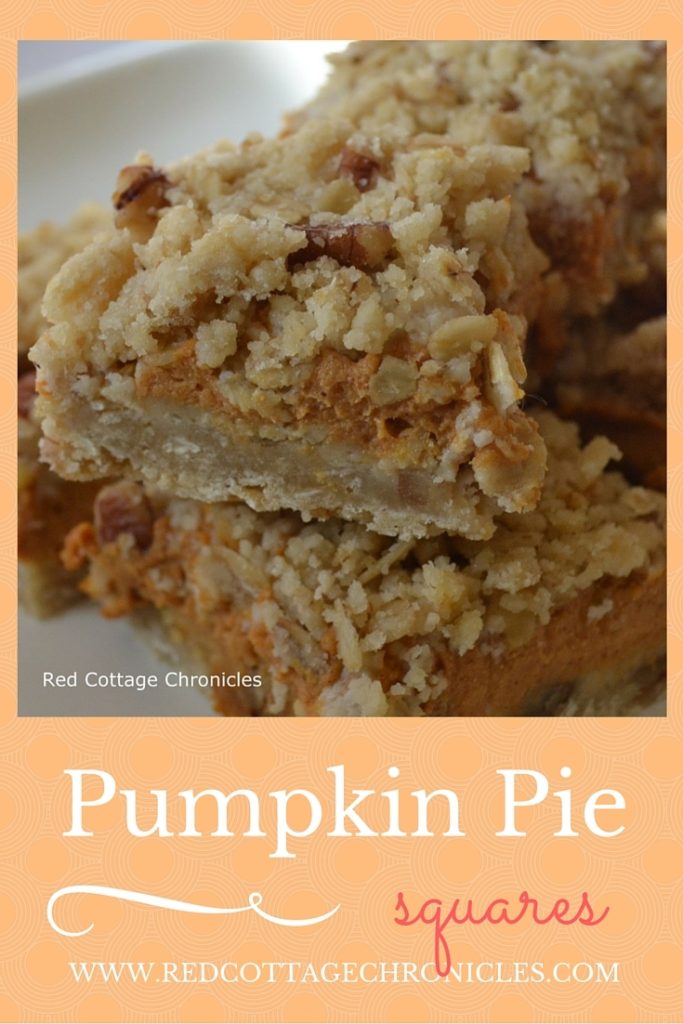 I came across this recipe for pumpkin pie squares quite by accident.
My daughter had requested my low fat pumpkin cheesecake in a jar. I had everything on hand except one key ingredient….low fat Cool Whip. Neither one of us felt like going out to the grocery store, so that was put on hold.
After our visit to the apple orchard yesterday I thought I would whip up an apple crisp, but got side tracked looking through the book of recipes my mom put together for me and found this recipe for pumpkin pie squares. I had everything on hand, and exactly a half hour before Dancing With The Stars was going to start!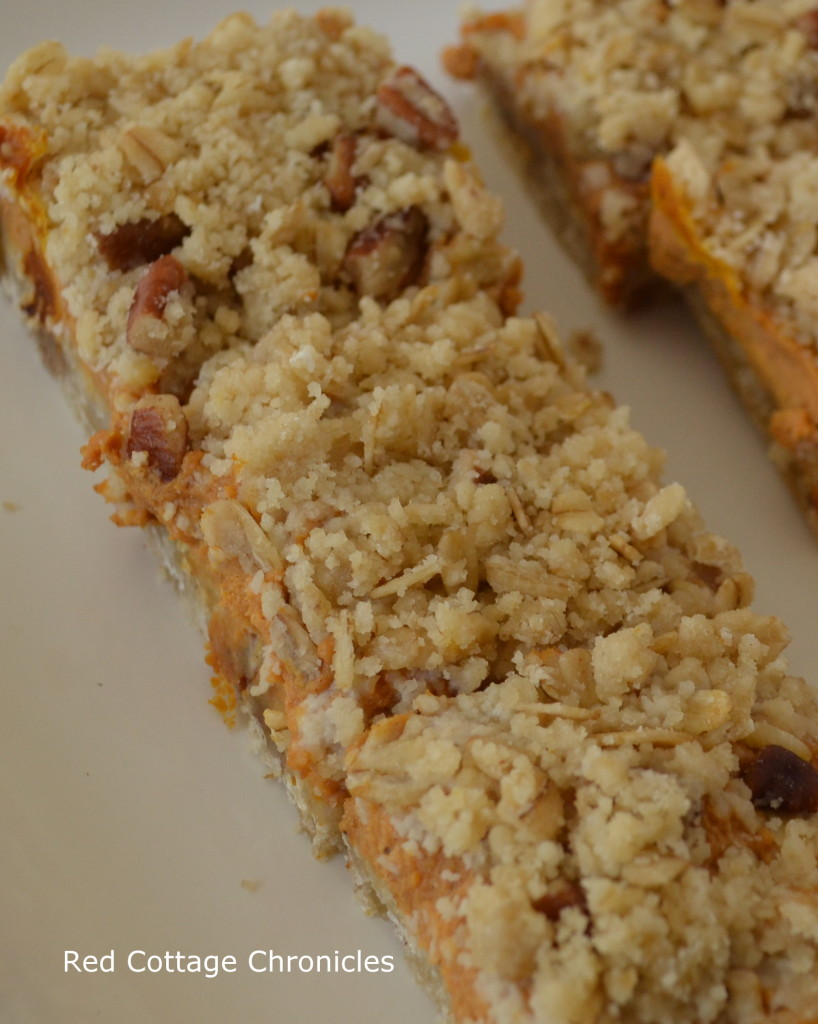 I wanted to lighten it up a bit so I switched it up a bit from Mom's original recipe by using Splenda in place of the sugar and fat free cream cheese in a tub! An 8 inch square pan will give you 16 generous sized squares that work out to 3 Weight Watchers Plus points!
Since I made this late in the evening, the lighting was really pathetic so I didn't photograph the steps required, but they are pretty straight forward!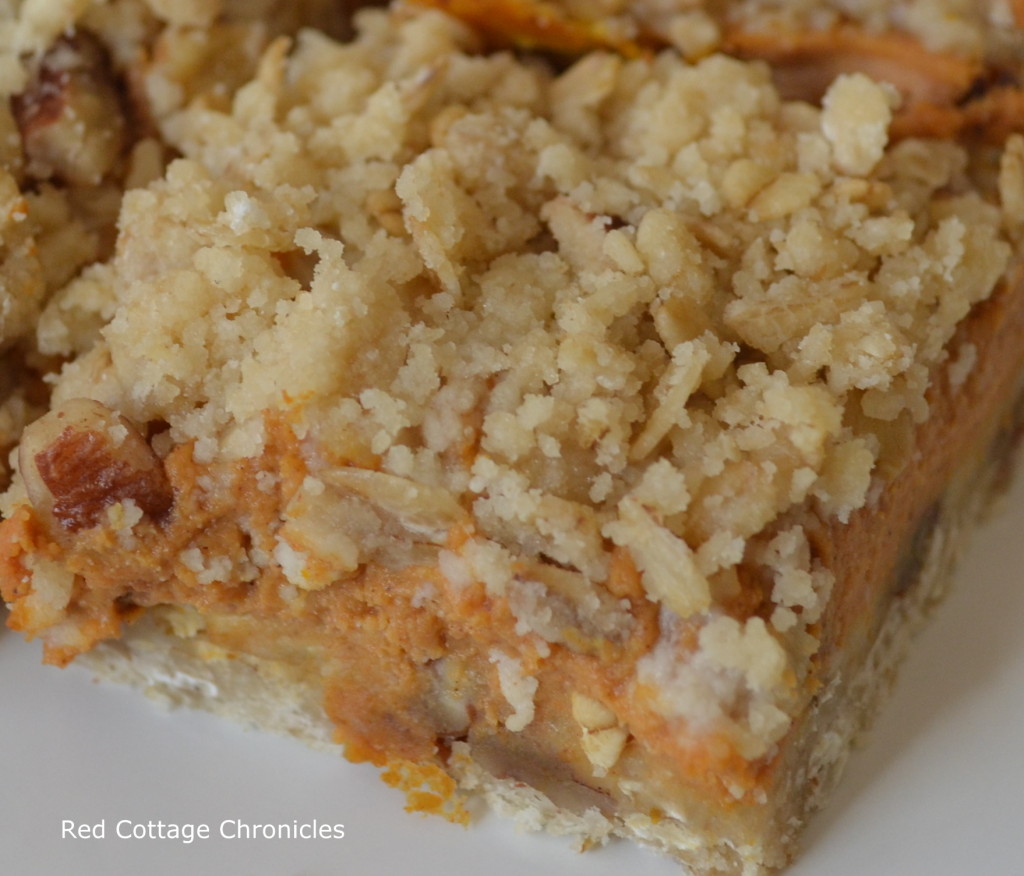 In a large shallow mixing bowl blend together flour, splenda and packed brown sugar. Using clean hands, rub in butter until mixture forms course crumbs. Add old fashioned or quick oats and chopped pecans, and mix in with your hands. Reserve 1 cup of the crumb mixture. Spread the remaining crumb mixture into the bottom of an 9 by 13 pan lined with parchment paper that extends up the sides. Bake at 350 degrees for 14 minutes.
Meanwhile, beat together splenda with ounces pure pumpkin, fat free or low fat cream cheese and eggs. Blend until smooth. Pour over prepared crust.
Top with remaining crumb mixture and very lightly pat down. Bake at 350 degrees for 25 minutes. Remove from oven and cool in pan for 10 minutes. Lift out of the pan by grasping the parchment paper and cool completely on a wire rack. When completely cool it is a good idea to refrigerate for a few hours before slicing.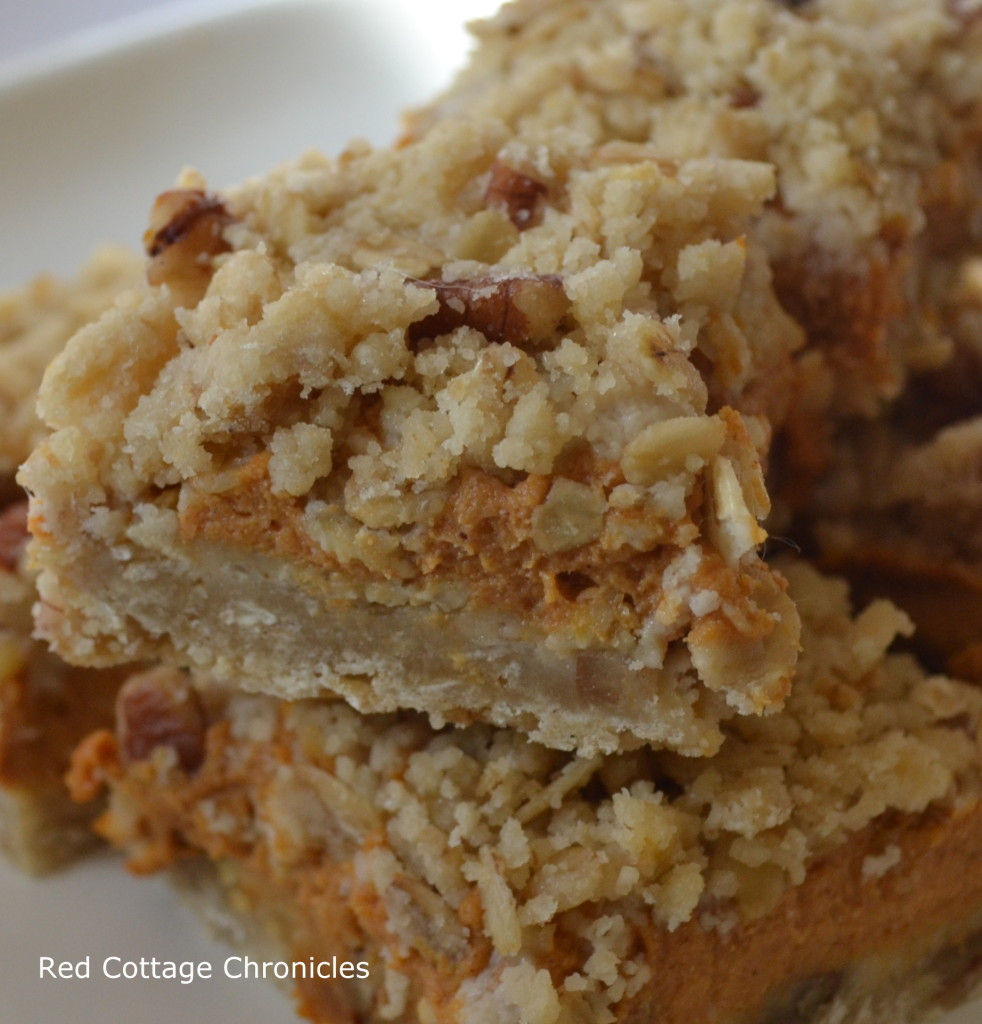 Crunchy pecans, chewy oatmeal, soft sweet pumpkin filling! Need I say more?!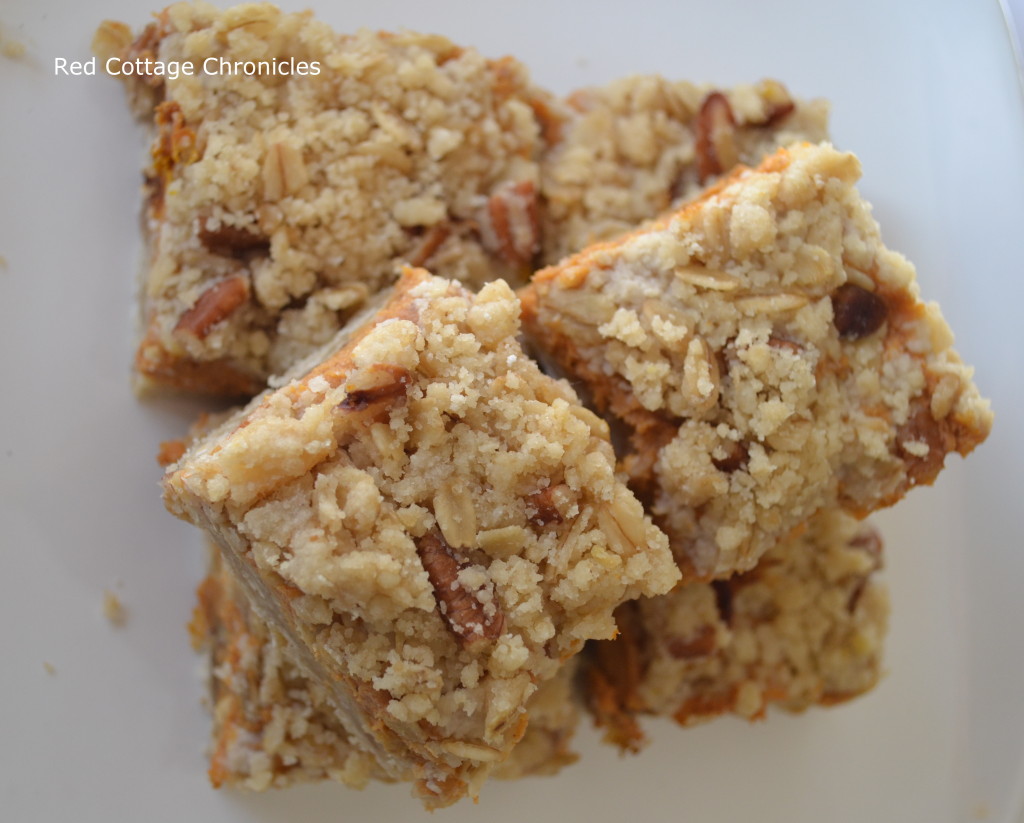 Come to think of it, I don't ever remember my mom making these bars. I sure am glad she included it in the recipe book though.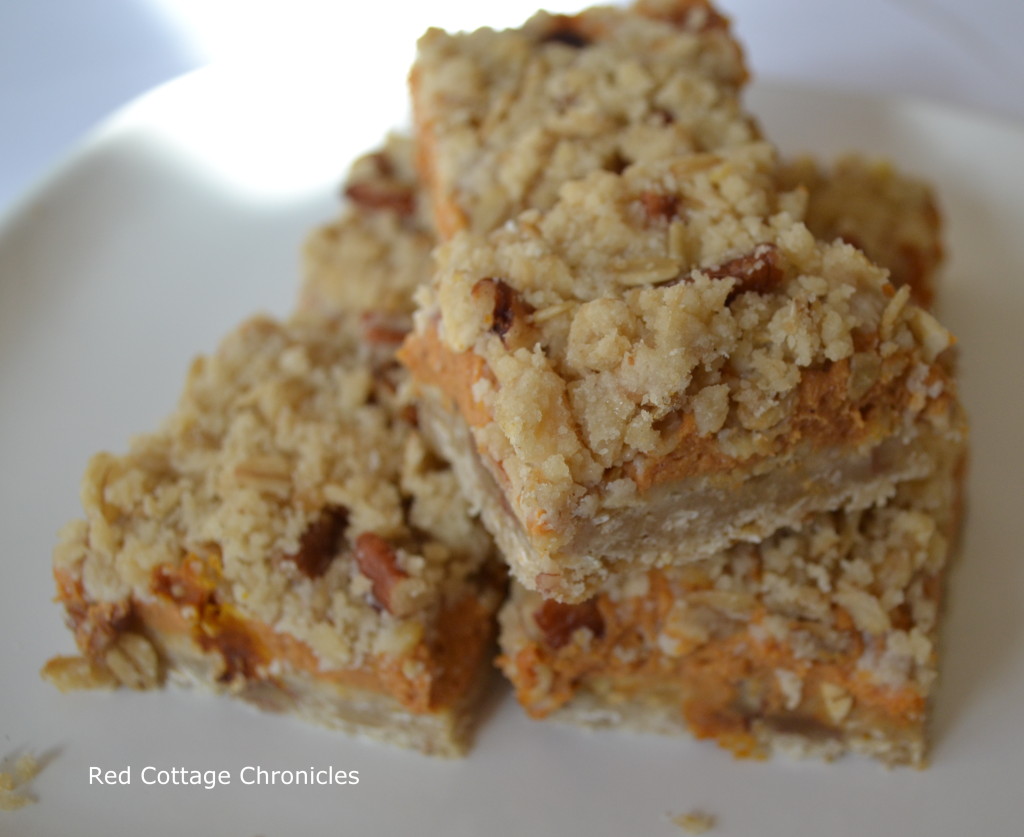 I don't know about you, but I am so happy it is finally Fall!!
Until next time….

Pumpkin Pie Squares
2016-07-19 13:46:58
Serves 16
Ingredients
1 1/3 cups all purpose flour
3/4 cup granulated sugar, divided
1/2 cup packed brown sugar
3/4 cup butter
1 cup old fashioned or quick-cooking oats (uncooked)
1/2 cup chopped pecans
1 250gram package cream cheese
3 eggs
1 19 ounce can pure pumpkin (not pie filling)
1 tbsp. pumpkin pie spice
Instructions
Heat oven to 350 degrees. Line a 9 by 13 pan with parchment paper allowing it to extend over sides.
Mix flour, 1/4 cup sugar, and brown sugar in a large bowl. Using your fingers rub butter into mixture until it resembles course crumbs. Stir in oats and nuts.
Reserve one cup of this mixture and press the remainder into the bottom of prepared pan. Bake for 14 minutes.
Meanwhile, in the bowl of electric mixer beat cream cheese, pumpkin, eggs, remaining sugar and pumpkin pie spice until well blended and smooth.
Pour over baked crust.
Sprinkle the reserved crumb mixture over the pumpkin and press down very lightly.
Bake for 25 minutes.
Cool for 10 minutes in pan before lifting out to cooling rack to cool completely.
Red Cottage Chronicles https://www.redcottagechronicles.com/