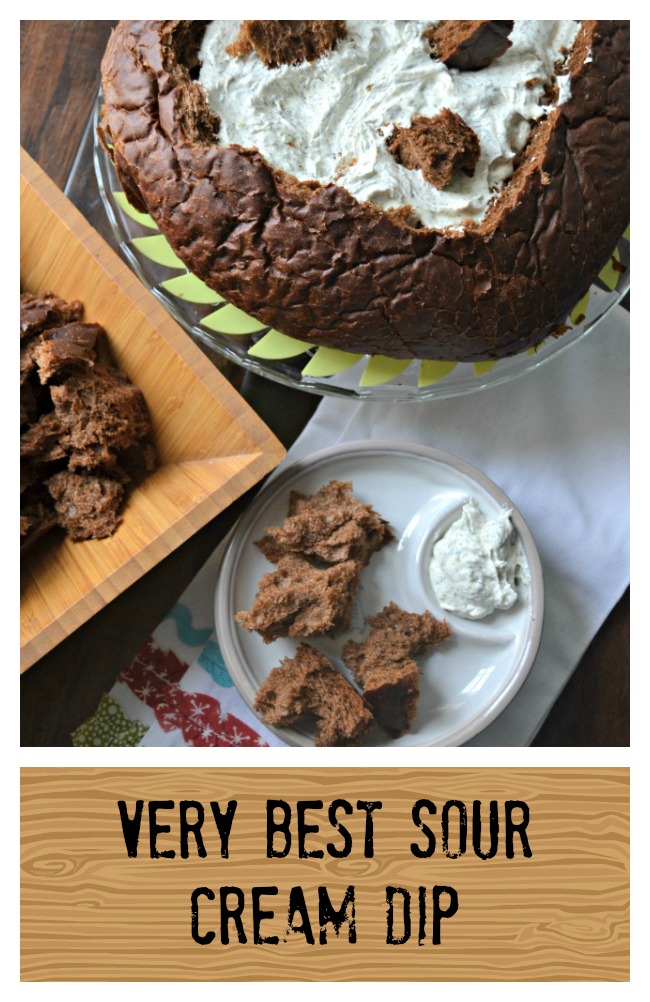 With Superbowl 50 right around the corner it is time to start thinking about what to serve all the hungry football fans. Whether you are hosting a party at your home or going to the home of friends or family this deliciously decadent dip will be a huge hit.
If your family is anything like ours, the ladies all gather in another room and talk about anything but football. Until half time that is! Everybody grabs some food and watches the halftime show together.
A favourite go-to dish for parties of all kinds is my Sour Cream Dip. I like to serve it in a hollowed out loaf of pumpernickel bread. It is super easy to prepare, nothing goes to waste and there is no bowl to clean up after!
When you are preparing sour cream based dips you want to use the best quality sour cream available. I never recommend using a low or non-fat version, which are far too thin and really lack that rich creamy flavour you expect from a dip.
Turns out Gay Lea's Premium Gold sour cream is by far the most decadent and delicious sour cream I have ever tasted.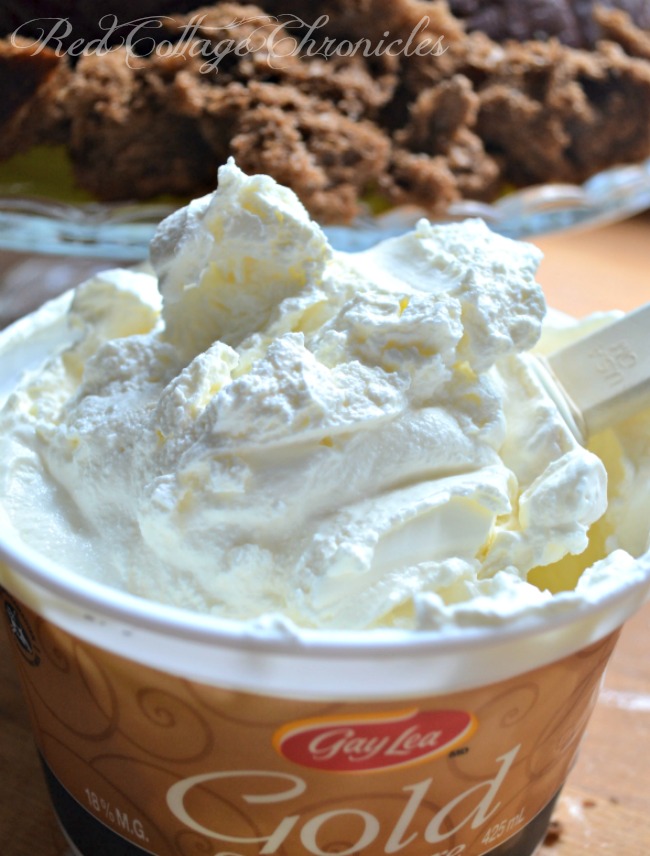 Just look how rich and creamy it is. Not only does it make stellar dips, but it's also perfect for dressings and baking. I love that it is nut free, and it's certified Kosher. It comes in a 425 ml tub and available only in Ontario.
I used to make my sour cream dip using a fine herb soup mix, but since it seems it has been discontinued I have found that using a creamy leek soup mix and dried dill gives it a very similar flavour.
Sour Cream Dip
2016-01-27 15:17:10
An decadent creamy dip with a blend of creamy leek soup mix and dried dill served up in a edible pumpernickel bread bowl!
Ingredients
1 round loaf of pumpernickel bread
2 cups Gay Lea Gold sour cream
1/4 cup mayonnaise
2 tablespoons dried dill
5 tablespoons creamy leek soup mix (I use Knorr brand)
Salt to taste
Instructions
Hollow out centre of pumpernickel loaf, tearing into small chunks. Cover well and set aside.
In a medium mixing bowl whisk together sour cream, mayo, dill and soup mix until well blended.
Add salt to taste.
Refrigerate dip for several hours or overnight to allow flavours to blend.
Just prior to serving place hollowed out bread on a large serving platter and fill with dip. Arrange bread chunks around the loaf or into a separate serving bowl.
Notes
Using a quality thick and creamy sour cream is essential to a great dip.
When the bread chunks run out, simply break off pieces of the bread bowl and dip! You can also serve this dip with vegetables, crackers or potato chips!
Red Cottage Chronicles https://www.redcottagechronicles.com/
Keep in mind that with any dip you need to allow several hours of refrigeration to allow the flavours to blend.
Looking for more recipe inspiration? Just click here to find Gay Lea on the web where you will find plenty of inspiration! You can also find them on Facebook and Pinterest where you will find all kinds of yummy goodness!
"Disclosure: I am part of the Gay Lea Ambassador Campaign and I receive special perks as part of my affiliation with this group. The opinions on this blog are always my own."