just so happens a couple of weeks ago this happened………..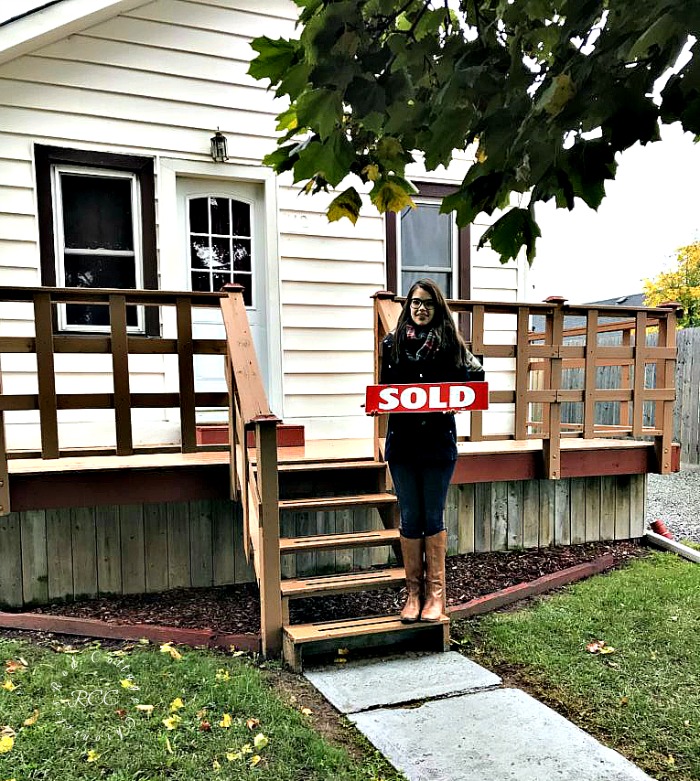 I am so excited for her! She has been bound and determined to buy a house even though the house prices in our area are off the charts! She has had to endure bidding wars on other properties only to lose out, and one accepted offer only to have the home fail the inspection miserably!
Then, quite by accident, we found this little gem! We were on our way to view another property that looked great and the listing stated it needed some TLC. When in fact one persons idea of TLC was clearly not the same as our idea of TLC!
As luck would have it, we took a wrong turn into the subdivision and past this little house and I happened to notice the for sale sign as we drove by. After looking at the first house and deeming it a no-go, we asked her realtor (who by the way is an absolute sweetheart and I would highly recommend to anyone in the Niagara area) if she knew anything about the other house we had passed. She quickly whipped out her phone and checked out the listing. Turns out it was right at the top of her price point, but had been on the market for 45 days and happened to be vacant.
She reached out to the listing agent right on the spot and we were able to go see it right then and there. It is the cutest little home and we all agreed it was a definite possibility. It is small, just about 700 square feet, but very clean, freshly painted with updated plumbing, windows and in a nice little neighborhood!
She closes on the house next week, but were were able to get in again last week to measure for window treatments and such, so I snapped a few photos with my phone to share with you all!
She has lots of plans to make the house her own and since she takes after her mom, her first idea was to knock down the wall between the tiny living room and front bedroom!
First up, the tiny entrance/living room. Currently here is a huge oversized leather reclining sofa that makes the room look even smaller than it is, but there is no hiding the fact that it is SMALL!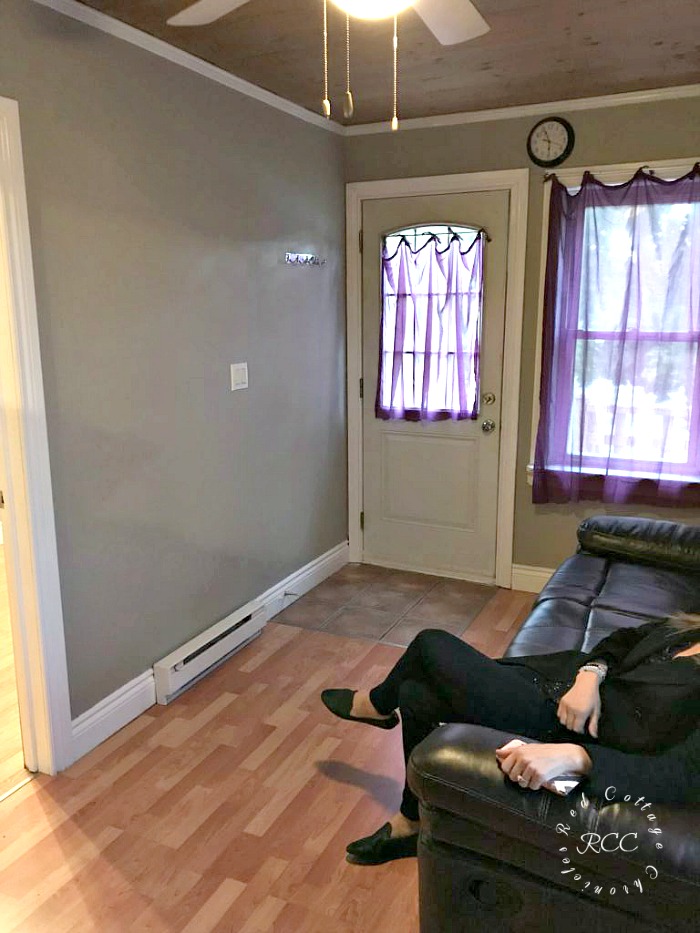 The wall you see in photo above is the one she wants to eventually remove. It is a load bearing wall, so it will have to wait probably until after the holidays when Tim has more time to get it done.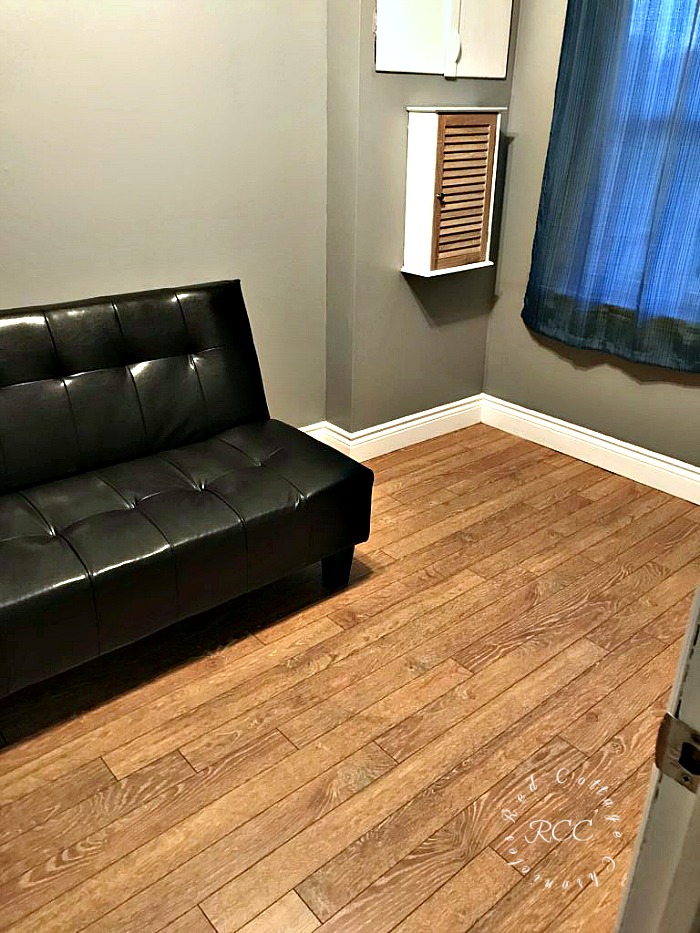 This is the second bedroom behind said wall. Once she opens it up, it will be a very nice sized living space. Until then, she plans to use this room as her living room.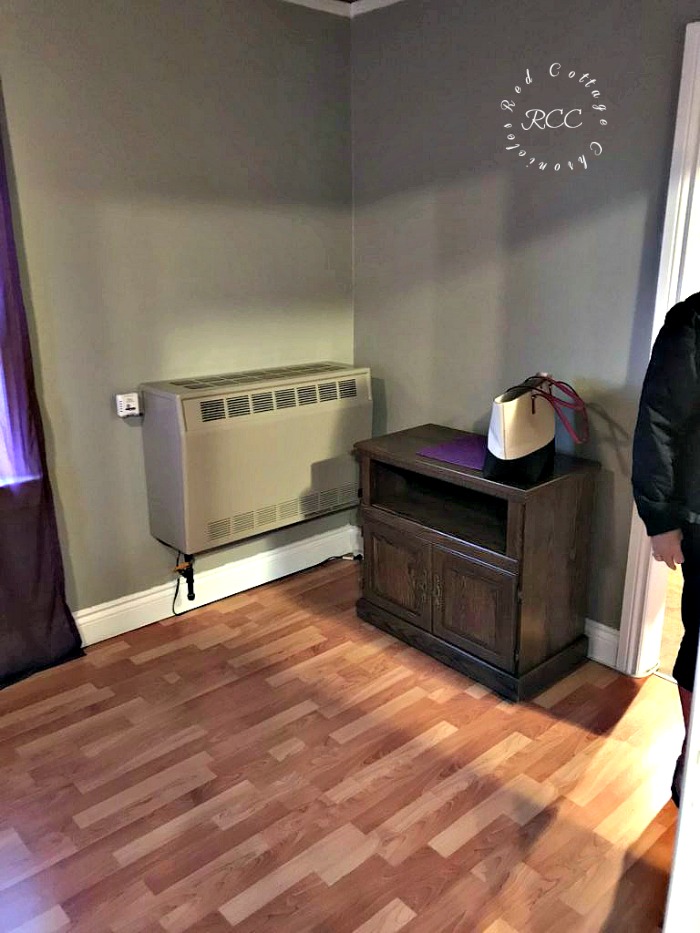 This is the other end of the long narrow living room. This will be her dining room and when the space is opened up it will be a nice open concept living/dining space that will flow together nicely.
The house is heated by a propane forced air room furnace (which the inspecter tested while we were there and heats the entire house nicely!). Eventually she will have it converted to a regular furnace with ducts to each room, and either remove this all together or add a fireplace.
The kitchen is quite spacious and has updated cabinets. This will be the first room that she renovates! The tongue and groove wall pine paneled walls will be painted a fresh white. The upper cabinets will be removed and relocated to the laundry room, and replaced with open shelving.
The house comes with no appliances so she is purchasing stainless (or maybe black stainless) refrigerator and stove. Where the current owners have a table, she will have a kitchen cart to add extra storage and prep space. The counter top is going, and a butcher block counter will be installed. Oh, and that ceiling fan is going to be replaced with a new fixture.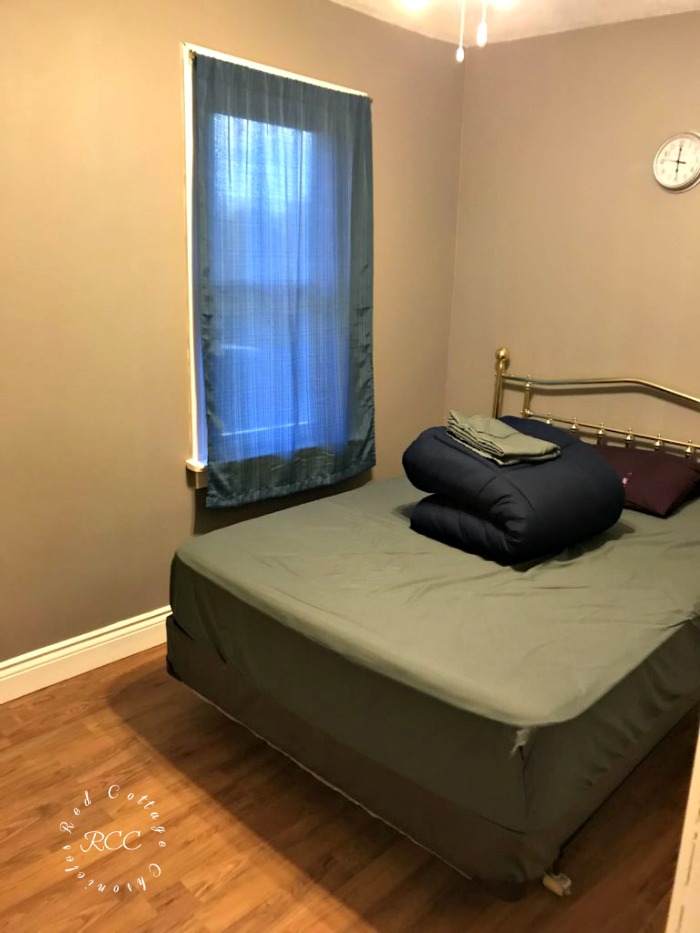 This bedroom is off the kitchen, and is the one she will be using. Like all the other rooms, it is long and narrow, but will easily fit all of her bedroom furniture. She plans to paint it the same color of her room here at home and style it pretty much the same.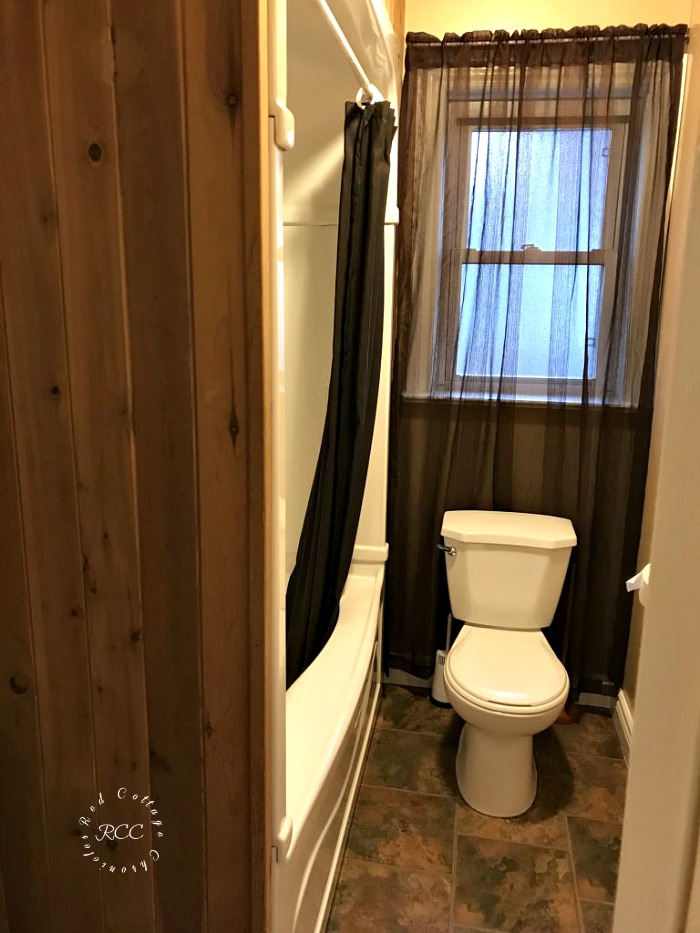 The bathroom is teeny tiny, but has all brand new fixtures. The pine paneling will again be painted white. Just out of view on the left is a pedestal sink and mirror, with room for storage underneath.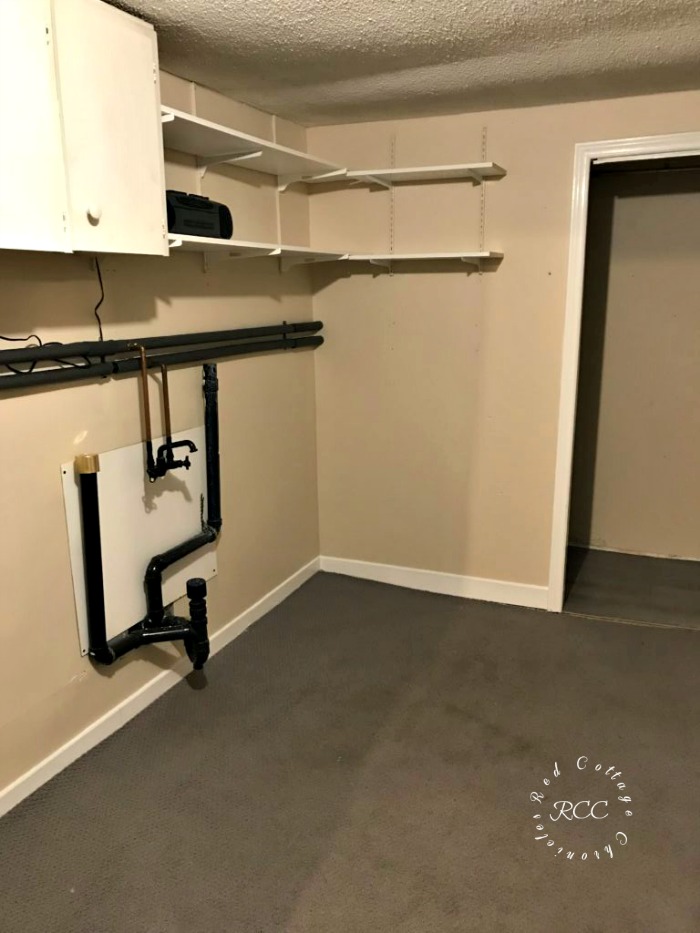 And finally, the laundry room/back entrance. The plumping here has all been updated and ready for her new washer and dryer. She will also be adding lower cabinets and a butcher block counter top. These uppers and shelves will all be removed and replaced with the uppers from the kitchen and fresh new open shelving. The carpet will be removed and slate flooring will be added in the springtime. I would love it if she can manage to put heated floors in this area, but we will have to see how her budget looks!
It is a good thing Tim works at a home improvement store!! I have a feeling she will be spending a lot of time there!
She has lots of plans for the outside too. A new fence around the back yard, expand the deck in the back, a new railing and fresh paint on the front porch, and of course landscaping.
I can hardly believe in just about a weeks' time the Mr and I will be empty nesters! We started the year with our oldest moving out into an adorable condo and ending the year with our youngest moving into her own home! Not sure how much more this Momma's heart can take this year!
On one hand we are confident that we have raised our girls well and they are going out into the world to pursue their own dreams. We (do) and will miss them when they are both not living under our roof.
But on the other hand, we are very excited to be starting this new chapter in our own lives, joining the ranks of empty nesters, and will have our own little home all to ourselves! It is surprising that even though they are independent adults, when they live at home many daily routines and decisions always have to take our kids in account. That will all change when it is just the two of us.
What I have learned so far this year, with our oldest having been gone for the last 11 months is that it is so much better when we get together! And, I anticipate the same with our youngest. Not that it was horrible when the lived at home, but the dynamic changes for the better!
How do I feel about becoming an empty nester? Well, I am both sad and happy at the same time. While I know our job as parents will never be over, we can trust in the fact that they will both continue to thrive and that our door will always be open!
Until next time…..