Peanut Butter Cookie Dough and Caramel Swirl Ice Cream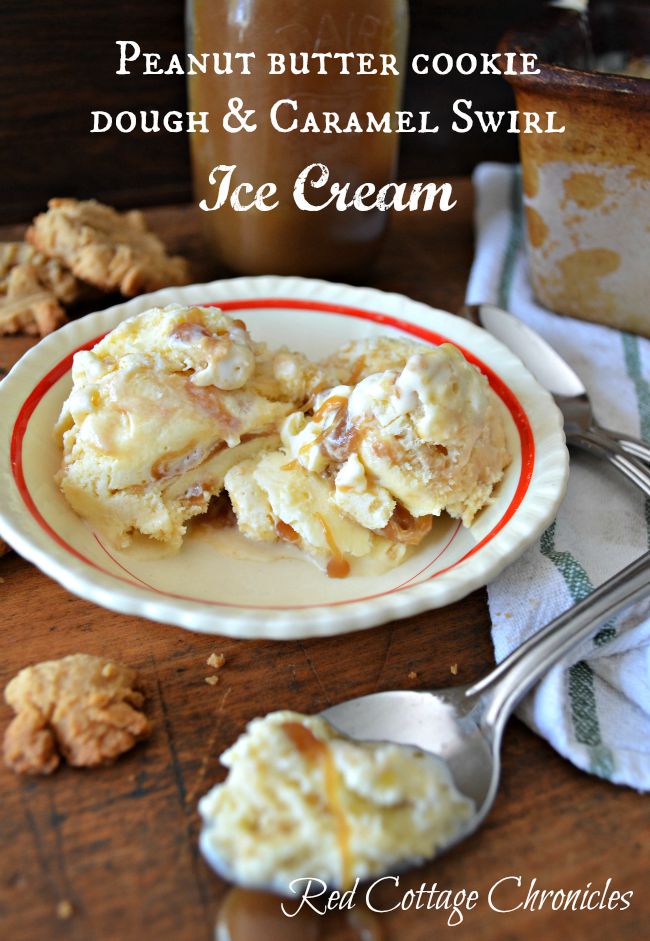 There are two things I love most about homemade ice cream.
First of course is knowing exactly what is in it.
And a close second is putting in it whatever I want!
The possibilities are endless!
Since I sometimes make my peanut butter cookies without eggs I figured the dough would be great in a creamy ice cream.  Then I got to thinking.  Caramel sauce would give that something extra special!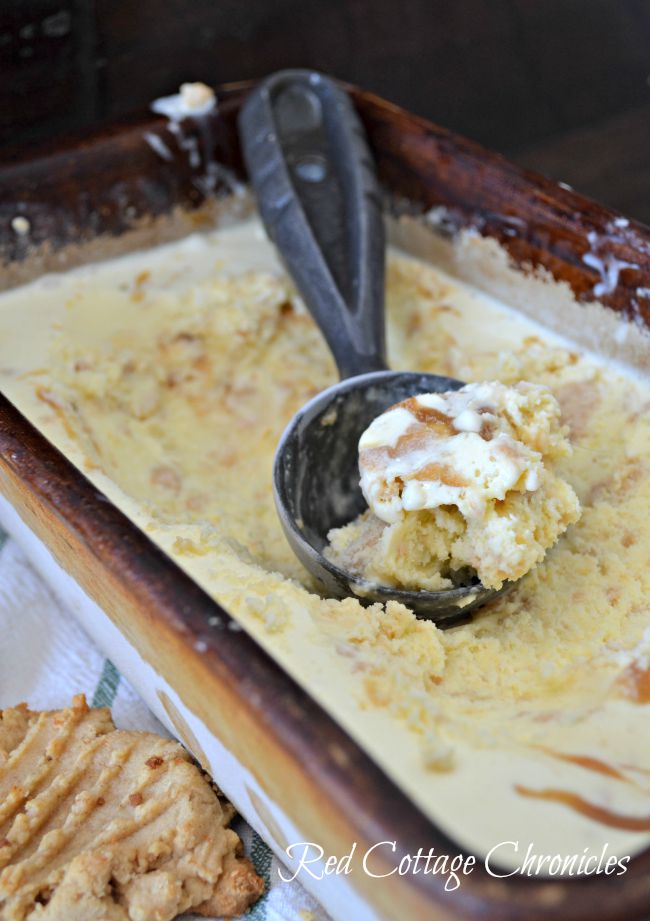 I prefer to make my ice cream from a custard base.  I find the creamy, smooth result is worth the extra few minutes of effort.  I have made the mistake before of substituting 1% milk when I was out of the whole milk a good custard base requires.  It just isn't quite the same!
Of course the custard does require chilling time of at least 4 hours, but I usually make mine the evening before I want to make the ice cream and chill it all night.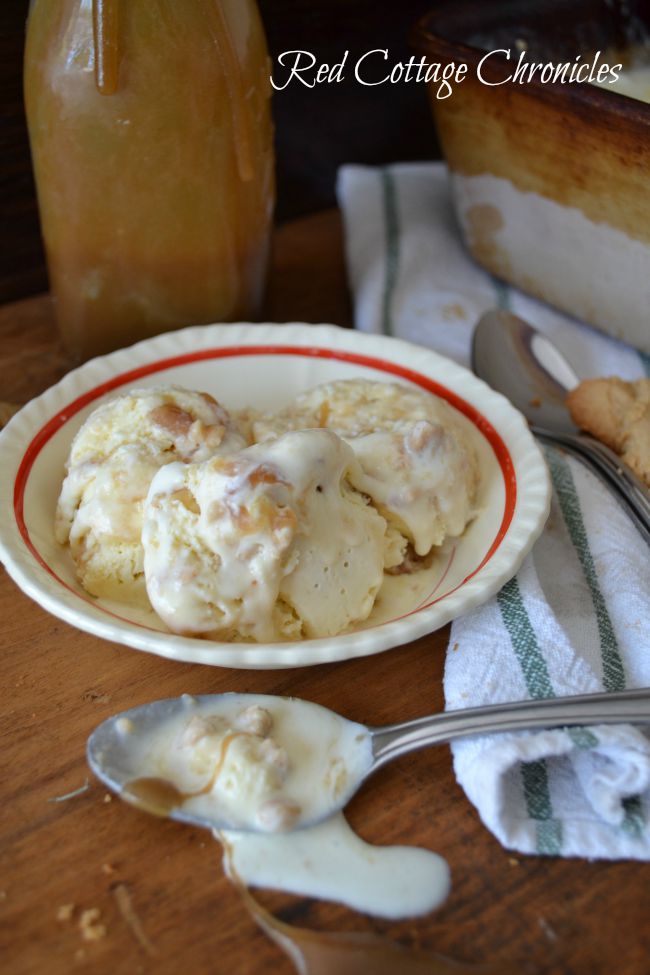 I whipped up a whole batch of cookie dough and what I didn't use in the ice cream, I ate while I was making the caramel I baked up some cookies.
And, although I did make my the caramel sauce from scratch using this easy caramel sauce recipe, a good quality bottled caramel sauce would do just fine.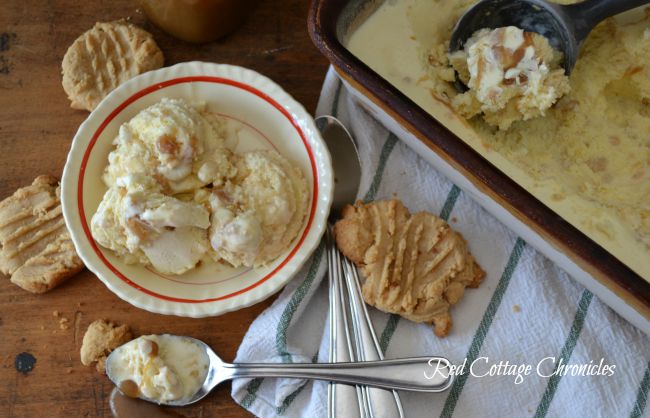 After chilling the custard I processed it in my Cusinart ice cream maker for about 12 minutes before adding in chunks of the cookie dough, letting each chunk get swirled into the custard base.
In the last minute or so of processing pour the caramel in a slow steady stream.
Don't worry if you leave some caramel in the jar.  You can just eat that with a spoon!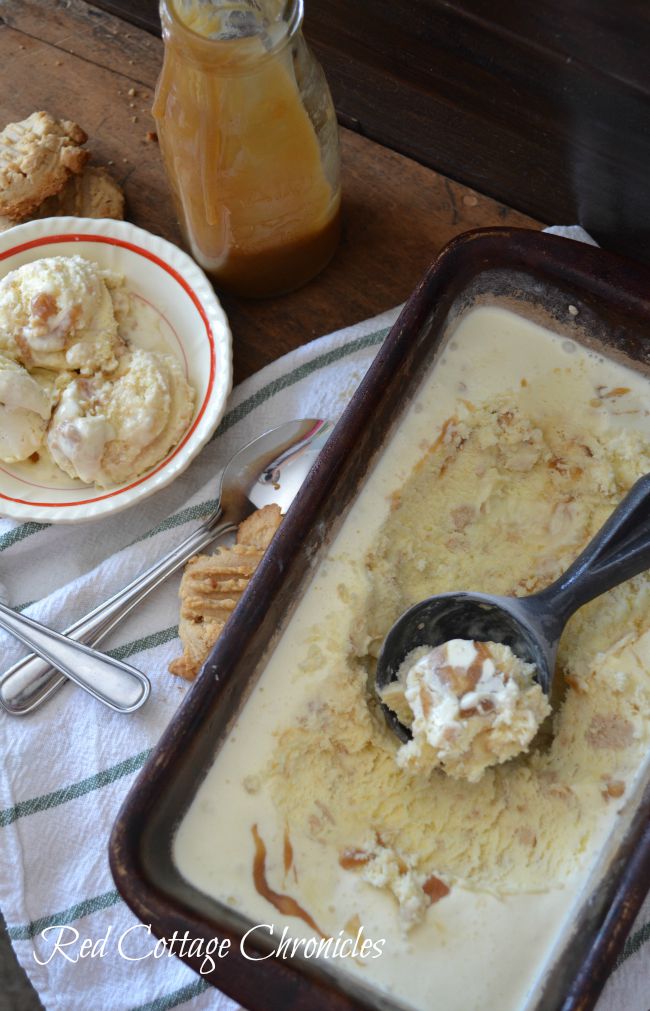 The ice cream maker will give you a really soft serve, but I prefer to firm it up by transferring it to a loaf pan and freezing for an hour or two.  Then you can scoop it up into cones or into bowls.
Oh, my other favorite thing about making homemade ice cream….
……EATING IT!
Peanut Butter and Caramel Swirl ice cream!
Yes please!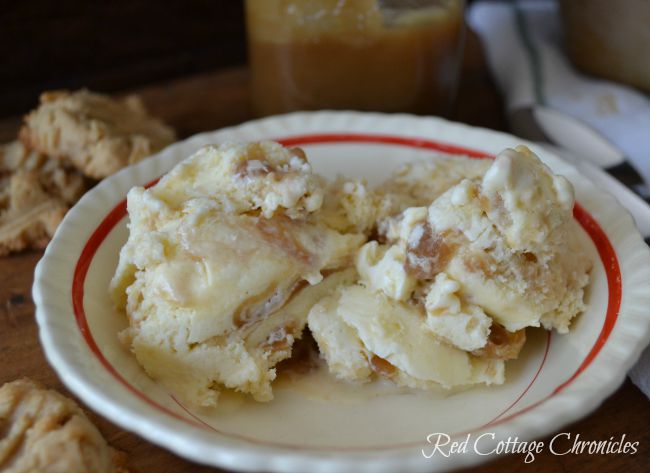 If you were making homemade ice cream, what flavor would you create?  Do share!
Until next time…
Maureen
Peanut Butter Cookie Dough and Caramel Swirl Ice Cream
Prep time:
Total time:
Be sure to allow time for custard base to chill sufficiently. This creamy chunky peanut butter ice cream is highlighted with swirls of creamy caramel sauce.
Ingredients
Ice Cream Custard Base
2 cups heavy cream
1 cup whole milk
⅔ cup sugar
⅛ teaspoon salt
6 large egg yolks
Peanut Butter Cookie Dough
250 grams butter
250 grams smooth peanut butter
175 grams granulated sugar
1 teaspoon salt
350 grams all purpose flour
2 teaspoons baking powder
1 teaspoon baking soda
1 tsp vanilla
1 cup caramel sauce
Instructions
For the Custard – (make ahead)
In a heavy bottom pot simmer heavy cream, milk, sugar and salt until the sugar completely dissolves and remove pot from heat.
In a separate bowl, whisk yolks well.
Continue whisking constantly and slowly whisk about a third of the hot cream into the yolks, then whisk the yolk mixture back into the pot with the cream.
Return pot to medium-low heat and gently cook until mixture is thick enough to coat the back of a spoon.
Remove from heat and strain through a fine-mesh sieve into a bowl. Allow mixture to cool to room temperature. Lay plastic wrap directly over custard mixture and chill at least 4 hours or overnight.
Cookie Dough Prep
Cream peanut butter and the butter. Add sugar and continue to cream until well blended. Blend in vanilla and salt.
In a separate bowl combine flour, baking powder and baking soda with a whisk, and add to creamed mixture. Mix until just combined. Set aside
To Prepare Ice Cream
Add the well chilled custard base to the ice cream maker and allow to churn for 10 to 12 minutes.
Drop small chunks of cookie dough into the base while still churning, allowing each chunk to get pulled in before adding the next.
Churn for an additional minute before pouring in the caramel sauce in a slow stead stream.
Turn off ice cream maker and transfer mixture to a loaf pan.
Freeze until firm.