A week without my laptop!  Part blessing, part not-so-much.  I did learn a valuable lesson.  Always get more than one estimate for repair!  The first estimate at a big box store ranged from $150 to $300 depending on whether soldering was needed.  Ended up getting it done at a small local repair shop for 79.00 including taxes! Score!  The friendly fellow went above and beyond, and even gave us a new charger cord!  (He noticed the red tuck tape covering the cat bites)
It did give me a chance to finally try a recipe that was in a local grocery flyer recently.  I believe it originates from Kraft, as it calls specifically for Kraft caramels.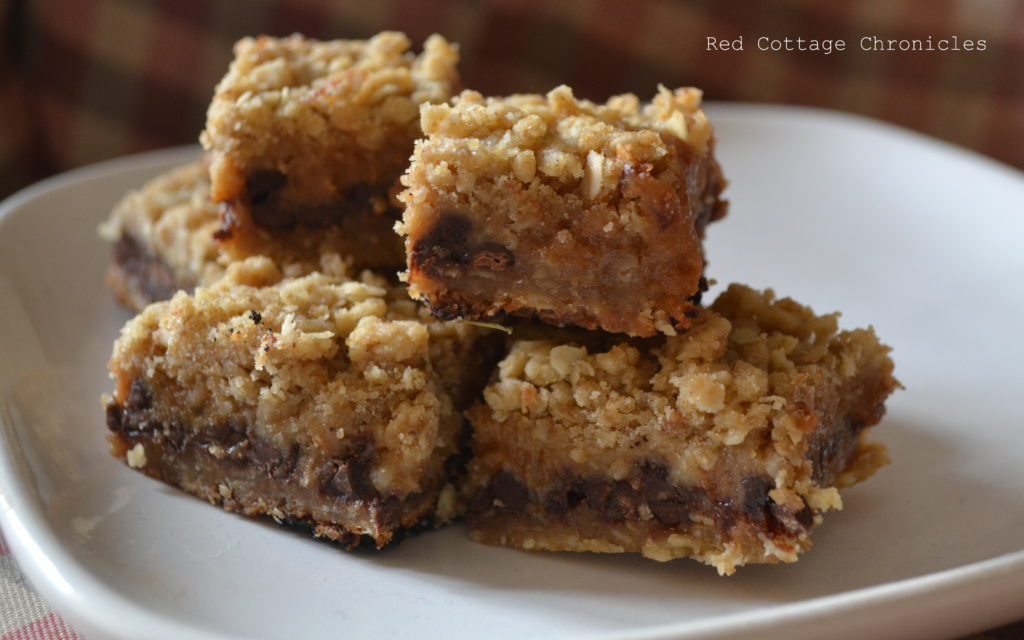 Anything that calls for oatmeal is a healthy choice in my books!  Never mind the fact they are loaded with chewy caramel, chocolate chips and nuts (if you please).  Something about the oats seems to get cut the sweetness yet enhance the caramel flavor.
Whenever a recipe calls for "cutting in butter" I know I am going to be a fan.  Not so much because of the butter itself, but more so because I always opt to rub the butter in by hand.  This is were the therapeutic aspect of baking comes in.  The process of bringing the butter and dry ingredients together gives me a feeling of satisfaction!  Kind of like laundry…..weird, I know.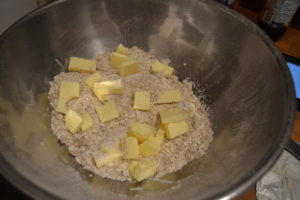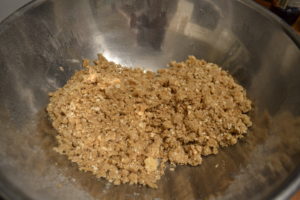 Just make sure you use a large shallow mixing bowl, and make sure your butter is cold but not too hard.  I usually take it out of the refrigerator about 30 minutes ahead of time.
I remember when our chef professor told us in pastry class that we had to rub in the butter by hand I thought he was out of his mind.  My first attempt nearly killed by fingers.  He made it look easy with his short stubby fingers.  My skinny weak little fingers were not happy at the end of class.  But, I do admit it that with repetition and practice I couldn't imagine doing it any other way.  Kind of makes me slow down and enjoy the whole process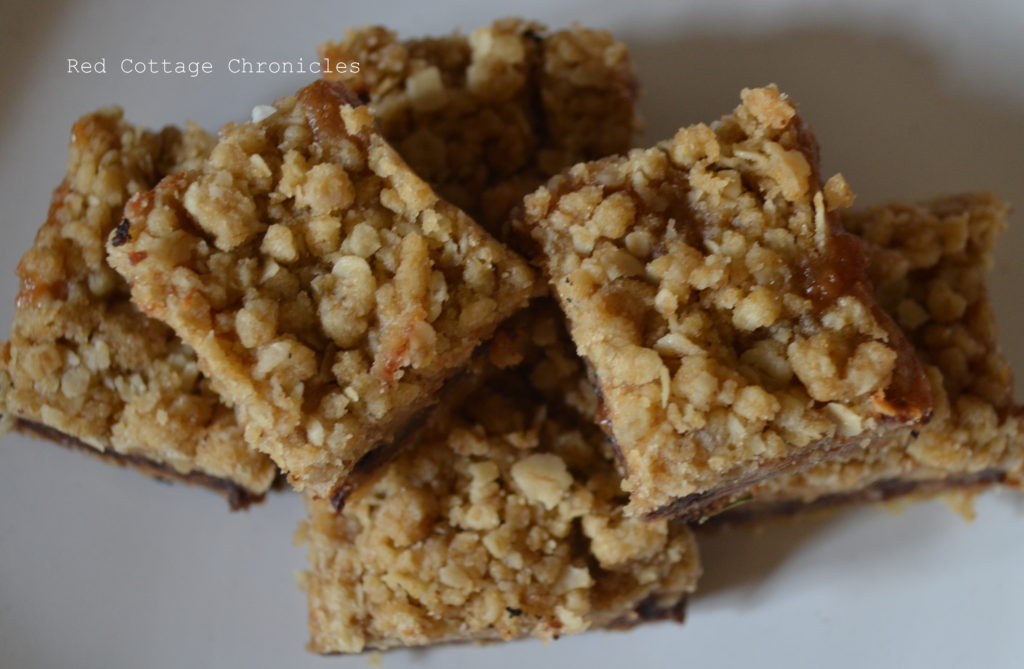 The reward really is worth the effort!  Don't you think?
I wouldn't advise trying to cut them until they are completely cool.  I let these cool overnight and the caramel had firmed up enough to cut easily, while still being soft and chewy.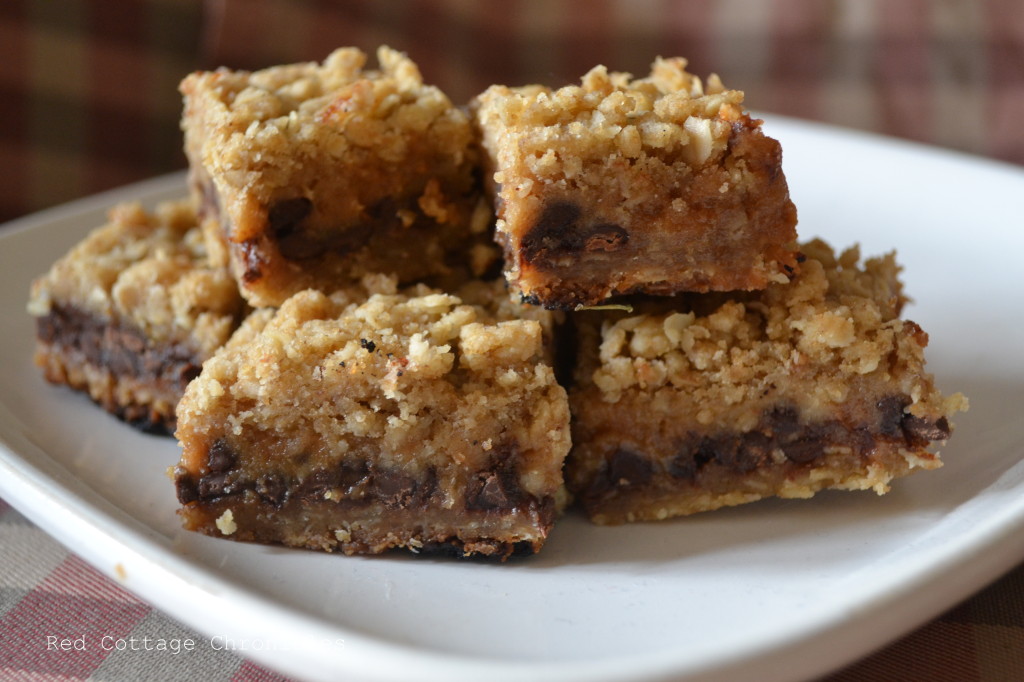 Nestled into the caramel is a layer of dark chocolate chips.  The recipe also calls for chopped pecans, but I didn't have any on hand so I left them out.  They turned out yummy enough without them.
Lining the pan with parchment paper (or foil) really helps to remove the squares from the pan.  I think parchment paper is probably my most favorite kitchen "tool" of all.
What about you?  What is your favorite kitchen tool for making baking easier?
Caramel Oatmeal Bars
Prep time:
Cook time:
Total time:
Ingredients
24 unwrapped caramels
1/2 cup evaporated milk (not sweetened condensed)
1 cup flour
1 cup quick cooking oats
3/4 cup packed brown sugar
1/2 teaspoon baking soda
1/4 teaspoon salt
3/4 cup cold butter, cubed
1 cup dark chocolate chips
1/2 cup chopped pecans (optional)
Instructions
Heat oven to 350 degrees
Line 8″ pan with parchment allowing it to extend over sides
Combine caramels and evaporated milk in a small saucepan over low heat until caramels are melted and mixture is smooth, stirring frequently
Mix flour, oats, brown sugar, baking soda and salt in a large bowl
Cut in cold butter by hand or with a pasty cutter until mixture is crumbly
Press half of this mixture into the bottom of prepared pan and bake for 10 minutes
Remove from oven and sprinkle chocolate chips over crust
Drizzle caramel mixture over chips to cover, and top with nuts if using
Sprinkle remaining crumb mixture over top and press very lightly.
Bake for 25 minutes or until golden brown
Allow to cool completely before removing from pan and slicing into bars