While an early Victorian Christmas tree was decorated with dried fruits, flowers, little presents, ribbon and candles, later hand blown glass ornaments were introduced that would be handed down through the generations.
Can you even imagine lighting real candles ON your Christmas tree now?! Me either!
I am very excited today to be sharing my 2020 Victorian Christmas tree, along with over 20 other bloggers who are also sharing their own beautiful trees! Be sure to check out all the links below!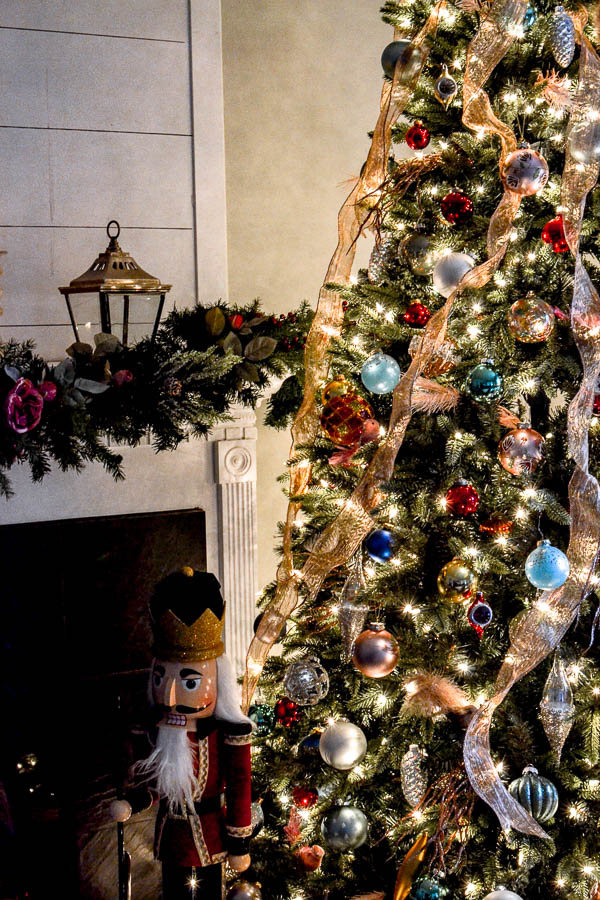 It is no secret that I am smitten with English homes. And, it was my love of the English countryside that inspired my Victorian Christmas tree!
I have always been drawn to the beautiful trees filled with colourful glass ornaments. No particular colour or theme. Just gorgeous bits and baubles that together create an elegant, festive Christmas tree.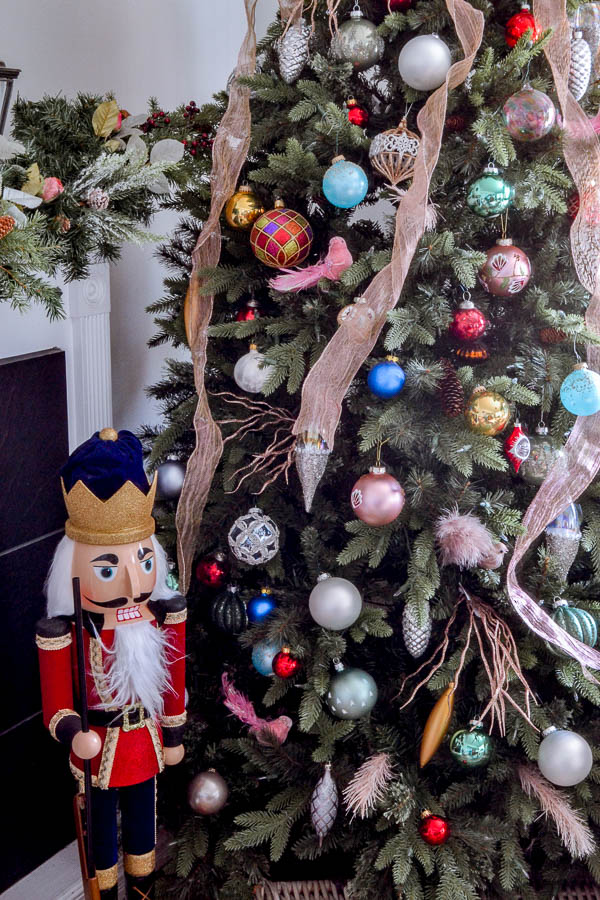 I have to admit, I wanted to add so many more ornaments than I did. But, with COVID-19, was impossible to get all ornaments I wanted, as I am keeping my shopping trips to an absolute minimum. I will no doubt be adding more throughout the years to come.
All of the ornaments on the tree are glass, many handblown, and a few will be treasured heirlooms for my own daughters. But, I didn't have to break the bank to start building my collection!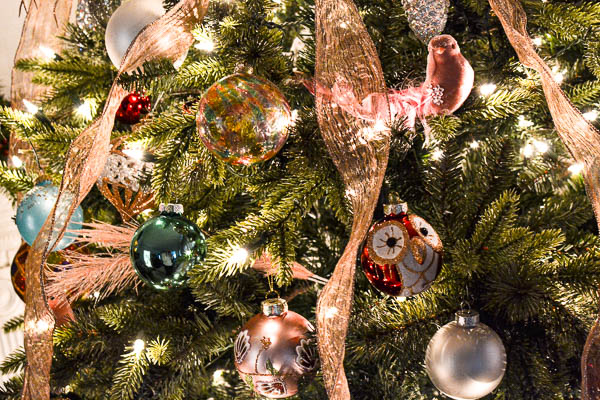 First, use what you already have
Before setting out to purchase any ornaments, I checked through our own stash of ornaments collected throughout the years.
We set up two trees, one in the family room that is adorned with ornaments that are sentimental and a mix of fun bits and bobs.
We have always had way more ornaments than would fit on that tree, so I was able to find about 25-30 glass ornaments of different sizes, colours and shapes that were perfect for our Victorian Christmas tree. A few we have had for so long the finish is starting to wear, giving them a lovely antique patina.
The angel tree topper has been with us for over 30 years and I couldn't have imagined using anything else!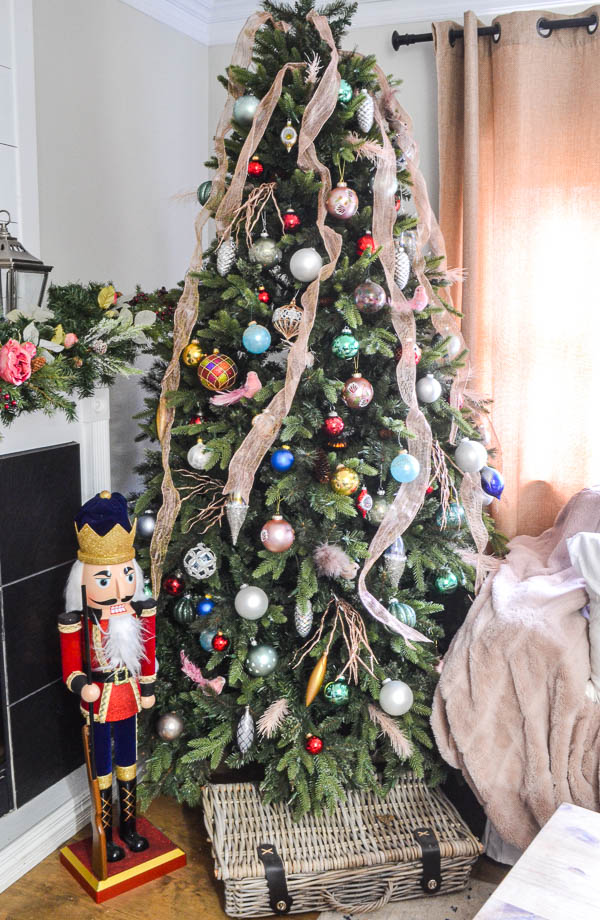 Where to buy glass Christmas Ornaments
Since we are keeping our outings to a minimum these days, I was very strategic when it came to shopping for ornaments.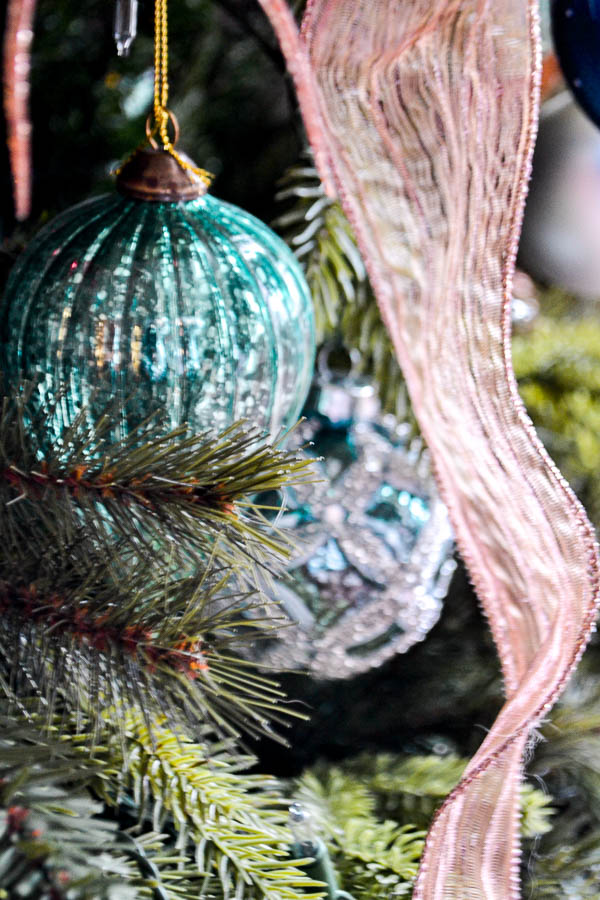 Home decor stores are the perfect place to finding beautiful ornaments. Visiting HomeSense as soon as they opened meant no crowds!! I was in and out in no time! I scored 2 gorgeous sets of hand blown glass ornaments. One was a set of 16 for $24 and the other was a set of 4 for $9.
Local floral shops or garden centres are also great sources for beautiful ornaments. I purchased several individual glass ornaments at one local shop, each costing between $4 and $10. Again, I popped in at opening and had the place pretty much all to myself!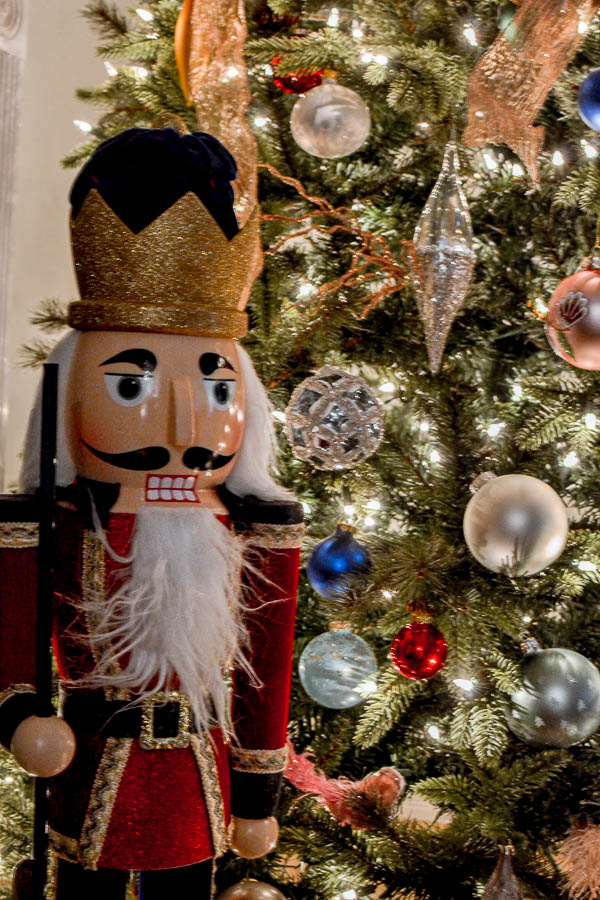 I also picked up a few little birds with clips attached cost just $2 each at the garden centre.
My husband surprised me with the 3 foot nutcracker! It came from the home improvement store at which he works.
Surprisingly, I found some adorable hand blown glass owl ornaments at Walmart online for just under $7 for a set of 4! Not precious, but certainly lovely and be used for many years. Many businesses are offering curbside pick up, and not just for groceries!
Antique stores or online sources like ebay and etsy are also excellent sources to find true vintage glass ornaments. I will definitely be shopping our local antique stores once the pandemic is over!
Natural elements to decorate a Victorian Christmas tree
As mentioned, early Victorian era Christmas trees were decorated with natural elements such as dried fruit, nuts, flowers and twigs.
A garland made with dried lemon or orange slices would be lovely! I show you how to dry citrus fruit in this post, were I used them to make a wreath.
Foraging some branches like red dogwood or hydrangeas that have dried on the bush would be lovely. In fact, I am toying with the idea of adding a few dried hydrangea to my tree!
All of these things would be beautiful on a Christmas tree today, and they inspired my use of feathers and faux branches sprinkled with glitter.
Christmas tree ribbon
When I think of a Victorian Christmas tree, I think of ribbon cascading down the tree. Nothing too styled, but rather gently tucked and twirling its' way down the tree.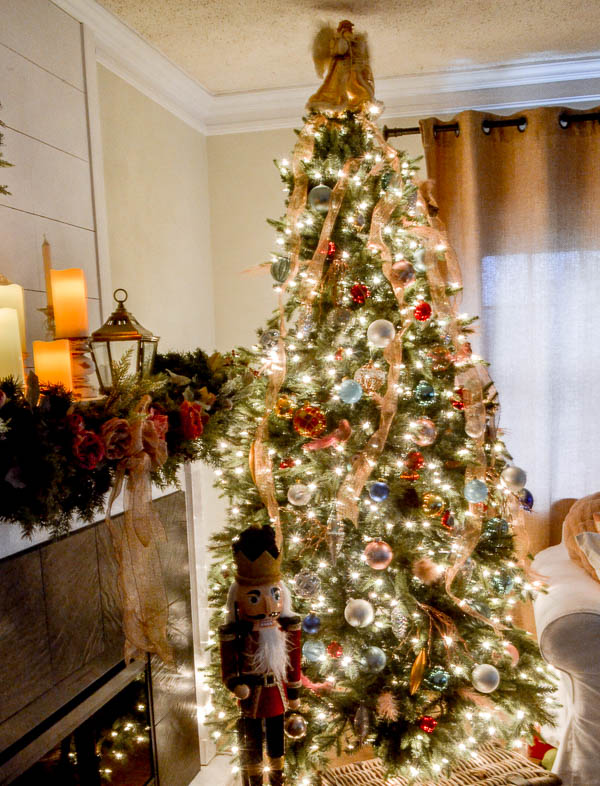 I let the ribbon float down in different lengths around the tree. The same ribbon is used on the mantel.
Wired ribbon is a must as it is easy to manipulate, tuck and shape into the perfect cascades.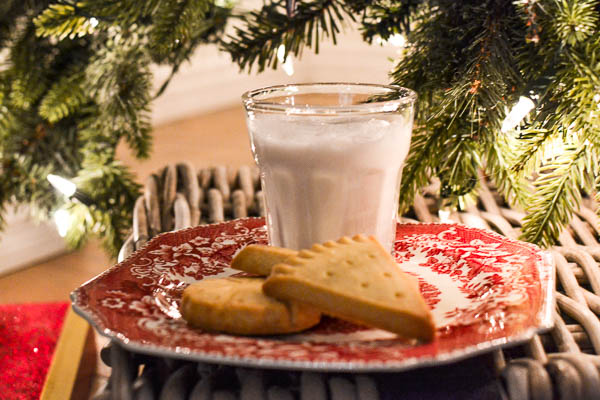 Milk and cookies are ready for Santa beneath the tree! I had the perfect plate to stack some shortbread and a glass of coconut milk!
I continued the Victorian Christmas theme on the mantle with this beautiful faux embellished faux garland, and just a gathering of flameless candles to create a warm glow.
A simple wreath hangs above the fireplace embellished with a bow that matches the Christmas tree and mantel ribbon.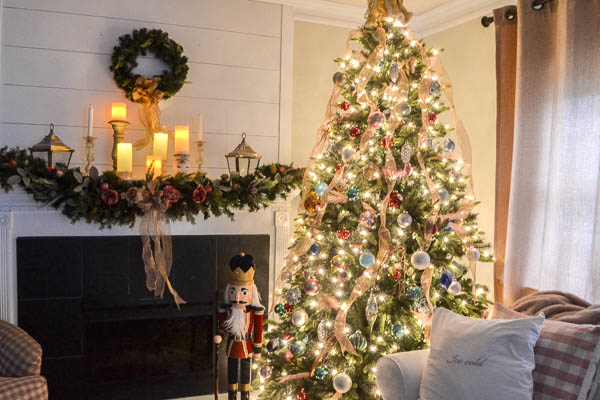 Twenty-twenty has been a challenging year. Looking around my neighbourhood I am pleasantly surprised by how many homes are already decked out for the holidays. Even homes that don't usually have Christmas lights are all aglow!
I have no doubt folks are looking for a way to lift their spirits and I can't think of a better way than decorating a beautiful tree strung with glowing twinkle lights and decorations that add sparkle and fun.
I am so happy that our home is all decked out for the holidays a couple of weeks earlier than usual. We are soaking up the joy it brings us and turning our attention to Christmas baking for family, and preparing little gift bags to leave for our neighbours!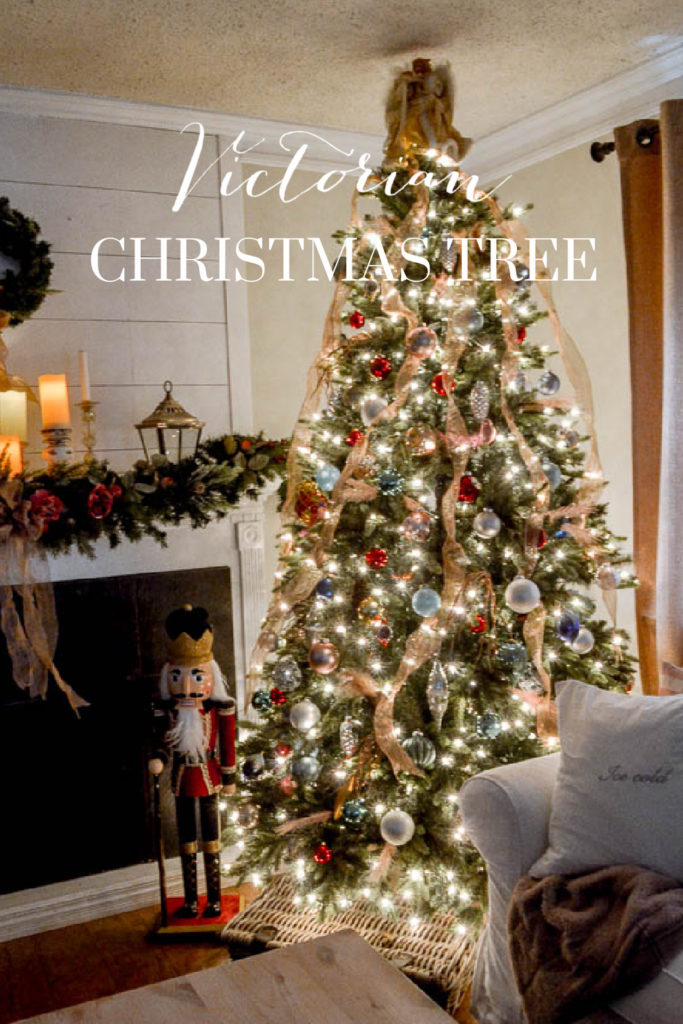 While this year Christmas is no doubt going to be different for so many of us, believe in my heart better times are just on the horizon!
An, until then, I will enjoy soaking up every ounce of the holiday season and our beautiful Victorian Christmas tree!
Now it's time to check out all the other Christmas trees! Starting with our host Michelle from Our Crafty Mom!
Welcome To The Fourth Annual Christmas Tree Decor Blog Hop
Be sure to visit all the participating bloggers below for gorgeous holiday decorating ideas for your Christmas tree.
Our Crafty Mom
 // 
Sustain My Craft Habit
 // 
Red Cottage Chronicles
 // 
Celebrate and Decorate
Jenron Designs // 2 Bees In A Pod // Virginia Sweet Pea // From House To Home
Tribe of Burton // Across the Boulevard // Intelligent Domestications // Simply Beautiful By Angela
Modern on Monticello // Redneck Rhapsody // Purple Hues and Me // My Pinterventures
Zucchini Sisters // One Thousand Oaks // Raggedy Bits // Southern Yankee DIY // Oh Fiddle Dee Dee
My Sweet Home Living
// Pretty DIY Home // Michelle James Designs // Daily DIY Life
Happily Ever After, etc.
//
Kippi at Home // Simple Nature Decor // Design Morsels
I have no doubt you have found some inspiration today!
Be in the know! It may be a delicious recipe, a stunning tablescape, or decor tips to make your house a home! Simply click here to subscribe. I never sell or share your information, and you can unsubscribe at any time!
Until next time…..