Instead of using floral foam, why not opt for a more environmentally friendly hand tied bouquet!
Hand tied bouquets made using the spiral technique are such a versatile way to arrange flowers. They make stunning centrepieces, but also look gorgeous wrapped in brown paper to give as a gift. Not to mention an incredible way to make wedding bouquets.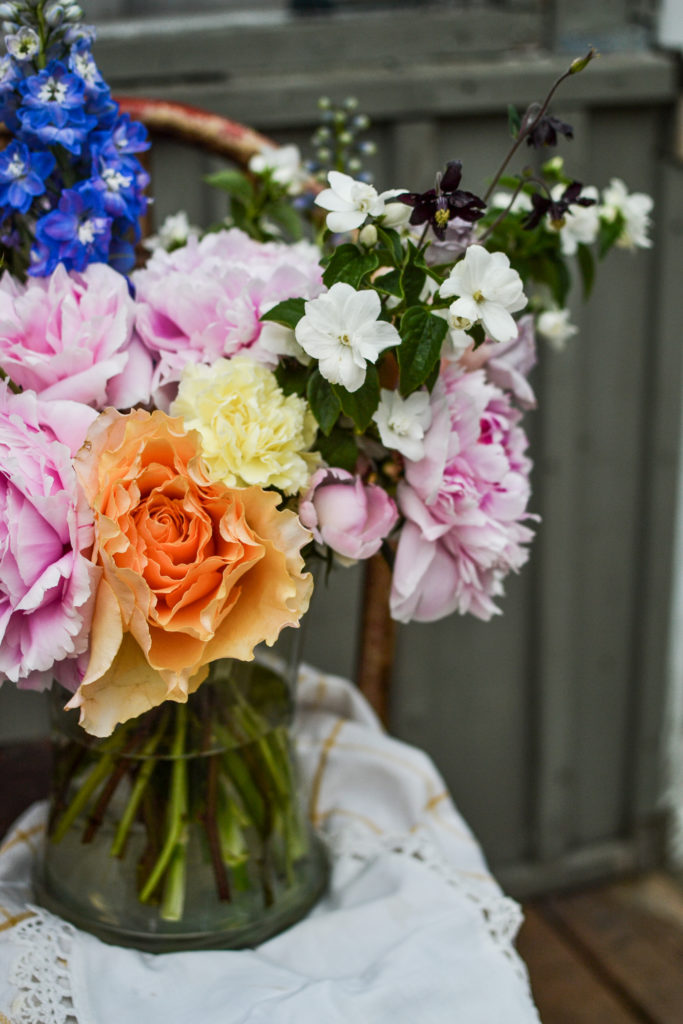 I am going to be honest! The first two or three times I tried the spiral technique I wanted to throw in the towel. But, I persisted and before long it is second nature.
The trick, I found, is to know that the actual "spiral" will start to appear after you have several flowers in place. And, as long as you place the blooms across the stem of the one before, and turning as you go, you will have it mastered in no time.
I have recorded a video for you and hope, (despite the glare), you will dive in and give it a try!
This post contains affiliate links. Should you make a purchase through one of these links, I may earn a small commission with no increase in the cost to you!
What Flowers are best for a Hand Tied Bouquet
The possibilities are endless! The rule of thumb for a garden style hand tied bouquet however would be to include a variety of sizes of blooms, some statement blooms, some filler flowers, some linear tall flowers, and some delicate blooms that add movement to the arrangement.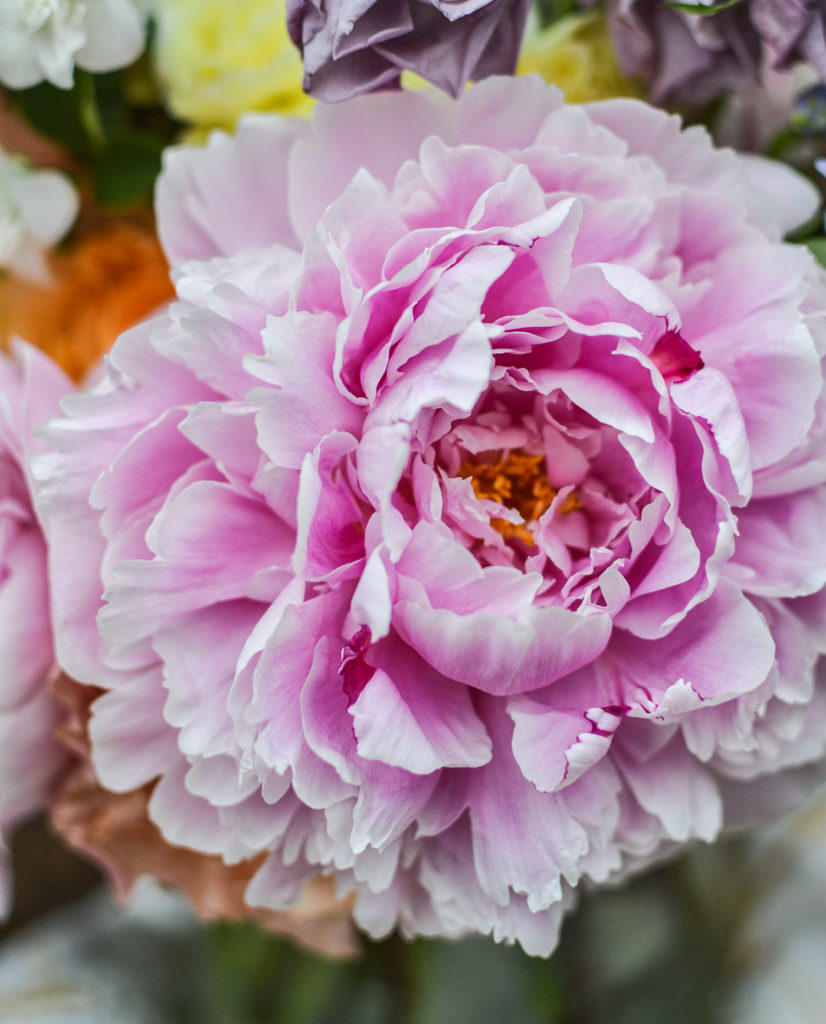 Statement Flowers
Peonies, larger dahlia varieties, garden roses and hydrangea are good examples of garden flowers that make wonderful statement blooms.
Flowers that add height
Delphinium, stock flower and snapdragons are great linear flowers to had height to your arrangement.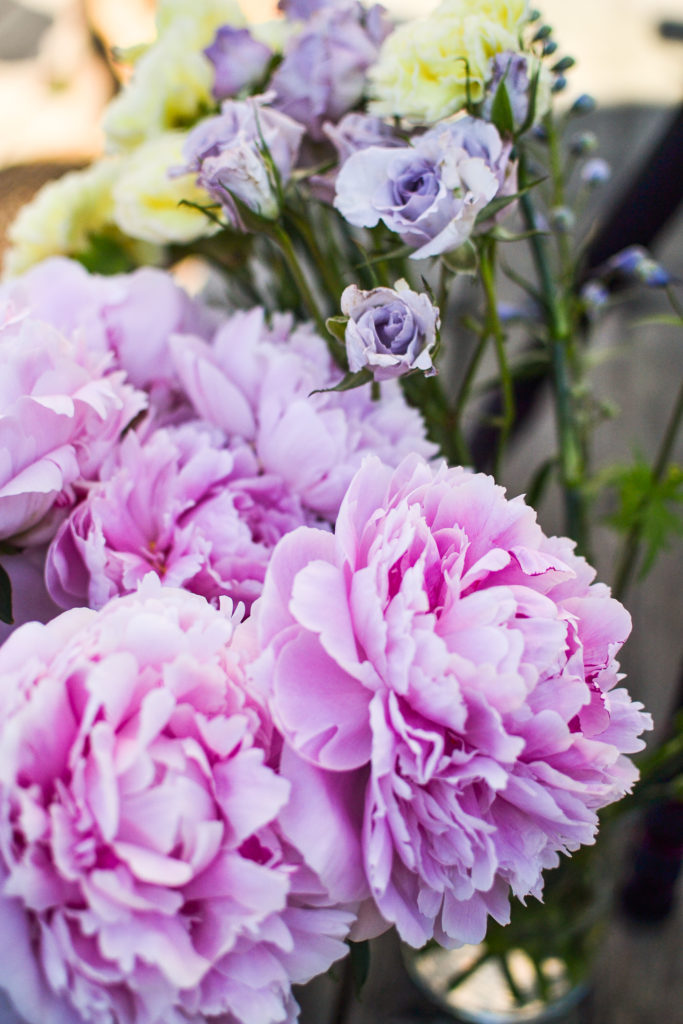 Filler (accent) blooms
Zinnia, carnation, spray roses, and ranunculus are good filler flowers. Although I have seen some ranunculus that almost rival the size of a smaller peony!
Flowers that add movement
Blooms that add movement and float above the the rest include spirea, columbine, lily of the valley, wax flower and forget-me-not.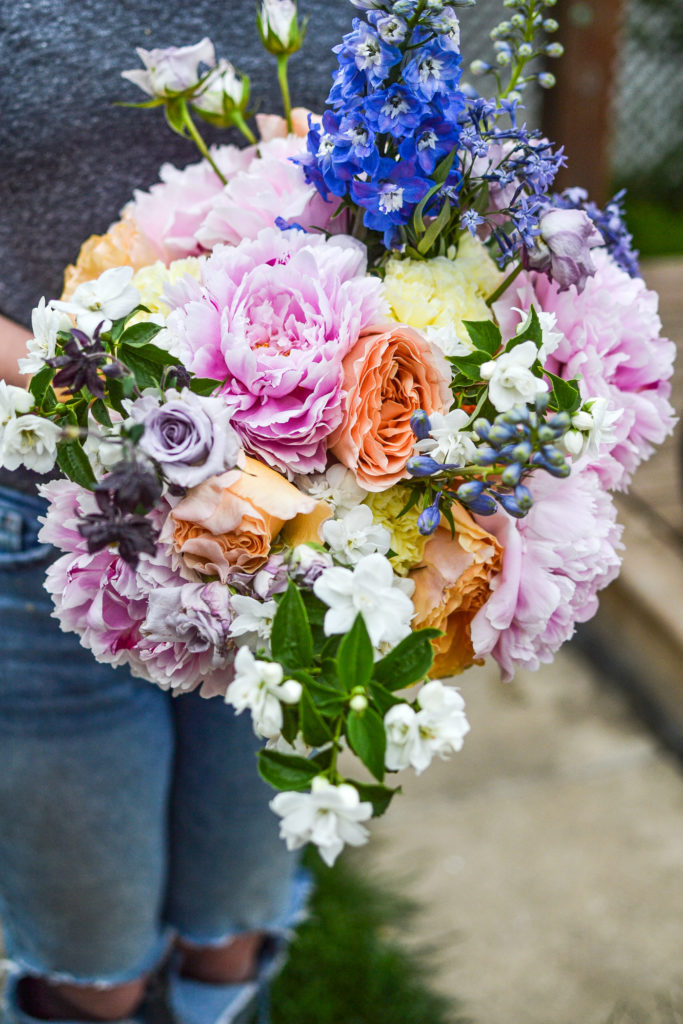 Having said all this, I encourage you to use whatever you have growing in your garden or available at your local grocery store or flower market!
Start small
The bouquet I have made today is quite large, but a simple little posy with just 10-12 blooms and a bit of greens is equally lovely!
How to make fresh flowers last longer
We all want our fresh flowers to last forever, but we know that isn't possible! We can however do a few things to make them last longer!
Conditioning your flowers
The first thing is to condition your flowers before you even start arranging them. This simply means removing all the foliage that will sit below the water line once your flowers are in their vase.
Flowers worst enemy is bacteria in the water, and foliage that is allowed to rot below the water will most certainly shortening their vase life significantly.
Clean Vase
Speaking of bacteria, make sure your vase is squeaky clean! A good wash with soap and water should do the trick.
Fresh Cut
Give your stems a fresh angled cut just before placing them in water. An angled cut provides a larger surface for the flowers to take up water to the bloom itself.
I use a product called Quick Dip that helps flowers to take up water and rehydrate quickly I show you how to use it in the video below! While this is not a necessary step especially if using fresh cut garden flowers, I find it does help to revive flowers that have been out of water for a while!
Use fresh flower preservative in the vase. And, change the water every couple of days.
Avoid placing your arrangement in direct sunlight, near a draft or heat source.
How to make a hand tied bouquet centrepiece – video tutorial
What tools are necessary for making a hand tied flower arrangement
Flower scissors are good to have if you are going to be arranging often
Garden Shears are essential for woody stems
Twine, floral tape or zip ties for tying off your bouquet
a vase or vessel for your completed arrangement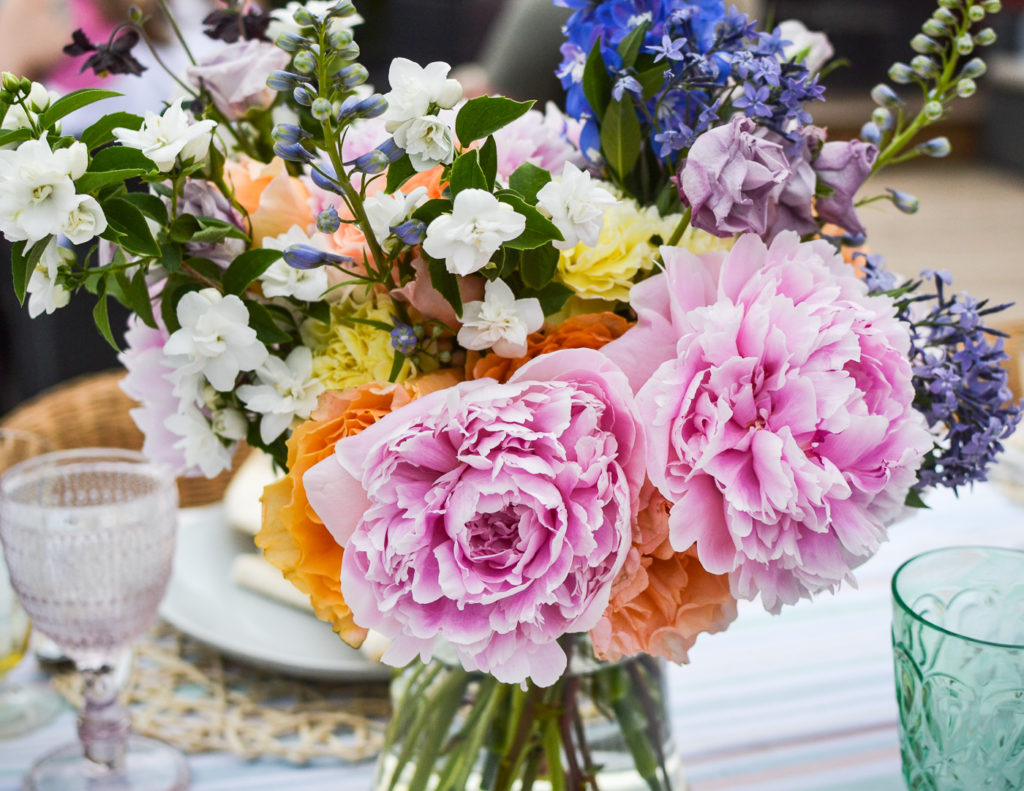 There is such satisfaction in arranging flowers from your own garden.
What I love about garden bouquets is that there are no rules (at least in my opinion!). It really doesn't matter how your bouquet or arrangement turns out, it is beautiful just as it is!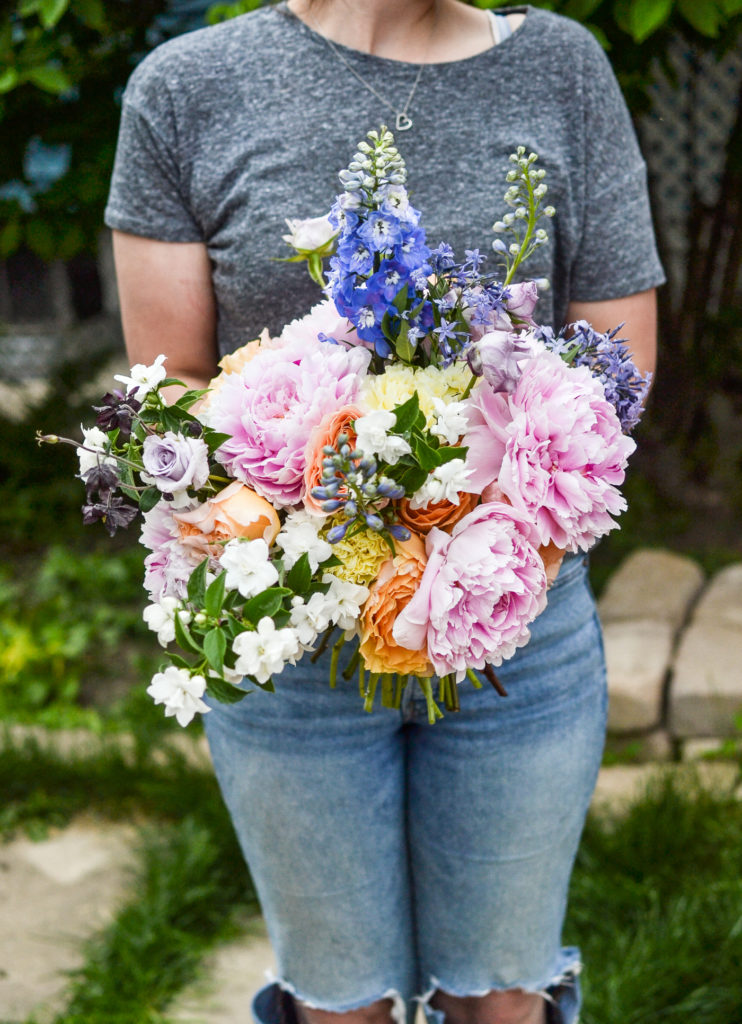 I did work for a florist right out of high school, for a couple of years. For years after that I didn't do more than clip a few peonies or zinnias and plunking them into a mason jar!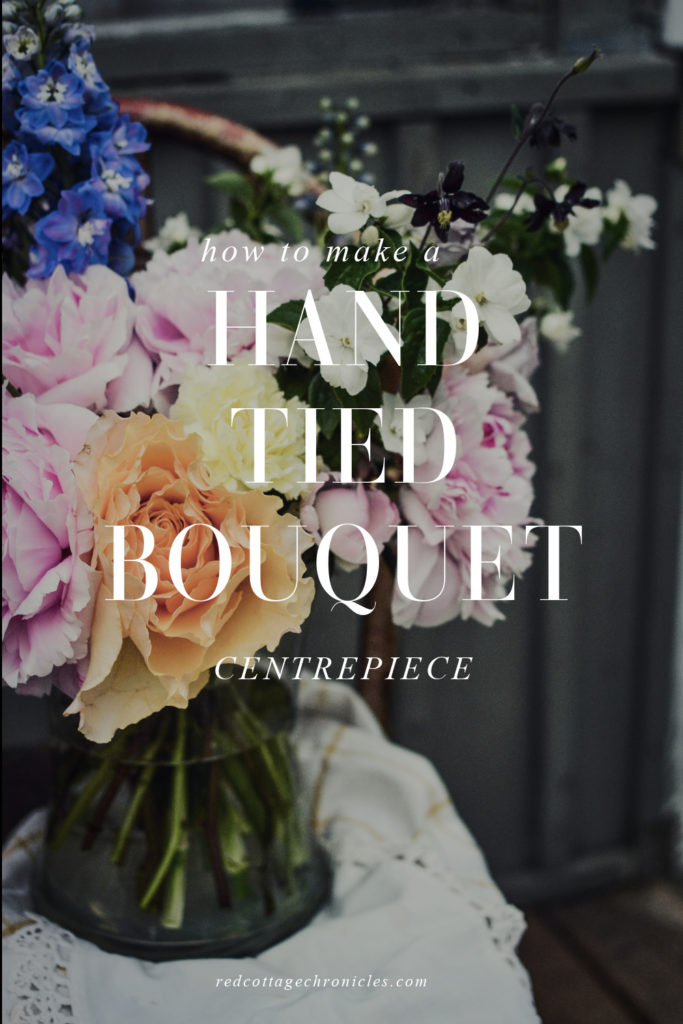 In recent years, I have really embraced my passion for floral design and am learning all over again by trial and error!
Other flower arrangement tutorials you might enjoy