There is just something about English country decor that exudes a welcoming, warm feeling.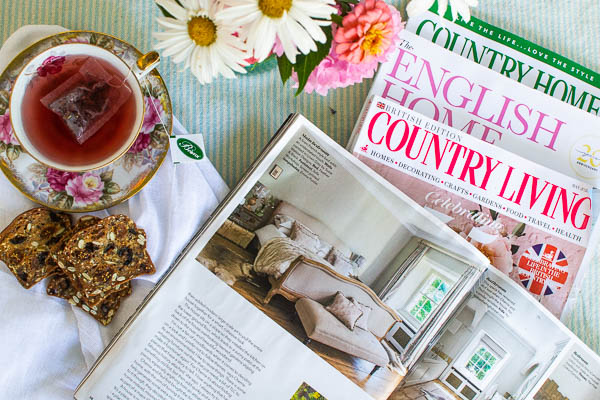 Even in the age of Pinterest, where English country decor ideas are just a click away, I much prefer curling up with one of these UK magazines and a hot cup of tea! And, I am excited to share a few of my favourites with you today.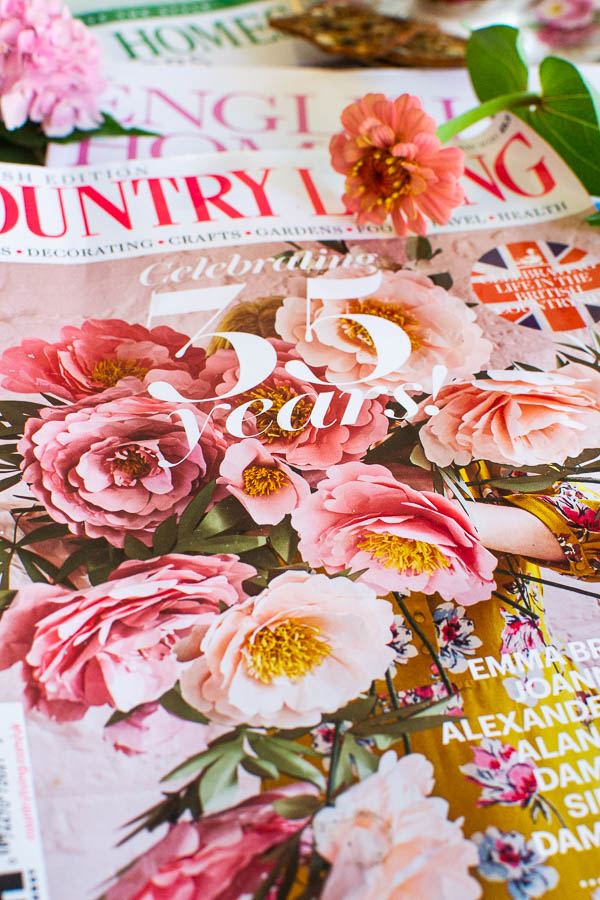 My 3 Favourite English Decor Magazines
I have subscribed to Country Living UK for quite a while now, and I await its' arrival every month!
It's packed with cozy decor inspiration, ranging from tiny little cottages up to large country homes, you will no doubt be hooked too!
Even the advertisements are chocked full of inspiration!!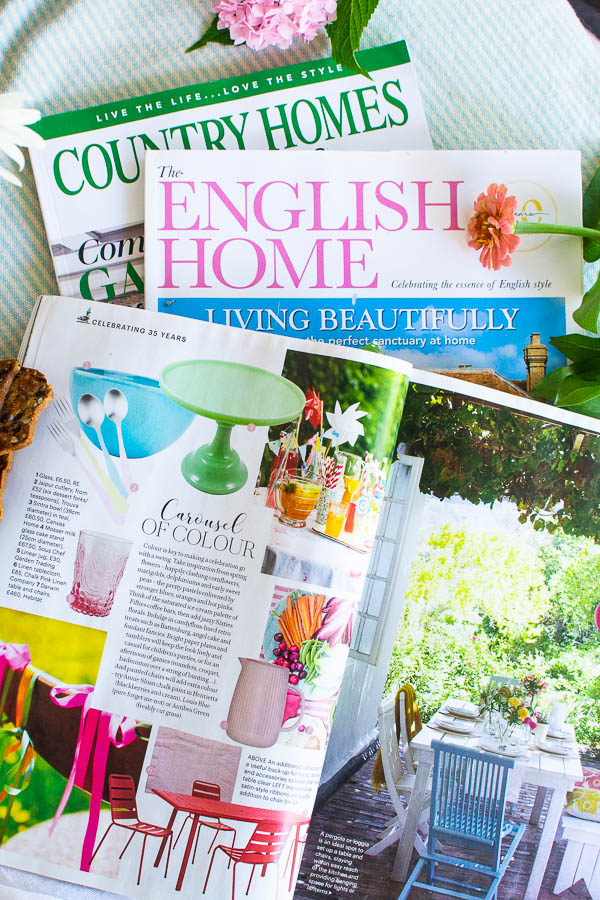 Regular monthly features include……
The Good Life – ideas for the small scale farming in the country and in the city
Emporium – featuring fun finds to introduce country style into your home
Gardener's Notebook – features some stunning gardens and loads of ideas for gardening throughout the seasons
Plus loads of entertaining, home decor, recipes, country vactation ideas and seasonal delights all with a English country vibe
It is available in Canada and the US at many book stores and magazine stands. Or, you can subscribe and have it come straight to your door!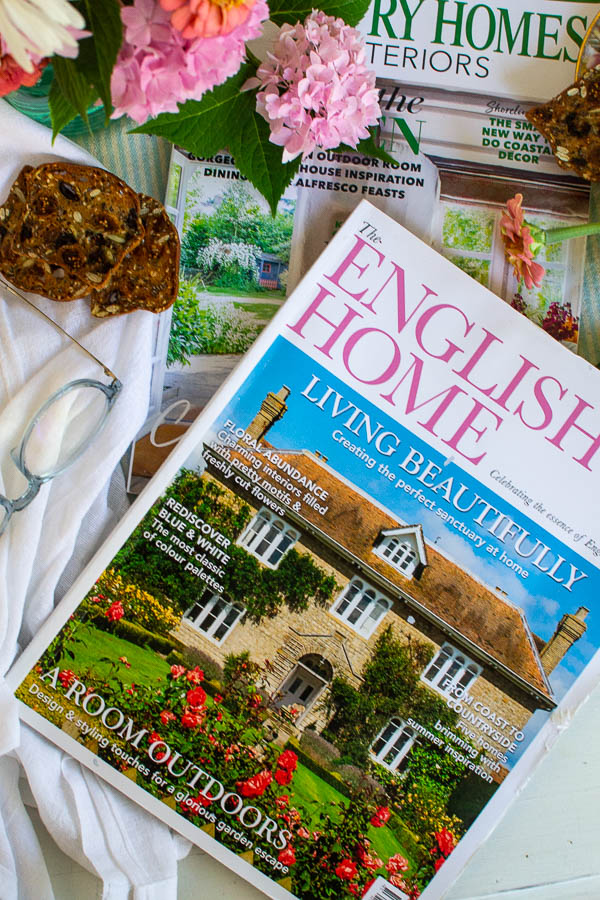 Just last year I discovered English Home and have been hooked ever since. While it does feature some more contemporary and traditional decor styles, it is definitely not lacking in the cozy English cottage decor!
"Celebrating the essence of English style" is the magazines' motto, and it does it oh-so-well.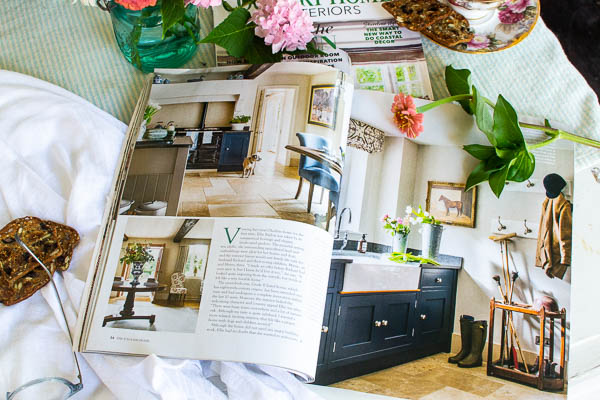 One of the things that really has always drawn me to English country decor is their use of colour and patterns. It is common to see bright bold florals paired with stripes or plaids. Be it soft neutrals like muted grays, greens and blues, or bright and bold yellows, reds and pinks, colour is a key ingredient in English style!
English Home magazine is full of images that reflect both their love of muted tones and bright bold design. Be it through fabrics, wall coverings, art or flowers, you will find lots of examples of stunning decor with that distinct country cottage vibe.
Seasonal ideas and recipes are featured every month.
An index at the back of the magazine lists contacts for all the retailers referenced in that issue. This makes for easy shopping!
You can find subscription information here, but I have found it in the past at drug stores, magazine shops and book stores (and even Walmart on occasion) here in Canada.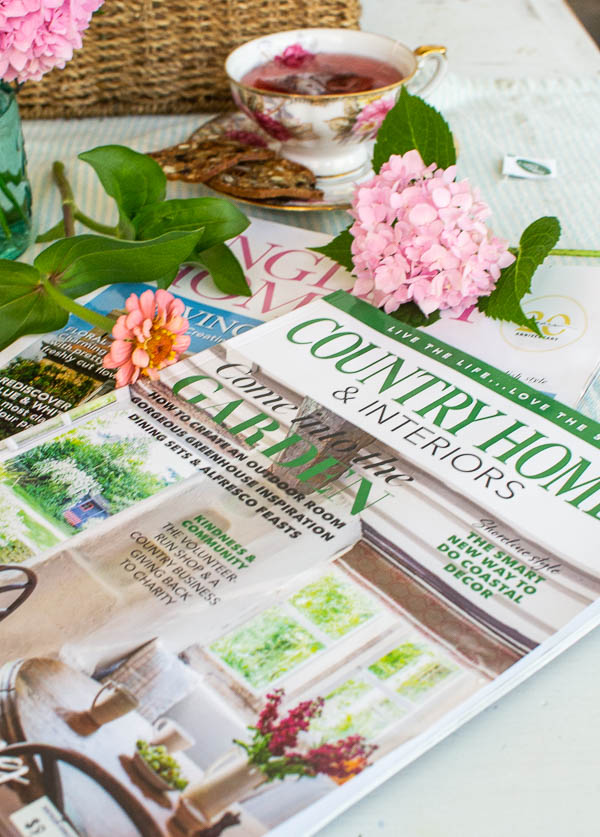 Finally, Country Home and Interiors is a newer find. So far, I am loving what I see each month!
If features pages and pages of English Country interior inspiration!
The monthly feature "things we can't live without" is the place to find links for both trendy and traditional housewares.
You will find farmhouse and cottage homes throughout each issue. Interiors and exteriors are featured, with the most stunning gardens and patios.
It's chocked full of resources and links to all things English Country. I can always find some fun tablescape ideas too!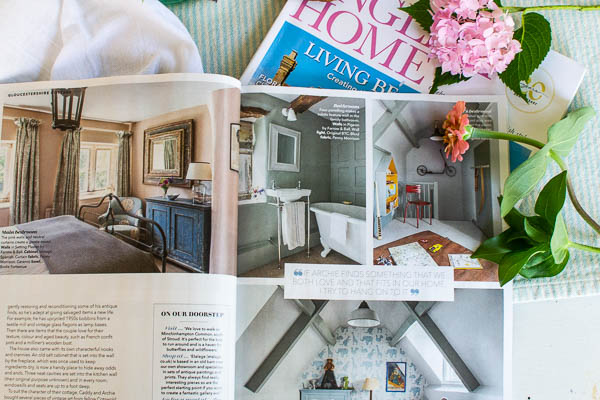 Can I just say the bathtubs in England are stunning! And, all three of these magazines regularly feature incredible bathtubs that are worthy of soaking all your worries away!
You can subscribe to Country Home & Interiors here.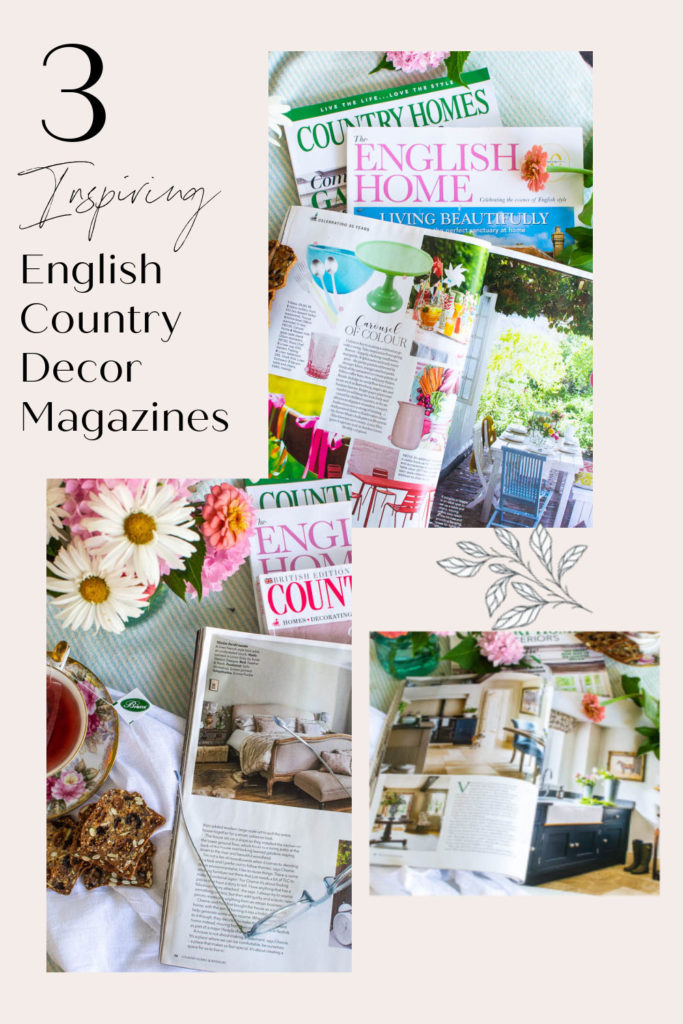 I have been gushing so much, I feel like I should tell you this post is not sponsored in any way, I just really love these publications!
If farmhouse or country cottage decor are styles you adore, I highly recommend you pick up a copy of any one of these three and you will be very glad you did!
Until next time……