How to Make a Spring Flower Basket for your Front Door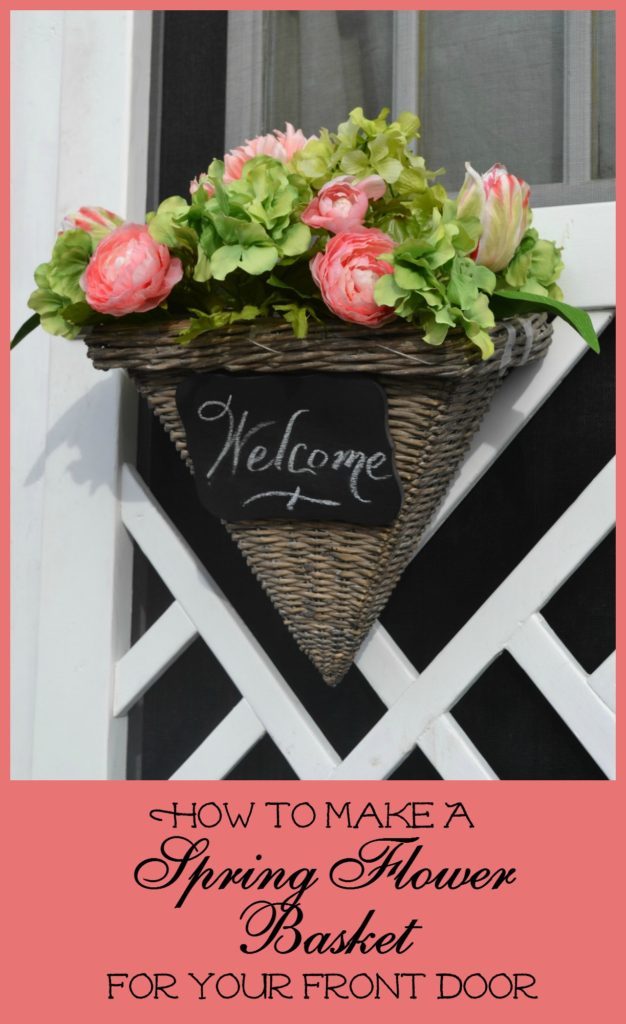 While I consider Autumn my favorite season, come March I am more than ready to welcome spring into my home. Yes, I love the coziness that fall brings but I equally love how with the arrival of spring comes fresh air, vibrant colour and days that grow longer the closer spring gets.
There is no better way to welcome the change of seasons than with a spring wreath adorning your front door. This year I decided to make a bit of a change and decided to fill a basket with gorgeous colourful flowers to hang on the door instead of a typical wreath.
I started thinking about making this arrangement about a week ago and I had the perfect basket in mind. Several years ago while visiting Paris (sadly not the Paris in France), we happened upon a little gift store where this wicker basket caught my eye. It was displayed hanging on a wall with a faux Boston fern in hit. I brought it home knowing I would one day find a use for it. I stored it in our coat closet and it ended up getting filled with all kinds of stuff. Plastic bags, tools, dog leashes. Not exactly what I intended to us it for.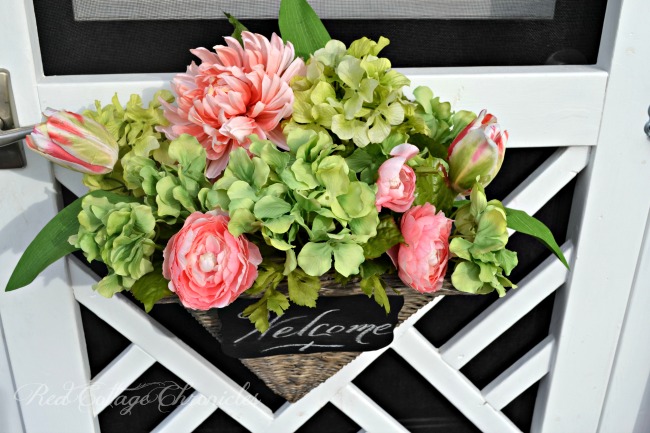 Fast forward to yesterday when I went to find my basket and it was nowhere to be found. I may or may not have had a little temper tantrum. I waited over four years to find the perfect use for this basket and now I couldn't find the darn thing.
Just when I resolved to just use an enamelware jug, my Knight in Shining Armour came out of the shed holding the basket, proud as punch that he found it for me. He is my hero!
Without further adieu, I am happy to share with you how you can make a spring flower basket for your front door.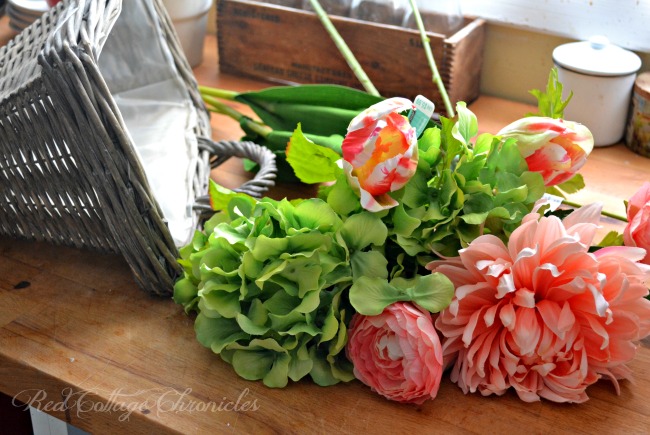 You will need wire cutters to cut the artificial flower stems to length.
Choose a vessel. A flat backed basket works best. An antique wicker fishing basket would work well too!
Choose your flowers. To fill my basket I used 1 "bush" of hydrangea's that had 5 stems in lime green, 2 single hydrangea stems in a slightly different shade of green, 2 stems of ranicula's with one large and 1 small bloom in a peachy pink, 2 single tulip's, and one large bloom which I think is a dahlia also in a peachy/pink colour. You can always bring your basket with you when you choose your flowers to make sure you buy the right amount.
I bought all my blooms at Michael's when they were on sale for 30% off, plus used an extra 15% off all purchases coupon. Total cost was $28.00.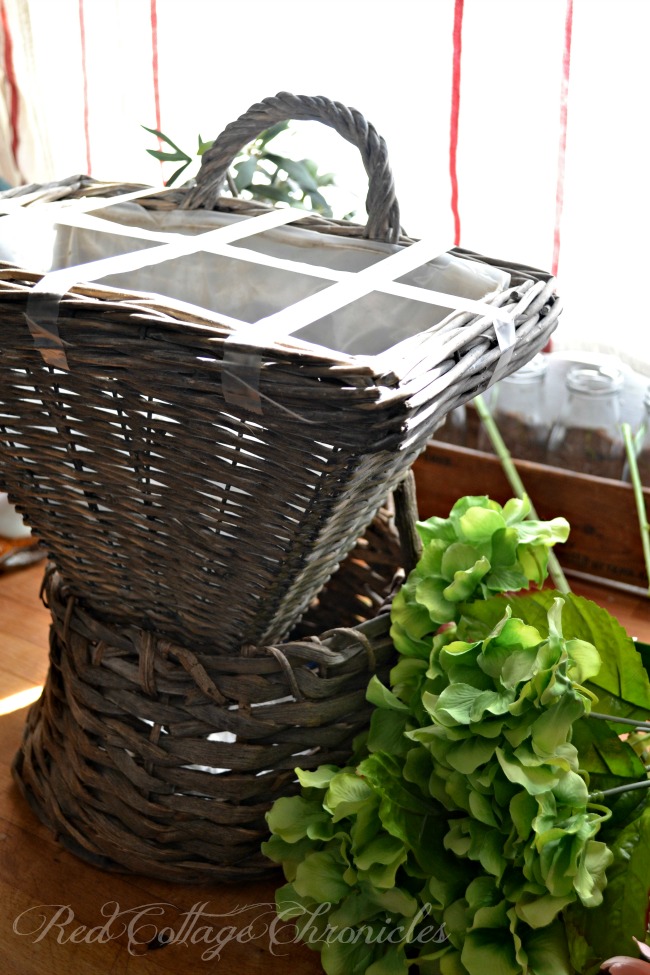 Since my basket was coned shaped, I set it into another basket to keep it upright making it easier to design the flower placement.
You will want to tape the top of your basket with floral tape in a grid pattern (unless you are like me and forgot to buy it, in which case you can use scotch tape!) . This aids in holding the flower stems in place. Because my basket was so deep, I also stuffed a bit of bunched up newspaper in the bottom to add some stability to the stems.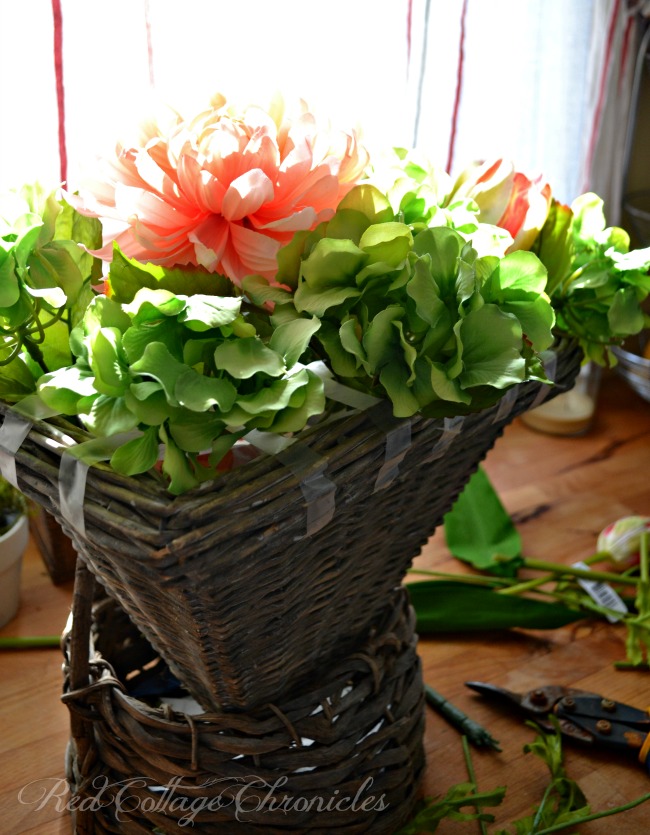 Since the green hydrangea's were the most prominent flower in my basket, I started by cutting them to length and placing all of them in the basket dividing them between the grids to evenly fill the basket.
I then added the large single dahlia bloom just off set from center. I cut that stem a bit longer than the hydrangea's to give it some extra height.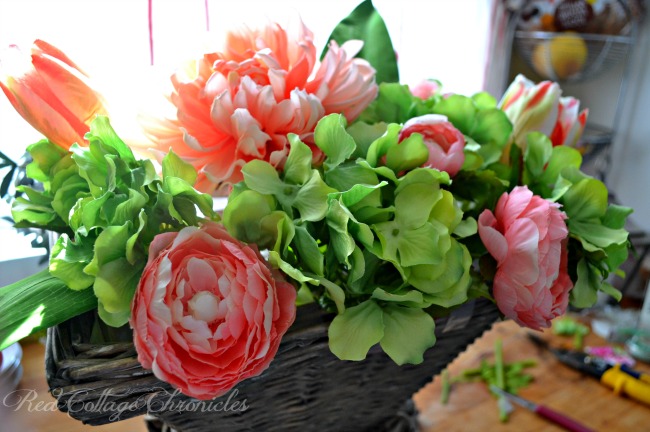 Continue adding the other blooms into the arrangement, scattering them throughout until you are pleased with the design. Again, I cut some the same length as the hydrangea's and some just slightly longer. I bent some of the stems to get them to sit exactly where I wanted them.
I used some cut off stem pieces and taped them to the tips of the extra tulip and ranicula leaves to add in as filler. Giving them a long stem keeps them securely in the basket.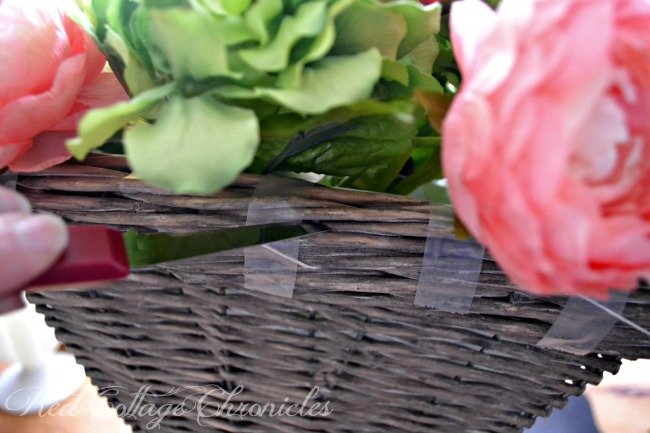 I trimmed the long pieces of tape with a paring knife, but you can avoid this by using shorter pieces of tape in the first place. Make sure you trim all the pieces of tape, not just the ones in the front, before you hang it on your door and take pictures of it! What can I say, it was a long day!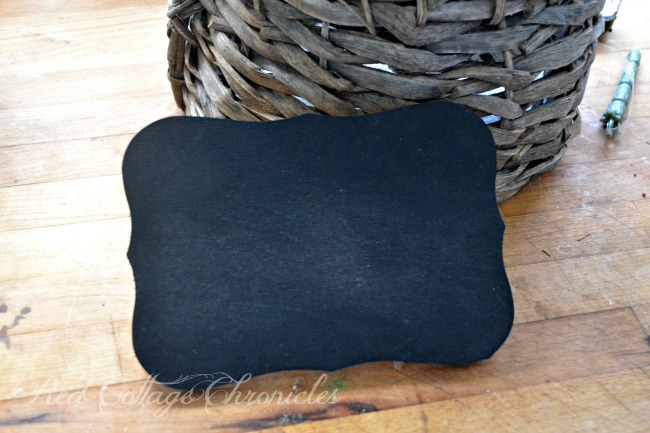 I had this little wood sign leftover from another project, which I had spray painted with chalkboard paint. I glued it with hot glue to the front of the basket to create the "Welcome" sign.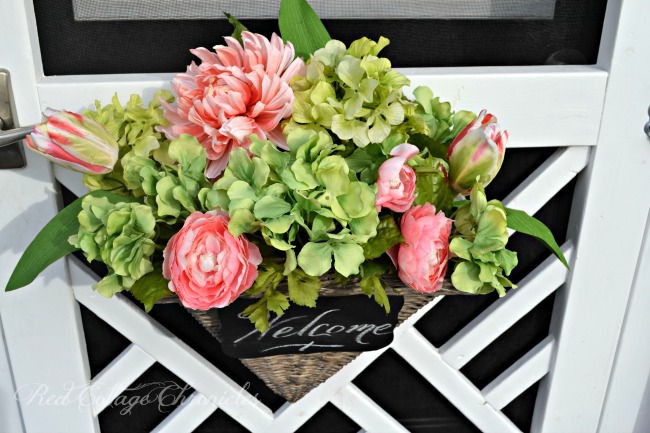 I didn't want to put any screw holes in the DIY front door we made last summer, so I used an 'S' hook to hang it on the top cross bar. If you don't have a screen door like we do, you can just use a standard wreath hanger to secure it to the door. My basket had a loop already on the back of the basket, but you could easily use wire threaded through the basket to create a loop if your basket doesn't have one.
There you have it! A beautiful basket of colourful flowers to welcome spring into your home.
I really couldn't be happier with how it turned out. I am especially pleased with the colours I decided on, considering I went in thinking I wanted pinks and purples. Those lime green hydrangea's were just calling my name.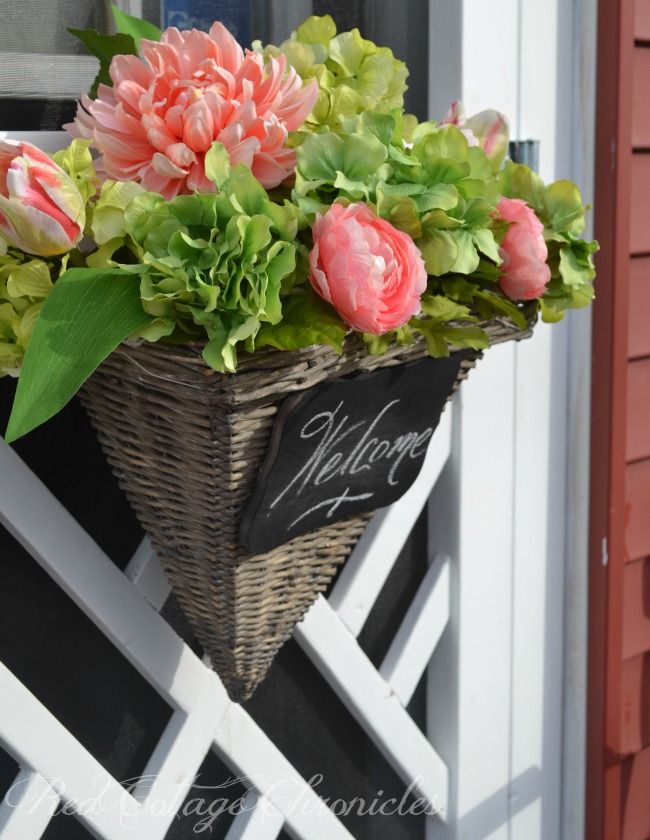 Are you ready to try something different than an ordinary spring wreath for your front door? Grab a basket and some pretty silk blooms and welcome spring into your home!
Want even more spring inspiration? I am Partnering with Hometalk today for DIY My Spring. Check out all the links below for fun DIY spring projects! And, don't forget to visit me on Hometalk
Until next time..
Maureen
With lots of projects coming up, you won't want to miss a single one. Why not join the Red Cottage community. Simply add your email address below. Only receive an email when a new post goes live!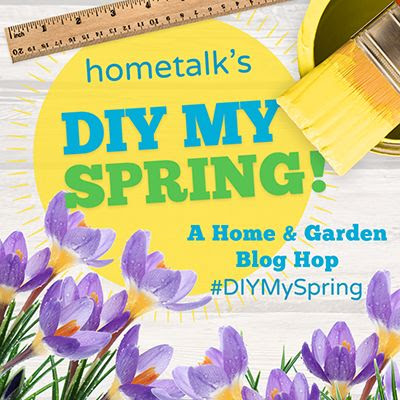 <!– end InLinkz script →