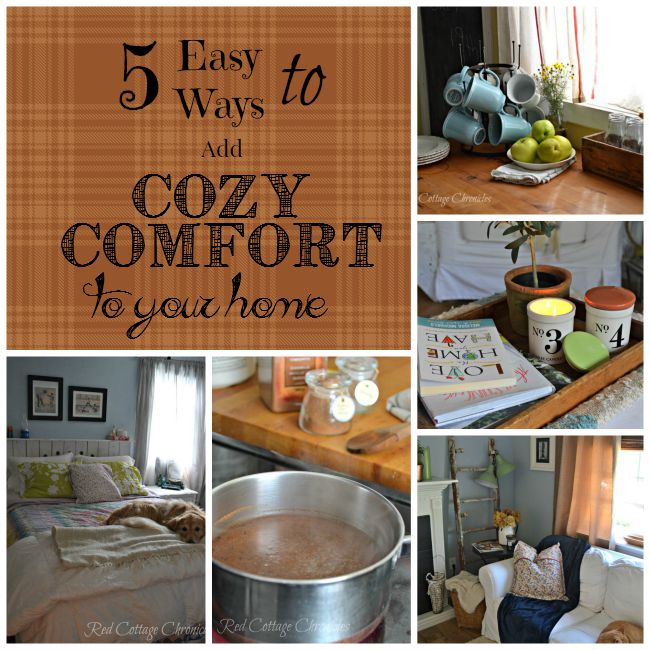 Adding a cozy comfort to your home does not have to be fussy or expensive.
I'm happy to share the 5 things that I have found instantly make my home feel cozy and welcoming.  The perfect place to come home to after a long day.
And the best thing.  It doesn't have to cost dime!
I think the essential elements to a cozy comfortable home involve all the senses!
Here are my 5 favorite ways to add cozy comfort to our home!
1. Soft throw blankets and pillows in rich colours
The soft feel of this velvety soft blanket speaks to our sense of touch, while the rich navy colour gives a warm and cozy visual appeal.  A cushy down filled throw pillow covered in a cranberry and navy pattern adds another layer of comfort….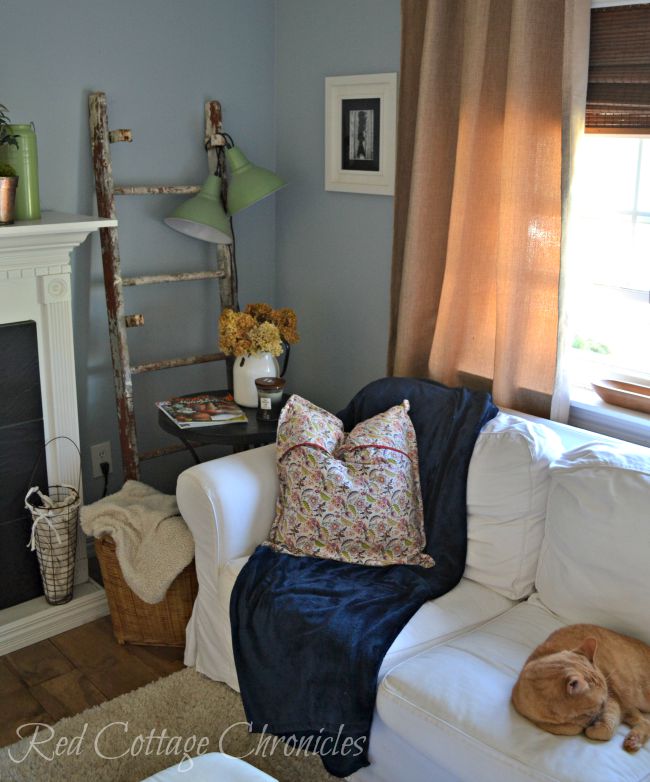 We always have a basket of throw blankets nearby to cover up on cool evenings too!  The side table holds a current magazine or two, and a Wood Wick candle that adds the sound of a crackling fire.  Is there anything more cozy than that?!
2.  Books, candles and wood trays
On the ottoman, which also doubles as a coffee table, I have an old wood tray with books I am often referring too!  I can't tell you how many times I refer to Love The Home You Have by Melissa Michaels.  It really has put things in perspective when it comes to the love/hate relationship I have with my house!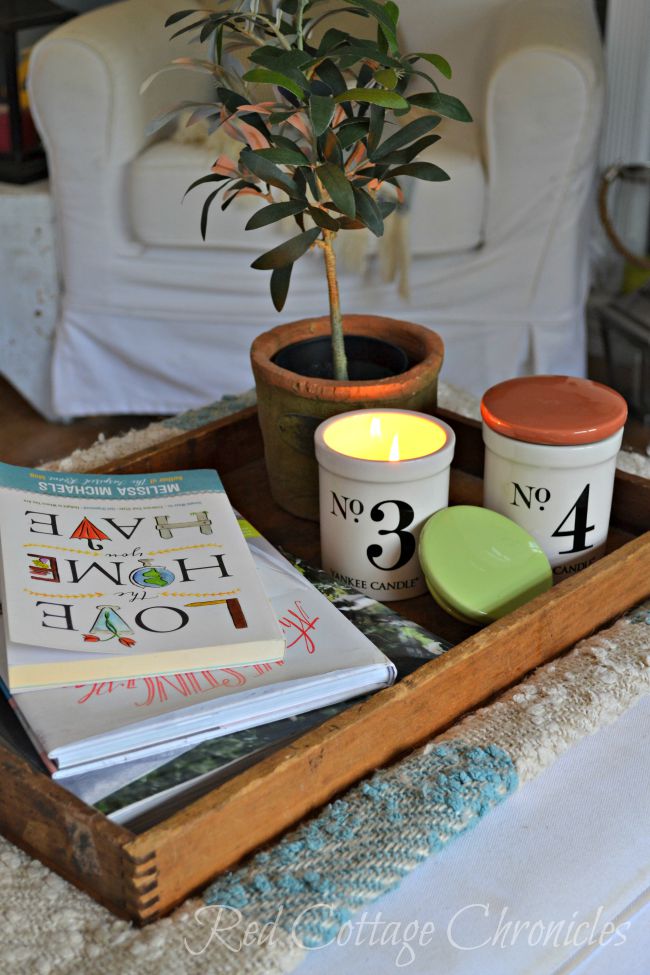 A couple of candles in a soft coconut mandarin scent are pleasing to the eye in the little numbered crocks that I picked up at Yankee Candle a couple of years ago.  And smell heavenly.
Candles can also be purchased very inexpensively at any dollar store if you don't already have any.
No wood tray?  Substitute a large wood cutting board.
The idea is to layer and nestle things you will use in a practical way and organized way.  I first threw a nubby blanket over the ottoman, which added texture and warmth to the otherwise white background.  I then placed the wood tray on top, and neatly corralled the books, candle and topiary together in the tray.
3.  Appeal to your sense of smell with spices
Adding cozy comfort to your home is as simple as boiling a pot of water infused with a teaspoon of cinnamon, a 1/2 teaspoon of nutmeg and a 1/2 teaspoon of cloves!  After it reaches a boil, turn the heat down and let it simmer for an hour or so!  Yum!  (It is a good idea to check on it every once in a while to make sure there is enough water in the pot.)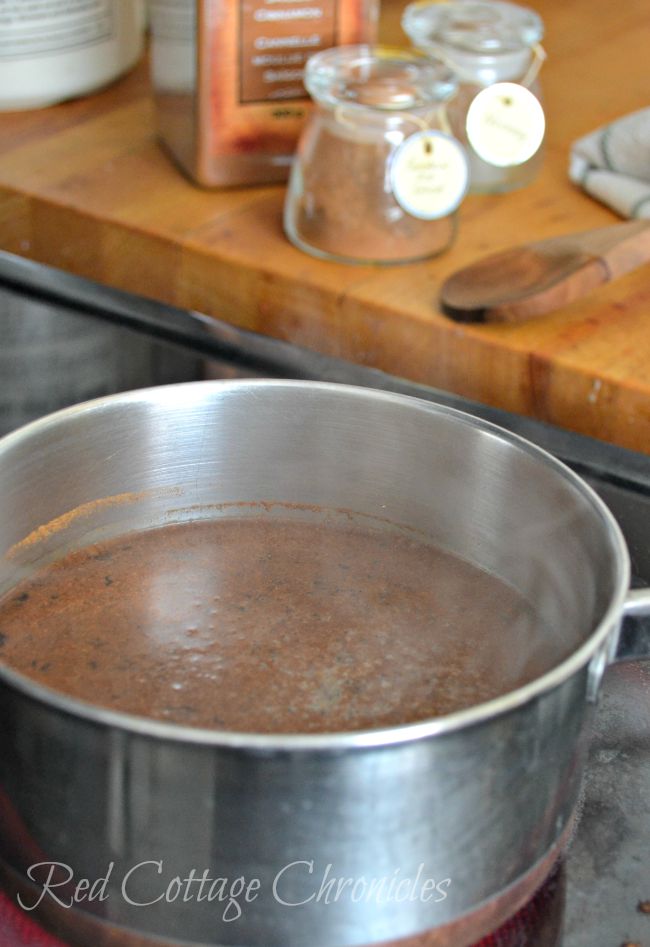 Just be careful!  Family will think you have a pumpkin pie in the oven!
4.  Tastes of the season
In the autumn and winter seasons apples are at their peak!  Why not have a bowl full on the counter for easy snacking.  Seeing them all washed and at the ready may even inspire you to bake up one of my favourite comfort foods.  My Nana's apple pie!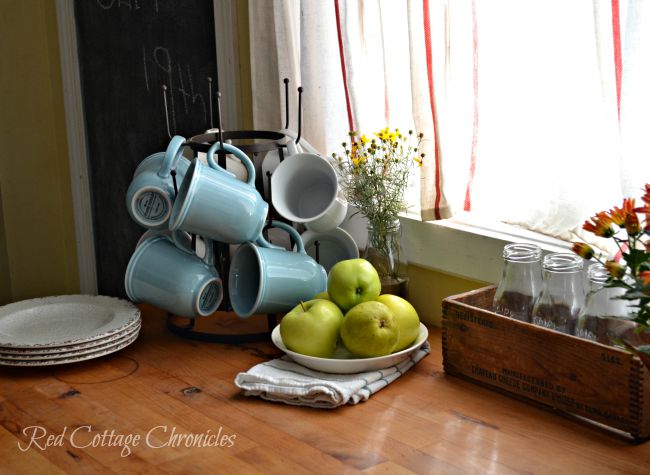 We stock up on apples to our yearly visits to Windward Farms for an afternoon of apple picking!  The prices can't be beat.  We store them in our screen porch during the fall which keep them fresh for weeks.
You will always find a bowl of apples on the countertop at our house!
Add a few late blooming flowers clipped from the garden or even some oak leaves picked up from a walk outside and really add cozy in the kitchen.
5.  Cozy up your bedding
Nothing says comfort like a cozy bed.  As the nights begin to cool down adding a quilt is essential.  An extra down duvet folded up at the end of the bed is perfect for covering up if you are just lounging in bed, reading a book on a cool afternoon.  Lots of fluffy pillows are another must for a cozy bed.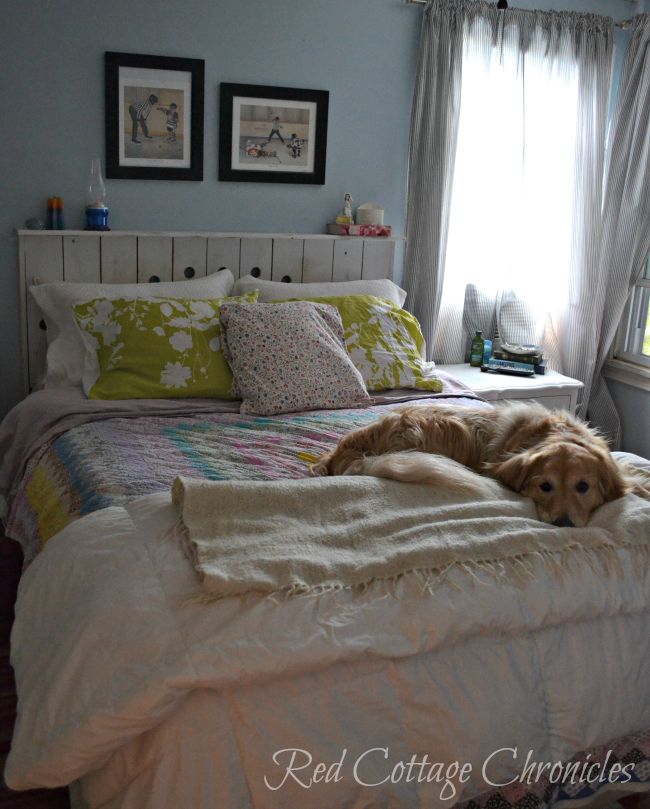 I still am keeping a lighter colour pallet in the bedroom since all my richer, deeper coloured bedding is flannel for that extra layer of warmth in the winter, and I am not quite ready for flannel yet!
When it comes to my bedding I tend to stay away from matchy, matchy and find a mix and match approach to be more appealing for my taste!
A warm, furry golden retriever is a bonus on a cool fall day!  Although as soon as the days begin to cool and I had the extra layers to the bed Tripper is the first to claim his spot!
There you have my five inexpensive and easy tricks for adding a little extra cozy comfort as the seasons begin to change and the temperature starts to fall.
What are some of your tricks for creating cozy comfort at home?
Until next time….
Maureen