One Cream Pie Recipe Four Different Pies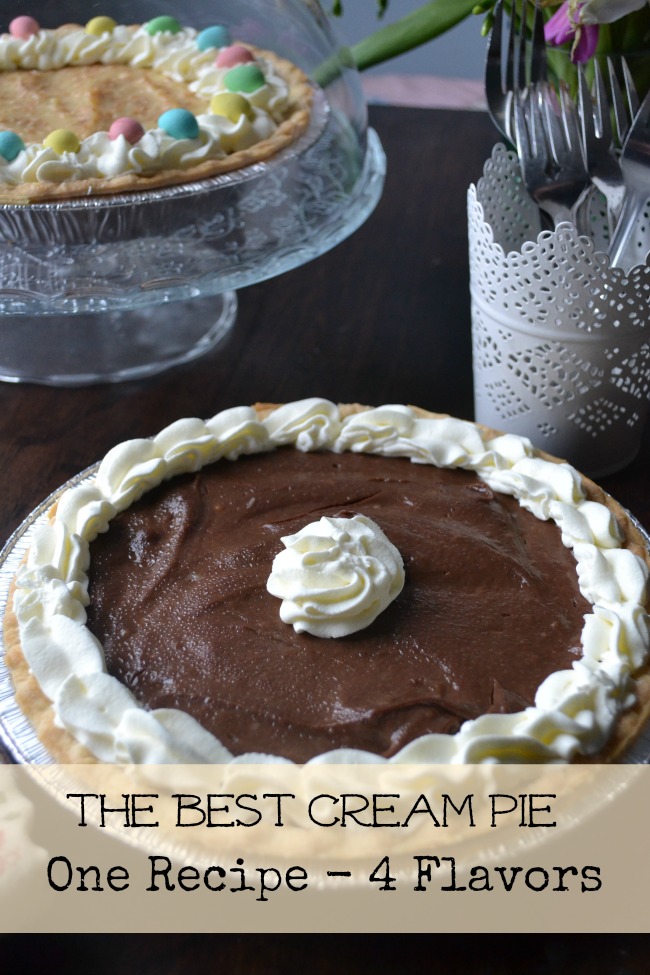 When I took a baking class a couple of summers ago, one of the first things we learned to make was cream pie. Four ways. Had you asked me prior to the class if I liked cream pie, the answer would have been that I could take it or leave it! Now Chocolate Cream pie is one of my favorites.
The fun thing about the baking class was that we got to bring all of our baking home every week. Taking home 4 different cream pies that week began my deep appreciation for this very simple custard recipe.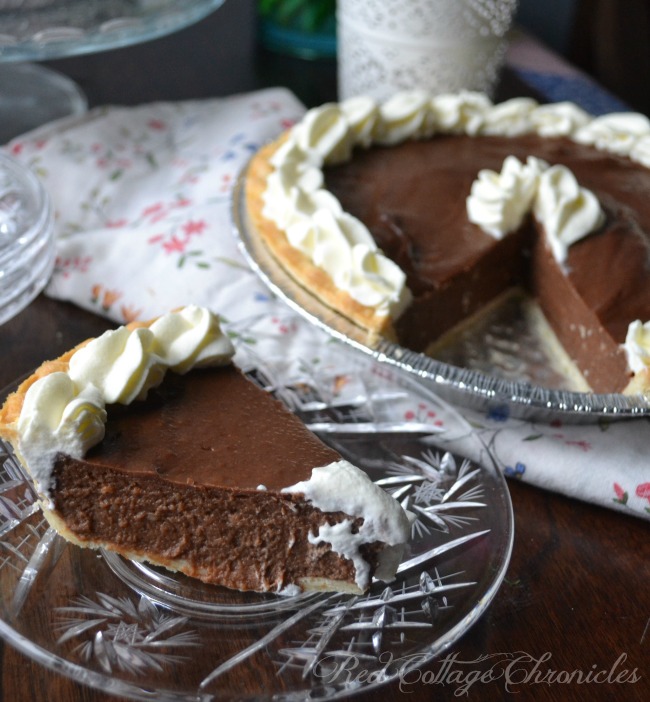 We had the best chef instructor and he didn't stop at just the original vanilla cream pie recipe.  Oh no.  He had us melting fine dark chocolate Belgian, toasting finally shredded coconut and slicing fresh bananas.
The result was the creamiest, most flavourful cream pies I have ever tasted. I am talking bake shop quality cream pies!
He taught us to make so many basic bakery style recipes that summer, and I have to admit I surprised myself more than a few times with how amazing some of my creations turned out. Like these cheddar cheese biscuits and these date squares that are now a family favorite.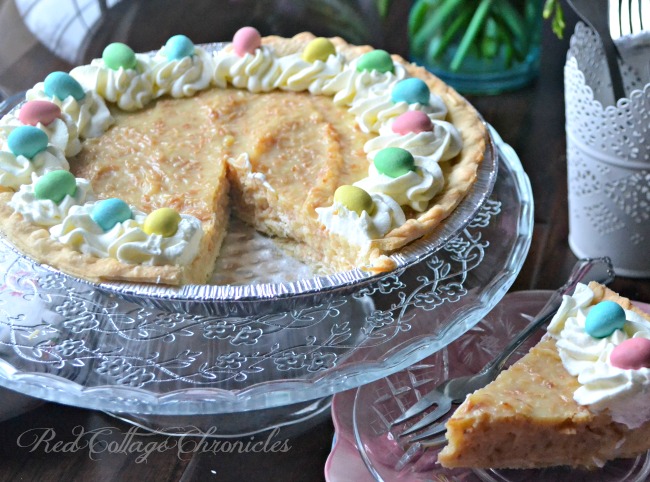 These pies are so easy to make that you can have two ready in about 20 minutes. Allow about an hour for chilling and you have an seriously delicious dessert all ready to go!
I used frozen pie shells and baked them while I was preparing the custard on the stove top. If you have the time or preference, feel free to use homemade pastry for the shell. You can even use a fancy pie plate like this one* to make it the presentation even more special.
When we made the pies in class we decorated them simply with some fresh whipped topping, and I usually stick with that, but since Easter is coming soon I thought I add some pastel coloured chocolate Easter eggs. I love how it turned out.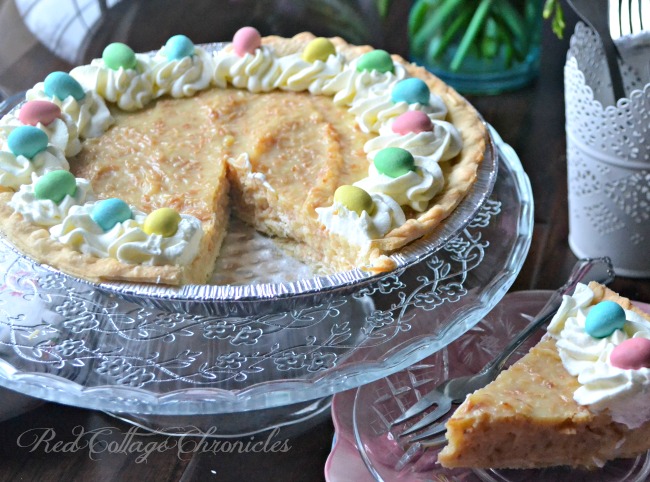 What flavour would you choose?
Smooth Vanilla
Decadent Creamy Chocolate
Toasted Coconut
Fresh Banana
Since this custard filling recipe makes enough for two pies why not do what I did and make two different flavours. Or, if you are feeding a crowd, make two batches and try all four flavours! Or make four chocolate cream pies!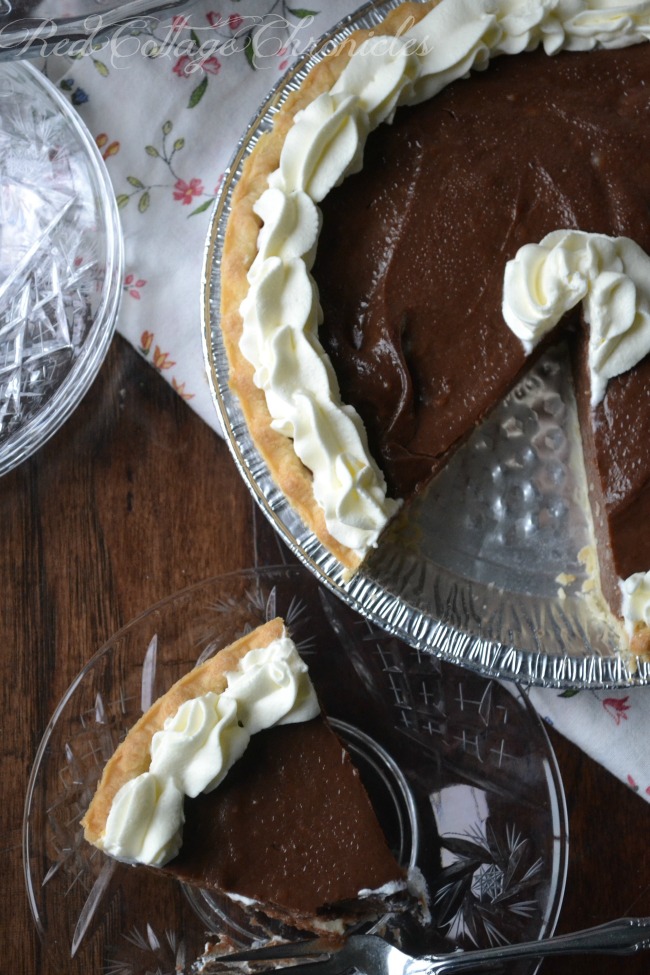 As for me, Chocolate is my favorite flavor, but I don't mind making them over and over again in case I change my mind!
Until next time….
Maureen
Vanilla Cream Pie
2016-03-02 17:45:07
Serves 16
A delicious cream pie custard filling that can be customized to 4 different cream pie flavours
Ingredients
2 frozen pie shells (or pastry to line 2 10" pie pans)
1 litre of milk
125 grams granulated sugar
1 teaspoon vanilla extract
4 egg yolks
2 whole eggs
75 grams cornstarch
125 grams sugar
55 grams butter
300 mls whipping cream
Instructions
Bake pie shells according to package directions
Place milk, 125 grams sugar and vanilla extract in thick bottomed sauce pan, bring to boil, do not disturb sugar. As soon as it begins to boil stir with wooden spoon. Remove from heat and set aside
In a large heat proof bowl using a whisk beat the egg yolks and whole eggs.
Combine the cornstarch and remaining 125 grams of sugar and whisk into the eggs until perfectly smooth.
Temper the egg mixture by slowly whisking in the hot milk in a slow thin stream.
Return this mixture to the heat and bring to boil over medium high heat, stirring constantly until the mixture begins to boil and thickens. This happens quite quickly.
Stir in the butter until completely melted and blended in.
You can know divide this vanilla custard between the prepared pie shells or see notes below to customize the custard filling to make a chocolate, coconut or banana cream pie.
To garnish pies, whip the whipping cream until stiff peaks form and spread or pipe on top of pies as you wish.
Notes
Chocolate: Add 125 grams of melted dark chocolate into the hot vanilla cream filling and divide between prepared shells.
Coconut: Toast 125 grams of unsweetened shredded coconut in 350 degree oven for about 5 minutes, stir into vanilla cream filling and divide between prepared pie shells.
Banana: Using the vanilla cream filling, pour half the filling into the pie shells, cover with thinly sliced bananas and fill with remaining vanilla cream. Garnish with whipped cream and bananas
Red Cottage Chronicles https://www.redcottagechronicles.com/
*This post contains affiliate links. This means if you click the link, like what you see and make a purchase then Red Cottage Chronicles will receive a small commission without any increase in cost to you!