Rustic Evergreen Christmas Wreath Welcomes in the Holidays
Can I just say that I am giddy for the start of the holiday season! I know there are two camps when it comes to getting the holiday's started. Either you are camp "it's November 1st, finally time to get Christmas started" or "what is wrong with those people who start Christmas the moment Halloween is over"! Can you guess what camp I am in?!
In all honesty though, I do refrain for any decorating this early. However, I have been known to watch a Christmas movie (or 10) as soon as November 1st hits.
This year I was delighted to be invited to participate in the Deck The Home Blog Hop that officially begins today. There is just something about the Christmas season that seems almost magical and I am so glad to be sharing some of that magical feeling with you for the next few weeks as I partner with 26 other talented bloggers to share a little bit of Christmas!
This post may contain affiliate links, which simply means if you purchase a product through a link, I may earn a small commission with absolutely no increase in cost to you!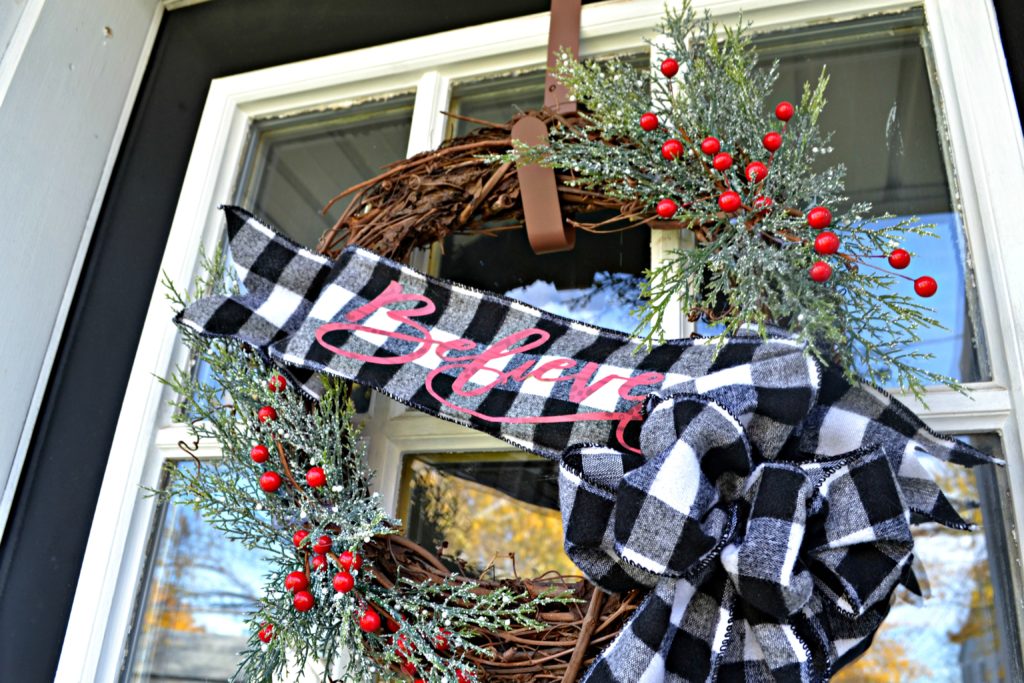 Every Monday we will be posting a different decor idea related to the holiday season, and this week it is all about Christmas Door Decor!
Since I still believe in the magic of the season, I couldn't resist making that very clear starting right at the front door! This rustic Christmas wreath gets the message across and couldn't be easier.
I started with an old grapevine wreath that I used to make this wreath last year. I just plucked off the dried blooms, turned it over and used the other side as the base for my rustic Christmas wreath.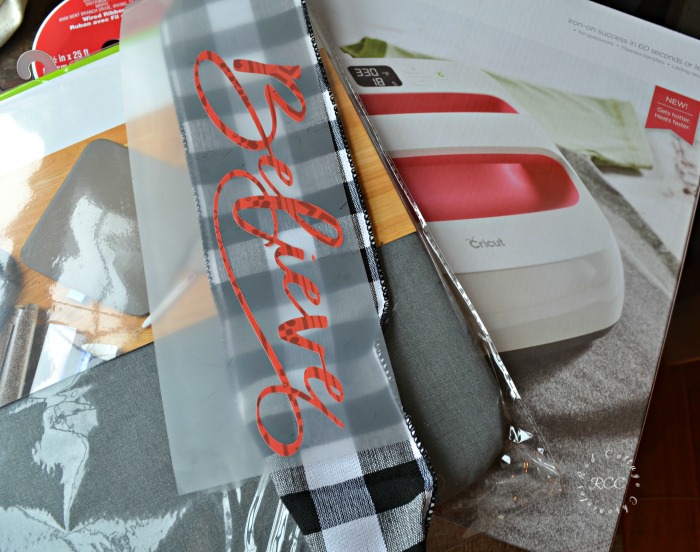 My new Cricut Maker got put to good use to embellish 3″ wide buffalo check ribbon with the word Believe. I had purchased the image from Creative Market quite a while ago. It was easy to uploaded it Cricut's design space, and then used their new patterned iron-on to create the word. I used the Easy Press to iron it into place. I did it so fast, I forgot to take photos.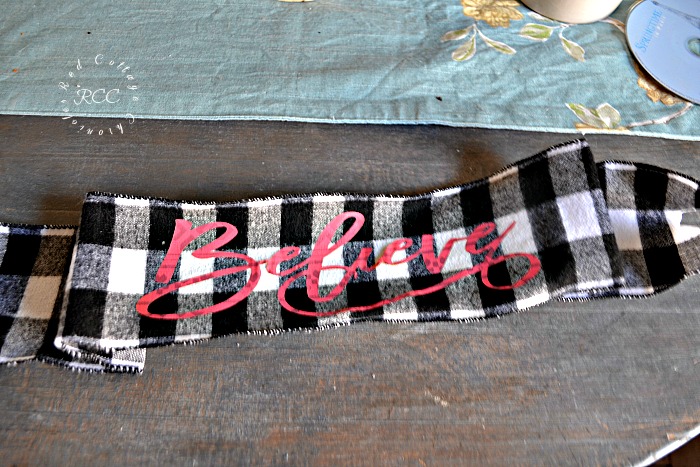 I picked up a full stem of frosted evergreen from Michael's (with a 50% off coupon of course). I already had a stem of red berries at home. I also bought the ribbon from Michael's, also with a coupon!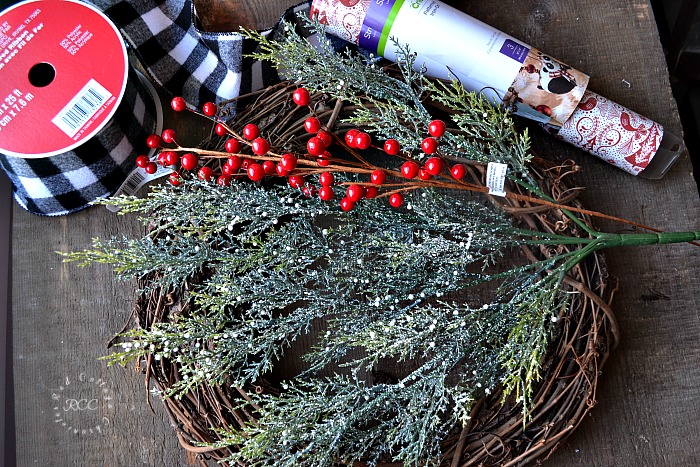 Next, I pulled all the evergreen tips off the branches, and cut the berry clusters with wire cutters.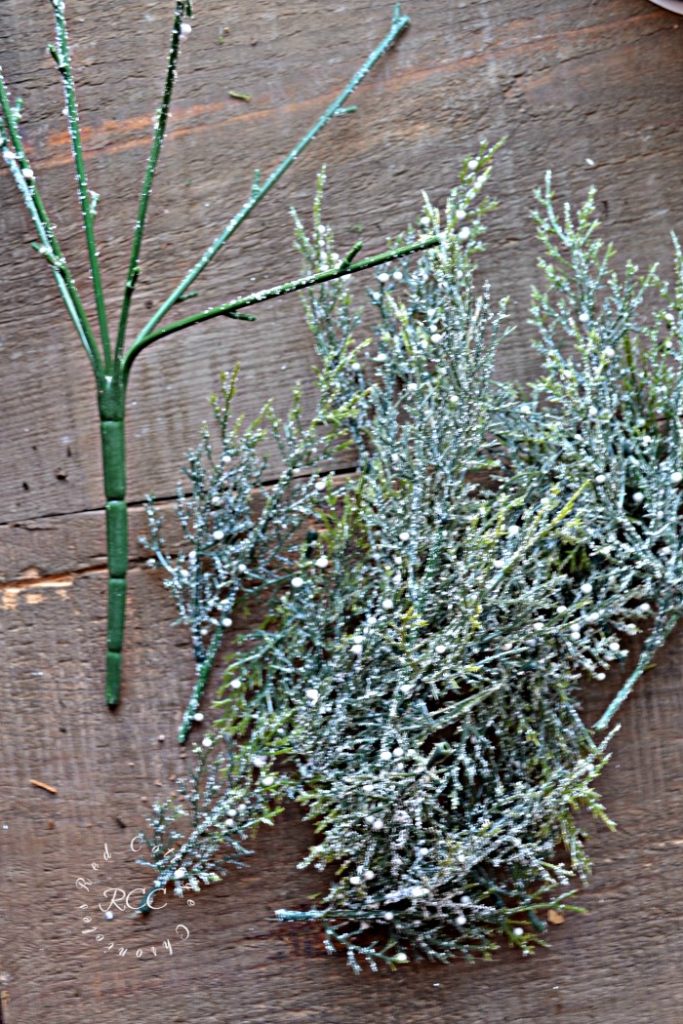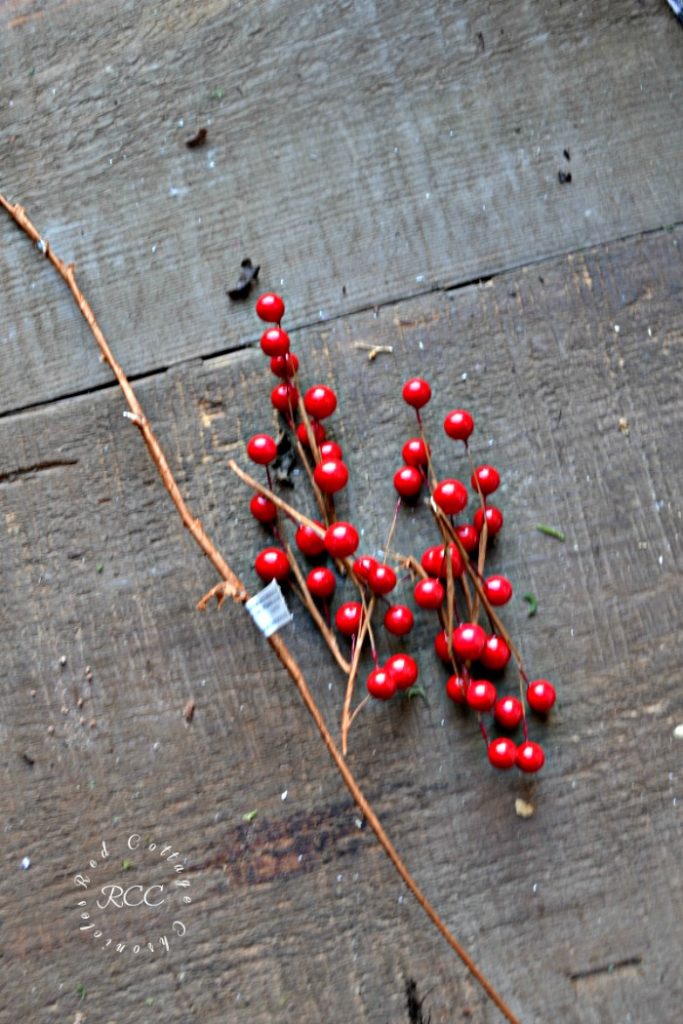 Then, I laid the embellished ribbon across the wreath and positioned it exactly where I wanted it.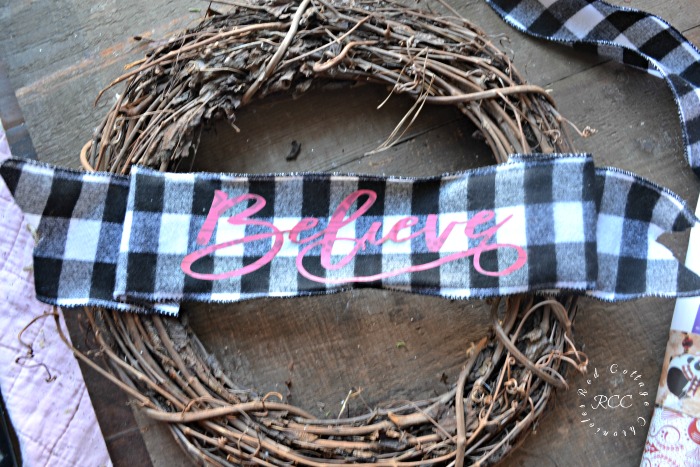 Just below the ribbon on the left side I began to arrange the frosted evergreen tips. Filling in as I went along until I was happy with how it looked. Tucking them into the grapevines helped hold them into position. To be certain they were secure I used my hot glue gun to hold them in place.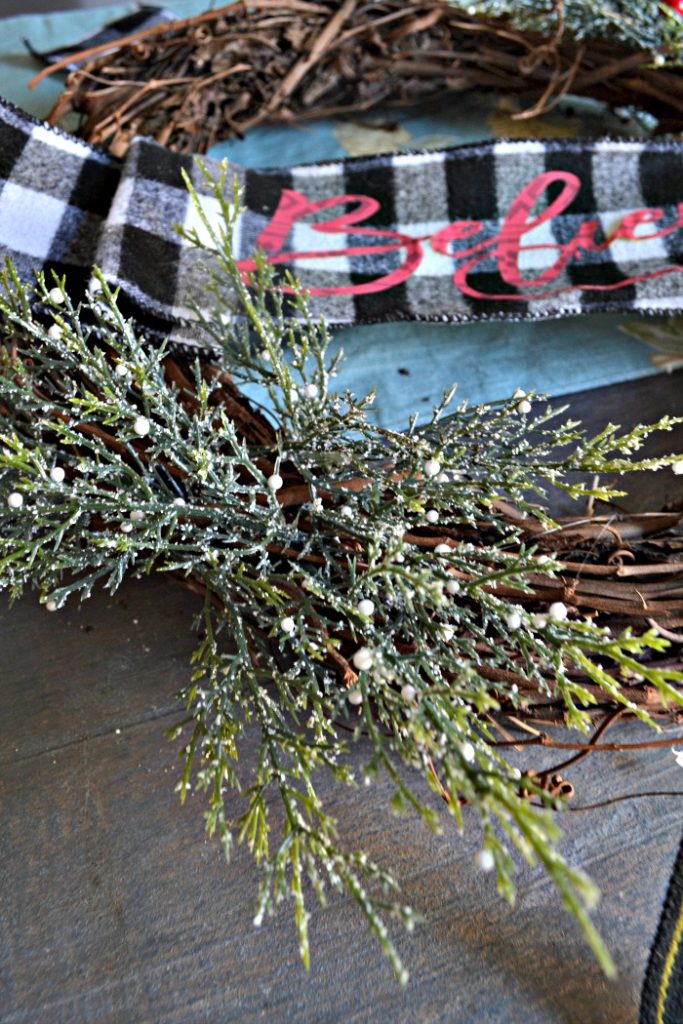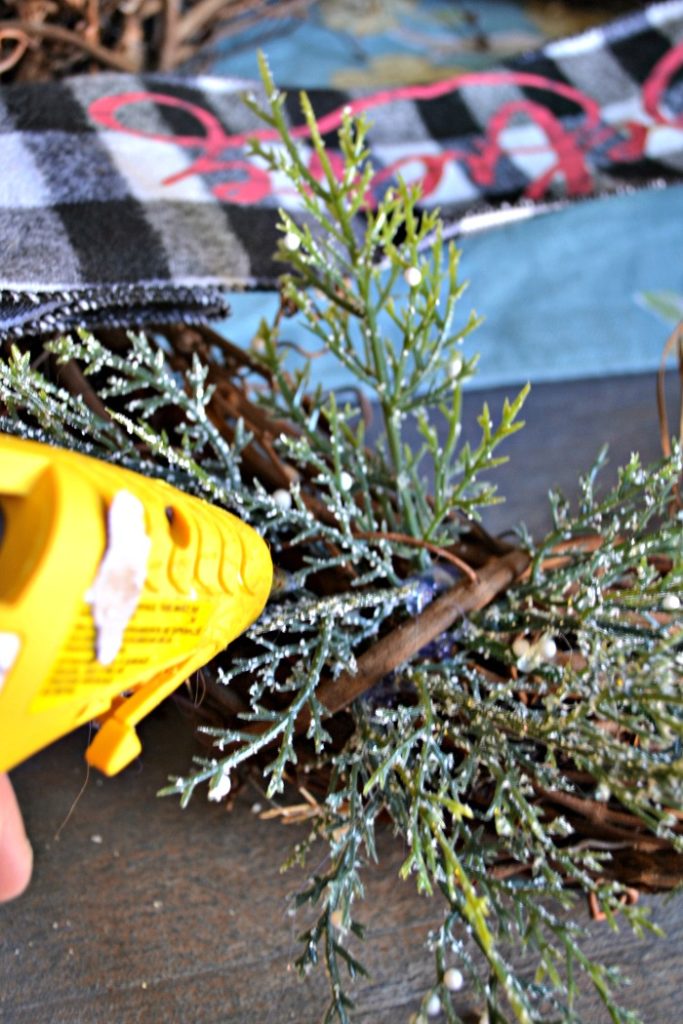 I tucked in a few clusters of berries and hot glued them.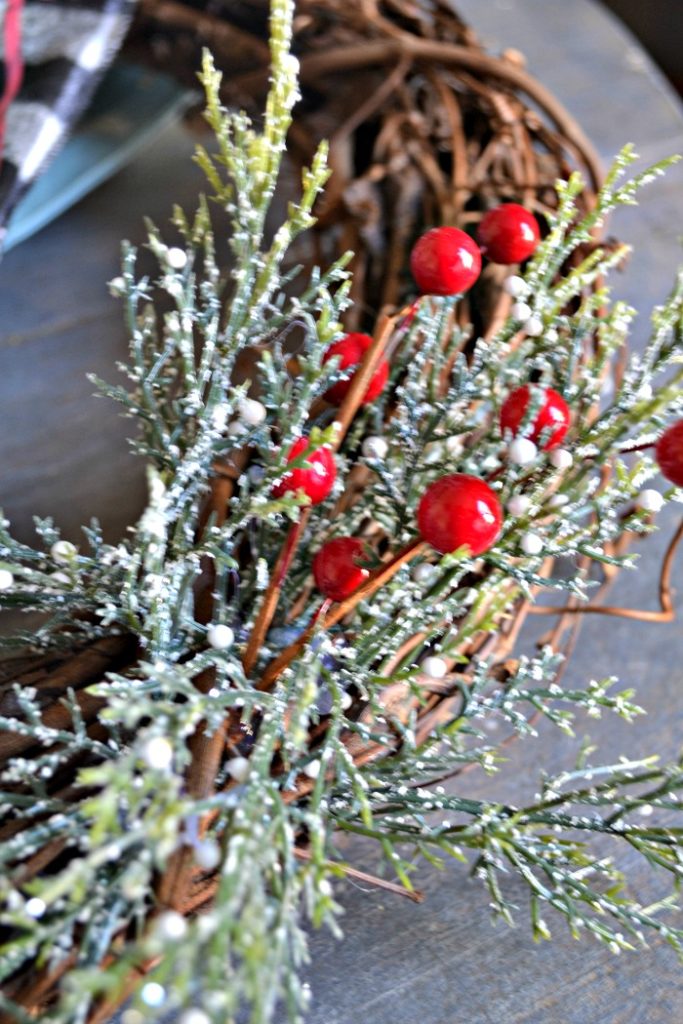 I tacked the ribbon onto the wreath with a bit of glue and was pretty happy with how it looked, but thought it needed something else. Like it wasn't quite finished.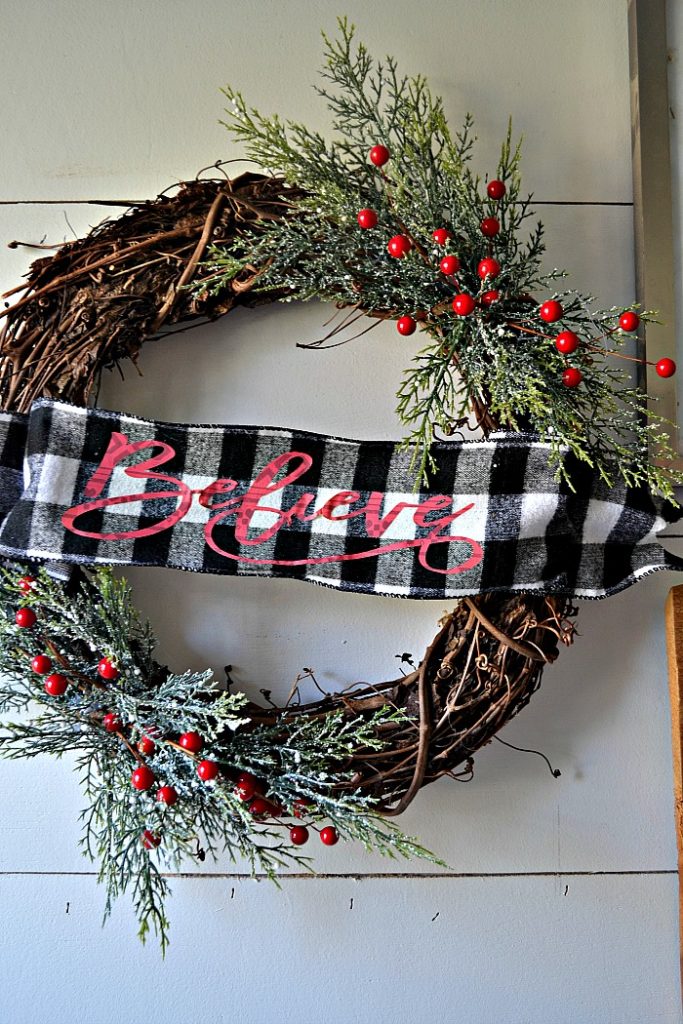 And, what it needed was a matching buffalo check bow!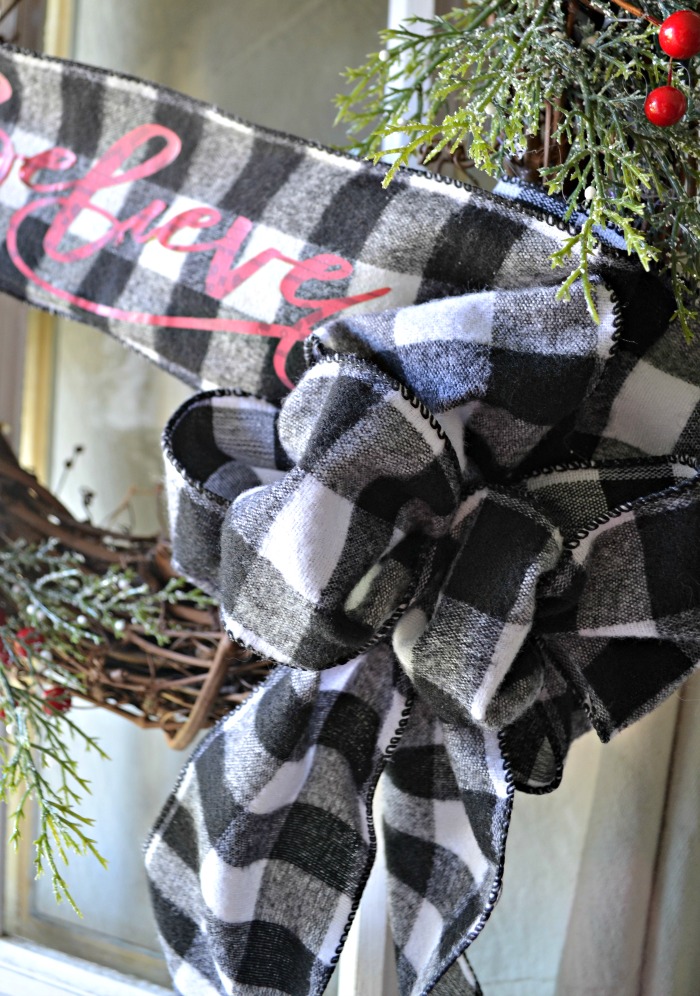 That was just what it needed. Now it is looks more like the rustic Christmas wreath I had envisioned! Sprigs of evergreen, buffalo check ribbon and red berries certainly do remind me of a country Christmas.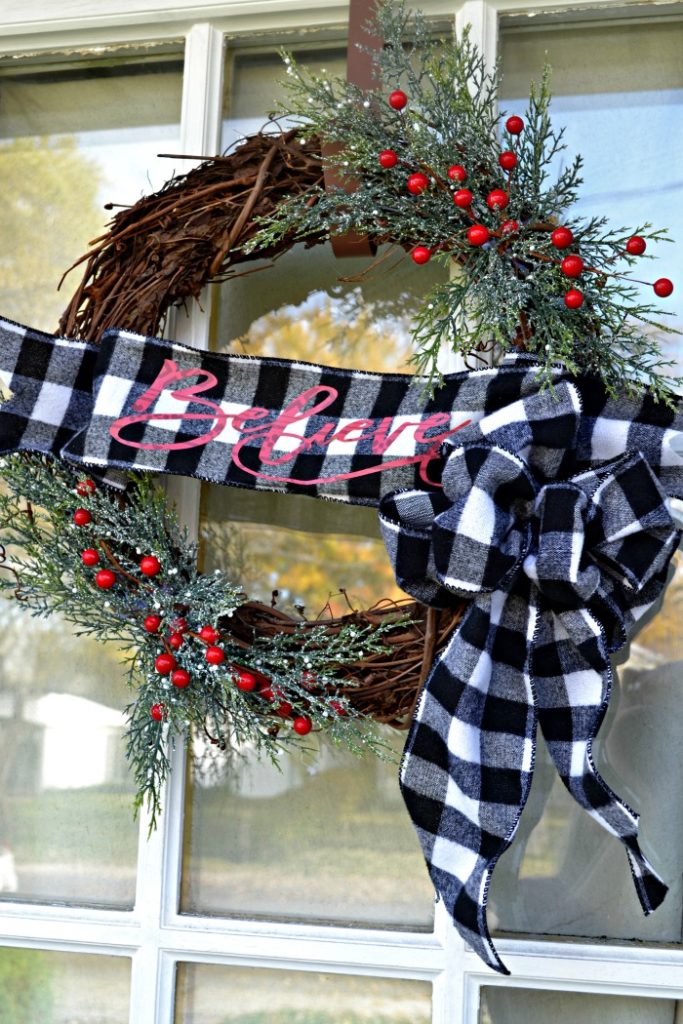 Maybe I have been watching too many Hallmark Christmas movies, but I believe that an old fashioned, small town Christmas may just be the theme for all my Christmas decor this year!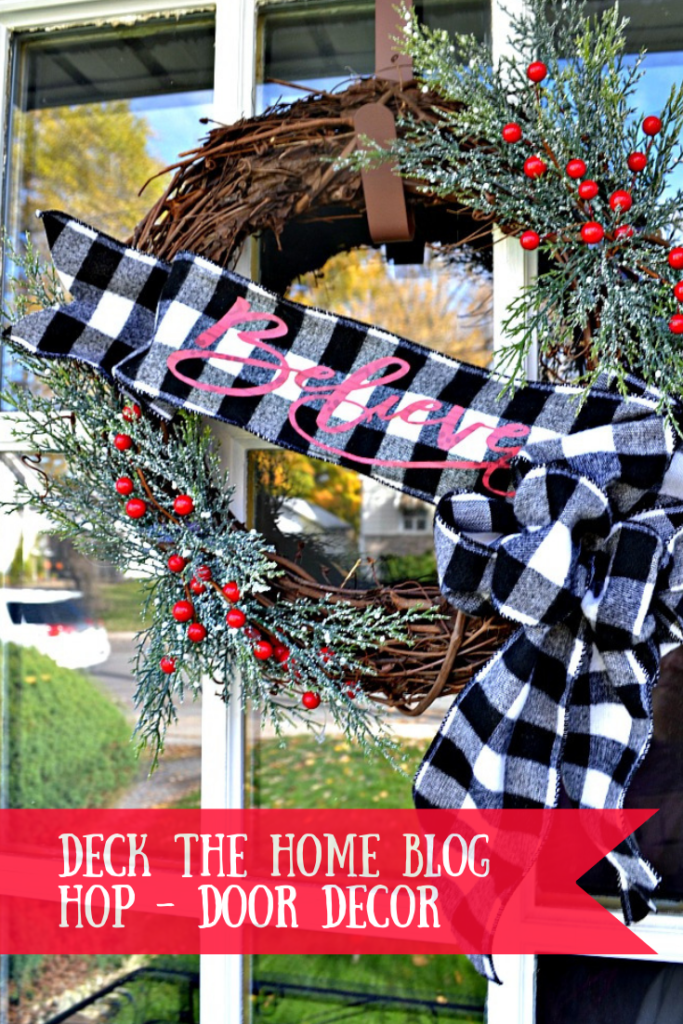 So, what do you think? Is my rustic Christmas wreath give you inspiration for your own door decor this year? Not to worry though, there are 26 other bloggers sharing their vision and you can visit all their links below!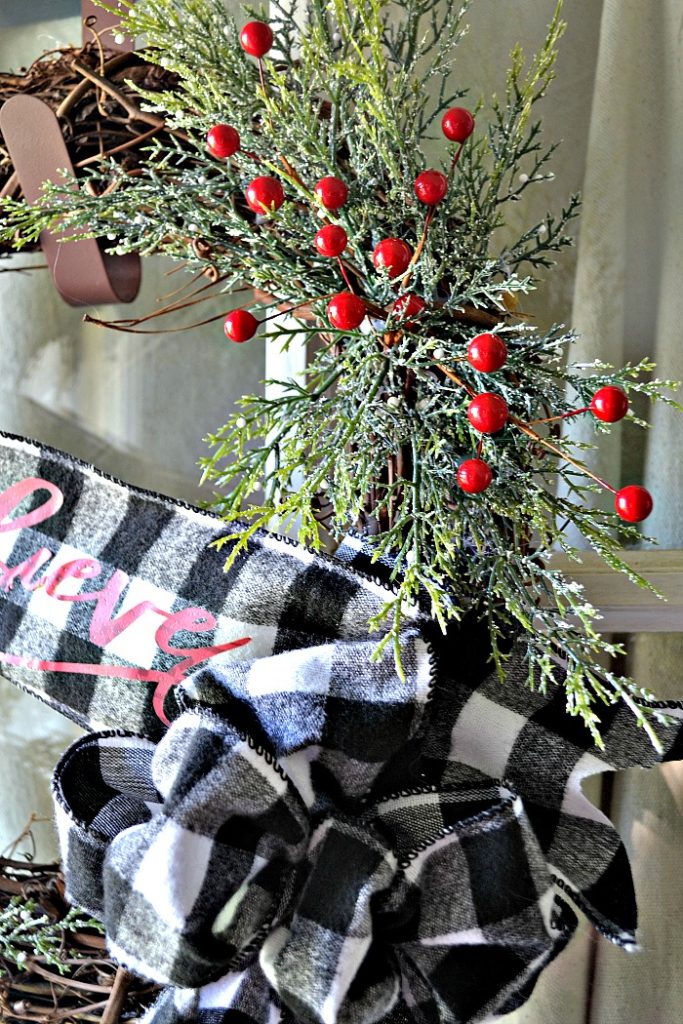 On Wednesday I will be featuring a round-up of some of my favorite holiday door decor, and next Monday we will be featuring Christmas decor made with wood! You will have to be sure to check back to see what I have up my sleeve. Be sure to subscribe so you won't miss a thing!
Until next time……